Top25 Speaker Voting

Zonya Foco needs 6 vote(s) to make it into the Top 25 speakers on Speaking.com!
Speaker Booking Tip
"Tip: find a speaker in your local area to save on travel costs. Most speakers will also reduce their keynote fee for local events. "
For Event Planners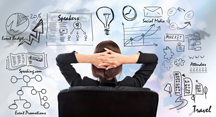 • Keynote Speaker Booking Toolkit.
• Booking a Celebrity Speaker.
• How to Find and Book the Right Speaker.
• Google+ Event Planning Forum.
• Tips for International Clients Booking U.S. Based Speakers.
Similar Speakers
Josh Luke

A healthcare visionary, Dr. Josh Luke prepares providers and patients for policy, management and technology changes in the healthcare sector. Dr. Luke is a former…

Stan Hupfeld

Author of the book Political Malpractice: How the Politicians Made a Mess of Healthcare, Stan Hupfeld served 15 years as the President and CEO of…

Joanne Lichten

Known as "America's On-The-Go Health Guru", Dr. Jo Lichten has presented over 1,000 keynotes and programs for busy professional adults looking to boost their energy,…

Our Account Executive is an extraordinary person. Always available, very kind and funny. Eager to help and always quick to respond. I have so much fun working with him. A very delightful experience. I hope continue working together for years to come!
Credicorp Bank
About SPEAKING.com
Established in 1994, we are exclusive agents for some of the world's leading experts, celebrities and professional speakers.
We offer event planners a fully staffed speaker logistics planning team, plus a personal SPEAKING.com Account Executive – a knowledgeable and trustworthy partner. We guarantee your satisfaction with your speaker and a smooth booking process.
Contact us today to book your favorite speaker.

"Thank you! Thank you! Thank you for helping make our women's conference such a huge success this year. You have a wonderful gift for motivating individuals to live a healthy life. We have received so many positive comments from the attendees and hope to have you back real soon."
Linda F. Rush, Director, Community Wellness/Women's Center, The Medical Center, Bowling Green, KY
"The participants are still talking about your message eight months later. Having you here was an excellent investment for our managers."
Ted Serafini, Canadian Tire Acceptance Limited, Welland, Ontario
"What I like best about your presentation is that you "turn on light bulbs." We get connected, we laugh, we learn, we understand, and lives are changed. Thank you!"
Arlette Wright, Education Coordinator, The Women's Center Reading Hospital and Medical Center, West Reading, PA
"Her presentation style is high-energy knowledge packed with lighthearted humor and simple, take home lifestyle change bites. Because Zonya made herself available for cookbook signing before the program she learned information about her audience. She was then able to quickly engage with the audience and personalize her presentation."
Monica Ritschke, RN, MSN, Director, Affinity Health System Oshkosh, WI
"Your presentation (in combination with your Lickety-Split Meals book as daily reinforcement) is making significant changes among our staff and their families. Senior administration was so impressed, they have requested you as our keynote speaker again next year!"
Jill Boyd, Wellness Coordinator, Horizons Health Services, Presque Isle, ME
"Thank you! for a fantastic presentation at our 'Women's Night Out For the Health of It', dinner-lecture program. The 240 people (including two men) thought you were great. We enjoyed hearing their excited exchanges on their way out and reading their comments on the evaluation sheets."
Janet Shubitowski, Chair, Women's Health Council, Saline Community Hospital, Saline, MI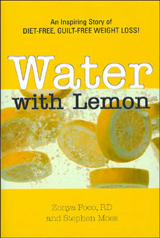 Water with Lemon: An Inspiring Story of Diet-Free, Guilt-Free Weight Loss!
60 extra pounds. An unhappy marriage. Food for comfort. Karen's life is falling apart. Then she meets an unlikely neighbor who reveals how a series of simple choices have the power to shape the life we have into the life we want.
Karen's story of weight loss and personal transformation will touch your heart and open your eyes. It will reveal how eight powerful, core habits, when mastered one at a time, create an invisible force that will literally change your life.
What do you get when you cross a nutritionist with a novelist? A health novel! Where nutrition, health and weight-loss information are woven into the story. Every challenge the characters face not only teaches you what to do – it inspires you to actually do it.
Zonya Foco, America's Nutrition Leader, and Stephen Moss, America's Health Novelist, have joined forces to create this exciting new genre. Stephen's compelling story will keep you turning the pages while you learn Zonya's surprisingly simple approach to mastering weight control.
You'll discover that this is not another fad diet book. In fact, it's not a diet book at all. There is no diet mentality, nothing to calculate, and never a reason to feel guilty!
Water with Lemon is the first health novel in the "Power of One Good Habit" series.
Speaking Topics
Conviction over Convenience: Staying Healthy in a Culture that's ANYTHING BUT!
The Power of One Good Habit
Excelling at Your Career Without Undermining Your Health
Eating RIGHT On the Run!
Surefire Solutions for De-stressing and Balancing Your Life
Finding Fitness in You with "E" Harmony
Fit Families for Life (For parents and kids!)
Get Real with Your Meal! (For middle and high-school students)
Be Good to Your Sweet Heart (Heart-health focus)
Fight Cancer with Your Fork
Learn the DIET FREE Secret to Managing Diabetes
Take Your Health to the Next Level (For the health-savvy audience)
BAM! Meal Makeovers to Supercharge Your Plate! (cooking presentation)
Full Day or Half Day Seminars:
DIET FREE - The Eight Habits that Will Change Your Life
For Health Professionals:
The Top Nutrition Problems Facing Our Kids Today
How to Make Nutrition Exciting, Fun and Inspiring
Eight Ways to Boost Your Business and Help Your Clients
Don't See What You Want?
If you don't see exactly what you're looking for, Zonya can work with you to accommodate a specific title, theme or topic that will have particular appeal to your audience.
Zonya Foco - Speech Excerpts
Nutritionist Zonya Foco reveals how she handles one of the biggest challenges any family faces: getting their children to eat healthy. She shares an anecdote from a supermarket trip with her young son, who wanted her to buy a sugary cereal, because an image of Spiderman was on the box.
She responded with a routine she had developed for such instances; she began to read the ingredients of the cereal one-by-one prompting her son to interject "laboratory" or "farm" after each one. "Mom, can't I just say 'good' or 'bad?'" her son complained. "No," she answered. "There are no 'good foods' or 'bad foods.' It's 'laboratory' or 'farm.'"
Zonya Foco - Speaker Demo Video
Zonya Foco: Demo Video #2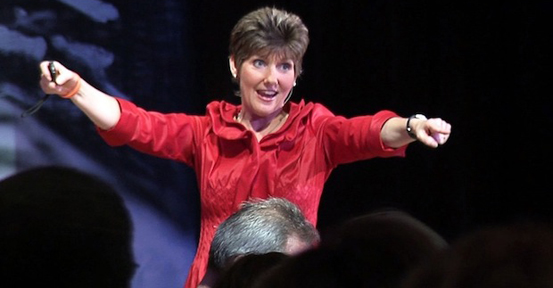 As an author, TV host, and national speaker, Zonya Foco is leading America in the fight against obesity, diabetes, cancer, and heart disease through smart nutrition and fitness. Her diet-free methodology and focus on cultivating healthy habits have been featured on her national public television series, Zonya's Healthy Bites, and "Oprah and Bob's Best Life ... more