Winn Schwartau, one of the country′s leading experts on information security, infrastructure protection and electronic privacy is often referred to as "the civilian architect of information warfare." He coined the term "Electronic Pearl Harbor" and was the Project Lead of the Manhattan Cyber Project Information Warfare and Electronic Civil Defense Team. Today, he balances his time between writing, lecturing, building corporate and national security awareness programs and consulting.
Schwartau′s recent book, Cybershock is a non-technical look at hackers, hacking and how security affects families, companies and nations. It is meant for the average computer user or for organizations to help make their staffs aware of security concerns in the workplace.
His prior critically acclaimed publication Time Based Security, (1999) redefines the needs and premises of information security by offering a means to measure security in the protection of networks. His first non-fiction book, Information Warfare: Chaos on the Electronic Superhighway is the seminal work on the subject and became an instant ′must-read′ security classic. It is a compelling, analysis of personal privacy, economic and industrial espionage, national security and defense. He calls for the creation of a National Information Policy, a Constitution in Cyberspace and an Electronic Bill of Rights. The sequel, Information Warfare: Cyberterrorism, Second Edition, was released in 1997. Published in May of 1996, his Complete Internet Business Toolkit is one of the first books to ever be banned from export out of the United States. He was a major contributor to both of AFCEA′ s Cyberwars Books and several international books on CyberWar and Espionage.
Mr. Schwartau is also the author of the prophetic 1991 novel, Terminal Compromise which details a fictionalized account of an information war waged on the United States. This book predicted a number of cyber-events, including the Clipper Chip, chipping, magnetic weapons′ assaults, data and hardware viruses, to name a few. He other popular writings include CyberChrist Meets Lady Luck and CyberChrist Bites the Big Apple, which cover underground hacker events, Firewalls 101 for DPI Press, Information Warfare, Mehrwert Information (Schaffer/Poeschel, Germany), for Introduction to Internet Security for DGI and MecklerMedia, several chapters for Auerbach′s Internet and Internetworking Security Handbook and Ethical Conundra of Information Warfare for AFCEA Press.
With hundreds of credits to his name, his articles and often controversial editorial pieces have appeared in Wired, NY Times, Information Week, Network World, ComputerWorld, Network Security, St. Petersburg Times, Internet World, Virus Bulletin, Security Management, Infoworld, PC Week, etc. He has been profiled in magazines and newspapers around the world.
As an acknowledged global expert in the field of information security, Mr. Schwartau has testified before Congress, advised committees and has consulted as an expert witness. He appears regularly TV shows such as Larry King, Nightline, CNN, ABC, CBS, NBC, CNBC, Australian TV, as well as hundreds of radio shows nationwide. He has been featured on dozens of documentaries including the Discovery Channel, A&E, History, BBC, CBC, Encounters, Now It Can Be Told among others.
Past president, American Computer Security Industries, Inc. Mr. Schwartau developed the COMPSEC security technology, which is the foundation of the Novel′s C2 secure Netware. His work has received a coveted slot on the National Computer Security Center′s (NSA′s) Evaluated Product List. He also developed the ENIGMA and ENIX.SYS security systems.
Professional Speaker and Seminar Leader
Mr. Schwartau is a popular and entertaining keynote speaker and interactive seminar leader who always keeps his audiences awake with thought provoking insights and commentary. His recent lectures have included: Banking Association, West Point, CitiCorp, UBS International, SUN Microsystems Security Tour. NASA, FBI, NATO, Sandia National Labs, Naval Postgraduate School, Swedish Government, SCIP France, IIR Australia, Dutch Police, Too Many Financial Organizations To Recall, US Air Force Academy, Information Warfare Conferences, Electronic Funds Transfer Assoc., ISACA, Military Intelligence, Cooper′s and Lybrand, Florida Law Enforcement, ASIS, IBM, ISSA, JWAC, Aerospace Industries Assoc., Society for Competitive Intelligence, RACF, Federal Law Enforcement Training Center, International Virus Bulletin Conference, Open Sources Solutions, American Computer Telecommunications Association, Computer Security Institute, Federal Communications Conference, MIS Training Institute, ISSS, NCSA, civic groups and Chambers of Commerce.
Additional Background
Founder and Co-Sponsor: InfowarCon Conferences on Security, IW and infrastructure assurance, 1994 – Brussels, Belgium, London, and US.
Contributing Editor: Infosecurity Magazine
Editorial Board Advisor, Network Security Magazine, (Elsevier), U.K.
Contributor and Columnist, Network World (1994 – )
Consulting Security Expert: Giga Information Group
Advisory Board Member, Click2Send
Senior Editor, CartaCapital, Brazil
Editorial Columnist and Security Features Contributing Editor, Network World
Member, Editorial Board of Advisors, InfoSecurity News, 1990 –
Publisher and Founder, Security Insider Report (1992 – sold 1997)
Contributing Editor: Secure Computing Online (Scandinavia)
Security Columnist: PlanetIT, CMP Publications
Member, Board of Directors, Tritheum Technologies, (company sold 1998)
Member, New York Institute of Technology Criminal Justice Advisory Board
Host daily Radio Show, On the Line by New Media Entertainment (1998-1999)
Member, Board of Directors, HomeCom, Inc. Atlanta, GA (1996-1997)
Member, Board of Advisors, IBIT, International Banking Information Technology, Liechtenstein (1995-1997)
Technologist Advisor, National Computer Security Association (1990-1997)
Contributing Editor, Internet World (1994-1996)
Security Technologist to the International Security Systems Symposium Seminars.
Commentary Editor and Columnist: "Security Insider," Security Technology News, Phillips Publications. (1992-1995)
Member, Editorial Board of Advisors, Crisis Magazine (1988-1994)
Former Architectural Security Consultant to Hughes STX on Enterprise security network architectures, design and implementation.

Winn Schwartau Speaker Videos
Demo Video
Winn Schwartau Speech
Winn Schwartau Keynote Measuring Risk with Time Based Security
SkydogCON: I Survived Rock and Roll - Winn Schwartau
Speeches / Speaking Engagements
Suggested Topics:

Information Warfare and Cyberterrorism


Cyberwar 4G: The Coming Smart Phone Wars
How and Why Infowar Occurs
Global, US and Commercial Perspective
Defensive postures for nations and companies

Real World Security Awareness


Cyber Security: 2020-2030
Ma, Pa and the Corporate Clueless
Successful Employee User Participation in Corporate/Gov't Security
Fun, fascinating and effective

10 Cool, Free (or Really Cheap) Non-Obvious Ways To Improve Enterprise Security Posture


Security doesn′t have to cost a lot, especially in these days of tight budgets. Schwartau talks about a range of approaches to improve security, many of which are free, non-technical in nature, yet highly effective.
Take A Placebo
Do You Trust Your Spouse With Your Life?
Make Good Garbage
TCO
Decomplexification
Let's Get Physical
Measure This
911
Awareness Programs
Be The Enforcer

Computer Ethics for Kids, Companies and Governments


Bringing it all home... down to the basics
Ideal for educators, parents and family support groups
Highly interactive, provocative and audience debate laden

Protecting Kids and Families on the Internet


Step by step how to!
Non-technical as it can be.

Unpopular Approaches to Solving Cyber Terrorism


Solving security and cyberterrorism is not an easy technical problem.
There are myriad issues, and many of them are incredibly unpopular - yet necessary if we are going to get anywhere. Schwartau address the lack of leadership, over reliance on political correctness, poor administration, profiling, H1-Bs, lawyers screwing things up, and more issues that will seriously get you thinking.
Be prepared to be offended, entertained and learn how to really shore up enterprise and national security.

Security 101


The basics of information security for beginners, non-technical and management.

Rear Echelon Attacks: Asymmetrical Adversarialism


No one is going to attack the USA with conventional weapons. The Chinese have declared Unrestricted War against the U.S. in time of conflict.
The 'bad guys' are going to attack the unclassified, rear support lines to reduce our operational capability. Fascinating and scary.

Time Based Security


Quantifiable Methods for Developing Enterprise-wide Security
Helps technicians and management understand security as a risk and then how to measure it for mitigation. Corp and mil audiences ideal.

Corporate Vigilantism: Right, Wrong or Necessary?


When law enforcement won't respond to or investigate cyber-attacks, what should we do? Take the law into our own hands? Many people are. Did you know it is illegal to disarm your adversary in Cyberspace? * Surveys, Results and Opinions. Great for Interaction and debate

RF Weapons, HERF Guns and EMP Bombs


A Tutorial on The State of the Art for Terrorist Attacks Against Infrastructure, Business and Government
The first and only unclassified taxonomy on these advanced weapons of mass disruption.

Cyber-Disaster Exercises


Coping With Cyber-Attacks, Responses and Role-Playing (Highly Interactive, Tension Filled and Fun)
Commercial, Government, Municipal, Military and International Scenarios and Games
Contingency and Consequence Management

An Electronic Bill of Right and National Information Policy


Personal Privacy, Creeping Government, Identity Theft and What to Do About It.
In Cyberspace, You Are Guilty Until Proven Innocent: Protecting Your Privacy in a Digital World

Mobile Technology


Cyberwar 4G: The Coming Smart Phone Wars
Top 10 Mobile Security Issues
All Things Mobile... Security and Insecurity
Advanced Mobile Authentication: Technology Versus Business Cases
Securing the Mobile Environment
Deploying Mobile Devices across the Bank – Risks and Rewards
* Please note that while this speaker's specific speaking fee falls within the range posted above (for Continental U.S. based events), fees are subject to change. For current fee information or international event fees (which are generally 50-75% more than U.S based event fees), please contact us.
Top25 Speaker Voting

Winn Schwartau needs 7 vote(s) to make it into the Top 25 speakers on Speaking.com!
Speaker Booking Tip
"Tip: find a speaker in your local area to save on travel costs. Most speakers will also reduce their keynote fee for local events. "
For Event Planners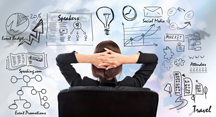 • Keynote Speaker Booking Toolkit.
• Booking a Celebrity Speaker.
• How to Find and Book the Right Speaker.
• Google+ Event Planning Forum.
• Tips for International Clients Booking U.S. Based Speakers.
Similar Speakers
John C. Dvorak

John Dvorak writes an essay and weekly online column, "Inside Track" for PC Magazine; his work is licensed for publication globally. In addition he is…

Bob Hirschfeld

From going green to the Internet of Things, Bob Hirschfeld pokes fun at the latest issues and trends hanging over the corporate world's head. The…

Tyler Cohen Wood

Tyler Cohen Wood is an expert in social media and cyber issues. She is a senior officer and a cyber branch chief for the Defense…

Everyone at your speakers bureau was incredibly attentive and easy to work with; you have been a conference organizer's dream!
ABS Capital Partners
About SPEAKING.com
Established in 1994, we are exclusive agents for some of the world's leading experts, celebrities and professional speakers.
We offer event planners a fully staffed speaker logistics planning team, plus a personal SPEAKING.com Account Executive – a knowledgeable and trustworthy partner. We guarantee your satisfaction with your speaker and a smooth booking process.
Contact us today to book your favorite speaker.

Cybershock
Surviving Hackers, Phreakers, Identity Thieves, Internet Terrorists and Weapons of Mass Disruption

Description
The well-insulated public has not yet had the opportunity to learn what hackers and hacking are really all about: they don′t understand the full scope of hacking and how profoundly it′s changing all of our lives," says author Winn Schwartau. Written for the layperson, Hacking takes the reader from the basics (What is hacking? Who hacks?); through actual hacking tools and techniques; to corporate, law enforcement, and military hacking policies; to how to become a successful antihacker. It provides balanced viewpoints through words and images from the principal figures in the hacking and antihacking worlds: corporate security experts, lawyers, judges, security-conscious military and government officers, and hackers and phreakers themselves. Your book will be personally autographed by Winn Schwartau.

Order Here


Internet and Computer Ethics for Kids (And Parents and Teachers Who Haven′t Got a Clue)
Internet and Computer Ethics for Kids is a colorful, extensively illustrated book written in an easy to understand, non-technical format. No other book has been specifically targeted at non-technical parents, teachers and kids who are in the greatest need of ethical education on issues they don't understand.

"What a great tool for teachers in the classroom!... is a tool that no 21st Century classroom should be without!" -- Bonnie Cangelosi, Principal
Order Here





Suggested Topics:

Information Warfare and Cyberterrorism


Cyberwar 4G: The Coming Smart Phone Wars
How and Why Infowar Occurs
Global, US and Commercial Perspective
Defensive postures for nations and companies

Real World Security Awareness


Cyber Security: 2020-2030
Ma, Pa and the Corporate Clueless
Successful Employee User Participation in Corporate/Gov't Security
Fun, fascinating and effective

10 Cool, Free (or Really Cheap) Non-Obvious Ways To Improve Enterprise Security Posture


Security doesn′t have to cost a lot, especially in these days of tight budgets. Schwartau talks about a range of approaches to improve security, many of which are free, non-technical in nature, yet highly effective.
Take A Placebo
Do You Trust Your Spouse With Your Life?
Make Good Garbage
TCO
Decomplexification
Let's Get Physical
Measure This
911
Awareness Programs
Be The Enforcer

Computer Ethics for Kids, Companies and Governments


Bringing it all home... down to the basics
Ideal for educators, parents and family support groups
Highly interactive, provocative and audience debate laden

Protecting Kids and Families on the Internet


Step by step how to!
Non-technical as it can be.

Unpopular Approaches to Solving Cyber Terrorism


Solving security and cyberterrorism is not an easy technical problem.
There are myriad issues, and many of them are incredibly unpopular - yet necessary if we are going to get anywhere. Schwartau address the lack of leadership, over reliance on political correctness, poor administration, profiling, H1-Bs, lawyers screwing things up, and more issues that will seriously get you thinking.
Be prepared to be offended, entertained and learn how to really shore up enterprise and national security.

Security 101


The basics of information security for beginners, non-technical and management.

Rear Echelon Attacks: Asymmetrical Adversarialism


No one is going to attack the USA with conventional weapons. The Chinese have declared Unrestricted War against the U.S. in time of conflict.
The 'bad guys' are going to attack the unclassified, rear support lines to reduce our operational capability. Fascinating and scary.

Time Based Security


Quantifiable Methods for Developing Enterprise-wide Security
Helps technicians and management understand security as a risk and then how to measure it for mitigation. Corp and mil audiences ideal.

Corporate Vigilantism: Right, Wrong or Necessary?


When law enforcement won't respond to or investigate cyber-attacks, what should we do? Take the law into our own hands? Many people are. Did you know it is illegal to disarm your adversary in Cyberspace? * Surveys, Results and Opinions. Great for Interaction and debate

RF Weapons, HERF Guns and EMP Bombs


A Tutorial on The State of the Art for Terrorist Attacks Against Infrastructure, Business and Government
The first and only unclassified taxonomy on these advanced weapons of mass disruption.

Cyber-Disaster Exercises


Coping With Cyber-Attacks, Responses and Role-Playing (Highly Interactive, Tension Filled and Fun)
Commercial, Government, Municipal, Military and International Scenarios and Games
Contingency and Consequence Management

An Electronic Bill of Right and National Information Policy


Personal Privacy, Creeping Government, Identity Theft and What to Do About It.
In Cyberspace, You Are Guilty Until Proven Innocent: Protecting Your Privacy in a Digital World

Mobile Technology


Cyberwar 4G: The Coming Smart Phone Wars
Top 10 Mobile Security Issues
All Things Mobile... Security and Insecurity
Advanced Mobile Authentication: Technology Versus Business Cases
Securing the Mobile Environment
Deploying Mobile Devices across the Bank – Risks and Rewards
Demo Video
Winn Schwartau Speech
Winn Schwartau Keynote Measuring Risk with Time Based Security
SkydogCON: I Survived Rock and Roll - Winn Schwartau