* Please note that while this speaker's specific speaking fee falls within the range posted above (for Continental U.S. based events), fees are subject to change. For current fee information or international event fees (which are generally 50-75% more than U.S based event fees), please contact us.
Top25 Speaker Voting

Warren Macdonald needs 7 vote(s) to make it into the Top 25 speakers on Speaking.com!
Speaker Booking Tip
"Tip: find a speaker in your local area to save on travel costs. Most speakers will also reduce their keynote fee for local events. "
For Event Planners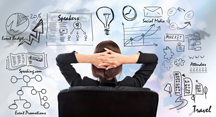 • Keynote Speaker Booking Toolkit.
• Booking a Celebrity Speaker.
• How to Find and Book the Right Speaker.
• Google+ Event Planning Forum.
• Tips for International Clients Booking U.S. Based Speakers.
Similar Speakers
Kevin Kelly

Internationally acclaimed motivational speaker Kevin Kelley is a foremost authority on entrepreneurship, leadership, sales, creativity and personal excellence. Over the course of two decades, Kevin…

Amanda Gore

Communications and performance expert Amanda Gore uses the latest psychological research to transform behaviors, cultures, and attitudes so that employees can reach greater heights when…

Libby Gill

Libby Gill demonstrates how to achieve peak performance through personal development to an impressive roster of blue-chip clients. She is also a passionate speaker on…

Working with your speakers bureau has been a pleasure. Everyone on your team was extremely responsive and informative, and really helped us to customize our event. I will be sure to reach out to your agency again in the future with any speaker needs that I may have.
The Advisory Board Company
About SPEAKING.com
Established in 1994, we are exclusive agents for some of the world's leading experts, celebrities and professional speakers.
We offer event planners a fully staffed speaker logistics planning team, plus a personal SPEAKING.com Account Executive – a knowledgeable and trustworthy partner. We guarantee your satisfaction with your speaker and a smooth booking process.
Contact us today to book your favorite speaker.

"Our SHE (Safety, Health & Environment) Committee have asked me to pass on our thanks for an extremely thought provoking and entertaining session. Feedback we received from our employees was that they found your presentation inspirational, motivating and captivating. You truly have the gift of the gab. Here′s hoping you have many more opportunities to share your story with others."

Ariane Delessert
ExxonMobil

"I would recommend him highly to anyone seeking a speaker who will engage an audience with an inspiring, humorously delivered message about how much any individual can accomplish, despite setbacks and obstacles, if they act with determination, perseverance, and a positive attitude. Warren demonstrates those qualities in spades, and an hour with him is an hour well spent."

Bob Russell
Assistant Commissioner, Atlantic Region, Canada Revenue Agency
Vice-Chair, Nova Scotia Federal Council

"It has been several months now since you spoke to our sales team in Seattle and I wanted to let you know that your compelling presentation has had both a meaningful and lasting impact on our group.

Our team is still referencing the things that you talked about and I was very pleased and excited to learn that you have been presenting to Dex sales teams in other parts of my region, as well as, other regions in RH Donnelley, because I know, first hand, how powerful your message is.

You are an outstanding speaker with the ability to captivate your audience from your first words. Your use of humor allowed us to connect with the personal stories you shared and left our team inspired, motivated, and more importantly enlightened as to what they can achieve when they change the way they see the world.

Having worked with other speakers in the past, I was highly impressed with your caring to learn our business. You tailored your presentation far more than I was used to so that our goals were met.

Our team has set a huge goal; some would say insurmountable. After hearing you speak the goal seemed highly attainable by all. Many said, ′If he can accomplish what he has, I′ll never complain again... we can do this!′ By speaking directly to us, by drawing parallels linking your challenges to ours, you have fostered a belief in self within our team that has strengthened our resolve to turn our goals into reality.

We now have a blown up picture of a mountain in our office that reminds us that we can accomplish anything we put our minds to.

Thank you for that!"

Cathy Crump
Regional VP Sales, Western Region
Dex, an RH Donnelley Company

"Your message was right on point! We were very pleased with the way you conveyed the importance of choosing to overcome whatever obstacles life throws your way. Your genuine account of how you have faced physical disability and continued to excel in your endeavors provided the kind of inspiration that our practitioners and other employees needed to hear."

Daryl Williams
Director of Marketing Programs
Hanger Prosthetics & Orthotics

"Your keynote presentation on Monday was a huge success (in case you couldn′t tell by the standing ovation you received!). I′ve had so many people come to tell me that you were the best speaker we′ve ever had and how much it meant to them to hear your story. You have an amazing spirit that resonates in everything you say and do.

I highly recommend Warren as a keynote speaker for any organization. For those that may be facing hurdles that seem insurmountable, Warren will be the key that opens the door to what is possible when you confront challenges and move forward with determination and resolve."

Laurie Watters-Smith
Human Resources Coordinator
Alberta Envirofuels Inc.

"You were able to effectively demonstrate to the audience that difficulties faced become achievable challenges if you have the desire and strength of will.

Your presentation was informing, heartfelt and humorous. You easy-going style made the audience instantly warm to you and feel connected to your experience."

Louise McLaren
Novo Nordisc Pharmaceuticals

"For days our staff continued to discuss some of the many points you left with us. I think that in addition to helping point out just how capable we are as individuals you also did a good job in reminding us how much stronger we are as a team. For any organization that is interested in helping their people realize how endless their potential really is I would not hesitate for a moment to recommend they have you spend some time with them sharing your remarkable story."

Michael Fish
President, Keir Surgical Ltd.

"The impact your visit had on our organization has been profound. Four weeks later my team are still discussing what you taught us and continue to reflect on how your attitude to life, obstacles and challenges can benefit them in their own lives...

The relevance, clarity and poignancy of your presentation and subsequent conversations with our people has helped us refocus on the tasks we have to complete and bought the team closer together...

We cannot recommend highly enough to any other organization the benefits of engaging you to speak with them."

Stephen Peacock
Motability Finance Limited

I want to take this opportunity to thank you once again for helping to make our event a huge success. You understood from our pre-event conversation exactly what it was we needed to convey and delivered that message in an engaging and thought provoking way.

By skillfully blending your story with challenges currently facing our industry (obviously, you′d done your homework) you managed to convey to us not so much what we wanted to hear, but what we needed to hear.

Your message "when we change the way we see the world, we change the world" resonated profoundly with our group, reinforcing for us how our perception, beginning with the way we see ourselves, effects others. Helping us to see this so clearly has proved invaluable in our dealing, not only with our clients, but amongst ourselves. For this we thank you.

Steven Smith
Director of Marketing
Shoppers Home Health Care

Thank you so much for your presentation at our 2007 Dex Spokane kickoff in January. I know I speak for my team and our guests, as well as myself when I say it was a huge success!

In the past, speakers we′ve engaged for these occasions have either been sales or industry professionals. This year we chose you, however, because we realized we were facing an enormous challenge with the task we′d set for ourselves, and reaching our objective was going to take a whole lot more than just sales skills and industry knowledge. This year was about strength of mind and determination and refusing to say "quit." We needed somebody to open our minds and boost our courage and I must say, you definitely did that!

Your words and the story you told us were THE topic of conversation for the three days we were together. And that′s exactly what I was hoping would be the case. I wanted my team to remember they alone are responsible for their success. I wanted them to re-connect with that inner strength some of them had forgotten they possessed. You helped us find that connection, Warren.

As we move into this campaign, thanks to you, we′re more focused, more confident, and more determined than ever that we can and will overcome any challenge we face.

With warm regards and my thanks,

Vicki Hefley
Regional Sales Director, Western Region
Dex, an RH Donnelly Company
A Test of Will: One Man′s Extraordinary Story of Survival


On the night of April 9, 1997, Warren Macdonald, a fit and experienced bushwalker, set out to climb Mount Bowen on Hinchinbrook Island, an unspoiled tropical paradise off the Australian coast. These would be his last steps as a fully intact human being: a freak rock fall pinned him for two days alone under a one-ton boulder, resulting in a double leg amputation. A Test of Will is a story both tragic and inspiring, conveying the horror of what happened and the extraordinary spirit that helped Macdonald survive a seemingly impossible ordeal.
Challenge of Change: Finding Opportunity in Adversity
Experience Warren's authenticity and insight through an inspirational presentation with four outcomes:

The ability to recognize and breakthrough mental barriers to change
Tools to turn change and challenge into catalysts for both business and personal growth
A powerful shift in thinking that will put challenges into perspective
A mindset that seeks solutions and opportunities

One Step Beyond: Setting and Reaching Impossible Goals
This keynote presentation is designed to provide you with three outcomes:

Reinforced understanding of the power of purpose i.e.: when we have purpose, we have an edge…
The ability to see obstacles as stepping stones towards our goals
A clear understanding of the importance of preparation in reaching your goals

It's the End of the World as We Know it, and I Feel Fine
In this keynote presentation, Warren shares the lessons and tools he's used to create a remarkable life from what many would have considered a "game over" scenario. Outcomes include:

The resilience and ability to adapt to the new economy
A sense of responsibility leading to ownership and engagement
Excitement and hope instead of fear for the future

The Power of Perception: Building a Breakthrough Mindset
If we can't see where it is we need to go, what are our chances of getting there? If your team or your members can't see where you're going, what are the chances they'll get onboard? In navigating change, and overcoming the challenges that come with it, we need to address the foundation; the root cause of why we often get stuck or disengaged, and that is, how we perceive change in the first place.

This keynote presentation is designed to hit "reset" on how your team sees their role in your organization. Expect them to come away empowered, engaged, inspired and ready to take action. They'll begin to see challenges and opportunities with fresh perspectives and renewed vision.

Key Takeaways


An understanding of the incredible importance of mindset, and how perception is the most important factor when it comes to limiting, or improving, our performance.
Specific tools and techniques to help break through the barriers that limit us.
How to develop strategies to counter inevitable setbacks that always come when pursuing big goals.

Return on Resilience: Bouncing Back is Just the Beginning
If there's one certainty, in business and in life, it's that we will all face challenges; that we will all, at some point be faced with a seeming insurmountable obstacle or obstacles. When that happens, our greatest ally is found in our ability to endure; to adapt. When that happens, it pays to have banked some resilience.

This keynote presentation focuses on what we can do to prepare for our challenges in advance. On how we can fortify ourselves against the curveballs and roadblocks before they happen by practicing resilience.

This keynote presentation is designed to move your team from "I can't" to "Bring it!" To instill the understanding that by facing our challenges; seeking them out even, we build the strength and resilience required when bigger problems come our way.

Key Takeaways


An understanding of how resilience is banked, and is transferable across all areas of our lives.
Specific tools and techniques to build resilience.
Learn that "Bouncing Back" is just the beginning. By practicing resilience, we position ourselves to Bounce Forward towards our goals.
The Moth and PEN World Voices Festival present Warren Macdonald: A Crushing Connection
Warren Macdonald shares the gripping story about how his passion for finding connection in nature led to him getting trapped under a refrigerator-sized boulder on a remote island off the coast of Australia. He recalls in vivid detail the two thought provoking nights that he waited out in the wilderness, and the new life he began after his miraculous rescue.
While he quickly learned to be independent in daily life despite having lost his legs and needing a wheelchair, he could not help but wonder if he could find a way to regain that one past time that gave him clarity, peace of mind, and truly made him feel alive. "I eventually discovered that you can put mountain bike wheels on a wheelchair," Warren says, as he narrates how he found ways to reclaim his ability to venture into nature and "experience it on its own terms."
Warren Macdonald's Solution Revolution
Warren Macdonald's Speaker Preview Video