* Please note that while this speaker's specific speaking fee falls within the range posted above (for Continental U.S. based events), fees are subject to change. For current fee information or international event fees (which are generally 50-75% more than U.S based event fees), please contact us.
Top25 Speaker Voting

Waldo Waldman needs 19 vote(s) to make it into the Top 25 speakers on Speaking.com!
Speaker Booking Tip
"Tip: some speakers might provide one of their popular book titles as a free gift to your audience. "
For Event Planners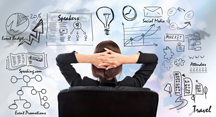 • Keynote Speaker Booking Toolkit.
• Booking a Celebrity Speaker.
• How to Find and Book the Right Speaker.
• Google+ Event Planning Forum.
• Tips for International Clients Booking U.S. Based Speakers.
Similar Speakers
Amy Van Dyken

After an ATV accident left her paralyzed from the waist down, six-time swimming Olympic gold medalist, Amy Van Dyken became more than a sports champion.…

Olivia Fox Cabane

Author of The Charisma Myth: How Anyone Can Master the Art and Science of Personal Magnetism, Olivia Fox Cabane is an executive coach to the…

Warren Macdonald

A catastrophic moment redefined Warren Macdonald's life in April 1997 when a one-ton boulder fell on him during an excursion on a remote Australian island.…

I just wanted to send a quick follow-up note to say – THANK YOU! I appreciate your partnership, and perseverance in helping us to find the right speaker for our group. Our speaker was absolutely excellent! The group loved him; it was perfect.
DeVry Education Group
About SPEAKING.com
Established in 1994, we are exclusive agents for some of the world's leading experts, celebrities and professional speakers.
We offer event planners a fully staffed speaker logistics planning team, plus a personal SPEAKING.com Account Executive – a knowledgeable and trustworthy partner. We guarantee your satisfaction with your speaker and a smooth booking process.
Contact us today to book your favorite speaker.

"Our decision to hire Waldo was the best choice we could have made. He customized a unique program tailored just for us by carefully blending examples from our own business, his military and personal business experience, great audio visual footage and powerful, practical ideas. Waldo was the perfect climax to our conference and his program was better than I could have even imagined."
Frank Marcus,
General Sales Manager,
Ernest & Julio Gallo Winery

"Your 2 days of speaking was of immense help to our sales teams. Not only was your presentation informative and real world, but you also captured everyone′s attention and peaked their motivation, two very direct benefits for our sales force and our company. You are a true professional!"
Laura Marsh,
Vice President, Marketing,
LandAmerica Financial Group West

"Waldo, you were the highlight of our meeting! Thank you for taking the time to know our business inside and out. I am, without hesitation, proud to be your wingman!"
Kaye McComas,
Director of Recovery,
Federated Department Stores

"Exciting, Challenging, Emotional, Entertaining and Thought-Provoking" are the first words that come to mind when describing your performance Waldo. The experience was simply "worth every penny", and has given us our battle cry for 2008..."One Team, One Goal!"
Jonathan O′Neill,
Managing Director of Sales,
Hilton Grand Vacations

"Your ′top gun′ enthusiasm and excellent usage of music and jet fighter video was perfect for our ′Ready for Take-off′ theme and the feedback I heard was tremendous! As Honeywell goes to full power this year, we will rely even more on our strategic partners — our wingmen. Thanks for such a powerful message and for ′Pushing It Up′ with team Honeywell."
Tom Dalton,
Vice President Worldwide Sales,
Honeywell Sensing & Control

"Waldo, I′ve worked with many speakers over the years and you stand out as one of the most client-focused I have ever worked with. Moreover, your interaction with the audience and passion are commendable, and your message is relevant to all phases of life...from business to the home. Thank you for making our National Education Conference in Nashville a mission success!"
Lynette Schick,
Education Director,
Society of Government Meeting Professionals

"Waldo was amazing! Bottom line — he didn′t deliver a canned speech on teamwork, change, and unity. He gave a speech to MTM Technologies, about MTM Technologies as he knew the difficulties we faced as a newly merged company. I would highly recommend Waldo for any event where teamwork and peak performance are goals. He makes people laugh, listen, and engage, and in the end...remember!!"
Lauren Berg,
Marketing Manager,
MTM Technologies

"Waldo has a great ability to translate his military experience into key sales and leadership principles that can apply to each of us. His story lines around teamwork, trust, preparation, focus and execution really resonated with our organization. We′ll continue to ′Push it up!′ here at HP!"
Chris Ogburn,
Director,
HP Personal Systems Group

"Waldo, your ′One Team, One Mission′ message, philosophy of trusting your wingmen, and becoming Mission Ready totally aligned with our teamwork goal. In all my years′ of attending sales meetings, you were simply one of the best!"
Tim Krzyzanowski,
VP Sales,
Philips Medical Systems

"Waldo — fantastic job in both your preparation and execution! From our first contact through the high energy engagement and then finally with your follow up by way of helpful advice and e-mail tips, you are a true professional. Your ability to personalize your message was admirable, as you really embraced our focus on teamwork and trust at a critical time for our business."
Hal Hitch,
Vice President, Product and Marketing,
CIT Financial, Office Technology & Finance

"He was one of the best motivational speakers that I have come across in my 10 years of arranging sales meetings. Waldo left an impression on the team that they not only showed during the meeting but they′ve also taken home with them. I get phone calls saying "Thanks, Julie...You are my Wingman!" Most recently I visited one of our rep firms and I was challenged with the wingman coin."
Julie Carlson,
Marketing Communications Manager,
LEMO USA
Never Fly Solo: Lead with Courage, Build Trusting Partnerships, and Reach New Heights in Business
Rob "Waldo" Waldman understands one thing better than most businesspeople:

You can't reach your highest potential alone. You need wingmen—trusted partners—who can help you overcome obstacles, adapt to change, and prepare for success. A decorated former combat F-16 fighter pilot and now a successful entrepreneur, Waldman lives his life by this rule.

Whether you're a senior executive, mid-level manager, or new hire fresh out of college, your success depends on the mutual support of trusted associates. In Never Fly Solo, Waldo helps you maximize your relationships to reach your greatest potential. You'll learn how to:

Commit to the core wingman values of integrity, accountability, service, and excellence
Transform your relationships with colleagues into interdependent partnerships for success
Take courageous action and ask for help when adversity strikes
Communicate effectively in high-stress situations
Connect with your coworkers and customers on a deeper level

Through compelling, real-world stories, Waldo relates how his Air Force wingmen helped him overcome challenges and become successful by teaching him lessons that work in an offi ce as well as in a cockpit. Like the world of aerial combat, today's high-stakes business world operates faster than the speed of sound. Teamwork and trust are critical for thwarting the missiles of fear, change, and risk that too often send even the most seasoned professional into a downward spiral.

You can't dodge these missiles alone. Never Fly Solo is your flight plan for taking positive action that leads to greater success.
Order Here





Never Fly Solo! The Leader′s Flight Plan to Win in Business and Life
Real winners never fly solo.
Today in our super charged, highly competitive world of rapid and constant change, those who build trust and work as a team will dodge the missiles of business and win.
Waldo′s keynote demonstrates you can win in highly competitive environments through disciplined training, dedicated teamwork, and courageous leadership.
This program isn′t about combat and crushing the enemy. Rather, it′s about focusing on what really matters in business - unwavering trust in meeting the needs of your customer and most importantly, your co-workers.
The key to building a culture of trust and winning lies with your wingmen — those trusted and reliable partners who passionately support the team and help you to overcome obstacles, adapt to change, and achieve success. When the mission really counts, you should never fly solo!
Waldo overcame a lifelong battle with claustrophobia and a fear of heights to become a highly decorated fighter pilot with over 65 real world combat missions. His experiences both in the military and in business have taught him that success in business and life is not about combat. Rather, it is about camaraderie, courage, and a commitment to excellence.
Audiences connect with Waldo because he truly speaks from the heart and has an infectious passion for helping people.
His customized business analogies and captivating personal stories combined with dramatic jet fighter video footage and inspirational music (composed by him!) will encourage you to prepare diligently for every mission, face challenges and change with courage, build more meaningful relationships, and maximize your potential both in business and in life!
Audiences will learn to:
Employ Loyal "Wingmen" to Promote Communication, Integrity, and Trust
"Check-6" to Develop a Culture of Teamwork and Mutual Support
Execute a Business Game Plan to Survive and WIN!
"Chair-Fly" Sales Missions to Vastly Increase Revenues
Transform Relationships into Revenue
Convert Fear into Focus
Lead with Courage and Compassion
Push it up!
An engaging motivational keynote speaker, Waldo′s high energy, customized, multi-media motivational keynotes are a perfect way to kick-off or close your annual sales meeting, partner conference, or association convention.
Audiences connect with Waldo not only because of his extensive business background, but also because he truly speaks from the heart and has an infectious passion for helping people. The missiles of our economy are effecting us more than ever. The key is not to get shot down!
Waldo puts you in the cockpit of a high performance jet and shows how you can overcome fear, adapt to change, build trusting relationships with your wingmen, and take action that leads to results in business and life. Top Gun Leadership
The key to building a high powered organization that encourages innovative thinking, loyalty to the mission, and a relentless commitment to excellence lies with its leadership. In this high energy workshop, I highlight the difference between managing people, and leading them to be responsible, empowered and confident wingmen. What results is a more productive and efficient organization with superior morale that can rapidly overcome challenges in a competitive marketplace.
As trusting and reliable wingmen, an organization that leads to win has four distinct characteristics:
Shared Vision
Each and every wingman in the organization knows exactly what they are fighting for. They are committed to the mission, and understand exactly how their unique role in the organization is essential to its success.
Values Based Culture
Integrity, accountability, mutual respect, and teamwork serve as the foundation for all relationships internally with co-workers, and externally with partners and clients.
Effective Communication
Leaders listen aggressively and communicate their vision with passion. They promote open communication and connect with the heart and soul of their wingmen.
Train to Win Mindset
Successful leaders command flawless preparation, not flawless execution! They encourage their wingmen to expand their capabilities, and consistently reward high performers who take calculated risks and 'push the envelope' in order to grow.
Proud to Be Your Wingman!
Waldo's keynote demonstrates how fighter pilots and businesspersons can achieve success and win in highly competitive environments through three powerful steps: disciplined training, dedicated teamwork, and passionate leadership. When you combine these elements with an attitude and corporate culture that embraces unwavering trust, then your personal and organizational effectiveness will sky-rocket!
The key to building a culture of trust lies with your wingmen — those trusted and reliable partners in your life who help you to adapt to change, overcome obstacles, and achieve success. In business and life, you should never fly solo! The solution to winning when the heat is on lies in the ability of every wingman in your organization, regardless of their role, to give 110% and support the team!
The Power of Trust
Amidst our constant struggle to adapt to increasing time constraints, limited budgets, and a relentlessly changing economy, we often forget to maintain a focus on what truly drives any successful business transaction — relationships. Today, managing these personal and professional relationships is often the most challenging part of our every day life.
The key to building and sustaining these relationships is to develop them based on mutual trust. Connecting with people on a human and emotional level, and developing a reputation as a trusted resource is one of the most important traits you can have in business. When you combine trusting relationships with a product or service that truly provides value, you win in business…and life!
After participating in this session, you will be able to:
Gain new business leads and referrals by promoting yourself as a trusted ′wingman′ amongst your business associates and peers.
Implement unique tools and techniques to build value and trust when you network.
Identify and improve weak areas in your relationship building agenda that is holding back your ability to grow your business, and take positive steps to improve them.
Build ′relationship currency′ with your personal network that can be cashed in when you need it the most!
Demo Video
In the first part of this speech, Waldo Waldman starts by saying, "Wing tip #1 is: push it up! That commitment, that drive that you have. Wing tip #2 is about being mission ready".
He continues by talking about the correlation between what he learned while flying in combat and what he learned as a salesman. "What I learned is that you never sell by the seat of your pants. You gotta prepare…because yesterday's intel is no longer good today. We've gotta be relevant, don't we?"
In the next part of the video, Waldman talks about a philosophy he learned in the military. "The more you sweat in peace, the less you bleed in battle". This stresses the importance of having a contingency plan in place to try to account for all possible outcomes. Waldman concludes by saying, "Your customer commands that you prepare, they don't just demand it".
Speech Clip
Speech Clips
Speech Excerpt