* Please note that while this speaker's specific speaking fee falls within the range posted above (for Continental U.S. based events), fees are subject to change. For current fee information or international event fees (which are generally 50-75% more than U.S based event fees), please contact us.
Top25 Speaker Voting

W Mitchell needs 7 vote(s) to make it into the Top 25 speakers on Speaking.com!
Speaker Booking Tip
"Tip: speakers bureaus can provide: speaker fee negotiation, insurance, smooth logistics and value add-ons such as extra sessions. "
For Event Planners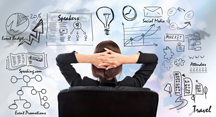 • Keynote Speaker Booking Toolkit.
• Booking a Celebrity Speaker.
• How to Find and Book the Right Speaker.
• Google+ Event Planning Forum.
• Tips for International Clients Booking U.S. Based Speakers.
Similar Speakers
Chris Helder

Chris Helder's high energy, humor, and powerful one-step "Useful Belief" system have made him one of the world's busiest speakers. The sought-out communication expert equips…

Shaun Tomson

One of the greatest surfers of all time, legend Shaun Tomson brings a message of optimism and positivity to over 100,000 young people and adults…

Anthony Bourke

Accomplished fighter pilot and seasoned CEO, Major Anthony Bourke has helped thousands of leaders streamline growth and improvement in their companies. After flying hundreds of…

This has been one of the most outstanding speaker agencies I have had in my 25+ years in the hospitality industry. They have helped my company secure speakers for years to the delight of my attendees. They have secured high profile speakers, even within the confines of a tight turnaround and an even tighter budget. I recommend their services without hesitation. They are truly leaders in their profession looking out for their clients: excellent is all I can say!
AHIMA
About SPEAKING.com
Established in 1994, we are exclusive agents for some of the world's leading experts, celebrities and professional speakers.
We offer event planners a fully staffed speaker logistics planning team, plus a personal SPEAKING.com Account Executive – a knowledgeable and trustworthy partner. We guarantee your satisfaction with your speaker and a smooth booking process.
Contact us today to book your favorite speaker.

Responsibility-Teamwork-Change are what audiences think about as W Mitchell delivers his remarkable personalized message. It′s about how people can Take Responsibility for Change and put themselves back in charge. With warmth and wit the co-founding chairman of Vermont Castings Inc. and the former mayor of Crested Butte, Colorado, shares his spellbinding and unforgettable message about how to take control in challenging times.

Having overcome two life threatening and life changing accidents, the first a fiery motorcycle accident and the second an airplane crash, Mitchell says," Before I was paralyzed there were 10,000 things I could do; now there are 9,000. I can either dwell on the 1,000 I′ve lost or focus on the 9,000 have left."

---

Are You Asking These Questions
About Your Next Speaker?

---

What′s it about?

"The story of your life is taking responsibility and empowering yourself to reach new heights."
Walter W. Ericson
Executive Vice President
CARLSON MARKETING GROUP

"They left with a collective appreciation for their ability to make a choice and a difference."
Michael C. Conley, Agency Development
GENERAL AMERICAN LIFE
INSURANCE COMPANY

"Your message helped focus our commitment, direction and caring. Please come back!"
Nancy Howell Agee
Director, Health Education
CARILION HEALTH SYSTEM

Will they really listen?

"You have the rare gift to involve every member of your audience in your journey. . . ranks at the top."
E. Kemp
Senior VP
EQUITABLE LIFE OF IOWA

"Never before have I seen a speaker so powerfully connect."
Michelle E. Brown
Director of Conferences and Institutes
UNIVERSITY OF UTAH

"Nobody, but nobody has E - V - E - R received a rating like yours."
Marilyn Monroe
CAE, President
TEXAS SOCIETY OF ASSN. EXECUTIVES

Will it help us deal with our challenges?

"We consider you an integral part of our team facing the challenges of the nineties."
John R Wood
Sales Vice President
AT&T

"You got us to focus on what we can do."
Larry McKinney
Application Solutions Director
IBM

"Everything we expected and more. (Your) triumphant stories of success are contagious. Everyone is still talking."
Ellen Abele
Member Services Manager
AMERICAN CONCRETE PIPE ASSOCIATION

How will it help us face change?

"Yours was a subtle message, one that removes layers of self suffocating baggage, excess doubts, road blocks, excuses. . .to take charge of what you do about it."
Mary Jane Howard
President
PS COMMERCIAL PROPERTIES GROUP

"You are the master of how to deal with (change) in a positive way."
Patrick W. McCarter
President
ROCKY MOUNTAIN ELECTRICAL LEAGUE

Can I be sure it will work for my group?

"We valued most the universal theme, it applied to the total workforce."
J. W. Oster
Brigadier General, USMC
DEFENSE ELECTRONICS SUPPLY CENTER

"Custom tailored message. . . left us all better equipped to face the many business and personal challenges certain to lie ahead. A unique and memorable finish." Larry L. Galper
General Chairman
BLUE CROSS BLUE SHIELD

Will they put it to work in the future?

"Frequently I find people weeks after a presentation struggling to recall the basic message, let alone taking individual, positive action. Your message will long be remembered by all of us. The feedback was just terrific. We all learn and grow by being with "winners" (like you). A very major contribution."
J. Dollard Carey
President
SMITH BUCKLIN & ASSOCIATES INC.

"You had quite an impact, in fact we created the ′Mitchell Award′."
W. E. Bruce
Zone Manager
AT&T

---

Clients Include:

ASAE
Associated General Contractors
AT & T
Blue Cross Blue Shield
California Association of Hospitals
Euronet- Germany
Four Seasons Hotels
IBM
MPI- Professional Education Conference
National Association of Personal Consultants
National Quality & Business Association
OMNI International
Pitney Bowes
Phillip Morris USA
Public Relations Society of America
Ritz-Carlton Hotel Company
Robbins Research International
United Airlines
University of Texas
Wisconsin Realtors Assn.



It's Not What Happens to You, It's What You Do About It
With warmth and wisdom, W Mitchell recaps the precise moments that instantly erased and rewrote the course of his life. From a fiery motorcycle accident that left him burned over 65% of his body, to the airplane crash that took away his ability to walk, Mitchell steadily rebuilt his life. He learned to work through the painful challenges and the devastating losses. He found new ways of facing everyday challenges with courage, determination, and good humor. This seemingly hopeless story evolved into an amazing life of achievement that has inspired audiences throughout the world.

Mitchell reveals the core beliefs and proven strategies that lead to his personal and professional successes. He proves to audiences that setbacks can be transformed into new starting points and that we all must take responsibility for the changes in our life. Not only will he demonstrate what it takes, but he will provide the necessary tools that can be used to improve the quality of your unique situation.

Put yourself and others back in charge.
Be empowered to take action based on Mitchell's compelling examples.
Understand that most limitations are self-imposed and it's time to move past them.
Learn to take responsibility for change and master adversity.
Learn to think and act creatively.
Gain a new perspective on seemingly impossible situations.
Feel the joy of living at your best regardless of the challenges.
Experience a renewal of both mind and spirit and be inspired to achieve greatness.

Leading With Courage
The willingness to take responsibility is the mark of a leader. The person who recognizes that how we respond and how we choose to respond to a situation, serves as a powerful example for the organization. Showing courage is what W Mitchell′s life is all about. By being someone who has not let life′s detours determine his course, Mitchell is highly regarded as a leader in business, government and in non-profits. He demonstrates by his life and through his conversations with audiences, the power of choosing your responses. People come away with new insights and tools to help lead others.
W Mitchell Preview Video
W Mitchell demonstrates how he used a positive attitude to turn obstacles into a reason to do things rather than give up. He recalls a discussion with a plastic surgeon that captures the good-natured humor that has kept Mitchell motivated and moving after two tragic accidents.
Breaking the news to Mitchell that his face had essentially been burned off, the surgeon asked Mitchell if he had any photos of himself prior to the horrific motorcycle accident that landed him in the burn unit. Mitchell directed him to his wallet, which contained his driver's license. "He took a long look at the driver's license," Mitchell narrates, "shook his head and said, 'God, I know we can do better than this.'"
W Mitchell - Introduced by Bill Clinton