* Please note that while this speaker's specific speaking fee falls within the range posted above (for Continental U.S. based events), fees are subject to change. For current fee information or international event fees (which are generally 50-75% more than U.S based event fees), please contact us.
Top25 Speaker Voting

Vinh Giang needs 4 vote(s) to make it into the Top 25 speakers on Speaking.com!
Speaker Booking Tip
"Tip: speakers bureaus provide added value that you cannot get by booking speakers directly. "
For Event Planners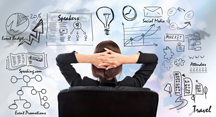 • Keynote Speaker Booking Toolkit.
• Booking a Celebrity Speaker.
• How to Find and Book the Right Speaker.
• Google+ Event Planning Forum.
• Tips for International Clients Booking U.S. Based Speakers.
Similar Speakers
Gary Bradt

Clinical psychologist Dr. Gary Bradt is an expert in the field of adapting to, and leading through, change. He was awarded a BA in psychology…

Todd Buchholz

A managing director at the $15 billion Tiger hedge fund, Todd Buchholz has an extraordinary resume, encompassing the presidency of an international consulting firm employed…

Blake Masters

Blake Masters inspires entrepreneurs and Millennials to take on the world's problems rather than simply accepting them. He has co-authored the book Zero to One…

Our Account Executive was a pleasure to work with to arrange our keynote presenter for the Sustainable Brands Sydney Conference. He was swift to respond and his communication was always clear. If I am looking for international speakers, I will think of SPEAKING.com in future.
Sustainable Brands
About SPEAKING.com
Established in 1994, we are exclusive agents for some of the world's leading experts, celebrities and professional speakers.
We offer event planners a fully staffed speaker logistics planning team, plus a personal SPEAKING.com Account Executive – a knowledgeable and trustworthy partner. We guarantee your satisfaction with your speaker and a smooth booking process.
Contact us today to book your favorite speaker.

Vinh is the ONLY speaker I've ever booked more than once in my 20 years of association management. First, Hong Kong for 600 people. Then, Los Angeles for a crowd of 3,000. TWO standing ovations. Our local chapter in Australia also booked him as well. Three continents later our membership is still in awe of him, his message -- and his performance. CoreNet Global is honored to have provided the stage for Vinh's inaugural U.S. speaking engagement. The first of many we know.
Vinh inspired, moved and entertained senior-level executives from multinational companies with equal parts authenticity and contagious optimism. Throw in a dash of illusion, a pinch of good humor and a sprinkle of magic and you have the perfect recipe for your next conference. Not only do I highly recommend him, I want to be him!
CEO, CoreNet Global
Vinh oozes enthusiasm and energy and connects with everyone in the room. You can't help but like him. He is extremely well read and links his magic presentation as a visual representation of the concepts he conveys. He is reliable and an all round really nice guy. You won't be disappointed if you decide to use him as a presenter. He will thrill your audience as he did ours.
Adelaide Airport
I highly recommend Vinh's presentation. He is an inspiration and his teachings, whilst simple, resonate so well.
TRILITY Pty Ltd
Vinh is a very passionate young man. I have had the pleasure of seeing him present on several occasions and he is very competent. Vinh is engaging regardless but when he also weaves his magic into the presentation his ability to hold your attention moves up another notch again. Highly recommended!
Andrew Leunig & Associates
Vinh has the most relaxed, natural style, hypnotic dulcet tones and a great story to make him one of the best up-and-coming great speakers in Australia. He is the one to watch!
Dr Louise Mahler
With his team, Vinh really refreshed the audience, bringing humour to the fore. Having to condense their presentation to just three minutes was a challenge, but they achieved it with great theming and timing. On a one to one level, Vinh is able to share his passion for magic.
BDO Australia Limited
WOW! What a great speaker and entertainer for our Business Networking Breakfast. Vinh spoke about his experiences in starting and running a successful business as well as mystifying us with some of the magic skills that he has. I highly recommend Vinh as he has the ability to instantly make people smile and be happy. What a gift to have.
Rotary Australia
Vinh, you are a very genuine, focused and passionate natural speaker; in your presence, I am always moved by your positive aura.
HD Consulting
Vinh is dynamic, likable, well prepared, entertaining, and can invoke action.
TITANEC OMG
The way Vinh delivers his personal experiences of the road to success are both interesting an insightful.
ChiBall World
Vinh is a package deal. He is young and vibrant, full of energy and carries presence anytime he speaks. Vinh lights up a room with a fun mix of humour, magic and most importantly strategy. I love watching Vinh on stage and you always leave with an outcome. A nice guy, full of energy, smart as anything, funny, a great stage presence and great content. I don't usually write testimonials but get this guy to your next event.
Braaap
Flinders Living employed Vinh Giang to speak and perform at our Residential Staff training programme, our Resident Student Club Leaders training programme and at our New Arrivals programme. I was present at all three presentations and was equally enamoured at the third as I was at the first. Vinh is a national living treasure. His performance skills are superb with extraordinary connections being made with all participants in all three contexts. He is a magician in many ways - not only in performing magic itself which is fun, entertaining and has a real 'wow' factor as he bluffs everyone with his skill - but the true magic comes from his ability to use magic is a way of demonstrating to us how erroneous our thinking often is. How we make assumptions that become limiting beliefs and that these then contribute to a half lived life. Every single one of the students who were privileged to watch Vinh opening up opportunities for them was impressed and has continued to discuss what they learned in the intervening weeks. Vinh is so warm and generous and a wizard at making people feel that they are seriously important to him. I cannot recommend him highly enough for sheer entertainment and more so, for his sheer brilliance in encouraging us to rethink our lives and our limitations and to reach for the stars. Australia is a lucky country because Vinh is in it.
Flinders University
All staff were very impressed with the Vinh's ability to engage with audience and the exceptional way he combined magic with message.
Craigmore High School
Vinh's communication skills are of the highest calibre, and both his on-stage and off-stage presence and energy is captivating. He delivered his material of exceptional quality that was beyond my expectations, and because he is extremely humble, this is what makes him the professional he is.
Tetra Pak
Vinh Giang was just amazing, so easy to talk to and fabulous at performing... but performing with purpose, it wasn't just about 'magic tricks', he really connected with our audience and used his tricks to deliver solid messages.
South Australia Government
Vinh Giang was excellent. He engaged the students and gave them clear and easy to understand messages that they can use throughout the year.
Salisbury East High School
Excellent presentation, Vinh exceeded our expectations and will highly recommend him to other teams within our organisation.
Tafe SA
Vinh has a talent for engaging a large room of people with diverse backgrounds, conveying his points with energy, humour and enthusiasm, and taking people along on the journey with him. I think he can make believers out of the most hardened and sceptical individuals! In all of this, he comes across as a genuine, regular guy with some challenging and thought-provoking ideas to share. All too often speakers can appear mechanical or 'full of their own bluster' for want of a better term. Vinh is nothing like this - he believes what he says and he lives it. His success is proof of that. He's a great speaker and entertainer.
City of Onkaparinga
Vinh was fantastic, met the brief exactly and got a great response from the audience. A great way to end our conference!
Flinders University
Vinh was very engaging. Feedback from the attendees was that they really enjoyed his presentation. I think the fact that it was interactive also created a level of excitement amongst the delegates. I am pretty certain that those that missed out on the breakfast would have been disappointed once they heard the feedback from others. He worked well with the AV team and for me personally he was very easy to deal with, from our first phone call to meeting up early in the morning.
Australian Sonographers Association
Very entertaining and engaging.
Firbank Grammar
Many people were blown away and have requested his details for future speaking roles/jobs.
Community Corporate
This is the second time I have booked Vinh Giang to be a speaker at our Learning to Lead event for high school students, due to demand from the teachers and because Vinh is such a pleasure to work with. He is professional – and more importantly, the energy he puts into his presentation and willingness to connect with students is a pleasure to watch. Very happy with booking Vinh Giang.
Flinders University
Fantastic entertainer. I have recommended him to other colleagues already.
Gartner Australasia Pty Ltd
Vinh was a highly entertaining and engaging speaker and presenter. He was extremely accommodating, in regards to set up prior to the event, and our students were enthralled throughout his presentation.
La Trobe University
Vinh took time to speak to the guests individually after performance.
O'Brien Foundation - Hummingbird Ambassadors
Dear Vinh,
Just a quick note to thank you for your participation in this year's Community Bank®national conference. Once again you have not only given our delegates the chance to say 'WOW' but I've had direct feedback from delegates who have not only taken your messages of perception, belief and influence back to their local communities but are implementing some of your strategies. The 'crabs in the pot' story told so eloquently by you has left its mark on many of us. I know there are many who have actively identified those five key, positive people in their lives and cut loose those dragging them down to the bottom of the pot – so to speak. Look out those people in our communities who don't make our five positive people list!
Seriously, your mix of magic and business experience along with your immense skill in telling a story and encouraging people to believe in themselves and their ability was exactly what was needed at this year's conference, particularly as our theme was Together we are Bigger. As a corporate entity with 310 community partners, it's easy to fall into an us (Bendigo Bank the corporate entity) versus them (individual communities) mentality. And vice versa. Your presentation reinforced that yes, we're all in this together. Individually we can achieve great things but together, we can achieve even greater things.
Thank you for your messages, your magic, your professionalism, your enthusiasm and your humour.
Community Banking - Bendigo Bank
Vinh was fantastic, met the brief exactly and got a great response from the audience. A great way to end our conference! Flinders University Vinh shone through and adapted his delivery. BRILLIANT! Great personality, full of energy, honesty and talent. Very flexible under the circumstances, which we greatly appreciated. Our crowd of 200 really enjoyed his performance, a definite winner! Nice short, sharp after dinner entertainer.
Nova Systems
Great feedback from all who attended. Vinh held the audience spell bound for the entire time.
ASOFIA Future Summit
All of our delegates rated Vinh 100% excellent. I don't think you can get any better than that!
People's Choice Credit Union
Perspective
"COLLABORATION IS THE KEY TO SUCCESS."
With this topic, Vinh presents the audience with several magic performances, and invites them to offer their solutions as to how they were done. In going through this process, the audience learns quickly that perspective is the key to solving any problem. After all, magic is just a problem that the general public do not have the solution to.
While it may appear complicated, remember that magic tricks are problems specifically designed to never be solved. Now if you can get even a small insight into how to solve magic tricks, imagine the clarity you will take into the other problems in your business and personal lives. Magicians are great problem solvers: it's a skill they inherit as a result of learning such a secretive art.
Thinking Differently
"RATHER A MIND OPENED BY WONDER, THAN ONE CLOSED BY NEGATIVE BELIEFS."

This is by far Vinh's most popular talk, in which he performs and speaks about the five different areas of magic, and then links this seamlessly to psychology. When the audience can see the psychological deception taking place in magic, they will be able to immediately see the deception we create within our own business and personal lives. This keynote will dispel negative beliefs and empower your audience to believe that anything in life is possible.
Influence
"YOU ARE THE DIRECT REFLECTION OF THE TOP 5 PEOPLE YOU SPEND TIME WITH."

In this presentation, Vinh takes you exclusively behind the scenes and shows you how magicians are able to influence their spectators in an incredible way. It is through this demonstration that Vinh asks the question: "Who is influencing you in your life"' and "Are your decisions really your own?"
Vinh will demonstrate techniques on blocking out negative influence, and gaining and maintaining a positive mind set. Imagine just for a moment that you "got up on the right side of the bed" every single day for the next three months. How would that change your life? How would that change your business? Mindset is everything.
Misdirection
"IT'S NOT WHAT YOU SEE THAT COUNTS, IT'S HOW YOU CHOOSE TO LOOK AT IT."

Misdirection is one of the most important aspects of the art of magic. Through a visual demonstration, Vinh takes the audience through a series of magic effects to show them how easily one can be misled. Vinh then takes you deep inside the psychology behind the art of magic to show and prove to the audience that your negative beliefs, no matter what they are, do not exist.
Vinh will show your audiences how to overcome misdirection in life and business. With this mindset, audiences will realise that there are no limits to what they can achieve. It is only with this mindset that magicians are able to create magic. Let Vinh help you and your team create magic with what you do in business!
Showmanship
"PEOPLE WILL FORGET WHAT YOU SAID OR DID, BUT NEVER HOW YOU MADE THEM FEEL."

Re-energise your sales team by having them witness Vinh perform a spectacular feat of magic, followed by a personal insight into the "behind the scenes" of the effect. Vinh reminds us all that every encounter is a performance, and the importance of always giving it your all.
This applies to every interaction throughout your day, but most particularly when it is a sales encounter; because no matter how many times we have done something, we need to remember that the person on the receiving end is experiencing it for the first time, and we need to make sure it is the best experience possible. This is a crucial point of self reflection that is deeply empowering, which the audience will always remember.
Goal Setting
"HOW CAN YOU HOPE TO HIT A TARGET YOU CANNOT SEE? LET ALONE A TARGET YOU DO NOT HAVE?"

For every show that Vinh performs, it is crucial that it goes according to plan, because the margin for error in magic is very narrow. When achieving the impossible, it is all the more important that the goals for each act are identified and established well beforehand. There is no better way to illustrate this concept than to prove to the audience through a feat of seemingly impossible magic that the events of the entire show were prepared before it even began.
Anything is Possible
"YOUR BELIEFS DICTATE YOUR ACTIONS."

Magic is an art that is created to demonstrate the impossible. The beautiful thing about this is that the very nature of magic shows us that things that are seemingly impossible can be made to happen. Vinh highlights this concept by first accomplishing an immensely impressive feat, and follows this by walking the audience through how this seemingly impossible feat was actually achieved.
Through several powerful exercises, Vinh is able to break down the barriers that we have in our minds, which hold us back from accomplishing truly amazing things. As cliché as it may come across to begin with, the undeniable fact that Vinh demonstrates right before our very eyes proves that anything is indeed possible. Definitely a key finishing statement to the audience that leaves them on an extremely high note.
Vinh Giang, Magician and Motivational Speaker: TEDxMacquarie University
Award-winning magician and keynote speaker, Vinh Giang demonstrates how to boost your influential powers by taking on a magician's practice routine. Through a series of entertaining tricks, he highlights that master showmanship hinges on a perfect sync of sight and sound, and that anything less can lead to inconsistencies that get between your audience and the message you want to convey.
Giang notes that most people already have the information they need to persuade others, but falter in the presentation because they have never "seen themselves." Even when offered the chance to watch a brief video of themselves speaking, most people turn down the opportunity due to embarrassment or self-consciousness. A magician, however, has little choice, but to record their performance, view it, and review it in order to ensure that their show will hit all the right marks.
"The way a magician practices is truly profound," Giang observes. "If I could share with you this formula today, it would give you an understanding of how to take your presentation ability from where it is to a whole new level."
Vinh Giang, Magician and Motivational Speaker: Keynote at Internet e-Commerce Conference