* Please note that while this speaker's specific speaking fee falls within the range posted above (for Continental U.S. based events), fees are subject to change. For current fee information or international event fees (which are generally 50-75% more than U.S based event fees), please contact us.
Top25 Speaker Voting

Vince Poscente needs 6 vote(s) to make it into the Top 25 speakers on Speaking.com!
Speaker Booking Tip
"Tip: speakers bureaus provide added value that you cannot get by booking speakers directly. "
For Event Planners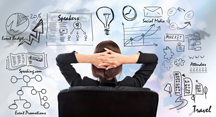 • Keynote Speaker Booking Toolkit.
• Booking a Celebrity Speaker.
• How to Find and Book the Right Speaker.
• Google+ Event Planning Forum.
• Tips for International Clients Booking U.S. Based Speakers.
Similar Speakers
Les Brown

Some motivational speakers will tell you about how to overcome adversity, but the inspirational Les Brown has lived the things he speaks of and then…

Alan Bean

One of the very few individuals who have had the extraordinary experience of walking on the surface of the moon, Alan Bean uses the stories…

Bryan Clay

The 2008 Olympic Gold Medalist in the decathlon, Bryan joined an exclusive group of American decathletes who earned the title of "World's Greatest Athlete," including…

This has been one of the most outstanding speaker agencies I have had in my 25+ years in the hospitality industry. They have helped my company secure speakers for years to the delight of my attendees. They have secured high profile speakers, even within the confines of a tight turnaround and an even tighter budget. I recommend their services without hesitation. They are truly leaders in their profession looking out for their clients: excellent is all I can say!
AHIMA
About SPEAKING.com
Established in 1994, we are exclusive agents for some of the world's leading experts, celebrities and professional speakers.
We offer event planners a fully staffed speaker logistics planning team, plus a personal SPEAKING.com Account Executive – a knowledgeable and trustworthy partner. We guarantee your satisfaction with your speaker and a smooth booking process.
Contact us today to book your favorite speaker.

"Comments that Vince was one of the best speakers we′ve ever had. Even people from Europe (who are extremely critical of these types of speakers) were extremely positive."
Linda Britt
Hyperion
Santa Clara, CA

"His sharing of his experiences, his humor, his enthusiasm, coupled with his powerful visuals made for a captivating and memorable presentation."
Tim Hartsfield
Harris Corporation
Orlando, FL

"Vince was simply OUTSTANDING."
Carolyn Counihan
Carlson Marketing Worldwide
Dallas, TX

"Your message nailed home our corporate vision – your ability to weave that into your 5 C's was uncanny."
Chris Schaeffler
Vice President National Sales
First Franklin

"Your message last Sunday at the ADP TotalSource event was different. It was unique. And it made an impact on me."
Doug Ugarte
District Manager
ADP TotalSource

"The response to your presentation from our 1,400+ associates on Wednesday has been absolutely incredible. I have received several calls and e-mail notes from associates asking about your book, how we found you, and how you were clearly the best presenter they have ever seen."
Loraine Uebele, Curriculum Manager
Cerner Corporation

"Your intense preparation and thorough research of Kos made the difference."
Mike Tilbury, VP of Sales
Kos Pharmaceuticals, Inc.

"He′s a nice boy. He eats all his vegetables and makes his bed."
Patricia Poscente, Vince′s Mom

"If asked to describe Vince in one word I would choose Phenomenal."
Tim Carmack, US Distribution Manager
Dupont
Age of Speed: Learning to Thrive in a More-Faster-Now World
To succeed in today's ever-accelerating world, speed is the name of the game. Forget "slow and steady wins the race." The key to getting ahead is not fighting or hiding from speed, but embracing speed and using its power to your advantage. As Vince Poscente demonstrates in this rewarding and, yes, fast-paced book, speed has a unique ability to enrich your life. He empowers you to take control of your time, your tasks, your priorities, and your talents, and start making life everything you want it to be. Twenty new tips–exclusive to this paperback edition–show you how to:

recognize the difference between repetitive chores and passionate pursuits, and assign the appropriate amount of time and energy to each
mentally shatter the outdated idea that work, home, and leisure should be completely separate, and create a new, purpose-driven model of organizing your time
discover how to control interruptions, including how and when to accept them–by learning when to multitask and when to focus

Speed provides amazing benefits–you become more conscious of how you spend your time, understand your authentic purpose, and find yourself more flexible and open to new opportunities. When you harness the power of speed, your life and work become less stressful, less busy, and more balanced. What are you waiting for?
Order Here




The Ant and the Elephant: Leadership for the Self
A renowned speaker, business consultant, record-setting speed skier and Olympian, Vince Poscente believes in the enormous potential of the unconscious mind. Poscente likens the dynamic between the conscious and subconscious minds to an ant and an elephant: "Our minds are separated into two distinct functions the conscious and subconscious elements. Our ant is the intentional part of the brain, but our elephant is the instinctual, impulsive part of the brain that houses emotions and memories and even guides the body to perform vital functions. While we tend to know our conscious minds our ants rather well, we often overlook the power of our elephantine subconscious minds. When we do, unfortunately, we squander a wellspring of human potential."

Having seen too many books focused on what a problem or solution is and too few focused on how to solve the problem, Poscente, with his trademark wit, wisdom and steely resolve, created The Ant and the Elephant Leadership for the Self: A Parable and Five-Step Action Plan to Transform Workplace Performance.
Order Here





Imagine your one year goal attained in six months. Picture exceeding quota in half the time.

Goal compression happens when five innovative steps are embraced with personal and professional tools to take you there:

Drive with Emotion
Dive through Distractions
Do What the Competition is Not Willing to Do
Dare with Detail
Delete Drag

These five steps are not for the faint of heart (or any other organ for that matter). The way to engage and attain BIG GOALS? Follow the path of fun.

VInce offers TWO keynote programs, individually tailored for each event:

BIG GOALS in Short Order (Level One)
When you drive with emotion, dive past distractions, dare with detail and delete drag you′ll do what the competition is not willing to do.

BIG GOALS in Short Order (Level Two)
Learn how Transform, Reinvent and Innovate your way to a new peak.

Master of Ceremonies
A fun twist for your event! Have Vince Poscente as your MC. Capstone it with opening/closing inspiration along with fun transitions from one speaker to the next.

Speech Excerpt on Alignment
Full Second Speech Excerpt