* Please note that while this speaker's specific speaking fee falls within the range posted above (for Continental U.S. based events), fees are subject to change. For current fee information or international event fees (which are generally 50-75% more than U.S based event fees), please contact us.
Top25 Speaker Voting

Valorie Burton needs 7 vote(s) to make it into the Top 25 speakers on Speaking.com!
Speaker Booking Tip
"Tip: ask your speaker to do a book signing or attend a VIP meal with your guests. "
For Event Planners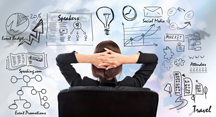 • Keynote Speaker Booking Toolkit.
• Booking a Celebrity Speaker.
• How to Find and Book the Right Speaker.
• Google+ Event Planning Forum.
• Tips for International Clients Booking U.S. Based Speakers.
Similar Speakers
Alan Hobson

Mountaineer and cancer survivor, Alan Hobson embarked on ten high-altitude expeditions and a decade of raising millions of dollars before finally reaching the summit of…

Drew Boyd

The founder and director of Johnson & Johnson's renowned Marketing Mastery Program, Drew Boyd is a widely recognized authority on persuasion, innovation and social media.…

Garrison Wynn

With talents that established him as a Fortune 500 leader and professional stand-up comedian, Garrison Wynn, CSP, fuses comic timing and research to deliver motivational…

Our Account Executive is an extraordinary person. Always available, very kind and funny. Eager to help and always quick to respond. I have so much fun working with him. A very delightful experience. I hope continue working together for years to come!
Credicorp Bank
About SPEAKING.com
Established in 1994, we are exclusive agents for some of the world's leading experts, celebrities and professional speakers.
We offer event planners a fully staffed speaker logistics planning team, plus a personal SPEAKING.com Account Executive – a knowledgeable and trustworthy partner. We guarantee your satisfaction with your speaker and a smooth booking process.
Contact us today to book your favorite speaker.

I heard attendees talking about you all day at the St. Louis Business Journal Annual Women′s Conference last week! Your presentation drew praise - thank you for making all of us look good.
Ellen Sherberg, Publisher
St. Louis Business Journal
A verbal thanks will probably appear trite after the standing ovation you received following your keynote address at the Virginia Business Education Association Conference last week ... Your speaking talent is only surpassed by the innate talent you have to bring out the best in others.
Judith P. Sams, Program Specialist
Virginia Department of Education
Valorie Burton provided a series of tips and techniques for frequent business travelers. Her insightful 3-5 minute weekly motivational video vignettes engaged nearly a million consumers. Her contributions were a great asset to the American Airlines brand.
Sheena Payne, Manager of Advertising and Promotions
American Airlines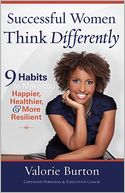 Successful Women Think Differently: 9 Habits to Make You Happier, Healthier, and More Resilient
Popular author and professional certified coach Valorie Burton knows that successful women think differently. They make decisions differently. They set goals differently and bounce back from failure differently. Valorie is dedicated to help women create new thought processes that empower them to succeed in their relationships, finances, work, health, and spiritual life. With new, godly habits, women will discover how to:
focus on solutions, not problems
choose courage over fear
nurture intentional relationships
take consistent action in the direction of their dreams
build the muscle of self-control
In this powerful and practical guide, Valorie provides a woman with insight into who she really is and gives her the tools, knowledge, and understanding to succeed.
Order Here
Where Will You Go from Here?: Moving Forward When Life Doesn′t Go as Planned
Has the unexpected knocked you off course? You lost your job to the latest round of layoffs. A relationship you thought would last forever, didn't. A health challenge is disrupting your life. Life doesn't always go according to plan, but with the right attitude and skills, you can persevere through even the toughest situations—and emerge stronger and better than ever.
Resilience to Get Through Any Challenge
In Where Will You Go from Here? Valorie Burton helps you navigate life's obstacles and unexpected challenges. You'll find all the tools you need to be resilient in the face of setbacks, now and in the future, including:
The Five Commitments that propel every successful comeback
Step-by-step guidance for restructuring your life
Strategies to unearth the courage you need for any situation
In-the-heat-of-the-moment words to combat negative thinking
Practical exercises to become better, not bitter, as a result of adversity
Packed with uplifting insights and powerful principles, this personal coaching resource offers the wisdom and encouragement you need to think differently about your circumstances and take hold of the lessons God is offering you. As you experience the "post-traumatic growth" that comes only through adversity, you'll be equipped to unleash a stronger, more authentic you.
Order Here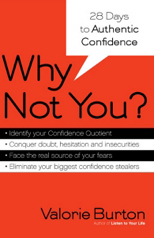 Why Not You?Twenty-eight Days to Authentic Confidence

Whatever your career goals…
Whatever your financial objectives…
Whatever your personal dreams…

You Can Do It!

This action-oriented, step-by-step guide helps you build the authentic self-confidence that comes from knowing who you are, what you want–and equips you to go get it.

With motivational expert Valorie Burton as your personal coach and a 28-day plan, Why Not You?
provides the tools you need to …
·gain the assurance needed to transform your thinking
·focus on who you are, not what you do
·give yourself permission to be imperfect
·stop competing and comparing
·eliminate your confidence stealers
·learn how to achieve success by being authentic

Packed with unforgettable examples, pointers, and sparkplugs for ideas that work uniquely for you, Why Not You? reveals the secrets to building authentic personal confidence from the inside-out. Whatever your goal or your starting point, Valorie Burton equips you with proven experience to take the next steps to advance your career, finances, and relationships.
Resilient and Ready: How to Thrive Through Challenge and Change
Burton helps audiences understand how to create the building blocks of resilience to thrive in today's world so they can:
· Bounce back from setbacks in a way that makes them better, not bitter
· Maximize opportunities
· Develop thinking styles that help them succeed under pressure
Work/Life Balance: How to Excel at Work and Energize Your Life
People are living at a faster pace and under higher expectations than ever before. How does someone thrive at work and still enjoy a healthy personal life? Using relatable stories and surprising research, Burton offers audiences practical tools for excelling at work when there is more to do and less time to do it. Audiences learn how to:
· Say "yes" to what matters by saying "no" more often
· Increase joy and fun, even when schedules feel routine
· Make time for people and activities that nourish their mind, body and spirit
Where Will You Go from Here? Bounce Back from a Setback
Whether it's a job loss, a relationship that's ended, or a health challenge that's disrupting the status quo, life doesn't always go according to plan. Life coach Burton tells audiences that with the right attitude and skills, they can persevere through the toughest situations and emerge stronger and better than ever. Her message is designed to help participants navigate life's obstacles and feel empowered to:
· Unearth the courage they need for any situation
· Replace negative thinking with an optimistic outlook
· Navigate disappointments in a way that makes them better rather than bitter
Coaching for Success: How to Bring Out the Best in Yourself and Others
Coaching is a powerful tool to create personal clarity, build a positive environment, and facilitate progress towards critical goals. In this presentation, Burton shares with her audience principles and research-based techniques they can use to fulfill their potential and facilitate growth in others. As Burton shares her proven five-step coaching process, attendees will discover how to:
· Transform a scattered brain into a focused mind that accomplishes daily goals
· Go to sleep at night feeling peaceful about decisions
· Deal positively with emotions that prevent success
Positively Psyched! Use the Proven Power of Positivity to Overcome Your Obstacles
Burton is one of only a few people in the world with a graduate degree in the pioneering field of applied positive psychology, the scientific study of happiness, resilience, success and optimal human functioning. Using research from her studies at the University of Pennsylvania, she shares powerful examples, insightful facts, and specific tools to help audience members:
· Increase productivity, happiness, and success at work and in everyday life
· Remove the harmful consequences of pessimistic thinking
· Boost the life-giving power of positivity, optimism, and strengths utilization
Goal Setting, Goal Getting! Reach Your Goals Faster
In this fun and fast-paced session, Burton shares practical, research-based methods to help the audience reach goals faster, more easily and more consistently. In this highly engaging and interactive presentation, participants will learn:
· Three foundational principles for effective goal setting
· How to set a goal in a way that challenges but doesn't overwhelm
· The seven building blocks of the goal-getting process
· How to spot and eliminate goal fatigue
· Create meaningful goals that boost happiness
Successful Women Think Differently
(This can be adjusted to Successful People Think Differently)
Scientific studies prove successful people think differently than the average person. They make decisions differently, set goals differently, and bounce back from failure and adversity differently. In this intriguing and energetic presentation based on Burton's national bestselling book Successful Women Think Differently, Burton helps the audience:
· Pinpoint their thinking style and make adjustments to improve performance
· Understand why talent isn't enough and how to develop self-control that will take them to the next level
· Understand why success and failure predicts more about potential than most people think
· How to focus on solutions, not problems
Happy Women Live Better: 13 Ways to Trigger Your Happiness Every Day
Happier people are more productive, perform better, and are more engaged in their work and with customers. Women have more education, money, and life choices than ever before. Yet research shows they are less happy than 40 years ago. Today, woman can "have it all," so why is happiness declining? In this presentation, Burton helps the audience unlock secrets to their personal happiness, allowing them to boost joy, even in the midst of deadlines, children, marriage, relationships, and squeezing in a workout or a girls' night out. By applying 13 happiness triggers, the audience will learn to:
· Bounce back from workplace stress and adversity faster
· Enjoy deeper satisfaction within their current role in the company
· Balance personal and work life more effectively
· Fight off depression, colds and other illnesses
· Live longer and happier!
Keynote Speech
In this keynote speech, Valorie Burton talks about how to be happy. She starts off by asking the room full of women to talk to someone next to them for 60 seconds and ask them what was the best thing that happened to them this week.
After the minute passes, she explains, "I start with that question because there is always something to be grateful for. I don't know if you noticed but every time you ask people at work 'How are you doing?', what's the typical answer? 'I'm fine...I'm making it.'"
She says, "When you get to the end of the day start asking what was the best thing that happened to me today because sometimes the best thing is that things didn't get any worse."
Talking about how children should be trained to think that way, she says, "Train them to be grateful. Start there because it's so easy for us to notice what's wrong and to pay no attention to what's going right. If we're going to be happy it has to start with gratitude."
Full Keynote Speech