* Please note that while this speaker's specific speaking fee falls within the range posted above (for Continental U.S. based events), fees are subject to change. For current fee information or international event fees (which are generally 50-75% more than U.S based event fees), please contact us.
Top25 Speaker Voting

Uri Gneezy needs 1 vote(s) to make it into the Top 25 speakers on Speaking.com!
Speaker Booking Tip
"Tip: speakers bureaus provide added value that you cannot get by booking speakers directly. "
For Event Planners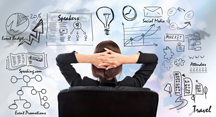 • Keynote Speaker Booking Toolkit.
• Booking a Celebrity Speaker.
• How to Find and Book the Right Speaker.
• Google+ Event Planning Forum.
• Tips for International Clients Booking U.S. Based Speakers.
Similar Speakers
Harry Paul

Harry "The Fish Guy" Paul is the co-author of one of the best-selling business books in history. FISH! A Proven Way to Boost Morale and…

Dr. Farrah Gray

Entrepreneur and social activist Dr. Farrah Gray went from public assistance to self-made millionaire by the age of fourteen. Dr. Gray dispels fallacies about success…

Paul Tiffany

Paul Tiffany is an award-winning professor, consultant and speaker with an M.B.A. from Harvard University and a Ph.D. from University of California at Berkeley. He…

Working with your speakers bureau has been a pleasure. Everyone on your team was extremely responsive and informative, and really helped us to customize our event. I will be sure to reach out to your agency again in the future with any speaker needs that I may have.
The Advisory Board Company
About SPEAKING.com
Established in 1994, we are exclusive agents for some of the world's leading experts, celebrities and professional speakers.
We offer event planners a fully staffed speaker logistics planning team, plus a personal SPEAKING.com Account Executive – a knowledgeable and trustworthy partner. We guarantee your satisfaction with your speaker and a smooth booking process.
Contact us today to book your favorite speaker.

Some of Uri's Past Speaking Engagements include:
Disney (LA)
Humana (Miami)
Edmunds.com (LA)
Microsoft Research (Seattle)
Sabadell Bank (Barcelona)
Stanford Hospitals (SF)
Behavior Works (Australia)
Ideas 42 (NYC)
PwC (Norway)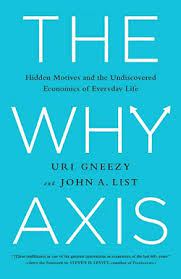 The Why Axis
Can economics be passionate? Can it center on people and what really matters to them day-in and day-out and help us understand their hidden motives for why they do what they do in everyday life?
Uri Gneezy and John List are revolutionaries. Their ideas and methods for revealing what really works in addressing big social, business, and economic problems gives us new understanding of the motives underlying human behavior. We can then structure incentives that can get people to move mountains, change their behavior—or at least get a better deal.
But finding the right incentive can be like looking for a needle in a haystack. Gneezy and List's pioneering approach is to embed themselves in the factories, schools, communities, and offices where people work, live, and play. Then, through large-scale field experiments conducted "in the wild," Gneezy and List observe people in their natural environments without them being aware that they are observed.
Their randomized experiments have revealed ways to close the gap between rich and poor students; to stop the violence plaguing inner-city schools; to decipher whether women are really less competitive than men; to correctly price products and services; and to discover the real reasons why people discriminate.
To get the answers, Gneezy and List boarded planes, helicopters, trains, and automobiles to embark on journeys from the foothills of Kilimanjaro to California wineries; from sultry northern India to the chilly streets of Chicago; from the playgrounds of schools in Israel to the boardrooms of some of the world's largest corporations. In The Why Axis, they take us along for the ride, and through engaging and colorful stories, present lessons with big payoffs.
Their revelatory, startling, and urgent discoveries about how incentives really work are both revolutionary and immensely practical. This research will change both the way we think about and take action on big and little problems. Instead of relying on assumptions, we can find out, through evidence, what really works. Anyone working in business, politics, education, or philanthropy can use the approach Gneezy and List describe in The Why Axis to reach a deeper, nuanced understanding of human behavior, and a better understanding of what motivates people and why.

Structuring Reward Programs That Work: Customer Promotions and Loyalty Programs
In some cases, small changes to the incentive structure can have a dramatic impact, positive or negative, on customer engagement and loyalty. Uri illustrates how to identify and avoid waste in commonly used incentive programs. Then, drawing on insights from previous research in behavioral economics and psychology and providing examples from his recent work, he shows how small differences in the structure of incentives programs can greatly impact effectiveness.
Optimizing Employee Incentives
The assumption that all incentives are created equal can lead managers to overestimate the return on employee incentive programs and fail to recognize valuable cost savings. Research in the field of psychology and behavioral economics has shown how small changes to incentive structure can have a dramatic impact on the organization's goals. Too often, companies put incentives in place without an accurate measure of the effect they have on behavior.
Uri Gneezy's research explores when and why incentives work (or don't work) to motivate behavior. Uri discusses how incentives should be structured to maximize employee productivity and will help managers evaluate and improve employee incentive schemes.
Putting Behavioral Economics to Work
Businesses are increasingly applying insights from behavioral economics in a wide range of areas including product pricing, marketing strategies, incentives and shaping consumer behavior. However, many companies currently lack the knowledge necessary to take advantage of behavioral economics. Understanding the psychological principles affecting the choices and behavior of customers, employees, and other stakeholders can give organizations a competitive advantage.

Uri Gneezy, Behavioral Economics Researcher: SPI Annual Conference Keynote
Experimental economist Uri Gneezy takes an intriguing look at the intersection of human behavior and consumerist spending. He presents two alternative models of consumer elected pricing that researchers tested: Pay-What-You-Want and Pay-It-Forward, the second of which means that customers paid for the good of another customer and furthermore, received a good that had been paid for by a previous customer.
"People give more when it's 'Pay-It-Forward,'" Uri notes, explaining that the Pay-It-Forward framework creates an incentive not just to be nice to the organization or employees offering consumers a service, but to fellow customers as well.
Uri Gneezy, Behavioral Economics Researcher: Keynote at Monash Sustainability Institute
Uri Gneezy: Speech Excerpt, Greed versus Reciprocity