Top25 Speaker Voting

Ty Bennett needs 7 vote(s) to make it into the Top 25 speakers on Speaking.com!
Speaker Booking Tip
"Tip: speakers bureaus provide added value that you cannot get by booking speakers directly. "
For Event Planners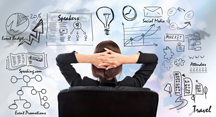 • Keynote Speaker Booking Toolkit.
• Booking a Celebrity Speaker.
• How to Find and Book the Right Speaker.
• Google+ Event Planning Forum.
• Tips for International Clients Booking U.S. Based Speakers.
Similar Speakers
Dr. Janet Lapp

Rated by Toastmasters International as one of the top three speakers in the world, Dr. Janet Lapp has helped over 2,000 audiences from Argentina to…

Eileen McDargh

For over 35 years, Eileen McDargh has been resuscitating organizations with her second-to-none talent for engaging groups, reframing their thinking, and inspiring them to take…

Alan Hobson

Mountaineer and cancer survivor, Alan Hobson embarked on ten high-altitude expeditions and a decade of raising millions of dollars before finally reaching the summit of…

Once again our agent did an outstanding job. Not only did he provide me with a number of options for potential speakers but he helped with seeing who was available, when they could speak, and getting everything done in a timely fashion. I look forward to working with him again.
Auburn University
About SPEAKING.com
Established in 1994, we are exclusive agents for some of the world's leading experts, celebrities and professional speakers.
We offer event planners a fully staffed speaker logistics planning team, plus a personal SPEAKING.com Account Executive – a knowledgeable and trustworthy partner. We guarantee your satisfaction with your speaker and a smooth booking process.
Contact us today to book your favorite speaker.

"The feedback from our attendees was the best received/highest rated on a keynote speaker ever!"
– DeMarcio Slaughter | Senior Manager, Sage Hospitality
"It was as if you were not a corporate motivational speaker, but instead a member of our team …"
– Camille Chavez | Director of Training, Farmerboys Food Inc.
"I look forward to working with you on future events for our group and would eagerly recommend you to others looking for the "best conference ever!"
– Brian Tyndall | Local Sales Manager, Midwest Family Broadcasting, Inc.
"I was particularly impressed at how he related his message directly to our audience of financial advisors."
– Ed Slott | Founder of Ed Slott's elite IRA Advisor Group
"He really got to know our culture and provided leadership development skills that our managers could immediately use to grow our people."
– The Team at Tijuana Flats
"Our President came to me after you spoke and thanked me for inviting you. He said that you 'exceeded expectations"
– Jay Bunkowske | Smokey Bones Director, Training & Operations
"You have great skill for presenting to a variety of individuals from various educational and business backgrounds … I would definitely recommend you to other business schools."
– Kristal Kareh, MBA | Associate Director U of U School of Business
"We would absolutely recommend Ty for any event! He was phenomenal!"
– Paparazzi Accessories
"The feedback from our audience was extremely positive and we heard consistently that he was the best speaker we had ever hired. In fact, we conducted a survey and our organization voted to have him back again this year!"
– Gary Turnidge | Subway Inland Development NW
"We had Ty Bennett as the closing speaker at our national conference. Everyone left that day feeling energized. I believe everyone was impressed with Ty's personable style and helping us all to start thinking outside the box in today's difficult climate. We have had tough changes in the healthcare industry lately and Ty's perspective and humor helped. I hope to have the opportunity to hear Ty again. He was terrific!"
– Kelli Katlin | Blue Cross Blue Shield
Partnership is the New Leadership
Over the last five years a survey of more than 5000 leaders asked one question​…w​hat do you want from your people?​ ​The answer was consistently​…commitment. The Power of Influence_front cover What builds commitment is the leader's approach to building relationships, providing value, creating buy-in and communicating with influence. Using case studies of leaders and organizations whose culture and growth is built through partnership​-​based leadership, Ty Bennett's ​talks ​share​ proven strategies and techniques to increase the commitment of your people.
​Takeaways include:
Specific ways to provide value that create influence
How to use stories to communicate a vision that people commit to
Keys to building relationships that last
The Power of Influence
Objective: Increase your influence and engagement
Regardless of the type of company, or the role you play in it, you are in the business of people. Because of that, great leadership is the driving force behind growing your business. Based on his highly rated book, The Power of Influence, Ty shares his philosophies and tools for increasing your influence and impact as a leader. How do you become a good leader? Through influence. How do you become a great leader? By using influence and integrity to engage and inspire others.
Learning Outcomes:
What leadership is all about
Skills for becoming "interested" not "interesting"
How to practice the Platinum Rule
Specific ways to invest in your people
Ty's humorous, insightful and interactive presentation will send attendees home as better leaders-making for better and more profitable businesses.

The Power of Storytelling
Objective: Selling or leading through storytelling
In this program, Ty teaches the art of storytelling as a key communication and sales strategy. He provides attendees with the mindset, skill set and toolset to sell effectively through storytelling.
People love stories. More importantly, stories engage emotion which prompts people to respond, take action or buy your products. We are all in the people business. We are all communicators. We are all involved in selling products, services, ideas. Storytelling is the most influential form of communication because we're all emotional creatures.
We've heard the saying: "people buy based on emotion." The truth is people take action based on emotion. The underlying principle behind storytelling is that it's not about you; it's about the other person. Showing them how your story impacts them and how it pertains to their life creates an influential impact in the sales decision.
Ty's Key Messages:
· Humanize your message: make a human connection instead of trying to sell your product
· Create the balance between credibility and relatability: buy into the idea that business is about relationships
· Engage the emotional, creative side of the brain: people buy from you because they know and trust you; let them in so they like and trust you
· Begin a conversation…not about you, about them: ask specifically you-focused questions
· Tell the story: everybody struggles with the same challenges…hook them with a struggle and you help them with a solution.
Learning Outcomes:
· The science of storytelling
· The 5 places to use stories

Present Like A Pro
Objective: engage, relate, influence through presenting
You know your material, you are an expert in your field and are up to date on essential information, however…
How do you make it your own?
How do you get clients to engage in your presentation?
How do you stand out among your peers?
Join keynote speaker Ty Bennett to learn The Power of Influential Presentations.
Learning Outcomes:
Explain complex ideas in simple, understandable ways
Share stories that make your presentation real and emotionally moving
Use metaphors that make your material tangible
Present in the way your audience wants to hear
Tie your presentation to the motivational triggers that move your prospects to do business with you

Storytelling Workshop
In this "Storytelling Workshop", Ty explains, "As we influence people they are attracted to us". By connecting with an audience through creative storytelling, the audience begins to relate to us as a person as well as our product or company. Giving your business a personal face creates a comfort zone for your audience.
"When you are interested you do what is convenient. When you are committed, you do whatever it takes". Ty Bennett tells the story of traveling on a train in a sleeper car through Russia with a family he didn't know and how being in that awkward situation helped him decide what was important to him: the value of commitment over interest.
Speaking Demo Video
Ty Bennett draws on his own experience in the trenches and his consulting work with powerful brands to share with audiences insight into leadership that works. "Passion means you're willing to suffer for something you love. Leaders who lack passion have followers who lack commitment. Why would anyone follow you as their leader?" he asks.
Bennett talks about the results of his survey of 5,000 leaders (featured in his new book and presentation Partnership is the New Leadership) and the word that showed up the most when he asked leaders what they wanted from their employees: commitment. "You want your people to be committed," he says. "But people are not committed to jobs or companies. What drives commitment is leadership; people are drawn to people."
Partnership is the New Leadership
Leadership expert Ty Bennett shares with his audience the conclusions he has drawn from his intense in-depth research of over 5000 leaders. He tells his audience, "The survey consisted of one simple question; the question was this, as a leader, what do you want from your people? Over 75% of leaders surveyed replied with one single word, commitment."
Ty explains the crucial point which so many leaders miss when they are looking for commitment: "Here's the key, people are not committed to jobs, they're not committed to companies, ultimately, people are committed to people. It's people and relationships that engender trust, that engender respect, that create accountability and ultimately commitment."
It is Ty's thesis that the old ways of leadership have to be changed if leadership is to become truly effective. He explains, "The old way of leadership was based on position, title and authority. You and I both know that people don't follow titles, they follow people, and so think about it, if you and I want commitment out of our people we need to approach leadership in a different way."
Leadership Speaker Ty Bennett Shares his Russian Train Story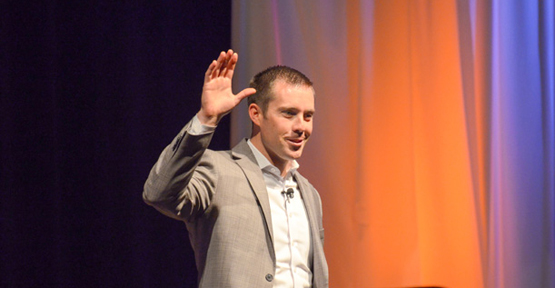 Achievement at a young age is nothing new for Ty, who started a direct sales business with his brother Scott at the age of 21; before the decade was out the company was bringing in $20 million in revenue. Since then, while still engaged in entrepreneurship through a multimillion dollar sales organization, he has personally ... more