* Please note that while this speaker's specific speaking fee falls within the range posted above (for Continental U.S. based events), fees are subject to change. For current fee information or international event fees (which are generally 50-75% more than U.S based event fees), please contact us.
Top25 Speaker Voting

Troy Hazard needs 8 vote(s) to make it into the Top 25 speakers on Speaking.com!
Speaker Booking Tip
"Tip: some speakers might provide one of their popular book titles as a free gift to your audience. "
For Event Planners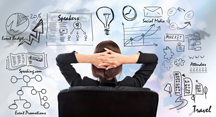 • Keynote Speaker Booking Toolkit.
• Booking a Celebrity Speaker.
• How to Find and Book the Right Speaker.
• Google+ Event Planning Forum.
• Tips for International Clients Booking U.S. Based Speakers.
Similar Speakers
Amanda Gore

Communications and performance expert Amanda Gore uses the latest psychological research to transform behaviors, cultures, and attitudes so that employees can reach greater heights when…

Steve Rizzo

Steve Rizzo is a personal development expert, comedian, motivational speaker and author known for his popular PBS special. As a comedian, he was chosen as…

Betty Nguyen

The first Vietnamese-American to anchor a national newscast, Betty Nguyen has reported major stories around the world for CNN, CBS, and NBC. She can currently…

Working with your speakers agency on our training projects during the year proved to be a great business choice. I felt that my account reps were always around when I needed them, willing to help and listen. They showed flexibility when it was required and were reliable and dependable.
KPMG, Europe
About SPEAKING.com
Established in 1994, we are exclusive agents for some of the world's leading experts, celebrities and professional speakers.
We offer event planners a fully staffed speaker logistics planning team, plus a personal SPEAKING.com Account Executive – a knowledgeable and trustworthy partner. We guarantee your satisfaction with your speaker and a smooth booking process.
Contact us today to book your favorite speaker.

CEO Entrepreneurs Organisation
"Hazard is a sensation. Our members can′t get enough of him. Troy Hazard is one of the best speakers we′ve ever had. He′s crisp, funny and smart. A true winner."

Director - Bank of Houston
"Troy is one of the most dynamic and exciting speakers I have ever had the pleasure of listening to. He doesn′t waste time with "filler" material like some speakers - he goes straight to the heart! He was dynamic, informative and provided great take home value."

Vice President, Events, Entrepreneurs' Organization
"Troy gets it. He is able to tailor his messaging appropriately – without all of the fluff that turns people off. His energetic style engages the group, whether it is large or small, and his delivery is effective as he gets straight to the point and drives it home. As an event manager, I love working with Troy as he takes the time to understand our objectives and is then able to just roll with it."

President, dart appraisal.com
"Troy Hazard completely creates positive energy on stage, by far the most exciting speaker I have had the pleasure of witnessing over my past 40 years! He has even been able to entertain a group of 500 people, while they are eating a loud lunch in a Hotel Ballroom. Troy is very quick on his feet and also able to roll with any last minute changes needed to accommodate any schedule or activity."

Cartridge World
"Troy′s fantastic skill of keeping everyone involved in the Conference, linking presenters with his personal experiences proved to us his extreme talent. All attendees agreed on the professionalism he showed lifted the Conference to another level."

ACP Magazines
"Troy came highly recommended and did not disappoint. He won our audience over quickly with his natural enthusiasm and charm and his comfort of putting his own mistakes, and successes, on show and educating from them. He tailored the content of his presentation to our audience so they felt strongly that he understood the particular stresses and opportunities. I would highly recommend Troy to anyone looking for a fun, engaging and knowledgeable independent business expert."

Choice Hotels
"Troy's Keynote session provided outstanding content, highly relevant to the audience and simultaneously in line with the conference theme "The Future is NOW". His delivery style was highly dynamic and created the perfect balance of business and motivational session. Troy's input throughout the event received excellent feedback from the entire Choice Hotels Team and the delegates."

ALH Group Limited
"Over the past 6 years The ALH Group has utilised the services of Troy Hazard and ′′The Edge′′ to develop our 52 venue management teams skills in local area marketing. Troy′s presentation style, understanding of local marketing for businesses and his real life experiences have made this program a great success for our business and the personal development of our individual team members. I have no hesitation in recommending ′′The Edge′′ to any business operator that want to make a real difference in their businesses performance."

Corporate Division Flight Centre Limited
"Just a brief note to say thank you so much for your efforts in at our international sales conference in Hong Kong. You did an outstanding job of bringing our global team together and getting them to think laterally about how we manage our sales process, our customers and our relationships in business.

The feedback from the event has been fantastic. There has been a buzz around the world throughout a number of the divisions in Flight Centre Limited, and the event has been noted as one of our most successful and highest rated conferences ever! See you in Melbourne in July for a follow up presentation to our team."

Professionals Real Estate Group
"An hour and a half with Troy made a dynamic difference to my own business and to those of my 70 fellow Marketing group members. Thanks Troy for your positive input and direction and the way in which you made the local area marketing process a simple thing for my members to understand, follow and implement. Its still a jungle out there but now we are armed with the right tools to go far beyond survival in it !!"

RealCorp Systems Ltd
"Our Members loved Troy′s ′earthy, friendly style′ and the feedback included comments such as ′′Top man/powerful message!, excellent, great, give him more time, vibrant, exciting′′ so clearly the presentation was a great success. Congratulations Troy on an excellent presentation we will definitely have you back for more training with the group."

G.J Gardner Homes
"The group thoroughly enjoyed your session. They were impressed with the intensity of it and the knowledge you passed on - in fact, several commented they could have had more time. We′d love to have you back next year. I also take this opportunity to say Thanks on behalf of the group, knowing they have taken idea′s back with them to put into practice within their own business."

Collins Booksellers
′′Troy Hazard made a big impact on our people. His relevance for retailers confronted with the issue of growing their business was totally appropriate to our needs."

Harcourts Real Estate Group Ltd.
′′For Troy to receive the evaluations he did highlights the preparation he undertook and the professionalism he obviously possesses. Many commented on his presentation skills and how well he knew ′′the Harcourt Way′′. Troy is a great presenter and speaker who I would definitely recommend to others.′′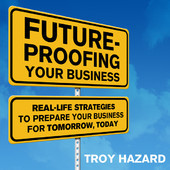 Future-Proofing Your Business
After years as a consultant to some of the world's biggest brands and having owned ten companies himself, Troy Hazard has learned crucial lessons on predicting potential business issues before you experience them. Now Troy offers you the skills to prepare your business for a better future. Along with his stories of what works, he also shares his experiences of what doesn't work. With a mix of entertaining real life extracts, client case studies, and personal experiences, Future Proofing Your Business offers potent and refined tools that have been road tested in real-world situations and aren't taught in business school.
Learn how to turn obstacles into opportunities Break down business barriers created by bad belief systems Develop powerful leadership skills through stronger personal awareness Know if you're driving your business into the future or into the ground Discover how to make change a consciousness not just an action. Understand your future through a greater understanding of yourself All through the author's extensive experience in his own companies and as a consultant for major world brands
Troy's philosophy on how to future-proof your business is anchored in one core belief: "Business happens in cycles. Your ability to manage these cycles successfully lies in how you interpret information from the past and deal with it in the present, to be more resilient through cycles of the future."
Troy Hazard (San Diego CA.; www.troyhazard.com) has founded and nurtured ten businesses over two decades, turned around businesses that were experiencing enormous losses, and consulted to countless successful companies around the world. These business talents earned him international respect, so much so that he was elected by the world's foremost business leaders for the role of Global President of the Entrepreneurs' Organization. For over a decade Troy has been a host and regular guest on many national television and radio shows as a business commentator and a feature writer for magazines. More recently he has become a regular voice of authority on The Biz Television Network, the CBS Talk Radio Network, and the Business Talk Radio Network, and is a regular writer in publications across the country.

FutureProofing Your Business:
With ten start-up companies in 20 years, Hazard has seen a number of companies take the step from being a good business to truly finding their Edge. This presentation encompasses a number of stories and case studies from both his own businesses and those with which he has worked as a consultant all over the world. He will share stories of the success of buying an ailing Internet business that was losing $60,000 a month and then turning it around to being profitable within 90 days. He will also share his own personal experiences of what happens when you take your eyes off maintaining 'The Edge' in business, stop looking to the future and get stuck in the past.

Leadership Lessons:
Leading people is not easy, just ask the recent Global President of the Entrepreneurs' Organisation. In this session, Troy will share some of the lessons he and his peers learned in that role as leaders of leaders, and leaders of teams. Armed with this information you will be more focused, balanced, aware, and effective. He will reveal the four key character traits that make up a good leader and offer real world business experiences that demonstrate how to improve your skills to maximise the impact on those you lead.

Revenue Through Relationship Marketing:
In this presentation Troy will reveal the real meaning of relationship marketing. He will demonstrate what defines best practice when you are building a customer relationship marketing program for your business and show you how to get a programme started easily and effectively. Troy will offer examples of some of the better relationship marketing programmes he has developed for brands, how they worked, why they worked and who they worked for.

Change or Die:
As part of his entrepreneurial adventure, Troy has spent years developing contacts around the globe so he can help drive his businesses and compete in a rapidly changing business environment. This presentation will encompass great change management tactics, including the four killers of business and how to avoid them, the five key drivers to making your business a success and how to predict and prepare for problems along the way.
Keynote Speech
Troy Hazard shares the biggest single change he made at every single company he's taken under his wing. Each day, he asked his team, either in person or on the phone three questions that got them on course: "What did you achieve yesterday?" "What are you going to achieve today?" and "How are you going to do it better tomorrow?"
This set of questions helped his companies and leadership team constantly evolve in a world where nothing stays the same. Pointing out that the competition had to deal with the same problems as his own organizations, Troy explains, "Our key is to embrace that evolution, know it's happening, deal with it, and get on with it and let [our competitors] fade and moan about it while we get in front of it."
Troy Hazard, Business Speaker: Sizzle Reel