Top25 Speaker Voting

Travis Bradberry needs 8 vote(s) to make it into the Top 25 speakers on Speaking.com!
Speaker Booking Tip
"Tip: find a speaker in your local area to save on travel costs. Most speakers will also reduce their keynote fee for local events. "
For Event Planners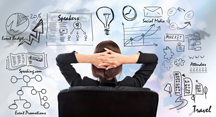 • Keynote Speaker Booking Toolkit.
• Booking a Celebrity Speaker.
• How to Find and Book the Right Speaker.
• Google+ Event Planning Forum.
• Tips for International Clients Booking U.S. Based Speakers.
Similar Speakers
Gabor George Burt

As an expert on overstepping boundaries, Gabor George Burt helps companies expand and succeed by teaching them how to eliminate perceived limitations. He provides an…

Ben Hines

Businessman and musician Ben Hines improves the way groups do business through teaching them how to harness the power of music. He is Founder and…

Jeffrey Hayzlett

Expert in leadership, change management and communication, Jeffrey Hayzlett is a bestselling author whose creativity and entrepreneurial skills make him much in demand as a…

It was an extreme pleasure to work with our account rep. She was friendly, flexible, and knowledgeable about all their speakers. She made the process simple. I cannot begin to put into words the impact that our speaker had on our audience. People are still taking about his presentation and his program set a standard on all diversity programs.
FDIC: Federal Deposit Insurance Corporation
About SPEAKING.com
Established in 1994, we are exclusive agents for some of the world's leading experts, celebrities and professional speakers.
We offer event planners a fully staffed speaker logistics planning team, plus a personal SPEAKING.com Account Executive – a knowledgeable and trustworthy partner. We guarantee your satisfaction with your speaker and a smooth booking process.
Contact us today to book your favorite speaker.

Select Clients Include:
3M
20th Century Fox
Abbott Laboratories
Accenture
Aetna
Amazon.com
American Airlines
Amgen
Apple
BF Goodrich Aerospace
Bank of America
Baxter
Best Buy
Boeing
Boston Scientific
Bristol Myers
Cardinal Health
CITGO Petroleum
Callaway Golf
Capital One
Canon Financial
Central Intelligence Agency
Cessna Aircraft
Chase Manhattan
Cisco Systems
Citigroup
City of Los Angeles
Coca-Cola
Comcast
Costco
Cox Communications
Crate and Barrel
DKNY
Deloitte & Touche
Dell Computer
Delta Airlines
Disney
Dollar Thrifty Auto Group
Dow Chemical
DuPont
eBay
Edward Jones
Eli Lilly
Entergy
Ernst & Young
Estée Lauder
ExxonMobil
Fedex Kinko's
Forest Laboratories
Fuji Xerox
Gap
General Mills
Girl Scouts of America
GlaxoSmithKline
Goldman Sachs
Goodwill Industries
Gulfstream Aerospace
Gymboree
H&R Block
Hallmark Cards
Harley Davidson
Harvard University
Hewlett-Packard
Hilton
Home Depot
Honda
Honeywell
IBM
IHOP
IRS
Intuit
Jack in the Box
JetBlue Airways
Johnson & Johnson
Kodak
Kohler Company
Kroger
LG Electronics
LL Bean
Lockheed Martin
MTV Networks
Marriott
McDonalds
Merrill Lynch
Microsoft
Morgan Stanley
Motorola
NASA
Nestlé
Nestlé Purina PetCare
New York Life
The New York Times
Nike
Nokia
Novartis
Oracle
Pepsi
Pfizer
Pfizer Animal Health
Polo Ralph Lauren
Proctor & Gamble
Qwest
Raytheon
Royal Caribbean Cruises
Samsung
Sara Lee
Sempra Energy
Siemens
Smith College
Smuckers
Sports Illustrated
Sprint
Stanford University
Starbucks
Starwood Resorts & Hotels
Tommy Hilfiger
TaylorMade-Adidas
Toyota
United Nations
US Air Force
US Army
US Court of Appeals
US Dept of Labor
US EPA
US Navy
US Postal Service
US Senate
US Steel
United Airlines
United Way
Universal Studios
University of Notre Dame
Viacom
Visa
Verizon
Wachovia
Walmart
Warner Brothers
Wells Fargo
YMCA
Yum! Brands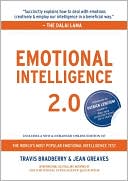 Emotional Intelligence 2.0
In today′s fast-paced world of competitive workplaces and turbulent economic conditions, each of us is searching for effective tools that can help us to manage, adapt, and strike out ahead of the pack.
By now, emotional intelligence (EQ) needs little introduction—it's no secret that EQ is critical to your success. But knowing what EQ is and knowing how to use it to improve your life are two very different things.
Emotional Intelligence 2.0 delivers a step-by-step program for increasing your EQ via four, core EQ skills that enable you to achieve your fullest potential:
1) Self-Awareness
2) Self-Management
3) Social Awareness
4) Relationship Management
Emotional Intelligence 2.0 is a book with a single purpose—increasing your EQ. Here's what people are saying about it:
"Emotional Intelligence 2.0 succinctly explains how to deal with emotions creatively and employ our intelligence in a beneficial way."
—The Dalai Lama
"A fast read with compelling anecdotes and good context in which to understand and improve."
—Newsweek
"Gives abundant, practical findings and insights with emphasis on how to develop EQ."
—Stephen R. Covey
"This book can drastically change the way you think about success…read it twice."
—Patrick Lencioni
Order Here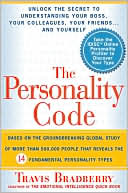 The Personality Code
A revolutionary approach to success and fulfillment-already being used by hundreds of thousands of individuals and organizations-now available for the first time in an accessible, practical book.
The Personality Code clearly and persuasively demonstrates how personality determines why we do what we do and how we can maximize our strengths, work smarter with others, and profit from better relationships in our careers.
Based on the IDISC(tm) Personality Profile-an updated and rigorously validated proprietary version of DISC, the world′s most popular form of personality testing-the book provides insights and strategies for individuals and organizations that promote self-awareness and foster excellence.
Readers will have free access to the online IDISC(tm) Personality Profile (each book will include a unique code number), which will reveal their own profiles from among the fourteen personality types that have been refined and defined through the author′s decade-long international study involving more than five hundred thousand participants.
Travis Bradberry shows readers how to discern the fixed characteristics that explain three-quarters of human behavior. Most important, they will learn how to leverage these traits in order to capitalize on their strengths and sidestep weaknesses in themselves as well as in other people.
Order Here
Emotional Intelligence 2.0: Taking Your Game to the Next Level
Each of us is looking for new and powerful ways to manage, adapt, and strike out ahead of the pack. This session will enable you to capitalize on your emotional intelligencea skill set that's responsible for 58% of your job performance. In this session you will discover:
What EQ is, how it works and why it's a skill we're all hard-wired to rely upon.
The critical connection between EQ and your performance.
A step-by-step process loaded with proven techniques for increasing your EQ.
Emotional Intelligence 2.0: Upping Your Leadership Skill Set
Ninety percent of great leaders are high in emotional intelligence (EQ) and it's the #1 predictor of leadership excellence. Understanding this "science of emotion" and incorporating it into your repertoire will take your leadership skills to new heights. In this session you will discover:
What EQ is, how it works and why it's the key to great leadership.
How various organizations have used EQ to increase the capacity and performance of their leaders.
How you can increase your EQ via proven techniques and strategies.
Emotional Intelligence 2.0: How to Use EQ to Increase Leadership Capacity And Job Performance
Great for HR Professionals
Emotional intelligence (EQ) is responsible for more than half of workplace performance, and is the #1 predictor of leadership and personal excellence. Better understanding this "science of emotion" can help you to increase the effectiveness of your leadership development initiatives.
Join us for this webinar presented by Travis Bradberry, Ph.D., the award-winning author of Emotional Intelligence 2.0 and co-founder of TalentSmart, the world's leading provider of emotional intelligence tests and training.
In this webinar, you'll interact with Travis as he shows you:
What EQ is, how it works and why it's a skill we're all hard-wired to rely upon.
How to measure EQ and integrate EQ assessment into coaching and training programs.
How various organizations have used EQ to increase the capacity and performance of their leaders.
Proven techniques for increasing EQ.
Demo Video
"I'm going to introduce you to something which is going to change the way you see yourself."
Dr. Travis Bradberry demonstrates his expert approach to the subject of emotional intelligence and its practical applications in improving personal performance.
WOBI Keynote Speech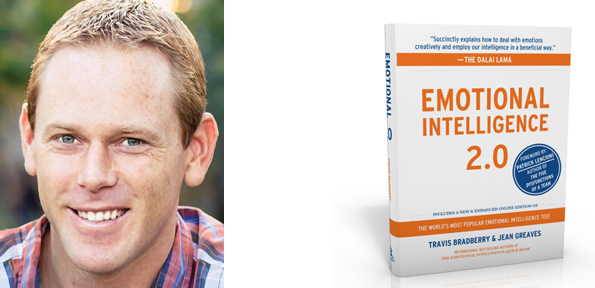 Dr. Travis Bradberry is the award-winning co-author of the #1 best-selling book Emotional Intelligence 2.0 and the co- founder of TalentSmart—a consultancy that serves more than 75% of Fortune 500 companies and is the world's leading provider of emotional intelligence tests and training. His best-selling books have been translated into 25 languages and are available ... more