* Please note that while this speaker's specific speaking fee falls within the range posted above (for Continental U.S. based events), fees are subject to change. For current fee information or international event fees (which are generally 50-75% more than U.S based event fees), please contact us.
Top25 Speaker Voting

Tom Oliver needs 7 vote(s) to make it into the Top 25 speakers on Speaking.com!
Speaker Booking Tip
"Tip: speakers bureaus provide added value that you cannot get by booking speakers directly. "
For Event Planners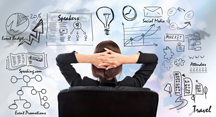 • Keynote Speaker Booking Toolkit.
• Booking a Celebrity Speaker.
• How to Find and Book the Right Speaker.
• Google+ Event Planning Forum.
• Tips for International Clients Booking U.S. Based Speakers.
Similar Speakers
John Gray

The best-selling relationship author of all time, John Gray inadvertently coined a pop culture catch phrase with the title of his best-selling book Men Are…

Ty Pennington

Television show host, designer, model, writer. Born on October 19, 1965, in Atlanta, Georgia. Known for his enthusiasm, creativity, and good looks, Ty Pennington is…

Lynda Gratton

Acknowledged as one of the world's leading experts on Human Resources and Corporate Culture, Dr. Lynda Gratton is Professor of Management Practice at London Business…

This has been one of the most outstanding speaker agencies I have had in my 25+ years in the hospitality industry. They have helped my company secure speakers for years to the delight of my attendees. They have secured high profile speakers, even within the confines of a tight turnaround and an even tighter budget. I recommend their services without hesitation. They are truly leaders in their profession looking out for their clients: excellent is all I can say!
AHIMA
About SPEAKING.com
Established in 1994, we are exclusive agents for some of the world's leading experts, celebrities and professional speakers.
We offer event planners a fully staffed speaker logistics planning team, plus a personal SPEAKING.com Account Executive – a knowledgeable and trustworthy partner. We guarantee your satisfaction with your speaker and a smooth booking process.
Contact us today to book your favorite speaker.

"Tom is fabulously placed to inspire those around him to learning whole new levels of solutions."
– Google HQ, California
"The man that Barack Obama calls "one of the most creative people on the planet" illustrated to our worldwide audience of Managing Directors how global brand titans like Google and Apple apply Tom's principles to become masters of creativity, innovation, and original thinking. Tom´s speech and live music presentation were very engaging, very insightful, very inspiring, and very beneficial for all of us. I learned a lot from it, and the team did as well."
– Samir Ayoub, CEO, Mindshare Mena
"Tom is an expert on understanding the Millennial Generation and the hearts and minds of the consumers below 30. A passionate speaker who brings a completely different, unique and holistic view."
– Jez Frampton, Global Group CEO, Interbrand
"Tom provides the right inspiration, tools and instructions for how to attract and retain the best people to ensure the long term success of any business."
– SAP
"The tools will help to develop our ability to turn conflict into a positive and non-destructive force."
– PUMA
"Tom is one of the world's best experts on leadership"
– Wharton School of Business
"Tom is a coach to many of the world´s most notable CEOs, philanthropists, and entertainers."
– Mcgraw Hill Professional
"Tom was the first speaker in 10 years to successfully address our global audience of entrepreneurs, billionaires, politicians, CEOs, and heads of state."
– Bertelsmann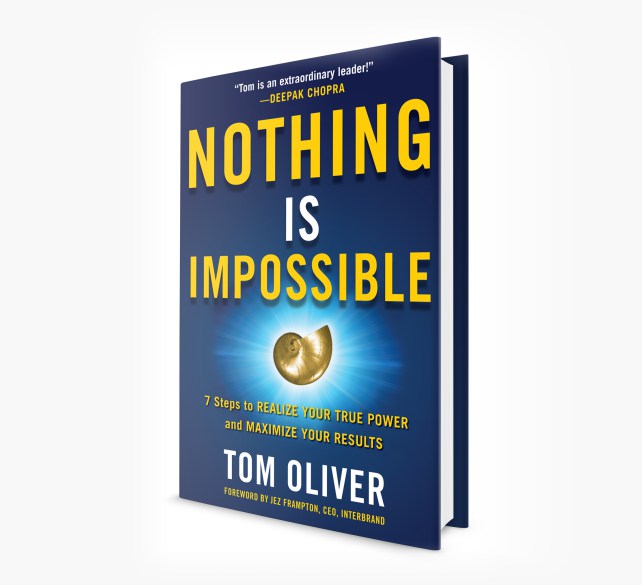 Nothing is Impossible
Tom Oliver has shared his extraordinary secrets with Bono, Richard Branson, the Dalai Lama, and Deepak Chopra. Now he shares them with you.

Are you ready to lose your self-doubt and use the tools you already have to turn your wildest dreams into tangible reality? This book is about to put them all at your fingertips. In this extraordinary new road map for success, Tom Oliver – a motivational self-made entrepreneur and coach to many of the world's most notable CEOs, philanthropists, and entertainers – shows you how to dramatically alter your life path.
Nothing Is Impossible is a proven seven-step whole-brain plan anyone can use to improve his or her business, life, and career from the man Deepak Chopra calls "an extraordinary leader."
In just a few minutes a day, you'll learn how to:
Define your personal destination
Break free from limiting belief
Build a first-class worldwide network from scratch
Create extraordinary success doing what you love
Embody self-confidence and charisma wherever you go
Turn failure into victory

Whether you're a business professional, athlete, entrepreneur, artist, or anyone else, after reading and implementing the wisdom of Nothing Is Impossible you'll be able to transcend the boundaries of what today's world thinks is possible.

Turn Your Business into a Powerhouse of Motivation
Master the secrets behind creativity
The man that Barack Obama calls "one of the most creative people on the planet" will illustrate how global brand titans like Google and Apple apply his principles to become masters of creativity, innovation, and original thinking. This interactive panel incorporates a live music performance to illustrate the true nature of creativity. Oliver will share his best practices, tools and insights to show how this process can be applied by anyone to produce creativity at the highest level.
Creativity and innovation are the two biggest drivers for the long term success of any business. Cutting costs out of the supply side no longer works. Businesses have to focus on the demand side, and here innovation is the biggest issue. Now more than ever, the ability of any business to produce innovation at the highest level will determine its long term success.
Businesses think that the processes of creativity and innovation are linear, but they are not. Businesses can profit immensely from understanding the process of making music in a band – called "jamming" – to produce innovation at the highest level. When jamming, a band focuses on bringing an inner vision to life. All band members move in tune with the music. Spontaneously, they give up control and move as one – in harmony. That´s when the magic happens. Only by jamming together, a band can produce great songs.
Tom decodes the secrets behind creativity and shows how the different parts of your business need to work together in harmony, "jam" and hear the music to consistently produce innovation at the highest level. On request, Tom even ties in live music performances into his keynotes to illustrate the true nature of creativity and how this process can be applied to produce superior innovation in a corporate setting.
Win the Millennial Generation and Consumers Below 30 for Your Products and Services
The highest driver of change over the next decade will be a significant shift in the expectations of the increasingly digital consumers of the Millennial Generation.
The Millennial Generation and the consumers below 30 demand an increasingly seamless experience from the companies they do business with. As "a gateway to millions of next generation trendsetters and early adopters" and "expert on understanding the consumers below 30" (Interbrand – Best Global Brands), Tom shows how to engage these consumers effectively. To this end, Tom draws parallels between the secrets and best practices of rock stars, global social entrepreneurs and "rock star" brands like Apple that have created a loyal global following for their products.
In order to provide a seamless experience to consumers, businesses can profit immensely from understanding how rock stars and global social entrepreneurs engage people´s hearts and minds. When a rock star goes out on stage, he tunes into an inner vision and then brings this inner vision to life with his band to excite worldwide audiences. A global social entrepreneur applies exactly the same process when he sets out with nothing more than a vision to inspire global movements and rally millions of people behind a cause. In applying the same principles, businesses can develop the kind of products and services that have a mass appeal and resonate with consumers around the world.
Attract the Best, Keep the Best
Boost Your Bottom Line and Profitability by Constantly Attracting the Top Talent and the Best People

The future of any company lies in its ability to attract and keep the top people as employees. But now more than ever, the best people are not attracted by the best pay alone: They want to work with the best corporate citizens.
Tom shows how to create a corporate climate that attracts the top talent and the best people through good corporate citizenship: To be a good corporate citizen means to build a better company. Thereby you ensure its long term success. Otherwise your employees will route you out, and then ultimately your customers as well. Tom decodes the corporate DNA, remodeling it into a magnet to attract the high achievers of today and tomorrow.
Achieve New Heights of Productivity by Enabling Higher Levels of Collaboration Within Your Organization

Once an organization minimizes internal friction, it is able to achieve collaboration and productivity at the highest level. By making sure everyone in your organization is in agreement, your organization can work better with itself than ever before.
To be a good corporate citizen means to be at peace with your world. This is based on the concept of inner and outer peace, which Tom pioneered as a global leader in the field of peace and through his collaboration with cutting edge businesses from Puma to Virgin and Google.
Tom decodes the secrets behind internal collaboration and shows how the different parts of your business need to work together in harmony. Breaking down silos in organizations and reducing internal friction and conflict enables higher degrees of collaboration among employees, thereby achieving completely new heights of productivity.
Become One of the Best Global Brands by Understanding the Hearts and Minds of Your Consumers

To become and remain one of the best global brands you have to understand the hearts and the minds of your consumers. You have to understand people and their emotions. You have to thoroughly understand your customer base and how to connect with them. Only then you will be able to engage your consumers effectively.
Understanding your consumers is now more difficult but also more relevant than ever before. The individual consumer has a bigger presence as the global competition intensifies and the digital world increases the speed of interaction between businesses and their customers.
Optimize Communication Among Teams
Improve and Maximize Your Understanding and Sensitivity for Cross-Cultural Differences and Radically Improve Your Cross-cultural Management

In working with Fortune 500 CEOs from around the world Tom has developed an intimate understanding for the subtle cultural differences that heavily influence corporate communication and corporate cultures around the world, especially cross-cultural differences and cross-cultural management styles.
Tom not only understands how companies work and function but also unites these cultural differences in himself because he's a true cosmopolitan who has been living in so many cultures and countries. This allows Tom to relate to these differences and convey them clearly to corporate audiences, thereby helping them to improve and maximize their understanding and sensitivity for these cultural differences and radically improve their cross-cultural management.
Tom shows companies how to dramatically improve their communication between teams and different corporate cultures. This enables them to work in harmony with less friction and allows organisations to radically improve their productivity and the collaboration among their teams.
Since Tom lives what he preaches, he can convey theory and practice to Fortune 500 and corporate audiences around the world in an authentic, practical, and fundamentally engaging manner.

Tom Oliver, Business Speaker: Opening Keynote
Effortlessly greeting his international audience in three languages, Tom Oliver discusses why individual power is stronger than ever and what this increase in power means for today's business world. Any business with standard technology has the ability to connect with millions of people in just a matter of seconds, yet most fail to do so in a way that bears tangible results.
"You need to very clearly define the vision of what it is you want to accomplish," Tom states, explaining that simple and direct messages are an absolute necessity in a dynamic defined by massive information inputs and decreasing attention spans. "Rock star brands" like Apple convey these messages with passion and authenticity to capture not just consumers, but rather, devoted fans and followers.
For those entrepreneurs who are just starting out and feel lost in a sea of competition where no one knows their name, Tom assures them, "Your passion is your big name. Your passion will build your network, because other people will respond to you with commitment once you go out and sell your vision with that passion."
Tom Oliver, Business Speaker: Demo Reel
Tom Oliver, Business Speaker: Google Talk