* Please note that while this speaker's specific speaking fee falls within the range posted above (for Continental U.S. based events), fees are subject to change. For current fee information or international event fees (which are generally 50-75% more than U.S based event fees), please contact us.
Top25 Speaker Voting

Tom Flick needs 6 vote(s) to make it into the Top 25 speakers on Speaking.com!
Speaker Booking Tip
"Tip: some speakers might provide one of their popular book titles as a free gift to your audience. "
For Event Planners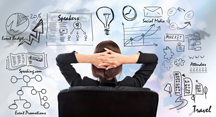 • Keynote Speaker Booking Toolkit.
• Booking a Celebrity Speaker.
• How to Find and Book the Right Speaker.
• Google+ Event Planning Forum.
• Tips for International Clients Booking U.S. Based Speakers.
Similar Speakers
Nancy Lieberman

Hall of Fame point guard, Nancy Lieberman has no holes in her resume. The legendary WNBA player known as "Lady Magic," she became the first…

Anthony Bourke

Accomplished fighter pilot and seasoned CEO, Major Anthony Bourke has helped thousands of leaders streamline growth and improvement in their companies. After flying hundreds of…

Brian Tracy

Consulted by more than 1000 companies, giver of over 5000 talks and seminars across the world and speaker to more than 5 million people, Brian…

Our client rep was a pleasure to work with. He was well organized and kept me updated every step of the way. The level of professionalism and the quality of the materials received were excellent. I will be in touch for future speakers!
Mattel
About SPEAKING.com
Established in 1994, we are exclusive agents for some of the world's leading experts, celebrities and professional speakers.
We offer event planners a fully staffed speaker logistics planning team, plus a personal SPEAKING.com Account Executive – a knowledgeable and trustworthy partner. We guarantee your satisfaction with your speaker and a smooth booking process.
Contact us today to book your favorite speaker.

"Marriott's ROI on Tom Flick has been outstanding! After your presentation to our team, Marriott's Maui Ocean Club had the biggest week and biggest sales period in our company's 21 year history."
Neil Powers, Director of Sales Operations Marriott
"As a member of the audience, I was completely drawn in by your style as well as the strength of your message. I enthusiastically recommend you to anyone seeking to make a powerful and positive impact on their people and culture."
Jim Alling, President Starbucks Coffee Company
"What a great presentation! Tom's penetrating, insightful and uplifting message captured the heart of everyone on our worldwide sales team!
Mike Oldham, General Manager OEM Division Microsoft
"The feedback has been 100% positive—More importantly, it is referred to regularly 2 months after our meeting. , George Kane, Jr., CIMA First Vice President Director
"Only the very best speakers can get people thinking and moving, and Tom Flick did exactly that. Tom gave us a big win with our customers....and a big win for our customers with their customers.
Purvez Qureshi, Chief Executive Officer Activant Solutions, Inc.
"You grabbed our attention in the first minute and never let go. Your ability to tailor your message to our insurance and financial services audience was exceptional. You challenged and inspired us to rethink the way we perform at work and at home.
Dwayne Gantz, Corporate Project Manager Safeco Insurance
"Thank you again for your fabulous presentation! All who attended found your talk inspirational and right on target. Overall, the evaluation of your talk is the highest I recall at Premera."
Gubby Barlow, CEO Premera Blue Cross
"You were instrumental, not only with your focused, inspirational and, yes, entertaining presentations; but equally so in helping us prepare our own key messaging. The feedback we have received from our 100+ leaders has been overwhelmingly positive and I am indebted to you."
Tom Pehl, Senior Vice President Trammell Crow Company
"Mr. Flick's ability to engage his audience with time-honored principles, fresh insight and passion is outstanding!
Dawn Morelli-Young Operations Manager, Honeywell, Inc.
Tom, the benefits of what you shared were quickly seen... our teams began to apply your principles immediately with great results! Your motivational message was so well received... we moved from a group of individuals to a team with passion and purpose.
Jerry Koster, President Herman Miller, NW Division
Partial Client List:
Activant
Allegiance Healthcare
Allied Signal
Ancor Holdings
AT&T
ARFFWG
ASCAP
Balfour Beatty
Inc.
Boeing
Catholic Healthcare Partners
Centex Homes
CHRISTUS Health
Consumers Energy
Department of Treasury
Eddie Bauer
Endocare
Financial Network
FleetBoston Financial
FleetPride
Food Services of America
Gaylord Entertainment
Hallmark Cards
Hawaiian Cablevision
Heritage Bank
Herman Miller
Inc.
Honeywell
Intuit
Learning Care
Lucent Technologies
Lumber Products
Lumberman's Building Centers
Marriott
Merchant's Distributors
Merrill Lynch
Microsoft
Motorola
National Football League
Leading Change
Empowering Successful Transformation
The ability to change quickly and efficiently is not a core competency of most organizations. For nearly all organizations, change is difficult, painful and costly. In a world of ever increasing rates of change and where entire economies can shift almost overnight, the ability to change quickly and well can mean the difference between an organization thriving or dying. When a major change arises, getting it right the first time becomes imperative.
Leading Change sets the stage for creating a core competency in change leadership. Organizations that lead change effectively can take advantage of significant opportunities, avoid looming hazards, and thereby create enormous value for their stakeholders. Studies show overwhelmingly that organizations and their leaders that are adept at change grow faster, create more wealth, enhance customer success, gain public support, and compete more effectively. It is, in fact, the largest differentiating factors in the top performing organizations in the world.
Leading Change sets the stage for organizations to take the next step forward by clarifying the value of Harvard Professor, Dr. John Kotter's 8-step process, by equipping leaders with the proper understanding of how successful change is created. While it may be true that most people don't like change, leaders who understand the dynamics of change can slice through resistance and outperform the competition.
PRINCIPLES
Accelerate!
The 8-Step Process for Leading Change
How to Get Buy-In
Change Leadership
Urgency
Leadership vs. Management
The Head and Heart
The Heart of Leadership
Leading People to Excellence
Create decisive advantage for your organization. The Heart of Leadership demonstrates how capturing both minds and hearts will be crucial. Organizations that do will rise to the top, consistently out performing their competition. Tom demonstrates with stunning clarity how Leaders who positively engage not just the minds, but also the hearts of their people consistently achieve stronger mission awareness, higher productivity and better schedule performance.
The Heart of Leadership presents the core drivers for creating great leaders throughout the organization. From corporate titans to emerging start-ups, the skill and capacity to capture and engage the hearts of people will be the decisive factor in their success. No longer can one charismatic individual lead the vision alone. The catalyst for sustained high-level performance is leadership, from top-to-bottom, which empowers every individual.
Everyone leads… executives, managers, sales, marketing, and front-line employees. The Heart of Leadership mobilizes and inspires people to become superior leaders to achieve amazing results. Empower more leaders, better leaders, at all levels of your organization. Transforming organizations into great enterprises is a process driven by the heart, the true source of all inspired performance.
True Urgency
A Highly Focused Force
Create action that is exceptionally alert, externally orientated and relentlessly aimed at winning. In a fast-moving and changing world, contentment with the status quo can create disaster. Success, or perceived success, produces an inwardly focused organization which reinforces the status quo. A false sense of urgency in an organization has a great deal of action, but it's driven by anxiety and fear and not a determination to win, and win as soon as possible. Both challenges prevent organizations from exploiting crucial opportunities and accelerating their strategic plan.
In a world that will not stand still, the all-too-common problem of complacency and false urgency can be solved by producing the very positive and highly focused force of true urgency. True urgency is driven by the belief the world contains great opportunities and great hazards. With true urgency people respond with action now, not later, ignited by a deeply-felt determination to make something happen. Now means making progress every single day. Now means tackling challenges that are essential to success or survival, winning or losing.
True urgency creates fast-moving actions in people that are focused on important issues, pushing to achieve ambitious goals despite obstacles, working to achieve progress every single day. True Urgency will produce results in your people that you very much want and the world very much needs. True Urgency opens the door for people to feel true empowerment, true job satisfaction, and bring their "A" game for the ultimate success and profitability of their organization.
Tom Flick Keynote Speech Excerpt
Tom Flick surveys how even change has changed, explaining that transitions used to occur episodically, allowing enough time and stabilization for businesses to form committees dedicated to navigating the organization through periods of transformation. Now companies need to be equipped to handle non-stop waves of change all the time.
He shares that effective leaders nurture a culture in which employees see the world as a place of big opportunities. He explains that in order to make progress everyday leaders must "connect the head and the heart" rather than turning initiatives into "intellectual exercises" supported by the latest studies and numbers. "You can't lead with that, because you're leading human beings," Tom insists, maintaining that quantitative data and analyses are not the key to engaging employees "to win the day."
Keynote Speech Excerpt
Tom Flick: Intro
Tom Flick: Made for Success - Interview