* Please note that while this speaker's specific speaking fee falls within the range posted above (for Continental U.S. based events), fees are subject to change. For current fee information or international event fees (which are generally 50-75% more than U.S based event fees), please contact us.
Top25 Speaker Voting

Tom Faranda needs 7 vote(s) to make it into the Top 25 speakers on Speaking.com!
Speaker Booking Tip
"Tip: speakers bureaus provide added value that you cannot get by booking speakers directly. "
For Event Planners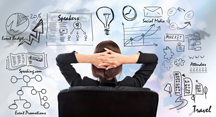 • Keynote Speaker Booking Toolkit.
• Booking a Celebrity Speaker.
• How to Find and Book the Right Speaker.
• Google+ Event Planning Forum.
• Tips for International Clients Booking U.S. Based Speakers.
Similar Speakers
Norman Ornstein

Norman Ornstein is one of the nation's most highly regarded political analysts and experts on Congress. He is the co-author of the 2012 book, It's…

Dr. Theogene Rudasingwa

Dr. Theogene Rudasingwa is a Rwandan who has spent most of his life as a refugee. As a medical doctor and former diplomat, he has…

Richard Behar

In a career that has encompassed working for Forbes, TIME and FORTUNE magazines stretching over three decades, Richard Behar has been honored with more than…

Our account rep was fantastic; he is very responsive, handled registration for our speaker, submitted the contract and invoice quickly - so easy to work with. Thank you!
Deloitte
About SPEAKING.com
Established in 1994, we are exclusive agents for some of the world's leading experts, celebrities and professional speakers.
We offer event planners a fully staffed speaker logistics planning team, plus a personal SPEAKING.com Account Executive – a knowledgeable and trustworthy partner. We guarantee your satisfaction with your speaker and a smooth booking process.
Contact us today to book your favorite speaker.

"You presented a great keynote. We want you back next year !"
CEFCO China

"Your consulting in our medical and engineering divisions on five continents was outstanding."
Siemens Germany

"The senior executives of India will never forget your insights to grow their businesses."
Creative Communications of India

"Your ideas on the future of technology and making money in tech are fantastic."
INTEL

"Your presentation on China was the highlight of an extraordinary meeting. The excellence of your talk set the stage. Comments were were euphoric- an amazing feat. Tom, you hit the mark and then some. You′ll be back!"
MPIF (Metal Powder Industries Federation-June 2006)

"Your ratings were outstanding as evidenced by the amazing standing ovation….thank you."
Working Women of South Africa

"You gave our customers ′pearls of wisdom′ they can use--you were a great hit!"
IBM Europe

"It was a delight working with you--you were responsive, professional and very good."
MPI (Meeting Planners International)

"You have helped us penetrate new global markets...thanks for going an extra mile."
Audio Word South Africa

"Your great use of global examples, anecdotes and humor makes your presentation great!"
Honeywell

"You were outstanding at our joint conference in Edinburgh....come back for a third time!
International Travel Managers / Business Travelers Association

Partial Client List:
3M
AT&T
Bell South Comm.
Copeland
FORD Canada
Fabwell Metals Corp
Hidden Hitch Canada
Honeywell America
IBM
INC magazine
J.C. Penney Company
Manulife Financial
Masonite Corporation
OMNICARE Pharmacy
PFAFF (German Mfg)
Siemens
Travelodge
UFP Technologies
UNISYS Corporation
Union Carbide Corp

The GLOBAL Sales Professional
7 Effective Skills of a Great Global Sales Professional

Global Sales Professionals are the new masters of the universe. They travel the world, command very high incomes and have incredible excitement and adventure in the global sales world.

This book is designed to help people become successful global sales professionals. It will teach you the "global selling skills" which revolve around cultural, social, lingual and political worlds. It will teach you how to establish and maintain long-term relationships with customers of completely different backgrounds, beliefs and values. It will teach you how to take your professional selling skills and move them to a new global level where the risks are higher and the rewards are greater.

The differences between a professional salesperson of any individual country and a global sales professional of the world are extensive.

A successful global sales professional has all of the sales skills of a proven sales expert. She/he knows marketing almost as well as sales and also knows how to utilize PR and Advertising for sales results. He/she understands customer needs, wants and demands and how to create a customer relationship that is effective and lasting. Basically, a sales professional has all the skills needed to ′go global′ except for the global selling skills that are unique to international business.

This book will be your short and fast guide to understanding global selling as well as international business. Each chapter has a "Faranda Maxim" and an explanation of how to use this ′Faranda Maxim′ technique in global selling situations and in life. Each chapter features examples as well as corporate stories that demonstrate both successful and unsuccessful attempts in global selling. Each chapter is focused on one skill and provides a short guide to that skill.

This book is a powerful way to learn the skills needed to thrive as a Global Sales Professional. Use it to break into the global selling profession. Use it to enlarge your global selling skills. Use it to increase your income and satisfaction in being "A GLOBAL SALES PROFESSIONAL."

Tom Faranda′s style is fast-paced and compelling to promote energy and to get a ′buy-in′ from participants. His global examples, bottom-line techniques, stories and humor create a compelling experience which motivates leaders to use his new ideas. He challenges the participants and makes them part of the program. Finally, Tom Faranda is one of the few speakers with enough top management and entrepreneural experience around the globe to welcome Q & A at the end of the program so each participant can get their specific questions answered.
Global Realities and YOUR Bottom Line
This is the most stimulating and thought provoking global business program in the world. It is an amazing experience that shows you, by country and with a specific time line, what is going to happen around the world in the next TEN years and how these events will affect YOU and YOUR bottom line.
Tom Faranda will provide specific global forecasts and key global trends that will impact your growth and profit. His information comes from senior corporate executives and entrepreneurs based around the world and legitimate inside information provided by government officials and others who are part of his extensive global network. Tom was correct about the rise and fall of Japan, changes in the EU and in the value of the EURO, the rise of Asia and especially the rise of China and India. His forecasts are accurate and timely. This program is fast-paced and filled with examples, stories and global humor. It is an unforgettable look at tomorrow.
American Realities and YOUR Bottom Line
Tom Faranda will explain what is going to happen in America in the next TEN years, with specific forecasts and time frames. He will explain how economic, political, social and legal changes in America will impact YOU and your organization and return America to prosperity. This program provides an objective view of AMERICA just as Tom′s "GLOBAL REALITIES" program provides an objective view of the entire world. This is a fascinating, fast-paced program filled with examples,facts, stories and humor. It is an unforgettable look at our America over the next ten years.
CHINA & INDIA′s Impact on YOUR Bottom Line
This program is an in-depth study of how China and India will change your global strategy over the next ten years!
Tom Faranda will detail their economy, growth plans, world views, competitive advantages and future plans. He will show you their strategic plans to take control of the world and become the two key economic engines of this century.
Uncommon Sense: Leadership for YOUR Global World
Based on Tom Faranda′s book Uncommon Sense Leadership.
A global leader has to compare his/her results with successful organizations in Shanghai, Tokyo, Stuttgart and others around the world and not just to American organizations. A great global leader has to see beyond the rules of today and create new rules that work in tomorrow′s global world.
In this program, Tom Faranda will teach us new management and leadership skills that lead to success in a global world. He will show us how to plan strategically, act with innovation and lead successfully to create growth and profit.
Leadership is the connecting mechanism that links resources with goals, plans with achievements and people with productivity. It is an illusive but learnable skill that make the impossible, possible. It is the force that drives people to succeed and reach their potential. Tom Faranda′s style is fast-paced, dynamic and entertaining. His real-life examples, bottom-line ideas, stories and humor create a compelling experience which motivates people to succeed.
Global Futurism-Impact on Life and YOUR Bottom Line This wild global ride will take you through the worlds of medicine, electronics, telecommunications, 3D imaging and more. You will learn what inventions and innovations will be part of your life over the next ten years. This is an exciting, humorous and very interesting program that will keep people entranced and open their minds to their world of the near future.
The Global Sales Professional - Selling Internationally The most successful sales people in the world are Global Sales Professionals. The art and science of global selling adds a new dimension of sales to build competitive advantages and increase market share around the world. This program will improve every sales professionals skills and especially their GLOBAL SALES SKILLS and help them move to the next level of success.
Uncommon Sense Leadership for Global Leaders Global leaders requires an entirely new set of skills for the successful growth and profit of a global business or organization. Global leaders must master the cultural, lingual, social, legal, political and economic issues of every country in which they do business. They must understand currency fluctuations. They must know how to deal with distributor networks that have been in place for generations. They must have negotiation skills that are specific to each country. In this program, Tom Faranda will explain these unique leadership skills and show us how to master them for global growth and profitability.

Speech Excerpt
Tom Faranda predicts the biggest shifts the world will see both economically and politically within the next decade, drawing credibility from his record of accurate forecasts. "I also predicted that China would surpass Japan to become the number two country in the world by the end of 2010," he reminds the audience.
Some of the events Tom foresees happening include Alberta succeeding from Canada and joining the U.S., India catching up to Chinese GDP numbers, and potential conflicts surrounding Taiwan. "If we continue our stance that we are going to support the Taiwan independence, look for a major financial international warfare incident," he warns.
China
"70% of all corporate profits will come from the China India market," Tom Faranda states, explaining why the Chinese markets will be the most important for the next 20 years. A country that's increasing its population by 7 million people per year, China demonstrates consistent demand for ongoing development and its citizens aren't afraid to take risks to make those developments happen.
Citing entrepreneurship as a cornerstone of the country's 5,000-year-old history and culture, Tom affirms, "You do not need to teach the Chinese entrepreneurship or gambling. And that's why they make great entrepreneurs. They're willing to gamble and risk and make things happen in their cities and their countries."