Top25 Speaker Voting

Todd Dewett needs 1 vote(s) to make it into the Top 25 speakers on Speaking.com!
Speaker Booking Tip
"Tip: speakers bureaus can provide: speaker fee negotiation, insurance, smooth logistics and value add-ons such as extra sessions. "
For Event Planners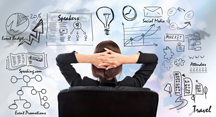 • Keynote Speaker Booking Toolkit.
• Booking a Celebrity Speaker.
• How to Find and Book the Right Speaker.
• Google+ Event Planning Forum.
• Tips for International Clients Booking U.S. Based Speakers.
Similar Speakers
Eileen McDargh

For over 35 years, Eileen McDargh has been resuscitating organizations with her second-to-none talent for engaging groups, reframing their thinking, and inspiring them to take…

Valorie Burton

Valorie Burton is dedicated to helping individuals succeed, even in the face of challenges. Ms. Burton has been called one of the top 100 thought…

Peg Neuhauser

Since publishing her now classic book Tribal Warfare in Organizations, Peg Neuhauser has become one of the most sought-out experts in conflict resolution, mediation, and…

Our account rep was fantastic; he is very responsive, handled registration for our speaker, submitted the contract and invoice quickly - so easy to work with. Thank you!
Deloitte
About SPEAKING.com
Established in 1994, we are exclusive agents for some of the world's leading experts, celebrities and professional speakers.
We offer event planners a fully staffed speaker logistics planning team, plus a personal SPEAKING.com Account Executive – a knowledgeable and trustworthy partner. We guarantee your satisfaction with your speaker and a smooth booking process.
Contact us today to book your favorite speaker.

"The talk on being more creative was engaging, inspiring, and extremely relevant. Todd was outstanding!"
-Ohio Society of CPAs
"I have not laughed that hard in a long time – thank you. You have a way of putting laughter into learning, and allowing the participants to soul search for their true values. Thanks again for reminding me to show my ink!"
-Regan, Levin, Bloss, Brown & Savchak
"Dr. Dewett was inspiring, thought-provoking, and great at connecting with the audience in a straightforward manner on leadership, team, and career issues. One of the few speakers I've heard who will I will remember long after his presentation."
-PNC
"There is a lot of content out there about leadership, but Dr. Dewett brings the context and delivery to create "ah-ha" learning moments."
-U.S. Airforce
"Todd Dewett demonstrates an amazing ability to create both a motivational and inspirational atmosphere for any audience. He has a creative knack to immediately captivate attention, cultivate relations, and encourage positive action by providing thought-provoking examples."
-Miami Valley Hospital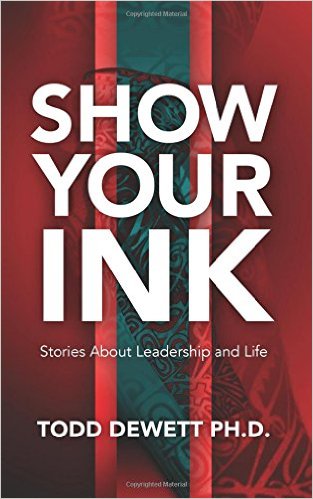 SHOW YOUR INK: Stories About Leadership and Life
Through the power of story, you are about to begin to improve yourself personally and professionally.
SHOW YOUR INK
contains twenty short stories that will grab you emotionally. Get ready to laugh, cry, think, and learn. Each story focuses on a different aspect of success in leadership and life. You will learn about the importance of authenticity, the need to use your mistakes, the vital role of feedback, why values matter, the key to personal change, and much more - all wrapped in memorable stories that make learning stick. This fast book can transform how you view your career and your life. Becoming more successful is not complex. You can become a better version of yourself. What you need is a simple and fun place to begin. So remember to
SHOW YOUR INK
.
Show Your Ink: Understanding the Power of Authentic Leadership
This interactive keynote address inspires while making leadership practical and accessible. Building on organizational science and years of practical experience, Dr. Dewett delivers leadership insight through personal, funny, and emotionally moving stories. SHOW YOUR INK is a phrase that reminds us to be open and authentic. Managing impressions professionally is understandable, but we overindulge to the point that people share an incomplete version of themselves – say hello to mediocre relationships and lackluster productivity. People need to know the full, authentic you.
From communication and decision making to employee engagement and recognition, Dr. Dewett addresses your core challenges through the lens of authenticity with thought provoking takeaways you can use immediately, all wrapped in the signature energy and humor that have made him one of the most in-demand speakers in the country.

Dr. Todd Dewett, Leadership Speaker: TEDxDayton
Dr. Todd Dewett reveals why it's crucial that leaders "get over themselves" if they truly wish to connect and build trust with their employees. He illustrates his point through an amusing story about the multiple missteps one of his former executive students committed in the attempt to reward his team and build a relationship with them.
Many leaders have a tendency to project themselves on the people around them, Todd points out, and therefore struggle to see their employees for the unique individuals they are and the value they add. He states that when leaders do manage to see their employees for the marvelous people they really are, employees in turn will find their leader much more interesting. "And that's when knowledge gets shared, great relationships are born, and great teams begin," he concludes.
Dr. Todd Dewett, Leadership Speaker: Keynote Preview
Dr. Todd Dewett, Leadership Speaker: Interview, Embracing Change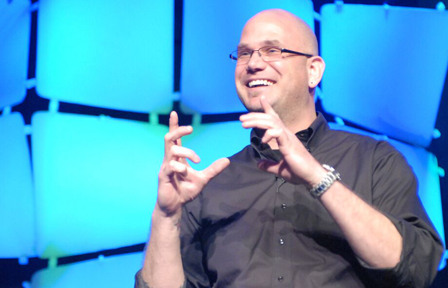 Dr. Todd Dewett is one of the world's most exciting and original voices in the leadership and life skills space. He is consistently the #1 most viewed author at Lynda.com/LinkedIN, where millions of people seek his expert advice on how to hone their communication skills and build better relationships. A top-rated speaker by Inc.com, he ... more