Top25 Speaker Voting

Tim Sanders needs 4 vote(s) to make it into the Top 25 speakers on Speaking.com!
Speaker Booking Tip
"Tip: ask your speaker to do a book signing or attend a VIP meal with your guests. "
For Event Planners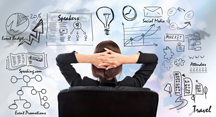 • Keynote Speaker Booking Toolkit.
• Booking a Celebrity Speaker.
• How to Find and Book the Right Speaker.
• Google+ Event Planning Forum.
• Tips for International Clients Booking U.S. Based Speakers.
Similar Speakers
Mike Abrashoff

If you want to know about change management and inspiring leadership, who better to ask than Mike Abrashoff, the naval commander who took on the…

Tal Ben-Shahar

Teaching to over 1400 Harvard University students, Tal Ben-Shahar's course on "Positive Psychology" was the most popular in the University, while another course, "The Psychology…

Steven Spear

Operational Excellence and Innovation Expert Steven J. Spear is a Senior Lecturer at the MIT Sloan School of Management and in MIT's Engineering Systems Division,…

It was an extreme pleasure to work with our account rep. She was friendly, flexible, and knowledgeable about all their speakers. She made the process simple. I cannot begin to put into words the impact that our speaker had on our audience. People are still taking about his presentation and his program set a standard on all diversity programs.
FDIC: Federal Deposit Insurance Corporation
About SPEAKING.com
Established in 1994, we are exclusive agents for some of the world's leading experts, celebrities and professional speakers.
We offer event planners a fully staffed speaker logistics planning team, plus a personal SPEAKING.com Account Executive – a knowledgeable and trustworthy partner. We guarantee your satisfaction with your speaker and a smooth booking process.
Contact us today to book your favorite speaker.

"In 14 years we have never made as good a choice as we made in selecting you ....you have received the highest marks of any speakers we have ever hired. What a powerful testimony. This year, your message was orbital. It was so far out of the park you had people chasing your words as they exited your mouth. Your walking into the audience made your message so much more touching. But most of all, abundance was the paradigm shifter of the entire event. While we have taught you must give to get - you took that to an entirely new level. By the time it was said and done, the dump your change on the floor exercise produced $3,119.00 dollars for the Florida victims of the recent hurricanes. A powerful demonstration of collective abundance. I want to thank you. Your message was so very, very inspiring - you were the buzz of the conference and I want to thank you from the deepest part of my heart. You′re the best!"
Todd Duncan - Founder of The Duncan Group

"The conference was a tremendous success and your presentation was a huge part of that! In fact, you and your presentation were the talk of the conference... conference participants wrote in your name as the best speaker of the conference. A standing ovation... is indeed rare with our group. Your ability to touch ever single person in an audience of hundreds is amazing as well. If there were a scorecard for meeting planners to complete, I would rate you as one of the best speakers I′ve ever had the pleasure to work with. Your willingness to spend time tailing the presentation and talking to members prior to the conference was most appreciated. I wish all the speakers I work with could be as generous and caring about the outcome of their efforts as you were."
M. Lauren Basham - Senior Director of Member Services of SOCAP International

"I just wanted to say thank you for contributing to a very successful event - you were the highlight of the conference... You were fantastic and your message was so well received - people were wearing their "L" pins, for the remainder of the show..."
Nancy Hinich - Manager Conferences & Special Events at the Pink Elephant

"I can not begin to tell you what a great job Tim Sanders did for our YPO group... I believe it will turn out to be one of our chapter′s highest rated events ever-and we′ve had some pretty fantastic resources. I would highly recommend Tim to any group of business executives who are seeking to get to "the next level"..."
Joe Dada - President and CEO Smarthome, Inc. of the YPO California Coast Chapter
Today We Are Rich: Harnessing the Power of Total Confidence
Are you confident in yourself or is negativity holding you back?
Do you have the faith and endurance to weather any obstacle life throws at you?
Are you inspiring loved ones as much as they inspire you?

Today We Are Rich has the answers and will show you how to be rich in positivity and gratitude. You′ll learn what Tim learned from his grandmother: confidence comes from within you, from your loved ones, and from your spirituality, allowing you to rise above any of life′s challenges.

In Today We Are Rich, you′ll join Tim on his journey as he weaves together heartwarming tales of hardship and triumph with fundamental lessons of building confidence. Tim details his own challenges and the struggles of those close to him, turning them into parables on the endurance and power of the human spirit. Not only will you be moved by his stories, you′ll learn the steps you need to take to overcome any obstacle and persevere, even in the face of today′s always-on media and internet society.

Through the wisdom and stories of his grandmother, Tim will teach you seven principles of confidence his grandmother lived by even in the face of personal tragedy and economic turmoil, including the Great Depression.

Feed Your Mind Good Stuff: learn how to identify and filter out the negativity that surrounds us
Move The Conversation Forward: learn to break free from the negative thought cycle and communicate positivity and confidence
Exercise Your Gratitude Muscle: learn to practice thankfulness to build a positive outlook
Give To Be Rich: learn how generosity of self can combat feelings of inadequacy
Prepare Your Self: learn how to fully commit yourself to your goals and be ready for anything
Balance Your Confidence: learn to temper your self-confidence by trusting in others and believing in something greater than yourself
Promise Made, Promise Kept: learn the value of integrity by being accountable for your promises

As you accompany Tim through his growing pains and successes, you′ll learn and feel your way through building the confidence you need turn your life around and truly be Rich.
Order Here




Saving the World at Work: What Companies and Individuals Can Do to Go Beyond Making a Profit to Making a Difference


Even the actions of a single person can help to change the world. How? Through simple acts of leadership and compassion. Open up this book, and discover the true stories of people whose actions have caused a chain reaction at work and in their communities.A "responsibility revolution" is shaking up corporate America.

In this provocative and insightful book, bestselling author Tim Sanders reveals why companies must to go beyond making a profit and start making a difference. Every one of us, regardless of title or position, can inspire our companies to change the way they do business, helping them to become a positive force for enriching people, communities, and the environment. When this happens, not only do we help save the world, we help save our companies from becoming irrelevant.

We also become part of what Sanders calls the Responsibility Revolution. Companies that don't participate in this revolution risk becoming obsolete. Today customers, employees, and investors are demanding that companies focus on their social responsibilities—not just their bottom lines. Sixty-five percent of American consumers say they would change to brands associated with a good cause if price and quality were equal; 66 percent of recent college graduates will not work for companies with poor social values. And more than sixty million people are willing to pay a premium for socially and environmentally responsible products.

In SAVING THE WORLD AT WORK, Tim Sanders offers concrete suggestions on how all of us can help our companies join the Responsibility Revolution. Drawing on extensive interviews with hundreds of employees and CEOs, and illuminated by countless stories of people who are making a difference in the workplace and in the world, Sanders offers practical advice every individual and company can use to make the world a better place--now and in the future.


The Like Ability Factor


Sanders′s message in this follow-up to his bestselling Love Is the Killer App isn′t exactly a revelation: people who are well liked are more apt to get what they want out of life than those who are disliked. However, Sanders does offer a valuable look at the four personality traits he says contribute to a person′s likeability—namely, friendliness, relevance (do you connect on interests or needs?), empathy and "realness" (genuineness or authenticity). Sanders, a Yahoo! leadership coach, is able to deconstruct complex subjects such as personality traits, and the book′s value is in guiding readers toward understanding that likeability isn′t an accident of birth but a skill that can be learned (exercises are included). No doubt every reader knows someone they′d like to give this book to, and perhaps people who suspect their own L-factor is low will find their way to it, too.
Relationship Power! How To Win Business & Influence People
Building business relationships is not a matter of playing golf, the gift of gab or being a rubber stamp on others' ideas. There is an art and a science to being a relationship master at work. Studies show that it can boost your sales by 40%, drive your talent's productivity by 25% and cut regrettable turnover in half.
In this program Tim reveals winning ways to create and maintain real connections inside & outside your company. This program is based on his global best seller, Love Is the Killer App: How To Win Business & Influence Friends.
Key Takeaways Include:
How relationships are bonded or broken in business, based on the Norm Of Reciprocity research.
How to be an effective mentor by following the knowledge gap lifecycle.
How to repair a damaged relationship or a mismanaged expectation.
Five email etiquette rules that will protect relationships and prevent burn out in your troops. Based on the largest study to date on email habits at work.
A weekly plan to leverage networking to drive business results. Follow it and you'll double your network strength in less than one year.
Topics: Growing Your Business / Customer Experience Management (CEM) / Growing Your People / Teamwork/Team Building / Sales Growth / Innovation / Management / Sales Leadership / Inspirational/Motivational / Attitude
The Business Power Of Confident Thinking
Sure, we have business confidence at the top of a market or if we are leading the change. But what's our plan to seize the moment when the playing field changes … or recedes? Our competition is hit just as hard as we are, and now it's a race to see who gets their Mojo back first. History proves that business confidence is rocket fuel for a company. It cracks the code, closes the deal and moves people to action.
It's not enough to 'think positive' though – sustainable confidence comes from lifestyle and leadership design. This program is based on Sanders' experience through three recessions, the dotcom boom and the quality movement.
Key Takeaways Include:
A Fail-Study on Tim's days at Yahoo including: Why they lost their Mojo, got passed by Google and what every company can learn from the experience.
How to create a mind-diet that gives you unbreakable confidence, starting with your morning routine. Based on modern brain science research in business.
Case study on how executives can confront the 'Chicken Littles' at work and shift the conversation from crisis to solution. Build a culture of courage by leading the conversation.
How to face the worst case scenario to unleash innovation and calm in your group.
A winning technique for injecting new-hire gratitude into yourself and your most jaded talent.
Topics: Growing Your Business / Leadership / Organizational Development / Growing Your People / Employee Engagement / Performance Improvement / Talent Management / Sales Growth / Innovation / Management / Sales Leadership
Emotional Talent: The Final Leadership Frontier
Many leaders rise to their position through their technical skills from operations to finance to product. But they will never make the leap from good to great until they develop what Tim Sanders calls Emotional Talent. This is the ability to manage their internal emotions, sense those in their people and connect with them at that level.
This program, which was the basis for a PBS Special, offers ways any leader can cultivate this talent, and spot it in others. It's based on 500,000 pages of original research.
Key Takeaways Include:
Why the mood state can have a 1000% impact on a company's innovation effectiveness. Based on case studies inside companies like Motorola & Google, Sanders explains why most business is really 'chemical warfare.'
Why your company's emotional value proposition is key to attracting and retaining top talent. How to integrate employee experience design into leadership.
Surprising research, revealing authenticity as a key emotional-talent attribute. How to "Keep It Real" in a world of false promises, distracted bosses and truth-stretchers.
How to decode people's emotions with 90% accuracy. Reading people is a technique that IBM Data sales execs, CIA agents and champion poker players learn and hone. Sanders will reveal the 7 Faces of Emotion, which can make you the smartest leader in the room.
Master the "Art of Deep Listening" with your talent and your customers. How to borrow from the best interviewers in the world to uncover strategic insights in the field or around the office. How to develop a more empathetic culture, leading to a customer-centric approach to selling and delivering.
Tim Sanders Speaking Demo / Speech Clips
"A positive state worker is more engaged, they bring their creativity to work, they have different chemical flow…" says Tim Sanders, laying out his vision for an emotionally connected workforce. "They believe in 'intrepreneurship' not entrepreneurship, and the customer feels beloved."
Tim Sanders Speech

Tim Sanders, a former Yahoo! executive, uses his experience and business expertise, to help some of the biggest brands in the world as a corporate consultant. From Leadership Consulting to Strategic Marketing Consulting, Tim has helped clients explore new opportunities and develop new innovations to drive growth and maximize revenue. SPEAKING.COM: Can you give us ... more