* Please note that while this speaker's specific speaking fee falls within the range posted above (for Continental U.S. based events), fees are subject to change. For current fee information or international event fees (which are generally 50-75% more than U.S based event fees), please contact us.
Top25 Speaker Voting

Tim Ferriss needs 8 vote(s) to make it into the Top 25 speakers on Speaking.com!
Speaker Booking Tip
"Tip: find a speaker in your local area to save on travel costs. Most speakers will also reduce their keynote fee for local events. "
For Event Planners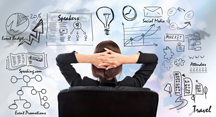 • Keynote Speaker Booking Toolkit.
• Booking a Celebrity Speaker.
• How to Find and Book the Right Speaker.
• Google+ Event Planning Forum.
• Tips for International Clients Booking U.S. Based Speakers.
Similar Speakers
Nicole Richie

Nicole Richie's role in the reality series The Simple Life alongside Paris Hilton, her best friend at the time, made her an overnight sensation, but…

Tyra Banks

Throughout her entire career, Tyra Banks has broken barriers and smashed glass ceilings. Despite hearing the words "You can't" time and time again, she became…

Dr. Deepak Chopra

Dr. Deepak Chopra has written more than seventy-five books and his works are available in more than thirty-five languages. Twenty-three of those works, both fiction…

I will certainly recommend to others that they contact you for guest speakers in the future. It was a pleasure working with you as well. We all appreciate your professionalism and exemplary service.
BASF
About SPEAKING.com
Established in 1994, we are exclusive agents for some of the world's leading experts, celebrities and professional speakers.
We offer event planners a fully staffed speaker logistics planning team, plus a personal SPEAKING.com Account Executive – a knowledgeable and trustworthy partner. We guarantee your satisfaction with your speaker and a smooth booking process.
Contact us today to book your favorite speaker.

"Tim is Indiana Jones for the digital age. I′ve already used his advice to go spearfishing on remote islands and ski the best hidden slopes of Argentina. Simply put, do what he says and you can live like a millionaire."
Albert Pope,
Derivatives Trading,
UBS World Headquarters
"Tim has packed more lives into his 29 years [at time of publication] than Steve Jobs has in his 51."
Tom Foremski,
Journalist and Publisher of SiliconValleyWatcher.com
"The 4-Hour Workweek is an absolute necessity for those adventurous souls who want to live life to its fullest. Buy it and read it before you sacrifice any more!"
John Lusk,
Group Product Manager,
Microsoft World Headquarters
"[Ferriss] has become a pet guru of Silicon Valley, precisely by preaching apostasy in the land of shiny gadgets: just pull the plug. Crawl out from beneath the reams of data. Stand firm against the torrent of information."
The New York Times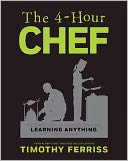 The 4-Hour Chef: The Simple Path to Cooking Like a Pro, Learning Anything, and Living the Good Life
The 4-Hour Chef: The Simple Path to Cooking Like a Pro, Learning Anything, and Living the Good Life
builds upon Timothy Ferriss′s internationally successful "4-hour" series by transforming the way we cook, eat, and--most important--learn. Ferriss, nominated as one of
Fast Company
′s "Most Innovative Business People of 2007" and
Forbes
magazine′s "Names You Need to Know in 2011," is author of the #1
New York Times
best sellers
The 4-Hour Body
and
The 4-Hour Workweek
, the latter of which has been translated into 35 languages and has been on the
New York Times
Bestsellers list for more than four years unbroken.
Featuring recipes and cooking tricks from world-renowned chefs, interspersed with the radically counterintuitive advice Ferriss′s fans have come to expect, The 4-Hour Chef is a practical but unusual guide to mastering food and cooking, whether you are a seasoned pro or a blank-slate novice.
Beyond that, it is designed to be "the cookbook for people who don′t buy cookbooks." The 4-Hour Chef will teach Ferriss′s approach to learning any skill in minimum time, which is what his 1,000,000+ monthly blog readers have most requested he write about for nearly five years. Readers of this new book, using food as a vehicle, will learn the art and science of meta-learning--the skill of learning skills.
Last but not least, this book also refines and showcases the very best recipes and hacks based on Ferriss′s The Slow-Carb Diet, which hundreds of thousands of his readers around the world have tested for performance enhancement and fat loss (many have lost 100+ pounds since December 2010).
Order Here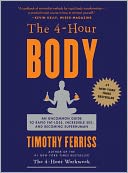 The 4-Hour Body: An Uncommon Guide to Rapid Fat-Loss, Incredible Sex, and Becoming Superhuman
Thinner, bigger, faster, stronger... which 150 pages will you read?
Is it possible to:
Reach your genetic potential in 6 months?
Sleep 2 hours per day and perform better than on 8 hours?
Lose more fat than a marathoner by bingeing?

Indeed, and much more. This is not just another diet and fitness book.
The 4-Hour Body is the result of an obsessive quest, spanning more than a decade, to hack the human body. It contains the collective wisdom of hundreds of elite athletes, dozens of MDs, and thousands of hours of jaw-dropping personal experimentation. From Olympic training centers to black-market laboratories, from Silicon Valley to South Africa, Tim Ferriss, the #1 New York Times bestselling author of The 4-Hour Workweek, fixated on one life-changing question:
For all things physical, what are the tiniest changes that produce the biggest results?
Thousands of tests later, this book contains the answers for both men and women. From the gym to the bedroom, it's all here, and it all works.
Order Here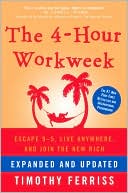 The 4-Hour Workweek, Expanded and Updated: Escape 9-5, Live Anywhere, and Join the New Rich
More than 100 pages of new, cutting-edge content.
Forget the old concept of retirement and the rest of the deferred-life plan–there is no need to wait and every reason not to, especially in unpredictable economic times. Whether your dream is escaping the rat race, experiencing high-end world travel, earning a monthly five-figure income with zero management, or just living more and working less, The 4-Hour Workweek is the blueprint.
This step-by-step guide to luxury lifestyle design teaches:

How Tim went from $40,000 per year and 80 hours per week to $40,000 per month and 4 hours per week
How to outsource your life to overseas virtual assistants for $5 per hour and do whatever you want
How blue-chip escape artists travel the world without quitting their jobs
How to eliminate 50% of your work in 48 hours using the principles of a forgotten Italian economist
How to trade a long-haul career for short work bursts and frequent "mini-retirements"
The new expanded edition of Tim Ferriss' The 4-Hour Workweek includes:

More than 50 practical tips and case studies from readers (including families) who have doubled income, overcome common sticking points, and reinvented themselves using the original book as a starting point
Real-world templates you can copy for eliminating e-mail, negotiating with bosses and clients, or getting a private chef for less than $8 a meal
How Lifestyle Design principles can be suited to unpredictable economic times
The latest tools and tricks, as well as high-tech shortcuts, for living like a diplomat or millionaire without being either
The 4-Hour Workweek
Whether you′re an overworked employee/manager or an entrepreneur trapped in your own business, The 4-Hour Workweek is the compass for a new and revolutionary world.
Forget the old concept of retirement and the rest of the deferred-life plan - there is no need to wait and every reason not to. Whether your dream is escaping the rat race, high-end world travel, monthly five-figure income with zero management, or just living more and working less, this program is the blueprint. You can have it all - really.
Since his debut presentation on The 4-Hour Workweek at the world-famous SXSW Interactive conference on March 12, 2007, Tim has been invited to speak at some of the world′s most innovative organizations, including Google, MIT, Harvard Business School, PayPal, The Central Intelligence Agency (CIA), Microsoft, Ask.com, Nielsen, Princeton University, the Wharton School, and the Stanford Graduate School of Business. He has also been invited to speak and keynote at world-renowned technology summits including FOO Camp, E-Tech, Supernova, and the Web 2.0 Exposition, where he shared the stage with figures like Eric Schmidt, Chairman of the Board of Google, and Jeff Bezos, founder and CEO of Amazon.
In The 4-Hour Workweek, learn how to:

Upgrade your work environment to value performance over presence, increasing profits while reducing burnout and turnover
Discover how to double output in 48 hours with strategic task elimination
Management secrets of Remote Control CEOs
Fill the void and creating meaning after removing work and the office
Achieve work-life ′separation′ (vs. ′balance,′ which doesn′t work) and reclaim time
Tim Ferriss Keynote Speech
Drawing from his travels around the world and numerous self-experiments, Tim Ferriss demonstrates that many of the feats we deem as "impossible" are in fact quite "doable" if we are equipped with the right mindset and toolkit.
He surveys his own genetics, highlighting tests that showed he had a natural inclination for endurance, but very little genetic disposition to build fast-twitch muscle. Ironically a muscle sample taken from his leg demonstrated quite the opposite: while Tim would most likely not be able to finish a 5 K, he had more fast-twitch muscle than the majority of the population. "That is produced through training," he explains. "Whatever you feel you've been assigned in life, the hand you've been dealt genetically is actually very malleable."
Tim Ferriss Interview