* Please note that while this speaker's specific speaking fee falls within the range posted above (for Continental U.S. based events), fees are subject to change. For current fee information or international event fees (which are generally 50-75% more than U.S based event fees), please contact us.
Top25 Speaker Voting

Tim Clue needs 9 vote(s) to make it into the Top 25 speakers on Speaking.com!
Speaker Booking Tip
"Tip: some speakers might provide one of their popular book titles as a free gift to your audience. "
For Event Planners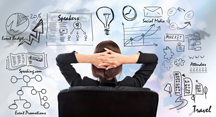 • Keynote Speaker Booking Toolkit.
• Booking a Celebrity Speaker.
• How to Find and Book the Right Speaker.
• Google+ Event Planning Forum.
• Tips for International Clients Booking U.S. Based Speakers.
Similar Speakers
Harry Freedman

In 40 short years, Harry Freedman MD, PhD, JD, has been a doctor, consultant, a top stockbroker and motivational speaker. He has been described as…

Mack Dryden

Dubbed one of the most hilarious motivational speakers in the U.S., two-time cancer survivor Mack Dryden shows audiences how to make the most out of…

Greg Hahn

Frenetic. Kinetic. Insanely Energetic. Comedian Greg Hahn has parlayed his absurd, all-out style of physical humor, one liners and crowd work, into a performance of…

Your speakers bureau was a tremendous resource for the NHL as we planned and executed our NHL Club Business Meetings. Their assistance with securing our keynote was invaluable. They provided detailed information in a timely manner which was crucial to the success of the event. The execution was seamless!
National Hockey League
About SPEAKING.com
Established in 1994, we are exclusive agents for some of the world's leading experts, celebrities and professional speakers.
We offer event planners a fully staffed speaker logistics planning team, plus a personal SPEAKING.com Account Executive – a knowledgeable and trustworthy partner. We guarantee your satisfaction with your speaker and a smooth booking process.
Contact us today to book your favorite speaker.

"I thought Tim was fantastic. Incorporated info about the company in his presentation, which made it personal. Great evening—thanks to Tim!"
Sandy McAssey, CB and I/ Chicago Bridge & Iron Company, Darien, IL
"Tim was extremely funny and very appropriate for our audience."
Marcie Wiles, Dillon Stores, Overland Park, KS
"We were all very pleased with Tim Clue's performance. We received a lot of positive feedback from the staff here at PNC. People are still talking about the parts they liked best."
Sherry Behenna, Purdue University North Central, Westville, IN
"Tim was the reason people were walking around saying this was the best product introduction we've ever seen. I would recommend Tim for any performance, consulting or writing you may need."
Michelle Haad, President—International Sales, Bombardier Water Craft
"Tim's comic instincts are a cut above the rest. There's no one I trust more."
Lisa Helfrich, Producer—ABC Network, Everybody Loves Raymond
"Tim lived up to his reputation and performed a fantastic show for our firm's stockholders. He was easy to work with and I have received several requests to book future entertainment dates."
Dale Maltbie, President—Professional Engineering Consultants, P.A.
"As the laughter subsided, compliments were overwhelming. Thank you for ending our event on an upbeat note and for providing good, family entertainment."
Adriane Burkland, Associate—Baker, McKenzie, Attorneys at Law

Partial Client List

Pitney Bowes
Proforma
Publisher's Clearinghouse
Dairy Queen
Dillon Stores
Fast Signs
McDonalds
SC Johnson
Starbucks
American Society of Civil Engineers (ASCE)
American Sugarbeet Growers Association
RSNA (Radiological Society of North America, Inc.)
Union League Club of Chicago
United Farmers Agents Association National Convention
Windy City Summit
WiNOG (Wireless Network Operators Group)
WizeFEST / Globaltec Solutions
Zurich Risk Engineering Conference
Arcelor Mittal Steel
Boeing
True Value Company
Turner Construction
Wagner Equipment Company
Windsor Windows & Doors
Purdue University
Culligan
Bank of America
Chicago Title Company
Panoramic Group of Companies
Pinnacle Actuaries PricewaterhouseCoopers, LLP
Washington State Employees Credit Union
Wausau Financial Systems
Chicago Tribune
Autism Speaks
Elgin Children's Chorus
Gilda's Club
Irish American Heritage Center
Cisco Systems
Microsoft
Patni (now iGATE/Patni)
Philips
Morale ROI: Motivation Through Laughter
This is Tim's specialty.You choose the messages you want highlighted and driven home and Tim will seamlessly integrate them into his presentation. Bone-crushingly funny, dynamic, squeaky clean, and adept at finding the pulse of your company and splicing it with his unique brand of high energy interactive humor, Tim will make your event stand up and stand out. Your CEO will wonder how you ever found this perfect fit. Here are some of the topics on which Tim's clients have asked him to focus:
Teamwork and Trust
How to Motivate in Difficult Times
Attracting Great Talent to your Organization
Key Communication Techniques for an Effective Workplace
An Adventure in Confidence, Communication and Camaraderie
This is one of the most unique and exciting keynotes to come along in a decade. If you want your group to just sit and listen, then stop reading now—this is not your father's keynote. If you'd like to be a part of an innovative, dynamic and interactive presentation, read on.
Tim combines his skill as a professional comedian, writer, improviser, teacher and motivator to create a one-of-a-kind experience that touches on key communication issues in the workplace today: technology, social media, organizational pain-points, and how to find space and save time when space and time don't appear to exist anymore.
Tim's presentation reflects the velocity, energy and reality of our fast-paced technological era. Unpredictable, collaborative, lively, and – most of all – unforgettable.
The Meaningless Meeting: The Keys to More Potent and Productive Meetings
Too many meetings interrupting the work flow? Suffering from bullet point brain drain? The "meaningless meeting" is contributing to the stagnation of America's productivity! But Tim Clue has the solution. Tim believes that meetings should be thought of as a company's delicate circulatory system and that utilizing the straightforward tips in this highly interactive session will recharge the best meeting practices, bringing down your collective conference room cholesterol count.
Leading his clients through an entertaining, engaging and up-tempo rethink, Tim will ensure that your next meeting isn't a ho-hum, white-noise, Dilbert-doodling waste of time. This professor of communication-turned-comedian uses his diverse background to create a stimulating conversation that will kick Analysis Paralysis—and many other bad meeting habits—right to the curb.
Tim explores how some companies (oh no, not yours, but those other ones) can lose trust among their team members by unconsciously building a risk-adverse meeting template that sneaks in and takes over a format that once solved problems, creating clarity and consensus, but that now diffuses, defers and paralyzes even the simplest of decisions and action steps.
Tim's Meaningless Meetings offers up elegantly simple take-a-ways that will help your people create and lead more potent and efficient gatherings. Dare to let Tim Clue and his Meaningless Meetings program take your company on a breathtakingly refreshing journey that will forever change the way you think about your next meeting.
For Educators: The Unlikely Teacher
Life Lessons from a Bad Student
Tim Clue was one of the most unlikely pupils to ever become a teacher. Challenged by dyslexia and ADHD as a young man, Tim began his creative work in the classroom as a college-level teacher and speech coach, which spring-boarded him into a life of professional humor and instruction.
Tim harvests from his decades as a teacher and comedian, weaving an inspiringly funny and motivational tale that speaks directly to an educators' angst over the key issues of our time. His personal story is one of an improbable teacher coming to understand his real power in the classroom; self-deprecating, bold and honest, Tim built strong trust with his students. He focuses on the untraditional, the underestimated, and touches on the over-stressed relationships between teachers and students, administrators and parents.
Tim's years in the field of professional comedy is what makes The Unlikely Teacher a bone- splittingly funny keynote, but his personal story is what makes this program rich with value and emotion. His world as first a teacher, then a comic, and now a published author, makes The Unlikely Teacher a wonderful way to reward an audience in any educational field. His unique experiences helped Tim form new techniques to reach deep into the hearts and minds of all students, traditional and untraditional alike. Tim has performed this keynote for in-services, convocations as well as at continuing education conferences.
HOST / MC
More than simply an emcee, Tim is the ultimate in "message multi-tasking." Interviewing CEOs on stage, reinforcing messages, invigorating break-out sessions, and of course providing the transitional glue throughout, Tim's energy and improvisational skills are the comedic super-conductor making a three day conference seamless and entertaining.
Tim's background as a communication professor explains his ability to be able to condense, distill and/or emphasize important messages that could be left behind. Training with Second City coupled with 20+ years in stand-up makes Tim the perfect MC: high energy, exceptionally interactive, and capable of making others' mistakes look intentional, brilliant, or at least hilarious. He can even include a Talk Show Format piece. Keep your CEO on message and looking great; give your managers a more natural and personable forum; make your IT people more interesting and, yes, even funny with this slick package. A desk, some note cards, and a couple of microphones transform both message and messenger into a relaxed, entertaining and memorable presentation. Consult with Tim on variations on this theme.
OTHER SERVICES
The Power of Clue's Comedy. Remember, even before Tim was a stand-up comedian, he was a professor of Theater and Communications with an emphasis on Speech and Rhetoric. Tim knows intuitively how to deftly include corporate bullet points and weave your message with his humor into a compelling, memorable presentation in any capacity:
Team-Building Leader. His stories are hilarious, but his message profound: only the relationships in our lives reflect the values and intensity with which we live. Tim makes words such as "synergy", "team-building" and "morale" not just a good play on "board room bingo," but lasting, personalized tools a company or organization can put into play long after Tim leaves the room.
Imposter Guest Speaker. Tim has pretended to be everything from the "expert consultant" to the "new boss" and even a prestigious "trainer" brought in to teach a seminar. The title may change, but the reactions are hysterically predictable. Tim leads the group down a path where credibility turns to confusion, and then to comedy. This highly customized comedy aerobics concept can be used before, during or after your breakout sessions, preparing you for the heavy lifting, or providing the perfect comedic warm-down after a hard, content-riddled session.
Conference Breakout Presenter. It's been a long day. Too long. PowerPoint burn-out has set in and their pupils are dilating… It's time to bust-up your break-out with crack-up Tim Clue. Using his exclusive "energizer funny" techniques, his Second City training and professional writing experience, Tim can satirize and parody your "36 bullet points on core values," or just provide a comedic oasis, reenergizing your group's message-readiness with humor. Tim will put together an original, interactive session that integrates your messages and culture with his humor, making for an unforgettable seminar. Again, you choose the message you need highlighted and driven home and Tim will seamlessly integrate it into his presentation.
Tim Clue: Stand-up Comedy Routine Clip
Tim Clue: Duck Walks into a Bar Joke...
Comedy Routine