* Please note that while this speaker's specific speaking fee falls within the range posted above (for Continental U.S. based events), fees are subject to change. For current fee information or international event fees (which are generally 50-75% more than U.S based event fees), please contact us.
Top25 Speaker Voting

Thomas Kolditz needs 6 vote(s) to make it into the Top 25 speakers on Speaking.com!
Speaker Booking Tip
"Tip: speakers bureaus can provide: speaker fee negotiation, insurance, smooth logistics and value add-ons such as extra sessions. "
For Event Planners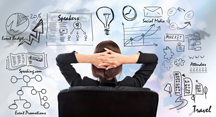 • Keynote Speaker Booking Toolkit.
• Booking a Celebrity Speaker.
• How to Find and Book the Right Speaker.
• Google+ Event Planning Forum.
• Tips for International Clients Booking U.S. Based Speakers.
Similar Speakers
Dennis Snow

Customer experience expert, Dennis Snow shows organizations across all industries how to stand out from their competition by delivering world class service. For 20 years,…

Rana Florida

When the world's leading corporations need direction or winning market strategies, they turn to Rana Florida, the CEO of the Creative Class Group. The influential…

Antonio Nieto-Rodriguez

Global business strategist Antonio Nieto-Rodriguez equips multinational executives to focus their company and themselves, so they can elect, manage, and execute projects more efficiently even…

Our agent was great to work with. Very easy to reach when needed and promptly returned messages. Thank you for making our event such a big success, we are looking forward to working with you again soon!
American Lung Association
About SPEAKING.com
Established in 1994, we are exclusive agents for some of the world's leading experts, celebrities and professional speakers.
We offer event planners a fully staffed speaker logistics planning team, plus a personal SPEAKING.com Account Executive – a knowledgeable and trustworthy partner. We guarantee your satisfaction with your speaker and a smooth booking process.
Contact us today to book your favorite speaker.

"Colonel Kolditz spoke at my leadership class at Crotonville and was by far one of the singular most impactful speakers I've heard on Leadership." "It was absolutely terrific, and folks are still talking about it… AMAZING… Truly. Inspirational."
Gretchen Hancock, GE Corporate
"In terms of what they thought of your presentation, we asked participants to rank the speakers 1-5 and you received all 5's (with one 4). A very strong performance. Great job. Thank you!"
Kip Meyer, IESE
"Colonel Kolditz is a visionary in the field of leadership training and development."
S. Corderman, Office of Leadership Development, FBI David Academy
"You were outstanding, really made us think and your presentation sparked much conversation in the remaining time we had together. Thank you again for inspiring us to think more systemically about leadership development and how we might improve."
The Conference Board
"Colonel Kolditz is an engaging speaker who is able to make real-world connections between extreme military operations and leading in a corporate environment. His presentation was truly inspirational and insightful. The universal principals of leadership that Col. Kolditz has researched and presented can certainly be transferred to a global company such as Siemens."
James E. Whaley, SVP, Communications and Marketing, Siemens Corporation
"The parallels between leading in high-stakes business ventures and leading in dangerous context s are compelling."
Goldman, Sachs & Company
"At TIME's recent global sales meeting, Colonel Kolditz delivered an inspiring and invigorating call to action for our sales team. His presentation, 'Leading As If Your Life Depended On It,' offers the ideal rallying cry for our times – when crisis is ubiquitous and when the worse things get, he says, the calmer true leaders become. The colonel's charge to focus outward and to set yourself apart in order to set your influence apart is the perfect message for an international sales organization facing challenge and change at every turn. TIME's editors focus on our readers and TIME salespeople focus on our customers – that leadership approach has carried TIME to the top for last 88 years and will continue to. Thanks, Colonel, for helping our team to embrace leadership in extremis."
Kimberly Anderson Kelleher, TIME Worldwide Publisher
"Brigadier General Thomas Kolditz was a 10 out of 10! The responses from our key executives and leaders were extremely positive with several attendees indicating how much they appreciated his speech and involvement in our Executive Committee meeting. Having a third party expert on leadership with a unique perspective not often seen in the business community was refreshing, informative and inspiring! We were extremely satisfied with Thomas and BigSpeak."
DDR Corporation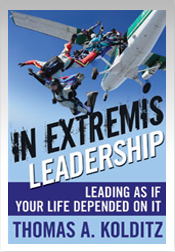 In Extremis Leadership
Col. Thomas Kolditz, a professor at West Point and an on-the-ground military leader, shows how extreme life-and-death leadership skills can offer profound lessons for leaders in any setting in In Extremis Leadership.
Kolditz explains that leadership lessons and principles in dangerous settings also apply to leading in business and everyday life. He describes a variety of high-risk situations that are ideal settings to seek and find great leaders, assess how they might be different and glean valuable insights for extraordinary leadership in our everyday lives. Through heart-stopping, real-life stories of leaders in these extreme situations, Kolditz insists that leaders at all levels can improve their effectiveness.
The book is filled with compelling in-depth interviews with such in extremis leaders as chiefs of SWAT teams, mountain-climbing guides, leaders of large-formation skydiving events, the U.S. Military Academy's national champion parachute team, and team leaders in football, wrestling, swimming and rugby, as well as the first armored cavalry commander to roll his tanks into the fiery streets of Baghdad in 2003. Kolditz challenges us to learn from their experiences and honor their commitment and sacrifices by serving people leading as if lives depended on it.
This authentic perspective on leadership will help cut through faddish, flavor-of-the-month leadership approaches and make anyone better at leading and being led.
In Extremis Leadership, Leading As If Your Life Depended On It:
Cut through faddish, flavor-of-the-month leadership approaches and get in extremis. Gen. Tom Kolditz shows how extreme life-and-death situations can offer profound lessons for leaders in any setting. Gen. Kolditz's research reveals that the leadership skills and principles evident in dangerous settings also apply to leading in business and everyday life, making this program applicable to both personal and professional success.
Dodging Bullets: How to Avoid Crisis:
Few people want to be put into a position of being crisis managers, so how can leaders prepare organizations to avoid crises before they occur? Gen. Kolditz will take the audience through specific processes and techniques to help leaders anticipate and prevent crises and have a more effective, more empowered work force every day.
Lessons from Sky Diving and High Risk Activities:
Gen. Kolditz has lead thousands of civilian sky diving jumps and leads West Point's elite Black Knights. Through heart-stopping real-life stories of leaders in these extreme situations, Dr. Kolditz insists that leaders at all levels can improve their effectiveness. In this program he shares his knowledge about leading with influence, and communicating with purpose. He also has a variety of additional high-risk situations he shares that are ideal settings to seek and find great leaders, assess how they might be different, and gleans valuable insights for extraordinary leadership in everyday lives.
Bring Innovation Leadership to a Legacy Organization:
Learn best practices, tools and processes for effective organization design, Identify key steps for mobilizing your desired organizational structure. . Learn how to lead change in organizations, especially those that are tradition-bound and extraordinarily resistant to change. Tom Kolditz draws on first hand experience and multiple cases of innovation and change in organizations using a unique indirect strategy that was successful when more common change management strategies had failed.
Leading Through Tragedy:
Tragedy eventually overcomes all organizations in the form of the death or serious injury of one or more members. Learn what to do to prevent tragedy from disrupting organizational effectiveness, harmony and leadership effectiveness. Lessons include concepts about succession planning, and proven leadership behavior during times of chaos.
Leaders Developing Others
One of a leader's most powerful legacies is to develop those who work with them and for them. Leadership development programs in business have too often been relegated solely to talent managers and HR directors. Tom Kolditz illustrates how, in an evidence based way, each leader can personally and directly develop their people, increasing the performance and retention of employees and building a solid foundation for the future. Tapping leadership development principles introduced, refined and currently in use at West Point, the Yale School of Management, and other high-performing organizations, Tom's presentation creates a clear path and practical framework for leaders to have greater impact and influence over their people while simultaneously helping them achieve their potential.
In Extremis Leadership: Leading As If Your Life Depended On it
Gen. Thomas Kolditz begins his lecture on "In Extremis Leadership" by explaining a little bit of why he got into the business of teaching leadership: "When I started down this road, I thought I was building an understanding for people like soldiers, firefighters and police officers, but as I got the data and started looking at what I was learning about leadership, I realized it was much broader."
He goes on to admit, "I take a very psychological approach to leadership as interpersonal influence. What that means is what we're going to talk about today, the principles involved are as applicable in your private lives as they are in your professional or public lives. You carry the same brain with you to work as you have at home."
He asks the class some questions about their experiences in crises, and explains that he asks because when he taught at West Point, his graduates would, within 18 months of graduation, be in almost every single one of the stressful situations he posits.
Al Jazeera with Col Tom Kolditz - Chilean Mine Collapse
Gen. Kolditz gives advice about the 2010 Chilean mine collapse: "I think the first thing that they need is structure. They need to know what time it is, what time to go to sleep and when to wake up and try to structure their lives in a civilized way. They need to focus on personal hygiene, they need to communicate with their families, they need to have a sense of purpose so that boredom doesn't set in."
"They have leadership that has emerged in their setting. And those leaders will be able to structure their lives, whether that's recreationally or some physical fitness activity, it's just important that they not spend a lot of time sitting around thinking about their circumstances. The leaders in the mine itself can get some assistance from leaders outside the mine to help them do that."