* Please note that while this speaker's specific speaking fee falls within the range posted above (for Continental U.S. based events), fees are subject to change. For current fee information or international event fees (which are generally 50-75% more than U.S based event fees), please contact us.
Top25 Speaker Voting

The Three Waiters needs 6 vote(s) to make it into the Top 25 speakers on Speaking.com!
Speaker Booking Tip
"Tip: find a speaker in your local area to save on travel costs. Most speakers will also reduce their keynote fee for local events. "
For Event Planners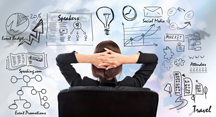 • Keynote Speaker Booking Toolkit.
• Booking a Celebrity Speaker.
• How to Find and Book the Right Speaker.
• Google+ Event Planning Forum.
• Tips for International Clients Booking U.S. Based Speakers.
Similar Speakers
Billy Riggs

At the age of 29, Billy Riggs founded one of America's fastest-growing churches. Since 1995, he has been delivering his secular presentation, "The Magic of…

Michel Lauziere

"Master of Unusual comedy", Michel Lauziere combines his talents as an inventor, showman, musician, and polyglot to dazzle audiences around the world. His bizarre visual…

Mack Dryden

Dubbed one of the most hilarious motivational speakers in the U.S., two-time cancer survivor Mack Dryden shows audiences how to make the most out of…

THANK YOU for your consistent communication, organization, and hard work. It truly has been a pleasure partnering with you too, we would love to stay connected with you for future events.
National Human Resources Association
About SPEAKING.com
Established in 1994, we are exclusive agents for some of the world's leading experts, celebrities and professional speakers.
We offer event planners a fully staffed speaker logistics planning team, plus a personal SPEAKING.com Account Executive – a knowledgeable and trustworthy partner. We guarantee your satisfaction with your speaker and a smooth booking process.
Contact us today to book your favorite speaker.

"The Three Waiters are professional, well-organized and polished yet also quite quirky and personal. They manage to execute a perfect balance between impromptu humour and excellent Opera!"
Penelope M (Phillips Fox)

"I could not believe the heavenly voices that emerged from those three handsome personas. My goodness: unbelievable! I cannot wait to work with you again so I can just sit back and listen. You three are appealing to the eyes and the ears and a feast for all the senses [more]"
Andrea Michaels, President
Extraordinary Events

"We have had several Doctors asking how we are ever going to top your act at next year′s dinner and at the moment I have no answer! [more]"
Bev Porteous, Mgr Marketing & Travel Services
Australian Medical Association (AMA)

"It was a fantastic performance, which definitely "broke the ice" and created a wonderful atmosphere [more]"
Cassandra Smith, Astra Tech

"Thank you for the most wonderful and organised way of entertaining a group of normally very spoiled and jaded Hoteliers!! I think we received more compliments about your involvement than anything else at the conference! [more]"
Tim Hadcock-Mackay B.KTO. Osj Chairman
Grand Heritage Hotels International

"Although we had the Marquess of Salisbury and Barry Cryer speaking at the event, the most memorable thing for our guests were the waiters as they were unexpected and all had such amazing voices [more]"
Jill Coggins, PA to Chief Exec
Hertfordshire Chamber of Commerce and Industry

"The talent, enthusiasm and professionalism the singers showed behind-the-scenes made it a pleasure to work with them throughout the experience [more]"
John C Pickett, Executive Director Indianapolis Opera

"At one point during the performance I saw two ladies at different tables reduced to tears - now that′s powerful! I will most definitely be booking them again at future events and I understand two of the Pharmaceutical companies represented that evening will also place bookings [more]"
Sandra Rafferty, Med Cal
The Show:
The original and still the very best Surprise Entertainment show available, "The Three Waiters" involves three singing waiters hiding in plain sight at your private function before unleashing a dynamic and sophisticated live performance a la The Three Tenors!
Here′s what happens when you book The Three Waiters for your next function:
The event begins: our three professional performers, dressed and behaving exactly like the other staff, greet your guests on arrival - perhaps offering them a pre-dinner drink, finger food, a bread roll or directions to the cloak room. At no time do your guests realise these are Singing Waiters - this is the core of the Hoax: they look like waiters, they work as waiters, but they are The Three Waiters...
Alfredo is the Italian Banquet Manager, a well mannered, experienced service professional dressed impeccably in an Armani suit.
Jean-Marc (the Frenchman) is the charming and understated Wine Waiter; he is dressed exactly like the other staff.
Alfredo makes two short (40sec) announcements before the show begins: one officially welcoming your guests, then later, a second announcement which ends when he sings a huge operatic note, prompting thunderous applause. He bows to the audience, but admits that it was not totally spontaneous: he was bet $50 to sing by one of your guests!
The show commences when Jean-Marc takes the stage and politely announces that another of your guests has offered him $100 to sing a full aria in Italian! The hilarious duel between French Opera and Italian Opera has begun. Jean-Marc′s aria finishes to more huge applause, but Alfredo sends him back to work saying he "will show you how Opera should be sung... by an Italian!" Soon, with a little help from the audience, Jean-Marc and Alfredo agree to settle the debate and sing a song together - when suddenly, a third waiter bursts into the room singing brilliantly and upstaging both the Frenchman and the Italian!
The Three Waiters is a dynamic vocal trio featuring professional performers hoaxing as waiters, singing everything from Verdi to Elvis. It is only at the finale that their true identities are revealed, and then The Three Waiters are gone, leaving your guests cheering!
---
Corporate Events:
For Corporate and Charity Events, it has been said that
The Three Waiters
is an Event Planner′s dream. Here′s why...
Corporate Events, Fundraisers, Awards Nights and AGMs - it takes an incredible amount of time and money to make an event of this sort a success.
Think of The Three Waiters as your insurance policy - with well over six thousand shows under our belt, we know exactly how to consistently make your guests feel fantastic! So whether your motive is sales, PR, networking or just for you, your clients and staff to have a great time, it all becomes a lot easier when you have a room full of happy guests!
And at The Three Waiters, that is what we do.
When we launched the show ten years ago a new Corporate Entertainment genre was created: Surprise Entertainment, or Hoaxing. Since then we′ve surprised and delighted literally millions of guests at functions all over the world, but because The Three Waiters is a Surprise Show, we can do almost no mainstream advertising! What does this mean for you? Only that the vast majority of our work comes from positive word-of-mouth from very satisfied customers!
Three Waiters is sophisticated, hilarious, requires very little production, appeals to any age or demographic group and works for parties of twelve or twelve-hundred (or more) people, anywhere there are waiters. The tightly-scripted yet hilarious show is designed to enhance your event, but never interrupt it. Most of all, The Three Waiters keeps the focus where it belongs: on your message, your clients and you.
Wedding Entertainment:
Planning a wedding is a huge challenge. Finding a balance between traditional and new, between what everybody expects to see and what nobody has seen before is extremely difficult. As costs begin to mount, you`re hoping that each element you add will "make your big day perfect". You're so busy trying to keep everybody happy, you sometimes forget that the reception is supposed to be fun - for you!
What if there was one ingredient you could add - in addition to the decor, the menu, the music - that would absolutely, positively guarantee your wedding reception went off with a bang! One element that would turn a yawn into a cheer, break the ice between generations, between "Bride Side" and "Groom Side" and leave the most restrained of your guests cheering! What if there were a gift you could give your family and friends that would smoothly and elegantly turn your reception into a party without interrupting your running order or taking the focus from where it needs to be... on you...!
Well, there is such an ingredient: it is called The Three Waiters- the original and best surprise entertainment show featuring singing waiters hiding in plain sight at your function.
Sophisticated, spontaneous and lots of fun, The Three Waiters is perfect live Wedding Entertainment for receptions of any size. The Three Waiters requires very little production, works brilliantly anywhere there are waiters, suits a mixed demographic and consistently gets the thumbs-up from Mothers of the Bride (when The Three Waiters sing the finale of "Nessun Dorma" to the Bridal Table, most Grooms cry like little girls!).
Private Parties:
Planning a private party is a challenge - we′re always on the lookout for that "extra something" to make our party unique, surprising, more memorable.
What if there was one ingredient you could add - in addition to the decor, the menu, the music - that would absolutely, positively guarantee your party went off with a bang? One element that would, in twenty minutes, turn a yawn into a cheer, break the ice between strangers and leave the most restrained of your guests standing on their chair, twirling their napkin in the air?
Well, there is such an ingredient: it is called The Three Waiters - the original and best surprise entertainment show featuring singing waiters hiding in plain sight at your function.
Sophisticated, spontaneous and lots of fun, The Three Waiters have delighted millions of guests at thousands of events all over the world. This number is only significant when you consider that we are a surprise entertainment act and can therefore do little or no mainstream advertising. In other words, almost all our business comes from people who′ve seen The Three Waiters, absolutely loved the show and booked it for themselves! Best of all, The Three Waiters is great for parties of any size, requires very little production, suits every demographic and works brilliantly wherever there are waiters!

Demo Video
"Passion is our middle name".
This demo video gives just a taste of what it would be like having The Three Waiters at your event. Nothing appears to be out of the ordinary at first. Suddenly, the head waiter calls for everyone's attention, and makes an announcement. He completes his announcement with a stunning display of vocal talent.
Just when the audience thinks everything has returned to normal, another member of the wait staff makes an announcement, ending it with his own song. Two waiters are now vying for the audience's attention. A third waiter makes his appearance and belts out his own tune, rounding out the trio of surprise entertainment known as The Three Waiters. What follows is a funny, sophisticated, and totally interactive experience.