* Please note that while this speaker's specific speaking fee falls within the range posted above (for Continental U.S. based events), fees are subject to change. For current fee information or international event fees (which are generally 50-75% more than U.S based event fees), please contact us.
Top25 Speaker Voting

Teri Yanovitch needs 8 vote(s) to make it into the Top 25 speakers on Speaking.com!
Speaker Booking Tip
"Tip: some speakers might provide one of their popular book titles as a free gift to your audience. "
For Event Planners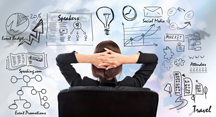 • Keynote Speaker Booking Toolkit.
• Booking a Celebrity Speaker.
• How to Find and Book the Right Speaker.
• Google+ Event Planning Forum.
• Tips for International Clients Booking U.S. Based Speakers.
Similar Speakers
Richard Hadden

Richard Hadden is a Certified Speaking Professional, author, and leadership consultant who focuses on the connection between people and profit. He is co-author of the…

Louie Gravance

For over a decade Louis Gravance designed and oversaw training for the Walt Disney Company, maintaining its reputation as "the happiest place on earth." Today…

Aaron McDaniel

Millennial expert Aaron McDaniel delivers timely aha moments and viable solutions on how to bridge generational gaps in the workplace and marketplace. Drawing from his…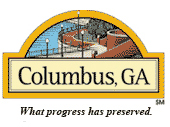 I so appreciated my representative for his responsiveness and for the ease with which I could communicate with him. This was my first time having to secure the talent for our program myself, and I could not have asked for a better experience with your speakers agency.
Mayor's Commission on Unity, Diversity and Prosperity for Columbus, GA
About SPEAKING.com
Established in 1994, we are exclusive agents for some of the world's leading experts, celebrities and professional speakers.
We offer event planners a fully staffed speaker logistics planning team, plus a personal SPEAKING.com Account Executive – a knowledgeable and trustworthy partner. We guarantee your satisfaction with your speaker and a smooth booking process.
Contact us today to book your favorite speaker.

"Teri spoke at our annual leadership meeting, and we could not have been more pleased. She was dynamic and bright, and she kept our leaders actively engaged right from the get-go… even after a full day of meetings. Teri used her real-world experience at Disney to align her presentation to our own customer service goals, and as a result, the information was rich and relevant. We came away with plenty of customer service concepts and ideas, which we readily applied to our own company practices."
Alan Boyko, President, Scholastic Book Fairs
"As the enclosed feedback summary attests, the workshop was a big hit! Attendees were very appreciative of the information and skills provided, your enthusiasm, and the interactive/engaging style of the session. We are confident that the insights and tools you shared will be helpful and applicable not only during the training process, but also in everyday interactions. Once again, Teri, thank you for providing a highly successful and valuable training workshop to our group. We look forward to the opportunity of working with you again in the future!"
Todd Cronson, Regional Manager, AAA Tourism Information Development
"Teri, everyone was so pleased with your program. I'd say you were a big hit! Thank you for being there. Your topic was relevant, your delivery very engaging and interactive, and the participants left with very specific 'take-aways.'"
Karen Sistare, Program Chair, ASTD Jacksonville
"Teri, once again, thank you for your excellent presentation! Based upon the evaluations your presentation was received overwhelmingly with 'Excellent!' Of course, we were not surprised."
Belinda Burkey, Space Coast SHRM Association
"Thank you for your outstanding session on Creating a Culture of Service Excellence. I have heard culture discussed before in training and even heard it said that you must change the culture in order to implement any substantive change. But your session was the first to present a practical, step by step, 'nuts and bolts' if you will, approach as to how to actually change an organization's culture. You presented good 'real life' examples to paint a clearer picture."
Lou Cirelli, Director Quality Assurance, Dormitory Authority State of New York
"To say that you were a 'hit' at our Senior Management Conference this last week on St. Simons Island would be an understatement. I've received numerous compliments regarding your presentation and the quality of the content. As a plus, those who had the opportunity to visit with you liked you personally as well. Thanks again for a terrific experience."
Richard A. Collinsworth, Executive Vice President/COO, Security Bank
"T.A.Yanovitch, Inc. has been a pleasure to work with. Teri has always 'gone the extra mile' to ensure client satisfaction and to deliver an outstanding product. Her process for creating a culture of service excellence is the best system I've seen to ensure a structured approach towards reaching a common vision for the entire organization. She has managed to keep our team focused and moving forward to ensure our success in this endeavor."
Linda Watson, CEO, LYNX
"We do good work but we can always do better, You have provided the catalyst to keep us moving in a positive direction. Your work with the staff at all levels is a 'work of art.' Your ability to catch and keep their attention whether it be the Senior Directors or the line staff is amazing. Keeping their attention is amazing enough but to get them to understand the message is the critical test and all signs indicate they do get the message."
Don Thomson, CEO, Community Blood Center of the Ozarks
"Since initiating our Service Excellence initiative in January 2009, we have experienced increases in student satisfaction surveys despite record enrollments and reduced state funding! Even though our Student Success staff is handling 20% more students than last year, we are seeing increases in students' ratings for our staff's welcoming attitude, courtesy and ability to help. Additionally, this initiative has helped us develop a service philosophy 'We Change Lives' that is resonating with our college community and bringing a new spirit and perspective to building relationships with students. Teri Yanovitch is an outstanding consultant with great expertise who has helped us develop a formalized system to truly enact cultural transformation on our campuses."
James D. Henningsen, Ed.D., Vice President for Student Success, Seminole Community College
"Westgate Resorts engaged T.A.Yanovitch, Inc. in early 1991 to help our organization build and launch a process to strengthen our customer service delivery. Their services exceeded our expectations throughout the project and the service improvement process still exists within our organization today."
Richard Siegel, Vice President, Westgate Resorts
Client List:
AAA
America's Blood Centers
Scholastic Book Fairs
Leica Camera
Smart City
First Citizens Bank
CNL
Subway
Ernst & Young
Security Bank
PCE Investments
Humana
Grosvenor Building Services
Dormitory Authority State of New York
First National Bank of Central Florida
Westgate Resorts
LYNX
Community Blood Center of the Ozarks
School Construction Authority of New York
Zero Chaos
Young Life
City of Altamonte
City of Rochester
Continental Airlines
Rockwell Collins
Cool Cuts 4 Kids
Rollins College
Florida's Blood Centers
Enterprise Florida
ESchool Solutions
Nyack Hospital
Scania
Florida's Turnpike Enterprise
Community Blood Center of the Carolinas
GSA (Government Services Administration)
New York Clarkstown School District
Cambridge Homes
Art Gallery of Ontario
Nokia
Fiserv Technologies
Yokohama Tires
Walt Disney World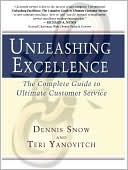 Unleashing Excellence: The Complete Guide to Ultimate Customer Service
Happy customers make for healthy bottom lines. For most businesses, that means customer service is the key to long-term profitability and success. But some companies do it better than others, and it′s often difficult to tell what works and what doesn′t. If you want to build a customer service culture that gets real business results, you need the reliable, proven guidance in Unleashing Excellence.
Unleashing Excellence guides you through the process of improving the customer experience and gives you practical, effective tools that you can tailor to your company′s specific needs and culture. Divided into nine "Leadership Action" sections, it shows you the exact steps to take to create an organizational culture in which service excellence becomes a habit rather than an afterthought.
You′ll learn how to train and educate your people in the most advanced and effective customer service techniques, how to measure the quality of the service you deliver to your customers, how to build a culture of personal accountability in your organization, and how to recognize and reward excellence in your people.
You can′t build a great customer service organization without having a clear vision shared by everyone involved. Unleashing Excellence also helps you craft that vision, spread it among your people, and imbue those people with the sense of dedication and excellence that spectacular customer service demands. Rather than focusing just on customer service theory or philosophy, this book is a guide to the practical actions you need to take in order to turn service excellence into business as usual.
Changing your customer service practices is tough even in the best of times, but the reward is huge. Unleashing Excellence provides the ideas and tactics you need to keep your customers ecstatic.
Unleashing Excellence: How to Deliver World-Class Service
Service excellence is more than smiling nice and maintaining good eye contact. It is an all-encompassing approach to making excellence the way you do business. "Everything Speaks" in your environment, what people see, hear, smell and touch impacts their experience. Even if you never "sell" a product, everyone your organization interacts with is a customer, even your employees. Today's customer is looking for value and for the organization that is focused on delivering that value and earning their trust. This program will share insights on how your organization can consistently deliver superior value to its customers.
learn how to look through the lens of the customer
identify opportunities within the physical environment to impact
learn how to immediately create "wows"
identify the barriers that get in the way of excellent service delivery
Creating a Culture of Service Excellence
The delivery of excellent service should be viewed as a way of life within an organization. World-class customer service doesn't just happen, it must be planned and managed if it is to be delivered consistently. This means engraining it into the fabric of the organization so that it becomes known that service excellence is "how we do business".
To do this, a service philosophy and service standards need to be established so all employees know the expectations of how to deliver great service. The customer experience must be orchestrated to ensure all opportunities to create exceptional and memorable moments will happen consistently. This program will identify the leadership actions needed to create and sustain a culture of service excellence.
Participants will:

learn how to change ordinary customer points of contact into extraordinary ones
learn the service standards one million customers identify as vital to success
recognize "Everything Speaks"
identify the four key elements that create the customer experience
learn the leadership actions that create and sustain a culture of service excellence
Leadership in Changing Times
Employees today are looking for leaders who will become a beacon of light in these changing and turbulent times. They are looking for leaders who will create a compelling picture of the future they can rally behind and get excited to follow. Leaders who do the right thing at the right time for the right reason - will be the leaders that will successfully lead. This program identifies how to become this leader and what it takes to "stay ahead of the game". Participants will:
learn how to create a constancy of purpose
explore ways to communicate the message consistently throughout
learn what it takes to build and earn your employee's trust
Teri Yanovitch: Customer Service Speaker
Teri Yanovitch says there are three critical elements to providing quality customer service. The first is the willingness to center service around the customer. The second is the importance of the service environment – everything a customer sees, hears, and touches when dealing with a company. The third is service delivery - where human interaction with the client comes in. She summarizes the last step as: "Do you make it easy to do business with you, or do you make it difficult?" Treating the customers well may sound simple, but is it? "I think customer service has gotten so bad these days if I go to Burger King and get a smile I feel like I got a gift," Yanovitch says. It doesn't take anything particularly complex, but it does take an effort.
And that effort starts with company leadership. The leaders, she says, have to envision a bridge from where they are to where they want to be. To get there, they need to understand the "true product" they're really selling: "The true product is the feeling the client will have at the end of their interaction."
Teri Yanovitch: Successful Leadership
Teri Yanovitch: Creating a Culture of Service Excellence