* Please note that while this speaker's specific speaking fee falls within the range posted above (for Continental U.S. based events), fees are subject to change. For current fee information or international event fees (which are generally 50-75% more than U.S based event fees), please contact us.
Top25 Speaker Voting

Ted Fishman needs 6 vote(s) to make it into the Top 25 speakers on Speaking.com!
Speaker Booking Tip
"Tip: ask your speaker to do a book signing or attend a VIP meal with your guests. "
For Event Planners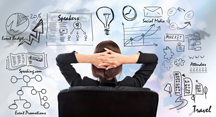 • Keynote Speaker Booking Toolkit.
• Booking a Celebrity Speaker.
• How to Find and Book the Right Speaker.
• Google+ Event Planning Forum.
• Tips for International Clients Booking U.S. Based Speakers.
Similar Speakers
Laurence Kotlikoff

Named by the Economist as one of the world's 25 most influential economists, Professor Laurence Kotlikoff has dedicated his life to fixing fiscal woes with…

David L. Smith

Born and raised in Argentina, Mr. Smith colors his writing and presentations with a bi-cultural international perspective. Mr. Smith earned his bachelor′s degree with honors…

Tom Faranda

Global relations guru, Tom Faranda has been making surprising yet accurate forecasts about economics and politics for over 25 years. Having lived and worked around…

Everyone at your speakers bureau was incredibly attentive and easy to work with; you have been a conference organizer's dream!
ABS Capital Partners
About SPEAKING.com
Established in 1994, we are exclusive agents for some of the world's leading experts, celebrities and professional speakers.
We offer event planners a fully staffed speaker logistics planning team, plus a personal SPEAKING.com Account Executive – a knowledgeable and trustworthy partner. We guarantee your satisfaction with your speaker and a smooth booking process.
Contact us today to book your favorite speaker.

As a keynote speaker, Ted Fishman with his vast store of knowledge about trends and pathways in aging, the economy and what's worked or hasn't worked provided the catalyst for improvments in our own state.
Coastal Enterprises, Inc.
Throughout his time with us, Ted Fishman expressed a keen sense of knowing his audience and adapted his book to meet the interests of our attendees.
Institute for Aging Research
Given our partnership with four universities in China, Ted Fishman's lecture was timely and on the mark, not to mention informative and insightful. The world is full of experts but not all are adept at sharing their knowledge in an easy to understand way.
Keuka College
[Ted Fishman's] ability to take so many variables and weave them into a compelling talk is a testament to his skill as a speaker.
The Chicago Network
Ted Fishman was absolutely terrific. His work is relevant and presented with great humor, compassion, and lucidity.
Meals On Wheels Association of America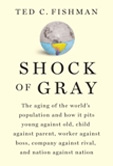 Shock of Gray: The Aging of the World's Population and How It Pits Young against Old, Child against Parent, Worker against Boss, Company against Rival, and Nation against Nation
The world's population is rapidly aging—by the year 2030, one billion people will be sixty-five or older. As the ratio of the old to the young grows ever larger, global aging has gone critical: For the first time in history, the number of people over age fifty will be greater than those under age seventeen. Few of us understand the resulting massive effects on economies, jobs, and families. Everyone is touched by this issue—parents and children, rich and poor, retirees and workers—and now veteran journalist Ted C. Fishman masterfully and movingly explains how our world is being altered in ways no one ever expected.
What happens when too few young people must support older people? How do shrinking families cope with aging loved ones?
What happens when countries need millions of young workers but lack them? How do companies compete for young workers? Why, exactly, do they shed old workers?
How are entire industries being both created and destroyed by demographic change? How do communities and countries remake themselves for ever-growing populations of older citizens? Who will suffer? Who will benefit?
With vivid and witty reporting from American cities and around the world, and through compelling interviews with families, employers, workers, economists, gerontologists, government officials, health-care professionals, corporate executives, and small business owners, Fishman reveals the astonishing and interconnected effects of global aging, and why nations, cultures, and crucial human relationships are changing in this timely, brilliant, and important read.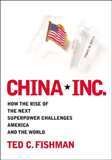 China, Inc.: How the Rise of the Next Superpower Challenges America and the World
China today is visible everywhere — in the news, in the economic pressures battering the globe, in our workplaces, and in every trip to the store. Provocative, timely, and essential — and updated with new statistics and information — this dramatic account of China's growing dominance as an industrial superpower by journalist Ted C. Fishman explains how the profound shift in the world economic order has occurred — and why it already affects us all.
How has an enormous country once hobbled by poverty and Communist ideology come to be the supercharged center of global capitalism? What does it mean that China now grows three times faster than the United States? Why do nearly all of the world's biggest companies have large operations in China? What does the corporate march into China mean for workers left behind in America, Europe, and the rest of the world?
Meanwhile, what makes China's emerging corporations so dangerously competitive? What will happen when China manufactures nearly everything — computers, cars, jumbo jets, and pharmaceuticals — that the United States and Europe can, at perhaps half the cost? How do these developments reach around the world and straight into all of our lives?
These are ground-shaking questions, and China, Inc. provides answers.
Veteran journalist Ted C. Fishman shows how China will force all of us to make big changes in how we think about ourselves as consumers, workers, citizens, and even as parents. The result is a richly engaging work of penetrating, up-to-the-minute reportage and brilliant analysis that will forever change how readers think about America's future.
The Urgency of China: How the China's Next Act Changes Our World
No country—since the rise of the United States—has ever challenged the rest of the world on so many fronts as the rise of China does today. Ted Fishman explores the dynamic behind China's rise and how the vast changes in that country change life for the rest of us as workers, managers, consumers, citizens and even as parents. China has embarked on the most ambition infrastructure building effort in the world. It is also vastly expanding it education system so help push the nation and its people to the top of world economy. As it advances and China's market power grows, the changes many long-standing rules and practices in global business, from the roles of Central Banks and currency regimes, to shape of mass and custom production to the rules—and lack of rules—for intellectual property protection. The stakes are enormously high for people everywhere, and nothing about China's continual rise is assured. Fishman explores the fundamental drivers of China's push and what the rest of the world must do to insure that China's drive creates prosperity at home, in the United States or wherever home may be.
Shock of Gray: How the Aging of the World's Population Forever Changes You, Your Business and Your World, and brings Challenges, Treasure and Global prosperity
The Shock of Gray is a new reality that is essential for nearly all audiences to understand. Ted Fishman delivers a powerful lesson in how the unprecedented aging of the world's population two lies at the heart of nearly every major social and economic trend today, driving globalization and propelling the movement of money, goods and people. Understanding this immense, unprecedented change is essential to the stewardship of companies, organizations and communities that aim to endure and thrive. Fishman has traveled our grayer future and found what's bright, what's stormy, and he is creating a map we all will need to navigate a great change.
How old is the world's population?
Global Economic Symposium (GES)
Asian and aging expert Ted Fishman discusses inequality driven by globalization as well as class and education. While globalization benefits people who have specialized skills or come from a family that was able to invest money in education, people who haven't had the opportunity to develop in-demand abilities end up with the dirty low-paying jobs.
This is often the case in developing nations like China and India, though Fishman insists it is a growing trend in the U.S. as well, explaining that all nations lack both shared equality (distribution of goods and wealth) and "equality of opportunity." "Can you create a meritocracy where everybody is allowed to develop their talents to their fullest and then have an equal shot?" Fishman elaborates. "And we're falling behind on both of those."