* Please note that while this speaker's specific speaking fee falls within the range posted above (for Continental U.S. based events), fees are subject to change. For current fee information or international event fees (which are generally 50-75% more than U.S based event fees), please contact us.
Top25 Speaker Voting

Tan Le needs 8 vote(s) to make it into the Top 25 speakers on Speaking.com!
Speaker Booking Tip
"Tip: speakers bureaus provide added value that you cannot get by booking speakers directly. "
For Event Planners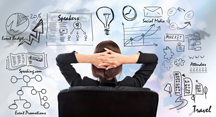 • Keynote Speaker Booking Toolkit.
• Booking a Celebrity Speaker.
• How to Find and Book the Right Speaker.
• Google+ Event Planning Forum.
• Tips for International Clients Booking U.S. Based Speakers.
Similar Speakers
Terry Jones

Founder of Travelocity.com, Terry Jones has a proven track record of leading companies that have revolutionized their industry. The former travel agent practically put travel…

Howard Putnam

Learning to fly his father's Piper Cub airplane as a child on an Iowa farm, Howard Putnam has risen through the ranks of the airline…

Vince Papale

In the course of a few months, Vince Papale went from being a part-time bartender, nightclub doorman, and substitute teacher to an NFL star and…

The retreat was extraordinary, professional, and personable. Everyone is still raving about it. They said it was the best experience of their lifetime. And, I would have to agree. I most certainly hope we have the opportunity to work together in the future.
YPO: Young Presidents' Organization
About SPEAKING.com
Established in 1994, we are exclusive agents for some of the world's leading experts, celebrities and professional speakers.
We offer event planners a fully staffed speaker logistics planning team, plus a personal SPEAKING.com Account Executive – a knowledgeable and trustworthy partner. We guarantee your satisfaction with your speaker and a smooth booking process.
Contact us today to book your favorite speaker.

"Tan's demo was undoubtedly one of the most spectacular features of the event, and also one of the most liked. From what we heard from all the people that attended it, they would not have missed it for anything. It certainly made a wonderful finale for the most busy day of our Forum."
- IT for Business Forum
"Tan's message was an inspiration to all present by showing that a great leader is someone who can vision the future and inspire others to achieve it."
- Loddon Murray Community
"Tan Le was one of six guests discussing future thinking with Edward De Bono. In the company of a former Prime Minister, heads of industry and advertising wizards, she not only held her own but often shone."
- Watershed Pictures
"Your address was thought-provoking, and very well received by the assembled Rotarians. Your words and the manner in which you delivered them were an inspiration to all of those present."
- Rotary International
"Tan Le is a very articulate young woman with great presentation skills. We have had a very positive response to the lecture with many requests for her to be a speaker at various functions."
- The Victoria Women's Council
"Tan is an exceptional speaker whose outlook on life is truly inspirational and motivating."
- QANTAS Airways Ltd
"We would like to thank you for your time and your most enlightening and informative address. Your input at our convention helped make it the success it was."
- United Israel Appeal
"A delightful personality, which shined through in her presentation. She was a great ambassador for young Australia and for Vodafone."
- Michels Warren Public Relations
"Tan was the perfect person to speak at our breakfast. She was truly inspiring and our guests couldn't stop talking about her."
- Monash Institute of Reproduction & Development
"…an articulate, entertaining, informative and enlightening speaker."
- Loddon Murray Community Leadership Program
"Tan Le was very inspirational and her passion motivated a lot of listeners, here are their comments:
Extremely inspirational and motivational.

She wrapped it up with one solid phrase/ one solid idea.

A very inspirational speaker and a great example of how we can all influence the communities we are in."
- Department of Finance and Administration
"Tan Le is an extraordinarily gifted speaker with the ability to engage and move an audience in an intimate way."
- United Nations - High Commissioner for Refugees
"Ms Le's presentation was exceptional. She is a truly wonderful speaker."
- AMP Financial Services
"Tan's story immediately captured the imagination of the audience, and the depth of the message she shared proved so inspirational that many people were moved to shared how Tan had impacted upon them emotionally."
- Australian and New Zealand Banking Group (ANZ)
"Tan Le is a very articulate young woman with great presentation skills. We have had a very positive response to the lecture with many requests for her to be a speaker at various functions."
-The Victorian Women's Council
"Tan was a huge hit! She added tremendous value to our event, and feedback from attendees was universally positive. Tan touched our audience with her inspirational story of the work she is doing, and brought a very valuable dimension to HP's message at the event. Her quiet but compelling stage presence was highly impactful. I'd like to express appreciation, on behalf of HP, to Tan not just for her presentation, but her very flexible and warm approach leading up to the event as well."
- Hewlett Packard
My Immigration Story
In this captivating and inspirational keynote, Tan Le recalls her early childhood fleeing war torn Vietnam – boarding a tugboat in search of a new life, four-year-old Tan Le's mother was clutching one precious possession: a vial of poison. In the highly possible circumstance of a pirate boarding the vessel, she would feed it to her two daughters and her mother, before taking it herself. Against all odds, Tan Le and her family washed ashore Australia's coast to begin a new life in a foreign country. She worked hard, and it became clear from an early age that she had immense potential. At just 16, after intense studying, she was accepted to college. Just a couple of years later she was named 'Young Australian Of The Year.' Le goes on to humbly discuss her accomplishments, and how she became a spokesperson, activist, and eventually moves to the US to become CEO of Emotiv- a leading neuroscience technology company that helps individuals all over the world with groundbreaking innovations.
The Future is Closer Than You Think: A Headset that Reads Your Brainwaves

Tan Le's astonishing new computer interface reads its user's brainwaves, making it possible to control virtual objects, and even physical electronics, with mere thoughts (and a little concentration). She demos the headset, and talks about its far-reaching applications.
Other suggested topics:

You Think, Therefore You Can

Technology Innovation

Entrepreneurship

Reimaging How the Human Brain is Observed
Tan Le discusses how her company's breakthrough technological achievements can enable scientists to see and record the inner workings of the human brain outside the lab for the first time in history, and the implications this development has for the well-being of humankind and our future.
Explaining that our brain is the most adaptable organ we possess, Ms. Le suggests that if we can understand more about how it works, we can have more power over our reactions, behaviors, and mental state of mind. "It [the brain] has the capability to change both positively and negatively based on our actions, thoughts, and experiences," she states. "We have the possibility to optimize and take advantage of our brain's full potential."
Ted Talk: My Immigration Story
A Headset that Reads Your Brainwaves