* Please note that while this speaker's specific speaking fee falls within the range posted above (for Continental U.S. based events), fees are subject to change. For current fee information or international event fees (which are generally 50-75% more than U.S based event fees), please contact us.
Top25 Speaker Voting

T.C. Roekle needs 8 vote(s) to make it into the Top 25 speakers on Speaking.com!
Speaker Booking Tip
"Tip: speakers bureaus can provide: speaker fee negotiation, insurance, smooth logistics and value add-ons such as extra sessions. "
For Event Planners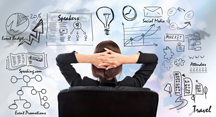 • Keynote Speaker Booking Toolkit.
• Booking a Celebrity Speaker.
• How to Find and Book the Right Speaker.
• Google+ Event Planning Forum.
• Tips for International Clients Booking U.S. Based Speakers.
Similar Speakers
John McKernan

Two-time governor of Maine, John McKernan has dedicated over 30 years to boosting the U.S.'s competitive advantage through his work in educational and economic policy.…

Ronald Culberson

"Do it well. Make it fun." Ronald Culberson has lived by this motto and people have noticed as he's brightened dark situations that most other…

Jimmy Cabrera

Raised in a segregated Latino community, Jimmy Cabrera made his way out of prejudice and racism to become one of the most successful inspirational speakers…

Our account rep was fantastic; he is very responsive, handled registration for our speaker, submitted the contract and invoice quickly - so easy to work with. Thank you!
Deloitte
About SPEAKING.com
Established in 1994, we are exclusive agents for some of the world's leading experts, celebrities and professional speakers.
We offer event planners a fully staffed speaker logistics planning team, plus a personal SPEAKING.com Account Executive – a knowledgeable and trustworthy partner. We guarantee your satisfaction with your speaker and a smooth booking process.
Contact us today to book your favorite speaker.

"T.C was just great and has endeared herself to us. T.C was most professional and diligent. Prior to her coming, she emailed me many times to ask good succinct questions to enable to prepare a presentation that would be suitable for our needs. She checked our websites and even communicated with a fellow American who had come to Singapore to do training for us. T.C claims to love Singapore and we love her too!"
Academy of Principals, Singapore
(Event booked by Speakers Platform)

"T.C.′s opening keynote was right on target for our conference participants and articulated our state vision of technology in education. She immediately connected with the teachers, administrators and technology directors. She shared her enthusiasm for learning and the power of technology to help accelerate learning for the students in Kansas."
Dr. Andy Thompkins, Commissioner of Education,
Kansas State Department of Education

"T.C. Roekle brings energy, enthusiasm, as well as personal and professional experiences to her presentation. Her motivational message is underscored by a call to action to her audiences."
Don Beauregard, Chairperson
California League of High Schools

"Thank you for the keynote address you gave to our career-technical educators. Your "right on" references to the needs of 21st century learners, and the ensuing reform efforts that these needs will demand, laid a strong foundation for our Curriculum Academy. All of us need to rise to the challenge, open our minds to new standards and pedagogies, and look to the "visible future" if we are to thrive as educators of today."
Karen Winters, Director of Professional Development,
Career Focused Education Oakland Schools

"T.C. is an energetic and dynamic presenter whose passion for raising student achievement through visionary thinking and strategic planning is contagious."
Dr. Coni Gray, Ph.D., Principal
Lincoln Elementary School

"The Designing Thriving Schools presentation was a perfect fit for our Summer Institute. Your informative and highly entertaining keynote positively addressed educational change as an exciting opportunity, leaving staff revitalized and empowered to start a new school year. The positive feedback from teachers and administrators alike has been overwhelming. You not only met our expectations, but exceeded them."
Dr. C. Danford Austin, Deputy Superintendent
Oakland Schools

"Your remarks were intriguing, challenging, and dynamic. You gave us the motivation to continue talking about what we can do to make school a practical, useful, exciting experience for our students and our staff."
Dr. Nancy Campbell, Assistant Superintendent
Berkeley School District

"Your dynamic presentation was so appropriate for today′s educational leaders, covering the instructional and business aspects of a large school system. The research you shared and your vast experiences as an educational leader will certainly challenge our thinking and planning."
Kathleen Barca, Executive Director of Special Projects
Kenosha Unified School District No. 1
DESIGNING THRIVING SCHOOLS® INTEGRATING STRATEGY, TECHNOLOGY AND PEOPLE
"It′s not about the technology...It′s about the learning." In the midst of unprecedented technological change, today′s educators are continually searching for new and effective ways to unleash technology′s promise to accelerate learning and increase professional performance. Understanding the impact of these changes, and the opportunities they create, is an essential step toward a comprehensive design for transforming learning through the purposeful integration of technology, strategy and people. In this dynamic and inspiring presentation, T.C. Roekle shares innovative ideas for applying technologies and effective educational strategies that will prepare our students for their future. "Non-techies" and "techies" alike will discover new ways in which technology can bring enjoyment and excitement to the learning and working environment. Through personal insights, humor and proven examples, educators will gain the confidence to "rebecome experts," creating classrooms and schools that will thrive long into the future.
LEADING EDUCATIONAL CHANGE FROM THE INSIDE
Yes, educators at every level are facing the challenges of increased accountability, rigorous government mandates, and competition for students, all fueled by the rapid pace of technological change. Yet, there has never been a greater opportunity to make a positive impact on education from the inside, where knowledge of the learner drives the decision making process. In this highly motivating, thought provoking, and entertaining presentation, T.C. Roekle will share personal insights, practical examples, and research-based educational strategies that illustrate how to capitalize on these challenges. Teachers and administrators will learn to look to the Visible Future® and strategically position their schools to thrive now and in years to come. They will gain a renewed excitement and passion for their profession as they learn to guide meaningful change, while redefining their roles as leading educators.
SCHOOLS THAT THRIVE
"Thriving schools don′t emerge by chance - they develop by design." Thriving schools continually and persistently lift the bar on student achievement and professional performance through effective, proven researched based strategies. And, leading educators welcome the opportunity and responsibility for shaping the future of our schools knowing an effective design can be a competitive edge. As the contemporary work place evolves so must strategies for preparing millennium students for their future. In this thoroughly entertaining, dynamic, relevant and idea provoking presentation, T.C. will present powerful success strategies and innovative organizational strategies that will instill a "can do" attitude in the hearts of participants. Her enthusiastic leadership will provide an invitation to participants to celebrate in their own creativity, and become excited, inquisitive, and eager contributors to their future success, and that of their students.
Designing Thriving Schools® Workshops
Designing Thriving Schools® is a leadership seminar that establishes a dynamic, engaging environment which encourages the creative exchange of ideas. It harnesses the brainpower of your educational leaders by providing cutting-edge information and examples of the latest technology tools as well as educational and organizational strategies; information that educators can use to produce real, actionable results. Participants will learn to strategically improve technology integration in all teaching and learning practices and organizational systems. The goal is to identify those tools and strategies that your team can implement to accelerate learning and increase staff performance. The result is a short list of educational imperatives and enabling technologies that will become key elements in your action plan. Developed exclusively to address the challenges and exciting new opportunities facing educational institutions, aligned with No Child Left Behind and ISTE Technology Standards, Designing Thriving Schools® will guide you toward integrating strategies, technologies and people to enhance curriculum, instruction and assessment. This program gives participants confidence to explore future possibilities and initiate action. Designing Thriving Schools is unlike any seminar or in-service meeting you have ever attended in the past. It′s a fun and energizing process that stimulates the free flow of ideas.

Demo Video
T. C. opens by saying that education is a "hot topic in government," referencing the Elementary and Secondary Education Act being covered by Newsweek. "What about No Child Left Behind on the cover of USA Today?" she asks. "That's different than it's ever been in our history. People are paying attention." She goes on to ask the audience if they think that education is going to change in the next 10 years. "How many people believe it's going to change whether we do anything about it? Oh, yeah. So why don't we? This is our opportunity. This is our time."
"There's a perception out there that people don't like change," she says. "Well, I disagree with that. I think people like change... If, in fact, there is change we like and change we don't like, there must be two kinds of change." She goes on to discuss which kinds of change people don't like, especially change that they "didn't see coming." She adds that the kinds of change that people like include the change that they "saw coming."