* Please note that while this speaker's specific speaking fee falls within the range posted above (for Continental U.S. based events), fees are subject to change. For current fee information or international event fees (which are generally 50-75% more than U.S based event fees), please contact us.
Top25 Speaker Voting

Susan Packard needs 7 vote(s) to make it into the Top 25 speakers on Speaking.com!
Speaker Booking Tip
"Tip: speakers bureaus can provide: speaker fee negotiation, insurance, smooth logistics and value add-ons such as extra sessions. "
For Event Planners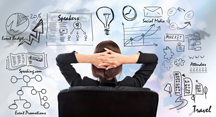 • Keynote Speaker Booking Toolkit.
• Booking a Celebrity Speaker.
• How to Find and Book the Right Speaker.
• Google+ Event Planning Forum.
• Tips for International Clients Booking U.S. Based Speakers.
Similar Speakers
Misty May-Treanor

With 107 career wins, Misty May-Treanor is the #1 ranked player in the history of competitive beach volleyball. Known for her rigorous ethics, values, and…

Nido Qubein

Dr. Nido Qubein came to the United States as a teenager with little knowledge of English, no contacts and only $50 in his pocket. His…

Sally Hogshead

Sally Hogshead is an expert in achievement of peak performance, marketing and most notably is the world's leading expert on fascination. A Hall of Fame…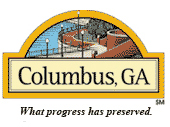 I so appreciated my representative for his responsiveness and for the ease with which I could communicate with him. This was my first time having to secure the talent for our program myself, and I could not have asked for a better experience with your speakers agency.
Mayor's Commission on Unity, Diversity and Prosperity for Columbus, GA
About SPEAKING.com
Established in 1994, we are exclusive agents for some of the world's leading experts, celebrities and professional speakers.
We offer event planners a fully staffed speaker logistics planning team, plus a personal SPEAKING.com Account Executive – a knowledgeable and trustworthy partner. We guarantee your satisfaction with your speaker and a smooth booking process.
Contact us today to book your favorite speaker.

"She was excellent! She got your attention and kept it. Now it is just up to us to use her examples and place them in our business and make them work. Thanks for securing her as a speaker!"
- Attendee, Texas Workforce Solutions 2010
"We did want to take a minute to let you know that Susan Packard was just FABULOUS! We had a packed room and sold more than 700 tickets to the event. We could go on and on! She has a huge fan club out here in Columbus now."
- Women for Economic and Leadership Development (WELD)
"Great motivational speaker - makes you want to go and get to work!"
- Attendee, Texas Workforce Solutions 2010
"Susan Packard is the speaker you always look for, but rarely find. She is articulate, dynamic and powerful, yet incredibly down-to-earth and approachable. She has a track record as a proven and powerful leader. She brings a keen mind and intellectual curiosity to her continuing studies of leadership. She informed us, entertained us, and challenged us. She took the time and made the effort to perfectly tailor her presentation to the executives and professionals in the audience. Our audience was so impressed by her presentation that we invited her back to return as our keynote speaker at our Annual Symposium, and once again she received rave reviews. Susan delivers a message that is stimulating, inspiring and practical, with numerous "takeaways" that the audience can use to improve their effectiveness as leaders in their own organizations. I wish I could find more "Susan Packards" for every symposium."
- Arizona Women's Leadership Forum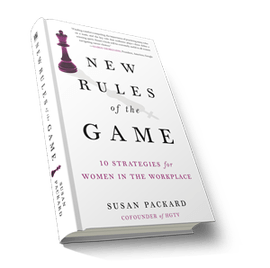 New Rules of the Game: 10 Strategies for Women in the Workplace
Business is a team sport. Learn how to play.
What would your workday be like if you could understand how your colleagues–especially men–succeed and win at work? And if, in understanding and applying the rules, you could win too?
In New Rules of the Game, Susan teaches you how to cultivate gamesmanship—a strategic way of thinking regularly seen in the video game and sports worlds—and most often among men—that develops creativity, focus, optimism, teamwork, and competitiveness. Gamesmanship is a way of thinking, and it's an attitude.
She's sharing my career story with humor and candor, including the successes and mistakes, the triumphs and some personal and career tragedies, and presenting them as teachable moments for you. Each chapter ends with tips and advice on how to practice each Rule and as such New Rules of the Game is extremely useful and practical.
But this book is much bigger than Susan. She also shares the tales of other presidents and CEOs who have become great gamers in their own fields, providing you the insight and inspiration to play the business game smarter, stronger, and more successfully. You will be better able to coach others, inspiring your team to perform at higher levels as you drive them toward the next win.
With this lens you will come to think, and act, more like an athlete. This means showing up with confidence on the playing field and having a winning spirit. It means composure and mental fortitude. It means loving the game called business and being fueled by the raw adrenaline of winning. It means thinking like a winner.

Advancement Through Gamesmanship
How do employees reach that next level in their career? Baseline talent gets everyone in the game. Then people begin to compete for advancement and factors such as likeability and trust influence who is promoted into senior roles.
Susan Packard, co-founder of HGTV, lays out an approach to help your employees succeed called gamesmanship-a strategic way of thinking, as well as a language of business to help people advance. We are taught that 'winning' at work means collaboration and perfecting what we do. But these two drivers are not always the best way to move forward.
Through a dynamic and down-to-earth approach, Packard lays out the rules of gamesmanship, based on her upcoming book, New Rules of the Game, and illustrates how employees can better compete for promotions and plum assignments by speaking an alternative language, as well as how they can handle the many stresses that come with being in the workplace.
Now What? Creativity, Innovation and Turning Ideas into Icons
So you have a great, innovative idea that is without peer in the marketplace—how does that become a great business worth over $7 billion such as HGTV? Packard shares with the audience her experiences and the lessons learned in growing a multi-billion dollar business which today includes cable networks, books, DVDs, interactive properties and a family of trusted television personalities. A leader who inspired those around her to push the boundaries in innovating products to achieve business success, Packard shares the leadership skills necessary to incubate—and execute—game changing ideas.
The Leader Within: Growing Your Leadership Team
What do leaders need today to excel? Hear from HGTV's co-founder, Susan Packard, as she shares leadership lessons from businesses she has helped to build, and from the leadership work she is doing today. She will discuss how vision, audacity, and relentless focus are some of the key factors that make great leaders today. She will also share some unusual insights and stories about diversity as a business practice today.
Move Fast, Think Big: Building a Brand Leader HGTV took a big idea - a cable television network devoted to all things home - into a marketplace dominated by media giants and emerged the leader. Now launched in more than 98 million homes, HGTV changed how we envision our homes and, in the process, established a new model for business innovation and success. Packard shares with audiences strategies for forging and promoting a brand while gaining customers who'll remain loyal to it, and provides ideas for expanding into other channels and platforms to secure even greater market share while maintaining brand integrity.
How Culture Impacts Employee Engagement: Timeless Lessons on Talent
Two of today's toughest challenges are recruiting and retaining the best talent. Learn how a $7 billion business did it from the ground up, and how these lessons can apply to you. HGTV co-founder Susan Packard will cover critical areas such as team structure, having a sense of mission, and how small, inexpensive things can impact loyalty and workplace excellence. Having the right people in the right jobs with the right amount of motivation is crucial to any successful organization and Packard shares what employers must do to create a workplace that can become the envy of any industry.

Susan Packard, Business Speaker:
Offering lessons from her own impressive and lengthy career, Susan Packard shares ways that women can practice gamesmanship, the art of "expressing your competitive spirit in a healthy way." As a young child born with her own unquenchable competitive spirit and little athletic ability, she discusses how she learned to channel her zeal to outdo through quiet games as oppose to her male classmates whose participation in team sports cultivated attitudes and behaviors much more aggressive than her own.
Susan examines how this early social conditioning plays into our lives as we transition from school to the professional world as well as the double standards that make it more challenging for women to reach top posts. "As we move up, it becomes trickier for women," she admits. "I am not suggest women act like men at work...What I am suggesting is that you think like and act like an athlete would."
Susan Packard, Business Speaker: Speech Excerpt
Susan Packard, Business Speaker: TEDxUCLA