* Please note that while this speaker's specific speaking fee falls within the range posted above (for Continental U.S. based events), fees are subject to change. For current fee information or international event fees (which are generally 50-75% more than U.S based event fees), please contact us.
Top25 Speaker Voting

Susan Ford Bales needs 6 vote(s) to make it into the Top 25 speakers on Speaking.com!
Speaker Booking Tip
"Tip: ask your speaker to do a book signing or attend a VIP meal with your guests. "
For Event Planners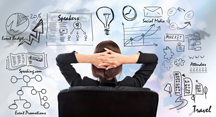 • Keynote Speaker Booking Toolkit.
• Booking a Celebrity Speaker.
• How to Find and Book the Right Speaker.
• Google+ Event Planning Forum.
• Tips for International Clients Booking U.S. Based Speakers.
Similar Speakers
Steve Ford

Inspirational speaker Steve Ford is a successful actor, recovering alcoholic and one-time resident of the White House (as the son of President Gerald R. Ford…

Tanya L. Brown

In honor of Nicole Brown Simpson's memory, her family established the Nicole Brown Foundation, which is focused on the prevention of domestic violence. Tanya Brown…

Emory Austin

Specializing in building bridges between subjective human choices and the complexities of the modern electronic world, Emory Austin's vibrant and delightfully humorous presentations provide practical…

Everyone at your speakers bureau was incredibly attentive and easy to work with; you have been a conference organizer's dream!
ABS Capital Partners
About SPEAKING.com
Established in 1994, we are exclusive agents for some of the world's leading experts, celebrities and professional speakers.
We offer event planners a fully staffed speaker logistics planning team, plus a personal SPEAKING.com Account Executive – a knowledgeable and trustworthy partner. We guarantee your satisfaction with your speaker and a smooth booking process.
Contact us today to book your favorite speaker.

"You took Baton Rouge by storm and made a HUGE difference. We more than doubled our fundraising dollars."
- Obrien House, Baton Rouge, LA

"Her talk was so powerful and well received."
- The Drug Council of Mobile, Alabama

"Her presentation was very educational and her personal experience with her mother was particularly moving."
- Ireland Cancer Center

"Susan Ford was the best speaker we've had. She was so REAL. Her authenticity, emotion and sincerity were touching and refreshing. Susan is so brave to share such a personal story of love, pain, hope and forgiveness. It was good to hear from a family member. I forgot how brave Betty Ford was to bring both breast cancer and addiction out in the daylight for all to hear about."
- Cumberland Heights Foundation

"Susan Ford Bales delivers a message about cancer that is at once powerful and tender. Her family's extraordinary candor and courage during a time when cancer was rarely openly discussed inspire hope, as does her intimate and historical perspective. Susan offers camaraderie and a voice of strength as she calls upon us all to both take action and take the fear out of cancer. A seasoned, articulate, and passionate speaker, Susan shares a poignant story and a priceless glimpse into a definitive chapter in cancer advocacy."
- The Minnie Pearl Cancer Foundation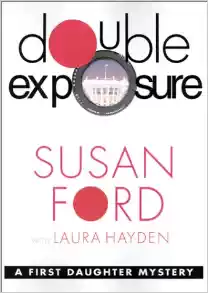 Double Exposure
Double Exposure is the first installment in a delightful new mystery series by Susan Ford, daughter of former President Gerald Ford. It features Eve Cooper, daughter of a newly-elected President, who must balance sleuthing with her first daughter duties, which include keeping an eye on her younger brother and working toward a career in photojournalism.
Susan Ford's First Daughter mysteries add a young, contemporary voice to the rich vein of presidential fiction. A fresh addition to a popular genre, First Daughter could well become the bestselling successor to Margaret Truman.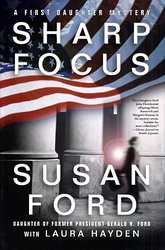 Sharp Focus

Eve Cooper takes a glider ride at the Air Force Academy. Shortly thereafter, the same glider is involved in a fatal crash. Just a coincidence, or did someone try to sabotage the plane? Is a killer stalking the President's daughter? Or is the real target her dad? A vivid you-are-there feeling adds extra sparkle to this fast-paced and witty puzzler.

A Daughter's Story: Beating the Odds Against Breast Cancer
As a teenager in the White House, Susan was thrust into the spotlight when her mother developed breast cancer and she had to assume many of her mother's duties. As First Lady, Betty Ford was one of the first women to publicly talk about her cancer, a subject that up until that time had not been discussed in public. Susan shares her stories of how her mother inspired her and how she became an advocate for breast cancer awareness and a spokesperson for the cause, a role she held for over ten years. She also discusses the stark reality of her susceptibility to the disease and the assertive approach she takes on prevention strategies.
Substance Abuse: A Family's Intervention
Susan speaks honestly and emotionally on the struggles of substance abuse, how it effects families, and how to intervene for loved one's.
An Intimate Look at Life in the White House
Susan shares on being a teenager in the White House, being thrust into the spotlight when her mother developed breast cancer and how she had to assume many of her mother's duties.
Suffering Cardiac Arrest: My Story
Susan Ford Bales had no idea that she had heart disease, and in 2010, she was surprised when she went into sudden cardiac arrest while exercising on an elliptical machine. After being revived by an electronic defibrillator, Bales received a heart stent and pacemaker. She was one of the lucky ones. She shares her own and her family's experiences with heart disease.

Betty Ford Center Women's Symposium Opening Keynote
Susan Ford Bales opens up on her mother's battle with alcoholism and substance abuse using the experience to promote hope and the possibility of recovery. She calls attention to just how widespread addiction is, noting that over half of all American adults have either a close relative or friend who is a struggling or recovering alcoholic.
"Addiction is a family disease and it is most effectively treated in the context of the entire family," she points out as she shares her mother's story, the fear and loneliness that penetrated the entire family, and how everyone involved eventually found the strength to intervene and send the former first lady to rehab. However, Susan discovered that treatment is just the beginning. "I don't think any of us was prepared for our collective recovery," Susan admits, addressing the mass of challenges that arise after rehabilitation.
Memories of the White House with Susan Ford Bales