* Please note that while this speaker's specific speaking fee falls within the range posted above (for Continental U.S. based events), fees are subject to change. For current fee information or international event fees (which are generally 50-75% more than U.S based event fees), please contact us.
Top25 Speaker Voting

Susan Ershler needs 8 vote(s) to make it into the Top 25 speakers on Speaking.com!
Speaker Booking Tip
"Tip: ask your speaker to do a book signing or attend a VIP meal with your guests. "
For Event Planners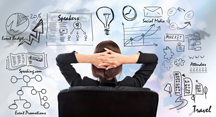 • Keynote Speaker Booking Toolkit.
• Booking a Celebrity Speaker.
• How to Find and Book the Right Speaker.
• Google+ Event Planning Forum.
• Tips for International Clients Booking U.S. Based Speakers.
Similar Speakers
Kevin Kelly

Internationally acclaimed motivational speaker Kevin Kelley is a foremost authority on entrepreneurship, leadership, sales, creativity and personal excellence. Over the course of two decades, Kevin…

Ruben Gonzalez

When Houston resident Ruben Gonzalez decided to try out luging, he had never even touched snow. Over 30 years later, he is the only winter…

Libby Gill

Libby Gill demonstrates how to achieve peak performance through personal development to an impressive roster of blue-chip clients. She is also a passionate speaker on…

Once again our agent did an outstanding job. Not only did he provide me with a number of options for potential speakers but he helped with seeing who was available, when they could speak, and getting everything done in a timely fashion. I look forward to working with him again.
Auburn University
About SPEAKING.com
Established in 1994, we are exclusive agents for some of the world's leading experts, celebrities and professional speakers.
We offer event planners a fully staffed speaker logistics planning team, plus a personal SPEAKING.com Account Executive – a knowledgeable and trustworthy partner. We guarantee your satisfaction with your speaker and a smooth booking process.
Contact us today to book your favorite speaker.

"Susan is an excellent speaker! The audience was engaged during the entire time."
Magma Design Automation
(Event booked by Speaking.com, Susan received all 7s out of 7 for presentation, content, customization and professionalism.)
"Susan, thank you for the fabulous presentation you delivered to our West Region team in Orlando. The audience of 600 attendees was thrilled with the tales of your quest to complete the Seven Summits. Furthermore, your ability to relate the challenges, risks, and rewards of climbing to the business world were invaluable. As we set out to reach new peaks as a team in 2004, we will reflect upon your words of encouragement and structured approach to reaching our goals. Thank you again for the value you provided to our team."
Region Vice President, IBM
"Sue's presentation was an outstanding story where we share the excitement of her journey to the summit and how this experience is related with our business, specifically in terms of setting goals and teamwork. Sue performed flawlessly and the team was pleased and really motivated by this absolutely great keynote. She is truly an inspiration for all of us!"
Business & Marketing Officer, Microsoft
"We are pleased to say that Susan exceeded our expectations and provided an excellent presentation. Susan's discussion on the Seven Summit experience, culminating with climbing Mt. Everest, was presented in a fashion of setting a seemingly impossible vision and then breaking down the task into manageable steps and activities. Susan integrated the highs and lows of making progress and experiencing setbacks and rewarding experience of maintaining focus on your goals, hard work and perseverance.
The feedback from our customers was over-whelming positive citing both an entertaining and aspiration experience. From our perspective, Susan exceeded what we expected—being able to kickoff our global customer symposium by drawing the connection of Survival of the Fittest with industry challenges and strategic objectives.
Susan has the highest recommendation from us and would be expected to deliver an excellent presentation for future events."
Vice President, Westinghouse Electric Company
"The focus of our meeting was geared to revisiting our goals. I chose Susan to be our keynote speaker for several reasons. Her recent Mt. Everest accomplishment would be very appealing to my entire staff and she is a very effective businesswoman with great communication skills. I wanted my staff to hear her story of what it took in terms of goal setting preparation, follow through and discipline in order for her to reach the summit of Mt. Everest.
Susan did a great job in her presentation of drawing the parallels of what it took for her to be successful in her climbing and relating it back to the successes in her business life. Her presentation was extremely well received by our management team and my entire staff. It was very beneficial as she took them through her goal setting process, gave them a good idea of the discipline in training required and perhaps the most important part was her determination."
Regional Vice President, Safeco
"Thank you so much for coming to our meeting and inspiring us all to focus on our goals and not quit. I have had such great feedback from everyone and it has quickly spread around to other teams within the organization. Little did we know how timely your talk would be in assisting us in staying focused on our plans as New York is under this terrible threat."
Regional Business Director, Ortho-McNeil
"Susan, you were definitely the highlight of our meeting. You will be happy to know that people talked about you for the entire week. You left quite an impression. People were quoting and referencing you all week in their presentations."
Director, Nike
"Sue received one of the highest scores ever as our keynote speaker. We would have wanted nothing to be different. Perfect mix of business and her experience on the mountain and incredible photos. Audience so engaged throughout, no talking even in the back, unusual and a very good sign!
Other comments from audience participants: The speaker was awesome. Great, applicable lessons. Speaker was very energetic and thought provoking. I really enjoyed the guest speaker, great inspiration and linkage to our goal and vision. Great guest speaker, she provided an excellent strategic vision personally and professionally. Great ending, let's have more of these presenters, she was on the mark and relevant. Loved inspirational speaker. The guest speaker delivered an excellent message to seek out and succeed with your team. Excellent guest speaker, inspiring, motivational and relevant."
Communication Department Leader, Premera Blue Cross
"Thanks for an absolutely fantastic presentation at our Luncheon. As they were leaving, our guests one after another kept saying, 'This was the best presentation ever'. So we're very pleased and I hope you are pleased too."
Chief Executive Officer, Bank Calumet
"You were fantastic! And, your advice so helpful. Your remarks and presentation style were on target for the annual gathering of WIN members.
Many thanks for coming. And, a special thanks for taking the initiative to spend time with WIN members at the meeting to learn more about them and the WIN network. I hope there will be other opportunities for you to speak at WIN meetings."
Director, Member Communications, Nuclear Energy Institute
"Thank you so much for your engaging keynote address at last week's User Conference. Everyone thoroughly enjoyed hearing about your remarkable adventures. We received lots of great feedback about your session. It was a pleasure meeting and working with you."
Pacificedge Software
"Your presentation was absolutely fantastic and you made a lot of friends in Olympia. On a personal level, I have to tell you that you really made my day as program chair because I have been receiving compliment after compliment about what a great program I secured."
Chief Justice Supreme Court, Washington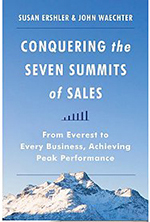 Conquering the Seven Summits of Sales: From Everest to Every Business, Achieving Peak Performance
Two experts who have summited the tallest mountains on each of the seven continents—and scaled the highest peaks in corporate sales—examine what it takes to achieve sales success, drawing on the techniques and determination it takes to climb the world's highest peaks.
When Susan Ershler and John Waechter each made the grueling journey to the top of Mount Everest, they were motivated by the desire to join the elite group of climbers that had conquered the Seven Summits, the highest peaks on each of the seven continents. It was this same determination that made them star performers in corporate sales, one of the toughest jobs in global business. They both cherish the deep satisfaction that only comes from attaining a seemingly impossible goal through focus, determination, and persistence.
In this unique and inspiring guide, Susan and John draw on their experiences to inspire sales professionals to overcome their perceived limitations and reach new heights of success, illustrating how any sales professional can achieve peak performance. They show how to clearly define goals, "choose the right Sherpa" (build the right team), commit to a vision, "travel light" (manage your time), and "measure the mountain" (track your progress).
Interweaving concrete, tested methods for high achievement in sales, with stories of harrowing climbs and perseverance, Conquering the Seven Summits of Sales proves that anyone can experience the tremendous sense of closure and satisfaction that comes with overcoming perceived limitations and achieve something real and meaningful.
Together on Top of the World
The Remarkable Story of the First Couple to Climb the Fabled Seven Summits
On May 16, 2002, Phil and Susan Ershler reached the top of Mt. Everest and became the first couple in history to scale the fabled Seven Summits. What made their achievement all the more remarkable was that Susan was not a mountain climber, but a high-powered Fortune 500 executive who had never hiked or climbed until she met Phil at the age of 36. Phil, a professional mountain guide who was the first American to summit Everest from its treacherous north face, had climbed his whole life with Crohn's disease, a chronic, debilitating illness. Adding to these challenges, just before their final summit, Phil was diagnosed with colon cancer, and the resulting surgeries and complications were expected to end his career.
This is Susan and Phil's story: a tale of love set in the mountains, a story of triumphal highs and devastating lows in quest of a seemingly impossible dream.
Personal Best, Professional Best
I learned an important, simple truth from our quest to reach the top of Everest: to achieve something that seems impossible, you've got to first set the goal, then prepare, then keep going until you get there. My husband Phil and I were the first couple to climb the Seven Summits not because we were superhuman, but because we were humans who kept going. I believe that's what achievement is made of. Personal and professional successes go to those who show up and do the work—until they reach their goals.
Fit for Business
How do you achieve your dreams in both your personal and business life—especially the ones that seem impossible? In my talks, I share my road-tested methods for combining a demanding job with a fulfilling life, while still achieving all that you desire.
Seven Summits of Sales™
"We don't climb alone, and we don't sell alone."
Before I started climbing mountains I climbed sales 'summits' for over 20 years, culminating in $600 Million sales goals as a Vice President in Sales. My mission is to help others avoid the crevasses and achieve their professional and personal dreams. This talk focuses on the particular challenges of sales teams with stretch goals to meet and how to help them reach the top year after year.
Reaching New Heights: Everest & Beyond™
When Phil and I stood on the top of Mount Everest in 2002, it was the realization of a dream that had begun more than a decade before. Illustrating my talk with slides and stories from our climbs of the highest mountains on each of the seven continents, I help audiences discover how to set impossible goals and reach them despite the odds.
Susan Ershler: Demo Video
Fortune 500 executive Susan Ershler reveals how she fell back on her business experience to prepare her for climbing the world's tallest mountains and in turn, what training to climb those mountains taught her about business strategy. "Vision drives activity," she describes how imagining herself on stage accepting achievement awards or looking down from the top of Everest helped her stay on track and meet her goals. "If we can do one thing, it's commit to that vision; then the right activity follows."
She draws parallels between the challenges she faced in her corporate life and personal life, citing the importance of collaboration in both. "It's so important in climbing as I know it is with our businesses to climb with people we trust and climb with people who care about our success."
Susan Ershler First Business Interview: Strategies for Success
Susan Ershler Introduction
Speech Excerpt
Speech Excerpt