* Please note that while this speaker's specific speaking fee falls within the range posted above (for Continental U.S. based events), fees are subject to change. For current fee information or international event fees (which are generally 50-75% more than U.S based event fees), please contact us.
Top25 Speaker Voting

Susan Cain needs 8 vote(s) to make it into the Top 25 speakers on Speaking.com!
Speaker Booking Tip
"Tip: speakers bureaus can provide: speaker fee negotiation, insurance, smooth logistics and value add-ons such as extra sessions. "
For Event Planners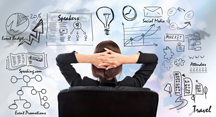 • Keynote Speaker Booking Toolkit.
• Booking a Celebrity Speaker.
• How to Find and Book the Right Speaker.
• Google+ Event Planning Forum.
• Tips for International Clients Booking U.S. Based Speakers.
Similar Speakers
Kevin O'Leary

Businessman and investor, Kevin O'Leary makes or breaks entrepreneurs' dreams as a venture capitalist on ABC's Shark Tank. The founder of the successful SoftKey Software…

Linda Hill

As faculty chair of the Leadership Initiative at Harvard Business School, Linda Hill, the Wallace Brett Donham Professor of Business Administration, has chaired numerous HBS…

Noreena Hertz

Economic expert Noreena Hertz's track record of predicting financial, political, and business trends is second to none. For over 20 years Hertz has been advising…

This has been one of the most outstanding speaker agencies I have had in my 25+ years in the hospitality industry. They have helped my company secure speakers for years to the delight of my attendees. They have secured high profile speakers, even within the confines of a tight turnaround and an even tighter budget. I recommend their services without hesitation. They are truly leaders in their profession looking out for their clients: excellent is all I can say!
AHIMA
About SPEAKING.com
Established in 1994, we are exclusive agents for some of the world's leading experts, celebrities and professional speakers.
We offer event planners a fully staffed speaker logistics planning team, plus a personal SPEAKING.com Account Executive – a knowledgeable and trustworthy partner. We guarantee your satisfaction with your speaker and a smooth booking process.
Contact us today to book your favorite speaker.

"You were a huge hit–you've been cited by many, many people as their favorite session — and I hope you enjoyed being with us as much as we enjoyed having you there and learning from you."
— Fast Company Magazine, Innovation Uncensored Conference
"THANK YOU again for the fabulous presentation at the J&J CDTL leadership forum. You received very positive feedback from the group, and [everyone] in the audience felt it was very instructive and impactful. I know many were still talking about it as we finished the day, and I have no doubt [they] will try to take their learning to [their] practice moving forward."
— Johnson & Johnson Leadership Forum
"I cannot underscore what a terrific job you did with your talk and how much of a pleasure it was to have the opportunity to meet you in person. You have outlined an immensely important issue when it comes to promoting more effective personal relations and business success and we are in your debt for both discovering it and then marshalling such passionate and persuasive arguments for why the issue matters. Thank you as well for being willing to sign all the copies of your book that you did."
— Rochester University
"After spending all day yesterday basking in the glow of that marvelous event Tuesday night, I just wanted to send you a personal note thanking you for making the entire event so fascinating and inspiring for so many people. We have received an enormous amount of feedback from the over four hundred people who attended the event indicating that it was the most interesting and inspiring lecture that they have attended in a very long time. Your ability to connect with an audience in a very personal way while imparting fascinating information about all of us is indeed unique. We are proud as an organization to have brought such an interesting and inspiring speaker to our community. Your talk will resonate in the educational community in the Washington, D.C. area for a long time to come."
- Parents Council of Washington D.C.
Quiet: The Power of Introverts in a World That Can't Stop Talking
The book that started the Quiet Revolution
At least one-third of the people we know are introverts. They are the ones who prefer listening to speaking; who innovate and create but dislike self-promotion; who favor working on their own over working in teams. It is to introverts—Rosa Parks, Chopin, Dr. Seuss, Steve Wozniak—that we owe many of the great contributions to society.
In Quiet, Susan Cain argues that we dramatically undervalue introverts and shows how much we lose in doing so. She charts the rise of the Extrovert Ideal throughout the twentieth century and explores how deeply it has come to permeate our culture. She also introduces us to successful introverts—from a witty, high-octane public speaker who recharges in solitude after his talks, to a record-breaking salesman who quietly taps into the power of questions. Passionately argued, superbly researched, and filled with indelible stories of real people, Quiet has the power to permanently change how we see introverts and, equally important, how they see themselves.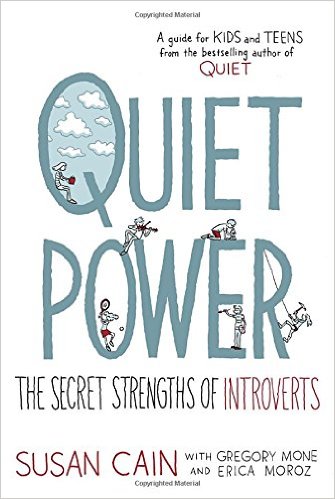 Quiet Power: The Secret Strengths of Introverts
Susan Cain sparked a worldwide conversation when she published Quiet: The Power of Introverts in a World That Can't Stop Talking. With her inspiring book, she permanently changed the way we see introverts and the way introverts see themselves.
The original book focused on the workplace, and Susan realized that a version for and about kids was also badly needed. This book is all about kids' world—school, extracurriculars, family life, and friendship. You'll read about actual kids who have tackled the challenges of not being extroverted and who have made a mark in their own quiet way. You'll hear Susan Cain's own story, and you'll be able to make use of the tips at the end of each chapter. There's even a guide at the end of the book for parents and teachers.
This insightful, accessible, and empowering book, illustrated with amusing comic-style art, will be eye-opening to extroverts and introverts alike.

A Quiet Revolution: Changing How We Work, Lead and Innovate
Did you know that many of the most effective business and political leaders possess traits typically associated with introverts (e.g., "soft-spoken," "quiet," "thoughtful") Did you know that some of our most creative and innovative moments come during times of solitary introspection, as opposed to in group or team settings? As todays leaders are all too aware, one of the central challenges of any business is to bring out the best in its employees—employees of vast and varied personality types and abilities. This is true regardless of institution—military, government, private or public.

Drawing on years of research and the latest in neuroscience and psychology, Susan Cain—best-selling author, Co-Founder of Quiet Revolution, LLC, and renowned expert in leadership and innovation—delivers an enlightening, relatable and practical presentation that will radically change your view of the best way to develop leaders, manage teams, make smart hires and stimulate innovation.

Quiet Kids: How Our Education System Can Teach Introverted Students
A central challenge of any educational system is to bring out the best in all its students. This means providing a robust learning experience for both introverted and extroverted children. Yet too often with introverts—who comprise nearly a half of every classroom—we simply ask them to act like extroverts. This is a serious waste of quiet children's considerable and under-noticed talents, not to mention their energy and happiness.

In an enlightening and practical talk, Susan Cain shows us that introverted children possess gifts that enhance the culture of any classroom, and are crucial to the survival of our society. Drawing on her original research, compiled over years, Cain answers a plethora of questions, including how and when to use group work, grade on class participation and use social media in the classroom.

Passionate yet coolly reasoned, Cain will radically change your view of the best way to cultivate the talents of quiet children, develop their leadership skills and create a classroom culture designed for introverts and extroverts alike. This is an urgent and necessary talk for anybody concerned with the state of education today.
Susan Cain Leadership and Innovation Speaker: Keynote
Susan Cain addresses how the introvert/extrovert facet of our personalities influences our lives "just as much as gender." She explores what it really means to be an introvert or extrovert along with the societal bias against introverts and their work style.
Even though research points to introverted people as both better students and leaders when it comes to outcomes, Susan underscores that both school and the business world are being structured to cater to extroverts ever more frequently. "We are increasingly setting up our workplaces so that people have to be interacting all day long in open planned offices," she says. "And when it comes to leadership we find that introverts are routinely passed over for leadership positions in favor of extroverts."
Susan Cain, Leadership and Innovation Speaker: Interview
Susan Cain, Leadership and Innovation Speaker: Q&A Networking for Introverts
Susan Cain, Leadership and Innovation Speaker: TED Talk