* Please note that while this speaker's specific speaking fee falls within the range posted above (for Continental U.S. based events), fees are subject to change. For current fee information or international event fees (which are generally 50-75% more than U.S based event fees), please contact us.
Top25 Speaker Voting

Steve Rizzo needs 21 vote(s) to make it into the Top 25 speakers on Speaking.com!
Speaker Booking Tip
"Tip: speakers bureaus can provide: speaker fee negotiation, insurance, smooth logistics and value add-ons such as extra sessions. "
For Event Planners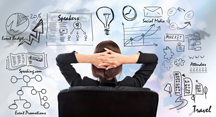 • Keynote Speaker Booking Toolkit.
• Booking a Celebrity Speaker.
• How to Find and Book the Right Speaker.
• Google+ Event Planning Forum.
• Tips for International Clients Booking U.S. Based Speakers.
Similar Speakers
Amanda Gore

Communications and performance expert Amanda Gore uses the latest psychological research to transform behaviors, cultures, and attitudes so that employees can reach greater heights when…

Thomas Kolditz

Retired Brigadier General Tom Kolditz is an internationally recognized expert on crisis leadership and leadership in extreme contexts. His time as a Leader Development Expert…

Robert Kriegel

An in-demand business innovator, Dr. Robert Kriegel helps organizations get enviable performance results by working smarter – not harder. He is the author of two…

Our Account Executive is an extraordinary person. Always available, very kind and funny. Eager to help and always quick to respond. I have so much fun working with him. A very delightful experience. I hope continue working together for years to come!
Credicorp Bank
About SPEAKING.com
Established in 1994, we are exclusive agents for some of the world's leading experts, celebrities and professional speakers.
We offer event planners a fully staffed speaker logistics planning team, plus a personal SPEAKING.com Account Executive – a knowledgeable and trustworthy partner. We guarantee your satisfaction with your speaker and a smooth booking process.
Contact us today to book your favorite speaker.

Well still today - I mean two years later - probably a month or two doesn′t go by where somebody doesn′t make some reference to when you appeared for us up there are the Ritz Carlton you know just making a comment about the humor being or some of those things so I mean you made a lasting impression on people and we will, in this organization we are going to have you back at some point in time in this organization.
Mike Kruse, Vice President
Heidtman Steel Products

Your speach was not only outstanding but it captured everyone′s interest from the inception of the presentation right through to the end. You were funny, you brought some actual true-life points that were, that you experienced in your own personal life to a reality. And you just had the audience captivated from inception to completion of that presentation. So, out of all the events that I have put together on behalf of the hartford for this association, that evening in September based on your presentation was the most successful that we′ve ever had. So, my hat goes off to you for an outstanding presentation and your book is outstanding, I′ve read it and you were just you were right on and you captured everyones interest from the beginning to the end and im still getting rave reviews from some of our clients that that was the most enjoyable evening that they′ve attended on behalf of The Hartford, so thank you.
Wayne Carpenter,Director of Client Relationships
Hartford Life Insurance

"...never in my 19 years of attending and coordinating similar meetings have I seen a speaker generate such enthusiasm. Part of the reason, of course, lies in your delivery - but good delivery without substance is what far too many speakers bring to a forum. Equally important - if not more so - was your message and the sincerity behind it."
Jim Wileman
Allied International

"Through your humor, personal experiences, expertise, and non traditional approach, you reinforced OIT's commitment to improving the quality of life for its employees and increased our awareness of the importance and benefits of using humor in the workplace to improve quality of life for ourselves and the organization."
Jeffrey A. Singer
Office of Information Technology
Central Intelligence Agency

"...It was clearly the most successful event that we have ever sponsored...thank you for your inspiring performance and I can assure you that we are looking forward to working with you again."
Mark Stolze
Executive Director
The National Children's Cancer Society, Inc.

---

360 Communications
Aircraft Electronics Association
Alliance Life
All Kitchens of America
Allied International Moving Services
Amarr Garage Door Co.
American Agrisurance, Inc.
American Airlines
American Collectors
American Express
American Feed Industry Association
American Fidelity Insurance
American Health & Radiology Association
American Society of Military Comptrollers
Andersen Consulting
Ansul Fire Protections
Applied Innovation
Association of County Officials of Omaha
Association for Financial Professionals
AT&T
Bell Federal Credit Union
Best Brands Plus
Billings MT Chamber of Commerce
Bilmore Estates
BlueCross BlueShield of North Dakota
Boeing
Bristol-Myers California Teachers Association
Cape Girardeau Chamber of Commerce
Carey International
Carpet One
Central Intelligence Agency
Centris Federal Credit Union
Century Insurance
CheckFree
City of Phoenix
Co-Bank
COGNEX
Coldwell Banker
Realtors Community Bankers of Wisconsin
Coopers & Lybrand
Cowan Financial Group
Cruiselink PlusCSC Credit Services, Inc.
CUNA Mutual Group
Deloitte & Touche, LLP
Dorinco
Educational Employer Credit Union
ERA Realtors
Fantastic Sam's
Farm Bureau Financial Services
Farmers Insurance
Farmland Foods
FCIB_NACM Corporation
Federated Group
FISERVFLIK International
Fortis Benefits Insurance Company
Foundation for Educational Administration
Frankenmuth Chamber of Commerce
Gaymar Industries
GE Medical Systems
GEM International Association of Travel Agents
GIGA Information Group
GMDC
Glenbrook South High School
Gloria Nilson Realtors
GM Buick
Greater Chicago Restaurant Association
Great West Life
GreenStone Farm Credit Services
Homes & Land Publishing
Home Mortgage Network
Honeywell
Hospital Cost Consultants
Independent Order of Foresters
Intecom
InterMetro Industries Corporation
International Credit Association
International Entertainment Buyers Association
International Foundation of Employee Benefit Plans
Iowa Paint
JP Morgan
Jefferson Pilot Financial
Kansas City Power and Light
Kansas Farm Bureau
Kansas Hospital Association Wichita
Kidde Fire Protection
La Joya Independent School District
League of IBM Credit Unions
Lexmark
Liberal Chamber of Commerce
Liberty Mutual Group
Lincoln Financial Group
Lincoln Life
MAIFAC
Marriott Hotels
McDonald's Corporation
The Med Group
MFA Oil
Michigan Farm Bureau
Milliken & Co.
Minnesota Credit Union
Minolta
Missouri Division of Tourism
Mobil Oil
MONY Group
Mutual of Omaha
NAMA
National Agri-Marketing Association
National Association of Independent Insurers
National Association of REALTORS
National Children′s Cancer Society
National Counterintelligence Center
National Electrical Contractors Association
National Exchange Carrier Association
National Foods
National Pest Control
National Precast Concrete Association
National Restaurant Association
Nationwide Insurance
Nebraska Association of County Officials
New York Association Of Homes & Service For Aging
New York State Credit Union League
North Dakota Council of Educational Leaders
O′Connor, Piper, Flynn Realtors
Oki Data
Otis Spunkmeyer
Pfizer Inc.
Pharmacia
Upjohn
PHH Mortgage
PPG Industries
Price Waterhouse
Price-Costco
Principal Financial Group
Professional Secretaries
Professional Secretaries International
Promotional Products Association
Rehab Designs Of America
Reinhart Food Service
Rental Service Corporation
Residence Inn
Rockford Health Systems
Sagemark Consulting
SBC Services
Schlumberger Industries
Scholastic Book Fairs, Inc.
Sea World
Sentry Insurance
Sisters of Charity
Sitara Networks Inc
Snap-on Tools
South Western Bell
Southern New England Telephone
Sprint
State Farm Insurance Companies
Staten Island Board of REALTORS, Inc
Stormont-Vail Hospital
Strauss Discount Auto
SYSCO Food
TexasBank
Texas Elementary Principals Association
Texas Mortgage Bankers Association
Texas Department Of Public Safety
The St Paul
TRANSCOU.S.
West Cellular
UNIMIN Corporation
United Container
US Generating Co.
USAA Capital Corporation
Viking Sewing Machines
Walsh Healthcare
Washington Mutual
Wayne Farms
Western Union
WIC
Wyeth-Ayerst Laboratories
XP Systems
And Many Many More

Becoming A Humor Being: The Power To Choose A Better Way
Through his own and other people′s stories, Steve Rizzo reveals how humor can affect our perceptions of challenging circumstances and life′s tragedies. He shows how humor can short circuit negative thoughts and emotions-before emotional and physical havoc can set in.
These programs can be customized according to your groups theme and needs.
Steve can also combine two or more of his programs if desired. All it takes from you is a conference call with the key players and a review of any pertinent material you send. Whatever you decide, you can be certain that it will be an Unforgettable Event filled with Inspiration, Motivation, and of course Laughter.
GET YOUR "SHIFT" TOGETHER--Start each day with an Unstoppable Attitude to Succeed
Steve Rizzo engages the audience with laughter as he challenges each attendee to
SHIFT their focus and way of thinking to discover greater enthusiasm, increased productivity, and new levels of success, regardless of their circumstances.
Let Steve show your group what he learned about Success Strategies from his personal experiences with many comedy greats, celebrities and everyday heroes in his life
What were the 3 Success Qualities that catapulted Eddie Murphy to Super Stardom?
Why was Rodney Dangerfield so unhappy when he achieved so much?
How was Christopher Reeve, who was paralyzed from the neck down, able to accomplish so much in the last 9 years of his life when the odds were so much against him?
Learn how Steve's brother Michael, a 100% disabled Viet Nam War Vet, turned his life around to become the Ultimate Success Story.
In this program Steve will reveal the SHIFTING SECRETS of…

Shifting your focus and way of thinking to get the results you want
How to train yourself be resilient and motivated throughout the day; everyday
Enjoying yourself during the process of achieving your goals
Starting each day with an unstoppable Attitude to succeed
Why humor is "The Instant Mind Shift" and how to use it to nip negative thoughts in the bud before emotional havoc sets in.
Let Steve show your group how much power they have over every aspect of their business and lives, regardless of their circumstances!
THE ATTI-TOOLS FOR SUCCESS

This highly energetic and entertaining program unlocks the secrets to the power of permanent change and a lasting positive attitude. You can be sure that your group will be feeling fantastic and walking away more productive than ever, not just for a day, but for a lifetime. Learn why Steve is known by so many as the "Attitude Adjuster."
"What you think is what you get." -Steve Rizzo.
In this program you will gain the secrets of…
New ways of thinking that will transform obstacles into opportunities instantly
How to bring out the best in yourself and everyone around you
Learning the five steps towards your destiny
How to laugh off your fears and take control of your emotions
The number one way to achieve success and happiness
DON'T JUST ACCEPT CHANGE…EMBRACE IT!

Sometimes it comes by way of choice and sometimes it is forced upon us by circumstances beyond our control. Either way, it is a part of life that is needed in order for us to grow to our full potential. Steve will show your group how to deal with one of our biggest fears in both the workplace and in our personal lives…CHANGE! Everyone will learn the skills needed to use any change to their advantage, creating greater success on all levels.
"Life is about growing, learning, and becoming. You cannot grow, learn, or become if you cannot embrace the changes in your life." -Steve Rizzo
In this program you will gain the secrets of…
Winning ways of thinking that change obstacles into opportunities instantly
How to enjoy yourself during the process of change
Overcoming the fear associated with change
Using your sense of humor as a tool to grow with change
Seeing the brighter alternative to a potentially negative situation
WHY NOT ENJOY THE PROCESS

We spend most of our waking hours at our place of employment and much of our leisure time thinking about it. We can let the stress, fast pace, and challenges control our emotions or we can lighten up, have fun, and enjoy the process. It's always a matter of choice! Acquiring a healthy state of mind is essential in order to produce quality sales, quality customer service, teamwork, and communication. Steve will show your group how to overcome the everyday pressures that can stifle productivity and creativity in the workplace, while enjoying the process.
"Enjoyment is the spark that ignites passion and enthusiasm." - Steve Rizzo
In this program you will gain the secrets of …
Acquiring the attitude you need to succeed
Using the power of choice to your advantage
Seeing the brighter alternative to a potentially negative situation
Finding the laughter in between and during the tough times
How to maintain emotional stability and eliminate stress
Emcee Extraordinaire!
What do you get when you combine Steve Rizzo's Hilarious Comedic Skills with his Captivating Speaking Style?
The Perfect Emcee!
Entertaining! Engaging! Sincere! Personal! And of course Hilarious!
Did you know that and Emcee can either make or break a conference?
Here's what Steve Rizzo brings to the table.
From beginning to end Steve engages and fires up the audience with High energy
Talks to speakers and presenters before hand and customizes the entire event according to your needs, theme and vision
Introduces speakers and presenters with a high powered personal introduction
Personalizes the event by knowing the history of your group and implementing key words, phrases and names
Steve can deliver his Keynote Speech anytime throughout the conference
Steve is a Master at making each attendee feel Energized, Entertained, Motivated, Appreciated and Just Plain Good About Themselves Steve Rizzo Emcee Extraordinaire!
Don't settle for anything less than Steve Rizzo's Emcee Skills. Because anything less... is just that.
Want an After Dinner Winner
After a long day of break out sessions and high content information, don't you think your group deserves a Funny Motivational Speaker?
Some can make you Laugh. Others can give you Memorable Content. No one can give you both with Equal Intensity like Steve Rizzo.
"Steve Rizzo is the After Dinner Winner!" Says Duncan Campbell III, CEO & President of the Pennsylvania Bankers Association.
Steve Rizzo will WOW your group with his Hilarious Brand of Humor and deliver just enough message that will take them to a better place in business and in life. Laugh and Learn with Steve Rizzo. He's a Seriously Funny Guy! Oh and one more thing. Don't be surprised if your group calls you a Winner for choosing Steve.
Note: Just tell Steve how much Humor and Message you want. Or perhaps you want all Humor. Whatever you decide Steve will deliver

Funny Motivational Speaker Steve Rizzo
In this presentation, Steve discusses how to change a negative attitude. "The time to enjoy yourself is in the now," he says, "in the moment of whatever it is that you are trying to achieve. Whether you're home, walking the dog, cleaning the garage, taking care of the kids, or trying to get to that next level, you have the right to enjoy yourself."
He goes on to explain how anyone can enjoy themselves in whatever they're doing. "As soon as you open up your eyes to greet the day, you enter into consciousness," he says. "It is at that moment that your creativity is at its most powerful. Right there and then you have an opportunity to steer your thoughts and your emotions in the direction that you want them to go… You can literally choose to seize the day, or you can let the day seize you."