* Please note that while this speaker's specific speaking fee falls within the range posted above (for Continental U.S. based events), fees are subject to change. For current fee information or international event fees (which are generally 50-75% more than U.S based event fees), please contact us.
Top25 Speaker Voting

Stephen M.R. Covey needs 4 vote(s) to make it into the Top 25 speakers on Speaking.com!
Speaker Booking Tip
"Tip: ask your speaker to do a book signing or attend a VIP meal with your guests. "
For Event Planners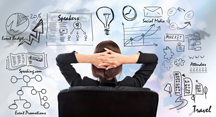 • Keynote Speaker Booking Toolkit.
• Booking a Celebrity Speaker.
• How to Find and Book the Right Speaker.
• Google+ Event Planning Forum.
• Tips for International Clients Booking U.S. Based Speakers.
Similar Speakers
Hamish Taylor

Hamish Taylor began his career in brand management at Procter & Gamble Ltd., where he eventually took charge of the household cleaner portfolio for Flash…

Paul Zane Pilzer

Economist, Business Trend Forecaster As a world-renowned economist, multimillionaire entrepreneur, college professor and former commentator on NPR and CNN, Paul Zane Pilzer is The New…

Susan Packard

One of the strongest voices for women in the workplace, Susan Packard grew cable channel HGTV into a multimillion dollar business. Honored numerous times as…

Working with your speakers agency on our training projects during the year proved to be a great business choice. I felt that my account reps were always around when I needed them, willing to help and listen. They showed flexibility when it was required and were reliable and dependable.
KPMG, Europe
About SPEAKING.com
Established in 1994, we are exclusive agents for some of the world's leading experts, celebrities and professional speakers.
We offer event planners a fully staffed speaker logistics planning team, plus a personal SPEAKING.com Account Executive – a knowledgeable and trustworthy partner. We guarantee your satisfaction with your speaker and a smooth booking process.
Contact us today to book your favorite speaker.

"Mr. Covey did a great job of engaging the audience with his energy, enthusiasm, and good use of story-telling. The content was also spot-on for our audience."
HIMSS / CHIME
(Engagement arranged by Speaking.com)

"The event was a huge success. We had a great turnout. Outstanding! Stephen hit a home run with the audience. We had a local book store there selling The Speed of Trust - The One Thing That Changes Everthing after his keynote. Stephen stayed on to sign books for people. The bookstore called me to tell me that they were more pleased than they anticipated. I′m getting good feedback. What a timely message!"
Traverse Area Human Resources Association
(Event booked by Speaking.com)

"When I received this book and was asked to read it and offer my comments, my first impulse was, 'I don't have the time'. However, as I read the foreword, then the first few chapters, I could not put it down. It is exactly what business leaders need today. This book gets to the core roots of ethical behavior and integrity and how 'trust' is the most critical factor in effective leaders and organizations. The author discusses with clarity and insight now to develop trust through character and competence and how 'trusted' leaders and organizations do things better, faster, and at lower costs. Everyone should make the time to read this book."
Nolan D. Archibald
Chairman of the Board and Chief Executive Officer
Black & Decker Corporation

"Technique and technology are important, but adding trust is the issue of the decade."
Tom Peters

"The Speed of Trust is a great find. It superbly achieves the goal of providing a road map to peak performance, both for individuals and organizations. But the true genius of the book is its universal relevance, as it combines a highly effective common-sense approach with frank guidance to enhance all relationships in life."
J.W. Marriott, Jr.
Chairman and Chief Executive Officer
Marriott International, Inc.

"I am happier when I am trusted, and I bet you are too. Covey has done a masterful job teaching that trust is conditioned on our behavior and that we can consciously shift our behavior to deserve trust. This one realization can change your life. This is the best book by a Covey since 7 Habits."
Richard Carlson, Ph.D
Author of Don′t Sweat the Small Stuff and Don′t Get Scrooged

"In a ′flatter′ world, trust is the ′secret sauce′ that significantly enhances learning, relationships, and results. Covey′s breakthrough insight that trust is a competency is both revolutionary and immediately practical. CEOs and Chief Learning Officers will embrace The Speed of Trust as an authentic and actionable strategy–a roadmap–for increasing the effectiveness of their organizations and leaders."
Elliott Masie
CEO
The Learning CONSORTIUM

"Covey convincingly makes his case that trust is the one thing that changes everything. He shows that speed is the currency of success and trust is the source. In an era when so many of our leaders have shown themselves to be strangers to the power of trust, this book is a must read."
Marcus Buckingham
Coauthor of Now, Discover Your Strengths

"The Speed of Trust clearly identifies trust as the source of speed in our direct relationships. Covey convincingly validates our experience at Dell—that trust has a bottom-line impact on results and that when trust goes up, speed goes up while costs come down. This principle applies not only in our professional relationships with customers, business partners, and team members but also in our personal relationships, which makes this insightful book all the more valuable."
Kevin Rollins
President and CEO
Dell

"Stephen Covey′s work changed the world. I′d bet the price of this exciting book and more that his son, Stephen M.R. Covey, will have at least as much impact. The Speed of Trust is an amazing book starting with its novel and powerful title--my greatest wonder was why it hadn′t been written before. From the epigraph--′Speed happens when people truly trust each other′--to the closing bell, this is a book worth savoring--and implementing."
Tom Peters
Author of Re-imagine!
Coauthor of In Search of Excellence

"Covey brilliantly focuses on that overlooked bedrock of democratic capitalism -- trust. Like the air we breathe, we too often take this critical intangible for granted. As Covey makes clear, we do so at our ultimate competitive peril."
Steve Forbes
President & CEO, Forbes

"The Speed of Trust is a must read for not only business leaders but every individual. Mr. Covey defines trust in a most accurate fashion. One can benefit immensely from its contents."
Jon M. Huntsman
Founder and Chairman
Huntsman International

Partial Client List:

Marriott International
Campbell Soup
Jet Blue
Deloitte Touche
American Express
Macrovision
IBM
Easter Seals of America
CB Richard Ellis
Dell
Black and Decker
Toro
NuSkin
Procter and Gamble
Penske
Eli Lilly
Harvard Business School
Ernst & Young
Southwest Airlines
American Society for Training and Development
Institute of Internal Auditors
Department of the Navy
ASAE and the Center for Association Leadership
American Management Association
http://vimeo.com/77139145
Smart Trust: Creating Prosperity, Energy, and Joy in a Low-Trust World
Praise for Smart Trust:

"Smart Trust is without doubt one of the most powerful and seminal books of our age. It exposes and helps solve the most dangerous crisis apparent in almost all human institutions: how to trust in a low-trust world." –Warren Bennis, Professor USC, author of Still Surprised

"We've turned to Stephen M. R. Covey to help us train more than 100,000 AT&T managers, … I recommend Smart Trust to anyone trying to succeed in today's fast-paced, global business environment." –Randall Stephenson, Chairman, President and CEO, AT&T

"The job of every leader at every level is to cultivate and protect trust, but this is especially challenging in a distrustful world. Smart Trust shows the way; it is both a mindset and a toolbox for 21st century leadership. I recommend it highly."
 –Robert A. McDonald, Chairman, President and CEO, The Procter & Gamble Company

"From all the people I've interviewed, I've learned that trust is everything. Smart Trust powerfully shows us how to increase it, which is more important than ever in this low-trust world. The best leaders I've ever met have the ability to create trust. Smart Trust is a great read! This is an important addition to your library." –Larry King
Order Here




The Speed of Trust: The One Thing that Changes Everything


From Stephen R. Covey′s eldest son comes a revolutionary new path towards productivity and satisfaction. Trust, says Stephen M.R. Covey, is the very basis of the new global economy, and he shows how trust—and the speed at which it is established with clients, employees and constituents—is the essential ingredient for any high–performance, successful organization.

For business leaders and public figures in any arena, The Speed of Trust offers an unprecedented and eminently practical look at exactly how trust functions in our every transaction and relationship—from the most personal to the broadest, most indirect interaction—and how to establish trust immediately so that you and your organization can forego the time–killing, bureaucratic check–and–balance processes so often deployed in lieu of actual trust.
Stephen offers the following as keynote addresses, half-day retreats, or full-day workshops:

BUSINESS AT THE SPEED OF TRUST
In this thought-provoking presentation, Stephen M. R. Covey challenges conventional wisdom about business. From his informed perspective as a highly successful CEO, he demonstrates how there are two important measures in business—SPEED and COST. The level of TRUST in an organization significantly effects this measurement. He will show how to increase your speed and lower your costs. How to turn a Trust Tax™ into a Trust Dividend™ and transform the way you do business on all levels.

Learn how great companies create cultures of high trust that produce extraordinary organizational dividends, enabling their firms to operate (unlike their competitors) at a different-in-kind "speed" in business. What do Wal-Mart, Berkshire Hathaway, and other great companies know about capitalizing on the matchless speed of high trust? How do companies convert the high Trust Taxes™ of low trust into the abundant Trust Dividends™? What can any influencer do, within any organizational setting, to likewise engage at this level of speed, benefits, and results?

Stephen teaches your organization to measure TRUST and understand that establishing, growing, extending, and restoring TRUST are the leadership competencies required in the new global economy. This will increase your business acumen and allow for better, faster, and more profitable decisions at all levels.

LEADING AT THE SPEED OF TRUST
"Leading at the SPEED of TRUST" practices significantly lower costs and increase speed, profits, and influence. In this fast-passed and engaging presentation, Stephen M. R. Covey dramatically demonstrates the leadership benefits of TRUST from the informed perspective of a CEO and teaches how to establish and grow a high-trust, high-performance organization.

Stephen M. R. Covey predicts that:

"The ability to establish, grow, extend, and restore trust with all stakeholders–customers, suppliers, investors, and employees–is the critical leadership competency required in the new, global economy."

TRUST, more important than VISION, you ask? Yes! No matter how grand a vision, the high cost of low trust can stop you from reaching it profitably.

TRUST, more important than STRATEGY? Yes! While high trust can't make a poor strategy succeed, the high cost of low trust can derail an otherwise great strategy.

TRUST, more important than SYSTEMS and STRUCTURE? Yes! No degree of re-engineering and quality control can overcome the sabotage and tax of a low trust culture.

TRUST, more important than SKILLS? Yes! No matter how skilled a group, the high cost of low trust can disrupt their potential success. Nothing repels talent like a high control, low trust workplace

We call it the "SPEED of TRUST™." Leading at the SPEED of TRUST is both more financially rewarding AND just plain more fun and energizing. (And not just because of the money!)

THE 13 BEHAVIORS OF A HIGH TRUST LEADER
What separates the great leaders from the good ones? What makes a manager a manager of choice by his reports, peers, and boss? While there are many elements to these questions, there is one common thread throughout—that of being a leader who can be trusted.

Stephen M. R. Covey, informed by his experience as the successful CEO of a $100 million-dollar company, identifies the 13 critical behaviors of a High Trust Leader in this engaging presentation. In his vintage, no nonsense style, he candidly and enthusiastically teaches these behaviors to participants.

These career critical behaviors insure success in this difficult new economy. Leaders that manifest these traits have a marked advantage over their competitors. High trust leaders attract and retain hard-to-find talent that amplifies their effectiveness and competitive advantage.

Organizations and teams that expect high performance must master these skills and make high trust leadership an explicit competency for hiring and promotional selections. Those that do will experience the dividends of Leading at the SPEED of TRUST™.

Additional Programs:

Teambuilding at the Speed of Trust
Beyond Compliance: An Inside Out Approach to High Trust Leadership
Stephen M.R. Covey - Speed of Trust Keynote
"You can measure speed and cost; there's a quantitative edge to trust." Stephen M.R. Covey explains how in the business world trust is a hard edged tool which can drive increases in profits and performance.
Keynote Speech
Keynote Speech