* Please note that while this speaker's specific speaking fee falls within the range posted above (for Continental U.S. based events), fees are subject to change. For current fee information or international event fees (which are generally 50-75% more than U.S based event fees), please contact us.
Top25 Speaker Voting

Stephen Hayes needs 8 vote(s) to make it into the Top 25 speakers on Speaking.com!
Speaker Booking Tip
"Tip: speakers bureaus provide added value that you cannot get by booking speakers directly. "
For Event Planners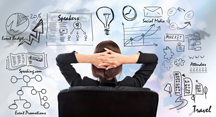 • Keynote Speaker Booking Toolkit.
• Booking a Celebrity Speaker.
• How to Find and Book the Right Speaker.
• Google+ Event Planning Forum.
• Tips for International Clients Booking U.S. Based Speakers.
Similar Speakers
Margaret Carlson

Author of the book, Anyone Can Grow Up: How George Bush and I Made It to the White House,Margaret Carlson is a highly sought political…

Roz Savage

Ocean Rower, Author, Environmental Campaigner Roz Savage is a British ocean rower and environmental campaigner, who in 2010 became the first woman to row solo…

Margaret Carlson

Author of the book, Anyone Can Grow Up: How George Bush and I Made It to the White House,Margaret Carlson is a highly sought political…

Our event was what I would call 'over the top'... The survey results were at 92% very favorable. The speakers formed such a good relationship with myself and others at the conference. I am confident we will bring them back to do more. I will definitely contact you when we are in need of additional services. You have been the best!
American Express
About SPEAKING.com
Established in 1994, we are exclusive agents for some of the world's leading experts, celebrities and professional speakers.
We offer event planners a fully staffed speaker logistics planning team, plus a personal SPEAKING.com Account Executive – a knowledgeable and trustworthy partner. We guarantee your satisfaction with your speaker and a smooth booking process.
Contact us today to book your favorite speaker.

"I highly recommend Stephen Hayes for your next event. Stephen had sharp insights on the highly charged environment in Washington, D.C. and the political and economic implications across the country. With strong wit and engaging stories, he captured the audience's attention and provided information that will help our executives look over the horizon. As a speaker, Stephen was a delight to work with, customized his session for our stakeholders, and received outstanding reviews. Book Stephen Hayes today!"
- Property Casualty Insurers Association of America

"Stephen Hayes' viewpoints and insights on the energy positions by President Obama and Mitt Romney led to a very informative discussion on the challenges, opportunities and strategic decisions that are currently being faced by the major segments of the energy industry."
- American Gas Association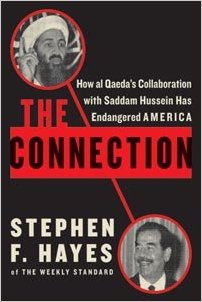 The Connection
Stephen Hayes draws on CIA debriefings, top-secret memos from our national intelligence agencies, and interviews with Iraqi military leaders and Washington insiders to demonstrate that Saddam and bin Laden not only could work together, they did -- a curious relationship that stretches back more than a decade and may include collaboration on terrorist acts, chemical-weapons training, and sheltering some of the world's most wanted radicals.
Stephen Hayes's bombshell Weekly Standard piece on this topic was cited by Vice President Cheney as the "best source of information" about the Saddam-al Qaeda connections. Now Hayes delves even deeper, exposing the inner workings of America's deadliest opponents and providing a clear-eyed corrective to reams of underreported, politicized, and just plain wrong information.
The Connection is both a gripping snapshot of the War on Terror and a case study in how bureaucratic assumptions and media arrogance can put us all at risk.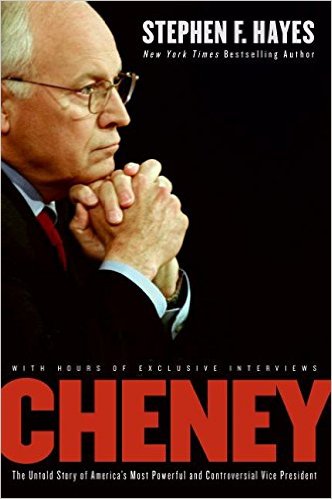 Cheney: The Untold Story of America's Most Powerful and Controversial Vice President
For all of his influence, the world knows very little about Dick Cheney. The most powerful vice president in U.S. history has also been the most secretive and guarded of all public officials. "Am I the evil genius in the corner that nobody ever sees come out of his hole?" Cheney asked rhetorically in 2004. "It's a nice way to operate, actually."
Now, in Cheney: The Untold Story of America's Most Powerful and Controversial Vice President, New York Times bestselling author and Weekly Standard senior writer Stephen F. Hayes offers readers a groundbreaking view into the world of this most enigmatic man. Having had exclusive access to Cheney himself, Hayes draws upon hundreds of interviews with the vice president, his boyhood friends, political mentors, family members, reticent staffers, and senior Bush administration officials, to deliver a comprehensive portrait of one of the most important political figures in modern times. With exhaustive reporting, Hayes shines a light into the shadows of the Bush administration and finds a very different Dick Cheney from the one America thinks it knows.

The Political Landscape in Washington
Many questions remain unanswered regarding the future of the country-and both parties need take an active part in solutions to tackling the difficult issues ahead. What is the agenda for a second Obama Administration and will he be able to work with a divided Congress? On what issues will both parties be able to work together? Does the Tea Party movement have any staying power? What do the battles on Capitol Hill reveal about the political fortunes of the two major political parties? Hayes answers these questions with the detailed knowledge of a political scientist and the on-the-trail experience of a veteran campaign reporter. His presentation provides an up-to-the-minute report on the issues and players of our political system.

US National Security in the Age of Obama
The War on Terror is over and yet the United States continues to fight in Afghanistan. Democrats claim that the Bush administration's national security policies made the nation less safe; Republicans criticize the Obama Administration for stepping back from the aggressive national security posture that prevented attacks for eight years after 9/11. With the keen eye of a reporter who has filed stories from Iraq, Afghanistan, Israel, Saudi Arabia, Turkey and numerous European capitals, Hayes brings knowledge and experience to his presentation on international affairs and US national security.
Additional Topics Include:
GOP Chaos: The Battle for the Soul of the Republican Party
The Obama Legacy: Barack Obama's Presidency and Its Enduring Impact
US Foreign Policy and the Obama Doctrine
Keynote Speech
Stephen Hayes discusses a blunder he made on live television that not only converted him into a better reporter, but also opened his eyes to the power and responsibility journalists have to the country – and how many of his professional colleagues are failing to meet that responsibility. He had accepted an invitation to appear as a panelist on The McLaughlin Group two hours before it was being filmed. During the session, he received a question regarding cloning – an issue he knew nothing about – and admittedly gave "the most vapid answer in the history of political commentary."
He began to pay more attention to headlines and bylines afterward with the intent of staying on top of his field; however, he quickly realized his field was a big part of the nation's problems. "Our low-information voters are getting their information from low-information journalists," he assesses, offering up some of the headlines he collected. "'Federal Agents Raid Gun Shop, Find Weapons,' 'Homicide Victims Rarely Talk to Police', and 'Statistics Show Teen Pregnancy Drops Off Significantly After 25.'"