* Please note that while this speaker's specific speaking fee falls within the range posted above (for Continental U.S. based events), fees are subject to change. For current fee information or international event fees (which are generally 50-75% more than U.S based event fees), please contact us.
Top25 Speaker Voting

Stephen Harvill needs 6 vote(s) to make it into the Top 25 speakers on Speaking.com!
Speaker Booking Tip
"Tip: speakers bureaus can provide: speaker fee negotiation, insurance, smooth logistics and value add-ons such as extra sessions. "
For Event Planners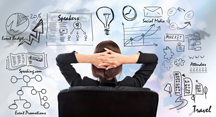 • Keynote Speaker Booking Toolkit.
• Booking a Celebrity Speaker.
• How to Find and Book the Right Speaker.
• Google+ Event Planning Forum.
• Tips for International Clients Booking U.S. Based Speakers.
Similar Speakers
Chip Eichelberger

Chip Eichelberger worked as international point man for the globally renowned business leader Tony Robbins for five years before going into business for himself in…

Dr. Janet Lapp

Rated by Toastmasters International as one of the top three speakers in the world, Dr. Janet Lapp has helped over 2,000 audiences from Argentina to…

Gregg Lederman

Gregg Lederman is the founder and CEO of Brand Integrity, a passionate engagement company with disruptive and sustainable solutions that don't just work, they matter.…

It was an extreme pleasure to work with our account rep. She was friendly, flexible, and knowledgeable about all their speakers. She made the process simple. I cannot begin to put into words the impact that our speaker had on our audience. People are still taking about his presentation and his program set a standard on all diversity programs.
FDIC: Federal Deposit Insurance Corporation
About SPEAKING.com
Established in 1994, we are exclusive agents for some of the world's leading experts, celebrities and professional speakers.
We offer event planners a fully staffed speaker logistics planning team, plus a personal SPEAKING.com Account Executive – a knowledgeable and trustworthy partner. We guarantee your satisfaction with your speaker and a smooth booking process.
Contact us today to book your favorite speaker.

"The feedback and comments received by our staff on the various programs and workshops you have provided over the years to our members rank among the best I've seen in twenty years of association management."
Barbara Byrd, Executive Vice President, Community Association Institute
"Unlike so many of the step-by-step theories of delivering great customer service, your 'real world' emphasis challenged our employees to take responsibility for solving problems and exceeding customer expectations."
Brent J. Darden, Vice President, Cooper Aerobics Enterprises, Inc.
"You were exactly what we needed; someone to make us look differently at behaviors and assumptions. I didn't know what to expect when we challenged you to present for 3 hours. You did a stellar job, no one left! You made us re-examine everything!"
Candice Grow, American Heart Association
"Immediately after your first session I noticed an improvement in the attitude and effectiveness of the staff in their dealings with clients. The custom-designed Stress Management program has already helped in our difficult service challenge."
James Cranford, President, Quadrant Management, Inc.
Repeatable Successful Acts
Power behaviors of top producers. Most organizations know the metrics used to judge the success of their sales force. What they don't know is a missing piece, it's what their sales force actually DOES. What actions or behaviors generated those sales and which, if any, can be repeated to generate the same success.

7 Different Industries
150 Top Sales Producers Interviewed
1,500 Answers

A simple pattern of success was discovered. RSA presents 28 specific sales activities shared between industries that can be applied by anyone. This multimedia and interactive program introduces two years of research creating a simple and dynamic process you can apply TODAY!
The DNA of Success
Effective leadership... That sticks! Continuing to follow the success of RSA Steve Harvill shifted the focus of his research to leadership to bring The DNA of Success to his clients. The DNA of Success is the result of a study into the leadership teams of seven industries. Presented in multimedia format this platform will challenge your perception of impactful leadership!
The study resulted in a simple discovery - 11 shared behaviors that are directly connected to both individual and corporate success. These 11 behaviors cross industry boundaries, providing a menu driven model that creates a mechanism for success.
The Once Upon a Time Project
What's your story and how well do you tell it? There are stories being crafted. There are stories being told. There are stories of authenticity and richness that engage our minds and imaginations. There are stories tired in their design and missing the mark of impact. What is your story and how well do you tell it? The Once Upon a Time Project is a strategic platform based on two elements of a great story:
CRAFTING: The art of writing a true and meaningful story.
TELLING: The skill of telling your story and weaving its content towards impact.

Your stories are already there, most of the time in plain sight. You need to capture them, to help us know and understand what you do, what value you bring, and how you're different. This is the nature of CRAFTING a true story.
Dazzling Blue The journey from ordinary to extraordinary. Why do we continually settle for ordinary when the step to extraordinary is so simple?
Why do we ignore the power of a simple story? Why do we miss the return we are given when we focus on the client experience? Why don't we create opportunity instead of waiting for it and when we see the chance why don't we make the opportunity scream WOW?
These questions form the core of the the Dazzling Blue Movement, a journey into your ability to become extraordinary, to develop a sustained performance that will separate and differentiate you in a world continually marginalized by common experiences.
Dazzling Blue will immerse you in an experience that is specifically designed to provide you with a simple three part plan to start you on the journey to extraordinary.

Darwin Strikes - Sawdust
"In that shift of value, something of no value became of staggeringly high value." Stephen Harvill relates how sawdust went from being a problematic waste product to the indemand staple ingredient of plywood thanks to the open mindedness and inventiveness of a lumber industry employee, James Patterson.
Keynote Speech
"The distance between ordinary and extraordinary is very small. It wasn't big. It was just the discipline of risk associated with doing something." Scientist Stephen Harvill examines what it means to be "extraordinary" examining several cases of projects that have shined brightly in the masses of existing products.
He demonstrates that the x-factor in the products is usually something simple that anyone could accomplish as long as they have vision and the courage to face the fear of failure.
Paying Attention
Building Blocks of Success