* Please note that while this speaker's specific speaking fee falls within the range posted above (for Continental U.S. based events), fees are subject to change. For current fee information or international event fees (which are generally 50-75% more than U.S based event fees), please contact us.
Top25 Speaker Voting

Stephen Denny needs 6 vote(s) to make it into the Top 25 speakers on Speaking.com!
Speaker Booking Tip
"Tip: speakers bureaus can provide: speaker fee negotiation, insurance, smooth logistics and value add-ons such as extra sessions. "
For Event Planners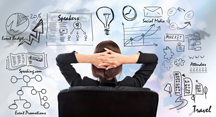 • Keynote Speaker Booking Toolkit.
• Booking a Celebrity Speaker.
• How to Find and Book the Right Speaker.
• Google+ Event Planning Forum.
• Tips for International Clients Booking U.S. Based Speakers.
Similar Speakers
Kaplan Mobray

Career expert and author of the acclaimed bestseller, The 10Ks of Personal Branding, Kaplan Mobray's energy and insights drive individuals and organizations to maximize their…

Sasha Strauss

One of the most brilliant minds in marketing, Sasha Strauss is the founder and manager of the consulting firm, Innovation Protocol. From Fortune 500 companies…

Roberto Carlos (RöC)

One of Latin America's most influential leaders in innovation, Roberto Carlos (RöC) is the creator of Factor WOW, a methodology that is revolutionizing the way…

I just wanted to send a quick follow-up note to say – THANK YOU! I appreciate your partnership, and perseverance in helping us to find the right speaker for our group. Our speaker was absolutely excellent! The group loved him; it was perfect.
DeVry Education Group
About SPEAKING.com
Established in 1994, we are exclusive agents for some of the world's leading experts, celebrities and professional speakers.
We offer event planners a fully staffed speaker logistics planning team, plus a personal SPEAKING.com Account Executive – a knowledgeable and trustworthy partner. We guarantee your satisfaction with your speaker and a smooth booking process.
Contact us today to book your favorite speaker.

"Size and scale are not the only formula for success. With examples from around the world, Denny outlines powerful strategies that you can use to overtake larger competitors in any business and marketplace."
David Meerman Scott, author of The New Rules of Marketing & PR and Real-Time Marketing & PR

"For Method, taking on Big Soap means moving fast, fighting dirty, and changing the game by flipping the giants' strengths against them. Now you have the playbook."
Eric Ryan, Co-founder of Method

"Killing Giants recounts the tales of successful entrepreneurs who started from scratch, became scrappy and innovative, and learned how to compete successfully in an arena of giants. The information here is practical, valuable, and actionable."
Jim Koch, founder and brewer, The Boston Beer Company, maker of Samuel Adams

"Denny cuts through the fat and gets into muscle. No models, no fluff, no disclaimer—just hard-hitting success stories and lessons learned. Denny reverse-engineers some true giant-slayings and leaves you with actionable insights. Read if you're looking to do the impossible."
Rick Darnaby, former CEO of Nutrasweet and GM of Motorola Europe



Killing Giants: 10 Strategies to Topple the Goliath in Your Industry
In Killing Giants: 10 Strategies to Topple the Goliath in Your Industry , marketing consultant Stephen Denny argues that any brand can directly challenge the giant of its category and not only survive, but thrive. "Just because they are bigger than you, doesn't mean you can't pick on them!"

From Silicon Valley to the townships of South Africa, Denny explains, "It can be a blessing in disguise to be the little guy. Giant Killers can afford to shake things up and take bold steps. They can be faster and nimbler than giants who are too slow and hidebound to make the painful but necessary changes to stay competitive. By the time they notice that slingshot, they′re already keeling over."

Killing Giants profiles over 30 upstart brands in over a dozen countries, from American upstarts like Method, the Boston Beer Company and Vibram to global competitors like New Zealand's 42Below vodka, Brazil's Oi Mobile, and China's Baidu. Beyond interviewing over 70 of the world's most effective business leaders, Denny goes outside the lines and brings in voices from places other than the corporate world – from professional gamblers and war planners to screenwriters and hostage negotiators – providing the reader with a comprehensive analysis of what it takes to fight and win against bigger opponents.

Our need to work smarter and with fewer resources isn't dependent on the state of the economy or on any sense of stability you think you have in your industry. In Killing Giants, Denny presents ten powerful strategies that will help you overcome stale business thinking and bureaucracy, including:
Order Here

The Five Lessons that Separate the "Giant Killers" from Everybody Else
Patterns emerge from the interviews and stories I"ve written about in
Killing Giants: 10 Strategies to Topple the Goliath in Your Industry
. The leaders of these brands that have successfully out-maneuvered the giants they face see things differently than the rest of their peers. They have learned how to view the battlefield from vantage points that others have missed, which allows them to see things that most everyone else fails to notice.
Some of these learnings cut against the grain of "common knowledge." Others seem obvious, but their nuances reveal a startling shift into new territory. All of them can be applied to your business.
The compiled teachings of over fifty of the world"s top business thinkers can inspire and galvanize any business leader. These business leaders and their combined wisdom come from a diverse set of industries, from technology to consumer packaged goods to professional services, and from every continent on the globe.
The Four Hidden Lessons of the Giant Killers
This is a keynote that I"ve given to marketing students at graduate schools where the level of knowledge is high and the bar is set higher. The executive MBA students at Wharton, for example, don"t want the obvious lessons: they want the lessons that will teach them something they don"t already know. This keynote delivers on that promise.
The Four Hidden Lessons from the Giant Killers discusses the non-obvious, counter-intuitive and radically different perspectives that are gained by careful study of those global business leaders who have done the seemingly impossible task of out-maneuvering the giants in their respective industries.
Again, this keynote assumes the audience is both versed in marketing and is ready for a handful of high level and conceptual lessons – all illustrated with a dozen rapid-fire case studies.
Speed as a Competitive Weapon
You launch a product. The giant you compete against forms a task force to study what to do about your product. You launch your second version. They form a "Tiger Team" to develop the right action plan to deal with what is now the old version of your product. You launch your third release. And they circulate the Product Requirements Document for their product that would have been a worthy competitor to your first product, while you launch your fourth release.
"Giant Killers" understand that they can work faster than their competitors can. But what many students of business don"t understand is that companies with speed cultures make better decisions than their slower counterparts because their internal decision making cultures are designed to eliminate bureaucracy and hubris. Better decisions happen because everything unnecessary is stripped away.
I devote a chapter to speed cultures in Killing Giants: 10 Strategies to Topple the Goliath in Your Industry, relying on interviews with Fortune 500 executives, Silicon Valley legends, the strategist responsible for pulling off the biggest political upset in modern times and the guy whose day job is manning the left front wheel nut gun on Red Bull"s Formula 1 car driven by Sebastian Vettel. Speed cultures and the lessons they teach us can be applied to any company at any level.
"This Sentence Has Five Words." Eigen Cultures, Creating Truisms & The Future of Marketing
"Giant Killers" out-maneuver their much larger competitors in the marketplace of ideas by being hard to miss – every customer touch point is more than just consistent: it"s self-defining. We know who it is without ever seeing the brand. And each touch-point builds upon the last, creating a mosaic of consumer experiences from websites and ads to customer service interactions and hiring processes.
We"re all being asked to do more with less, so we need to foster a self-defining environment where every bullet counts. There"s no room in our P&L"s for waste anymore. And companies with greater brand strength have higher valuations.
The idea of self-defining truisms is derived from the concept of Eigen Values, a phrase that comes from the discipline of cybernetics. Eigen Values have influenced fields as far flung as philosophy, psychology, architecture and art – and in Killing Giants: 10 Strategies for Toppling the Goliath in Your Industry, I describe how this idea has found a natural home in the worlds of marketing and management, influencing how "Giant Killer" brands use product development, human resources, pricing and other disciplines as means to connect their brand DNA to the needs of their consumers.
Winning in the Last Three Feet
"Giant Killers" out-maneuver their much larger competitors at retail not by out-spending them – they win by letting the giant spend the money to drive customers into the stores so they can convert them there. Customers are never more qualified than when they"re off the couch, wallet and circular in hand, ready to buy – and few are so confident in their decision making that a sincere pitch at that last moment, in the last three feet, won"t make them consider a new brand.
I devote a chapter of Killing Giants: 10 Strategies to Topple the Goliath in Your Industry to companies that have chosen to win in the last three feet, showcasing some of the best guerilla marketing in the business.
Drawing upon both case studies and the latest in the social psychology of interpersonal influence, audience members will learn not only how smart "Giant Killer" brands have created "jump balls" where their giant competitors have assumed they had a "slam dunk," they will also learn the decision triggers that make these tactics so effective.
Stephen Denny: Speech Demo Video
Stephen Denny defines what it means in business to be a "giant killer" citing as an example street smart Herman Mashaba who founded the hair care line "Black Like Me" in South Africa when the Apartheid system was still in place.
"Today his company Black Like Me is one of the largest cosmetics companies in Sub-Saharan Africa," Denny relays. "People like Herman Mashaba are what I would call 'giant killers.' These are people who get up every morning and their feet hit the ground and they go to the office, and they compete against brands, companies that on paper should be able to roll over and crush them, and yet for some reason they not only survive these encounters, but they win, they thrive under these conditions."
Keynote Speech
Explaining that it's always been difficult to formulate a profile of a "giant killer," Stephen Denny shares a rare phone call that he had with a Fortune 100 Company representative that helped him better define the term. "I said 'Why are we having this conversation? I don't mean to be rude, but you're a very well known company,' Denny, who typically helps small underdog businesses position themselves against big brands, recounts the dialogue. "This gentleman said, 'We're number two, and we hate it.' And I thought this was the best one sentence description of this mindset. It's not that we have to be number one, but we hate it when something's blocking our view."