Top25 Speaker Voting

Stephanie Decker needs 7 vote(s) to make it into the Top 25 speakers on Speaking.com!
Speaker Booking Tip
"Tip: speakers bureaus can provide: speaker fee negotiation, insurance, smooth logistics and value add-ons such as extra sessions. "
For Event Planners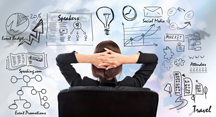 • Keynote Speaker Booking Toolkit.
• Booking a Celebrity Speaker.
• How to Find and Book the Right Speaker.
• Google+ Event Planning Forum.
• Tips for International Clients Booking U.S. Based Speakers.
Similar Speakers
Barbara Bartlein

For more than three decades Barbara Bartlein has been setting out her vision of high-performance workplaces in the healthcare field for professionals. She has the…

Wally Amos

Wally Amos has found his way onto the taste buds and into the hearts of countless millions of Americans with his passion for quality merchandise…

Chris Majer

Chris Majer has spent over two decades developing innovative and highly effective approaches for enabling organizations of any size to maximize their performance. He is…

The retreat was extraordinary, professional, and personable. Everyone is still raving about it. They said it was the best experience of their lifetime. And, I would have to agree. I most certainly hope we have the opportunity to work together in the future.
YPO: Young Presidents' Organization
About SPEAKING.com
Established in 1994, we are exclusive agents for some of the world's leading experts, celebrities and professional speakers.
We offer event planners a fully staffed speaker logistics planning team, plus a personal SPEAKING.com Account Executive – a knowledgeable and trustworthy partner. We guarantee your satisfaction with your speaker and a smooth booking process.
Contact us today to book your favorite speaker.

"Stephanie was awesome. She delivered a great speech and answered many many questions from the attendees."
--Indiana Electric Cooperatives
"Everything with Stephanie was wonderful! She is just simply delightful and I was honored to meet her. We haven't done evaluations but plan to yet today. I don't need to see the responses though. I know that our audience LOVED her! In fact, I would be quite surprised if we don't end up having some of our member hospitals wanting to book her for internal groups. Many attendees said that it was the best conference they had attended and this was the 42nd annual event!"
--Indiana Hospital Association
"If you're looking for a true "inspirational story", you should book Stephanie. Her personality, perseverance, and dedication to help others is so real! The FPPTA membership was touched by Stephanie's message!"
--Florida Public Pension Trustee
"Stephanie is a fantastic speaker who captivates an audience and inspires everyone that she talks to. Her story is an amazing testimony of the power of strength and a mother's love. She has taken her experience and paid if forward for the good of others and made it a great lesson for all that have the chance to hear her speak."
--American Red Cross of Greater Cincinnati-Dayton Region
"Stephanie was just wonderful…her story, although tragic, truly exemplifies the power of the human spirit. She was an inspiration to all."
--Barnabas Health
"Stephanie was received very well. She is a great speaker, and made a huge impression on our audience. She exceeded our expectations by a long shot."
--Indianapolis Power & Light Company
"Stephanie is a courageous person who inspired our team with her story of action to save her children and her commitment to rebound from her injuries. She has turned her situation into an advocacy for others. Stephanie's positive attitude and dedication are motivational to everyone who meets her!"
--Mike Woerner, Vice President, Human Resources, Thorntons, Inc.
"You know an audience has been inspired when they line up after a speech to greet, shake hands and hug the speaker."
--Gary R. White, President/CEO, Kentucky Broadcasters Association
"It is a rare speaker indeed who can make the audience both laugh and cry, but Stephanie Decker did just that -- again and again. Her story is both tragic and a blessing, but the way she has chosen to live her life since the Henryville tornado destroyed her home and changed her life forever is truly inspirational. She can move an audience in ways very few speakers can."
--Bill Lamb, President, WDRB-TV and WMYO-TV
"If you're looking for a true 'inspirational story', you should book Stephanie. Her personality, perseverance, and dedication to help others is so real! The FPPTA membership was touched by Stephanie's message!"
--Florida Public Pension Trustee
Courage in the Storm
Since the tornado that took both of her legs, Stephanie Decker had to rethink and rebuild her life as she knew it. Using her own story, Stephanie helps an audience find their inner hero as well as recognize the everyday heroes all around us. She provides the inspirational message to help attendees develop a "can do" attitude to face their own challenges.

Stephanie Decker, Inspirational Speaker: TEDxChapmanU
Heroic mother, Stephanie Decker, shares how the mental toughness instilled in her by her father and participation in sports enabled her to survive a category 4 tornado and rebuild her life afterwards. She recounts in gripping detail how she shielded her two children while their house collapsed on top of them, as well as the rescue and recovery that followed, including how she drove herself to walk again within a year of having both legs amputated.
"Mental toughness separates the bad from the good and the good from the great," Stephanie states, emphasizing that we have the power to choose how we "handle our storms in life."
In addition to choosing to get her life back, Stephanie relates how her experience opened her and her family to a world that was bigger than themselves, resulting in another choice - the decision to create the Stephanie Decker Foundation, a nonprofit organization which gives children the opportunity to play able-bodied sports. "If there's anything you take away from this message," she concludes, "I challenge you to find your purpose...Find something that is bigger than yourself."
Stephanie Decker, Inspirational Speaker: ABC News Segment
Stephanie Decker, Inspirational Speaker: Testimony at Seymour Christian Church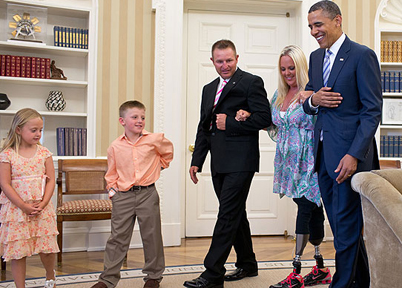 Stephanie Decker became a national hero after she saved her children, shielding them from the falling debris of their collapsing house with her own body while a freak tornado engulfed their small Indiana town. Though she lost both legs, her spirit and determination remained unbroken. The admired mother has continued to inspire the country through ... more