* Please note that while this speaker's specific speaking fee falls within the range posted above (for Continental U.S. based events), fees are subject to change. For current fee information or international event fees (which are generally 50-75% more than U.S based event fees), please contact us.
Top25 Speaker Voting

Stefan Swanepoel needs 6 vote(s) to make it into the Top 25 speakers on Speaking.com!
Speaker Booking Tip
"Tip: speakers bureaus can provide: speaker fee negotiation, insurance, smooth logistics and value add-ons such as extra sessions. "
For Event Planners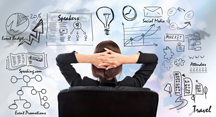 • Keynote Speaker Booking Toolkit.
• Booking a Celebrity Speaker.
• How to Find and Book the Right Speaker.
• Google+ Event Planning Forum.
• Tips for International Clients Booking U.S. Based Speakers.
Similar Speakers
Robin Chase

"Everyday, create the world you want to live in." That has been visionary Robin Chase's approach to addressing the greatest dilemmas of the 21st century.…

John Rossman

An unmatched authority on disruptive innovation, John Rossman pioneered Amazon.com's third-party service business, which now accounts for more than 50% of the multi-billion dollar company's…

Mike Abrashoff

If you want to know about change management and inspiring leadership, who better to ask than Mike Abrashoff, the naval commander who took on the…

Working with your speakers bureau has been a pleasure. Everyone on your team was extremely responsive and informative, and really helped us to customize our event. I will be sure to reach out to your agency again in the future with any speaker needs that I may have.
The Advisory Board Company
About SPEAKING.com
Established in 1994, we are exclusive agents for some of the world's leading experts, celebrities and professional speakers.
We offer event planners a fully staffed speaker logistics planning team, plus a personal SPEAKING.com Account Executive – a knowledgeable and trustworthy partner. We guarantee your satisfaction with your speaker and a smooth booking process.
Contact us today to book your favorite speaker.

Client List
Stefan Swanepoel is a household name within the US Real Estate Industry and is one of the most popular keynote speakers. His talk, The Future if the Real Estate Industry, has been presented across the nation in almost every state and at numerous national and state Associations. He has keynoted at the national conventions for NAR International, CRS and REBAC; a rare accomplishment. The following selection of clients exemplifies the diversity of his audiences.

"If you want a real estate savvy audience to get intellectually stimulated, Stefan′s the one to do it. He′s engaging, insightful, and entertaining---hard to find in a single speaker."
Stephen C. Roney
President & Chief Executive Officer
First American Residential Group, Inc

"Quick, articulate, precise, insightful and to the point - that′s Stefan."
Ken Jenny
CEO
Residential Brokerage Services Company

"It is inspiring to see someone talking with so much passion about a topic that he is an expert on. Stefan has a way to influence the future of real estate globally!"
Christo Wiid
General Manager
Property24

"It was refreshing to hear Stefan′s perspective of where the industry is heading…his perspective is always for a positive and healthy future for Real Estate in the U.S."
Denise Whitty
eNeighborhoods, Inc.
a Siegent Company

"Thank you for very much for the superb presentations at our two conferences. I always enjoy and appreciate your insights and thoughts on our industry and the future"
Mike Green
Managing Director, Harcourts Real Estate

"Stefan presents material critical to brokers, managers and agents in a logical and rationale way. I make sure I see Stefan at least once a year just to keep up with the ever changing and dynamic world of real estate."
Toni Sherman
President of the Illinois Association of Realtors

"The majority of speakers speak about what they have read - Stefan is where you go to find out what is GOING to happen. Normally to meet someone of Stefan′s GENIUS would require a high level security clearance - he provides gut wrenching, real-world content, in a hilarious way while putting out enough passion and energy to power a small country."
Terry Watson
Speaker and Trainer Extraordinaire

"Stefan, you′re awesome!! A speakers bureau′s homerun. I can always rely on your winning, insightful presentations to keep the attendees on the edge of their seats. Your vision, enthusiasm and "straight talk" set the tone for a great conference and you really connect with the agents and brokers."
Susie Hale
President, Frogpond

"Stefan is one of the most dynamic, insightful and just plain accurate speakers it′s been my experience to know."
Dr. John Tuccillo
Former Chief Economist - National Association of Realtors®
Author of New Business Models for the New Economy.

"Stefan is an outstanding speaker and he has a profound grasp of the Industry. He has great insight into our business that can be helpful going forward."
Ron Peltier
President & CEO, HomeServices
President & CEO, Edina Realty

"Stefan′s forecasts for the impact of technology on the real estate industry were perfectly aligned...his ability to articulate the vision and the possible outcomes just what we wanted…he was insightful and professional and added a nice touch of humor."
Joanna Vogt
Business Manager: realestate.com.au

"If you want a "high impact" speaker, you want Stefan Swanepoel. Stefan will grab them with his energy and keep them on the edge of their seats waiting to hear what he says next… [his] material is always fresh and up to date…REBAC has hired Stefan on many occasions to speak about technology to state, national and international audiences...and we′ll hire him again!"
Janet Branton
Vice President, National Association of Realtors®

"You always go way beyond our already high expectations. I think we struck gold when we met you – your knowledge, intellect and above all, you are a pleasure to work with"
Leanne Howard and the AREC team
McGrath Real Estate

"Those who have never heard Stefan talk about the "state of real estate" have yet to experience one of the industry′s prime learning opportunities. Those who have had the benefit of Stefan′s ideas consider themselves far the wiser for it and will extend their wisdom by coming back for more of Stefan′s expertise whenever and wherever they can."
Tom Dooley
President & CEO, TWD & Associates

"Stefan is an engaging and energizing speaker with his finger on the pulse of the real estate industry. He conducts extensive research and truly understands the trends that have and are expected to impact our industry. Stefan furthermore is able to demonstrate to delegates how they can use that information to be more successful in the future."
Pam O'Connor
President and CEO, RELO

"In addition to being a true real estate visionary, Stefan is an accomplished speaker who is able to paint a vivid picture of the emerging challenges and opportunities confronting the practitioner. His familiarity with real day-to-day brokerage and sales operations creates instant credibility. After listening to Stefan, one emerges with a full appreciation of the new business realities and with a commitment to personal action."
Joel Singer
EVP, California Association of Realtors®

"Stefan is one of the most dynamic speakers of our time. Fast, informative and light years ahead of his time."
Sheila Hensley
President, Executive Relocation Services Co., Inc

"Thanks again for making our event such a smash success! The feedback that we have received from our sales associates has been overwhelmingly positive – you gave them so much to contemplate and, at the same time, be proud of. Your vision was both optimistic, yet sobering – precisely what the moment demanded. It was a "homerun!"
Jim Schiefelbein
Vice President, Baird and Warner

"Stefan has an unbelievable ability to communicate where we are, and more importantly, where the real estate industry is headed. His presentation at the RealtyU Annual Leadership meeting impressed the presidents of 40 of America′s leading education and training organizations enough to give him a standing ovation."
Stephen J. Martin
President, RECP

"Words cannot express my excitement concerning the experiences at the NAR convention. I had the distinct pleasure of attending three of your superb presentations. As usual I received lots of new and different information and insight into all aspects of e-business. You continue to amaze me with your incredible depth of knowledge of this subject. I would hope that every REALTOR could somehow personally benefit from your extensive knowledge and excellent presentations."
Don Harlan
Partner-Harlan, Lyons & Associates

"Stefan is also one of the most mesmerizing speakers in the US Real Estate Industry today and packs more information into an hour′s presentation than most people deliver in a day. He is a valuable asset to any convention."
Charles M. Dahlheimer
Author: 20/20 Vision

"Many speakers tell you WHAT it is, Stefan tells you WHY it is, and that sets him miles apart from most industry ′experts′ and presenters."
John Heithaus
Former Senior Vice President Prudential Real Estate Affiliates

"Stefan Swanepoel is a real estate innovator consistently on the cutting edge of changes affecting the real estate industry. Not only does he clearly interpret future trends but also is a rare individual who also implements his views through products, services and programs designed for the consumer and Realtors. His opening keynote at our Annual Convention set the tone for the next two days and was one of the best addresses we have ever had!"
Walter Baczkowski
Former Executive Vice President, New Jersey Association of Realtors®

"Stefan Swanepoel is both an entertaining and informative speaker who brings an international perspective to the real estate industry. He is not shy to challenge conventional thinking and constantly encourages his audience to explore and consider all the opportunities while enlightening them with his vision of possibilities."
Thomas Hoffman
President, Coldwell Banker Associates Realty, San Diego

"Swanepoel is part entertainer, part evangelist and part visionary. While some speakers use a presentation to toss out a few good ideas, Swanepoel shoots them out like a machine gun. Don′t bring paper to take notes, bring a tape recorder."
Frank Cook
Editor: Real Estate Intelligence

"I have had the distinct pleasure of working with Stefan on a number of projects and shared the speakers platform on many others. He truly is a real estate wizard. He thinks and speaks as if he "knew" the future. I never get enough of working with him."
Jim Sherry
President: Innovative Solutions, Inc.
Surviving Your Serengeti: 7 Skills to Master Business and Life
Every day another company cuts jobs or slides into bankruptcy, forcing thousands of people into uncertainty, anxiety and a sense of helplessness. With a failing economy, even the normal tribulations of life have been intensified so that everyday hardships seem insurmountable.

For 1.5 million wildebeest of Africa, their Serengeti is a 1,000 mile-long migration filled with hunger, thirst, predators and exhaustion. The journey is impressive, dangerous, and so incomparably massive that is often considered the #1 natural wonder of the world. The migration offers us a unique window on the very essence of life itself, wherein we observe seven skills that individually and collectively stand as a guide for business and life. Surviving Your Serengeti is a business fable describing the 7 skills the animals of the Serengeti use to survive in the desert - the same skills every person needs to cope with changes in business or in life.

Endurance - The Wildebeest
Strategy - The Lion
Enterprising - The Crocodile
Efficiency - The Cheetah
Grace - The Giraffe
Risk Taking - The Mongoose
Communication - The Elephant

The story reveals the primordial skills for overcoming adversity, conquering one′s fears, and ultimately triumphing over all challenging conditions.
Order Here





Surviving Your Serengeti:
7 Skills to Master Business & Life
This high-energy 90-minute keynote address is based on Stefan′s new business book, Surviving Your Serengeti.

Filled with the magic of Africa, the mystique of wild animals and the epic saga of the 1,000-mile Serengeti migration itself, Surviving Your Serengeti is a thrilling safari of self-discovery that delivers an inspiring message.

In the presentation you will discover the 7 essential success skills required to survive your own personal Serengeti and thrive regardless of your current circumstances or the state of the economy.

Other Suggested Speaking Topics:

Real Estate Trends
Social Media Trends