* Please note that while this speaker's specific speaking fee falls within the range posted above (for Continental U.S. based events), fees are subject to change. For current fee information or international event fees (which are generally 50-75% more than U.S based event fees), please contact us.
Top25 Speaker Voting

Stedman Graham needs 6 vote(s) to make it into the Top 25 speakers on Speaking.com!
Speaker Booking Tip
"Tip: speakers bureaus can provide: speaker fee negotiation, insurance, smooth logistics and value add-ons such as extra sessions. "
For Event Planners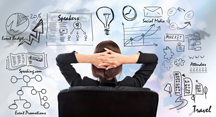 • Keynote Speaker Booking Toolkit.
• Booking a Celebrity Speaker.
• How to Find and Book the Right Speaker.
• Google+ Event Planning Forum.
• Tips for International Clients Booking U.S. Based Speakers.
Similar Speakers
Olivia Fox Cabane

Author of The Charisma Myth: How Anyone Can Master the Art and Science of Personal Magnetism, Olivia Fox Cabane is an executive coach to the…

Bruce Himelstein

One of the smartest and most sophisticated minds of the marketing world, Bruce Himelstein is the innovative CMO behind some of the hospitality industry's top…

Robin Koval

For over 25 years, Robin Koval has specialized in getting brands out of the shadows and turning them into household names. The marketing strategist was…

I just wanted to send a quick follow-up note to say – THANK YOU! I appreciate your partnership, and perseverance in helping us to find the right speaker for our group. Our speaker was absolutely excellent! The group loved him; it was perfect.
DeVry Education Group
About SPEAKING.com
Established in 1994, we are exclusive agents for some of the world's leading experts, celebrities and professional speakers.
We offer event planners a fully staffed speaker logistics planning team, plus a personal SPEAKING.com Account Executive – a knowledgeable and trustworthy partner. We guarantee your satisfaction with your speaker and a smooth booking process.
Contact us today to book your favorite speaker.

"I wish someone like him [Stedman Graham] had been around to enlighten me at an age when finding myself and a career changed or decision was within easy reach. All I needed, as he formulated, was a "process."
- Janice Jones, Junior Achievement of Chicago

"The entire Manpower organization, GlaxoSmithKline, and the Greater Research Triangle community thoroughly enjoyed your visit to North Carolina. I am still receiving phone calls and e-mail′s complimenting your message with regards to enhancing the quality of life for other people."
- Jeff Stocks, President & COO, Manpower

"Stedman Graham′s life planning program is a perfect fit for our youth when presented to them at the right time in their school career in a systematic and creative manner. Students delivered incredible testimonials on the new vision that they acquired about who they are and where they intend to go with their lives as a direct result of the reflections that Mr. Graham′s lessons sparked within them. Today′s youth are Tomorrow′s Leaders, Citizens and Parents. They deserve this opportunity to know the steps it takes to succeed in life!"
- Cheryl Ernst, Superintendent, Carlsbad Unified School District, San Diego, CA

"It was a pleasure to participate in the session, as it was lively, well received and set a positive and enthusiastic tone for this new component of the You Can Make It Happen in Job Corps program. Your significant personal commitment, ultimately led to a mix of training, activities and media that clearly resonated with many of the students. The pilot complements the goals and objectives of the Career Development Services System well, providing additional tools and support to our student as they progress towards achieving their personal and professional goals."
— Lauren Morales, Center Director, Paul Simon Chicago Job Corps Center

"Thank you so much for sharing so generously of your time with the Department of Labor′s Youth Program Staff. Your message and your approach to helping young people bring focus to their lives is truly inspirational. My staff benefited greatly from your insights."
— Alexis Herman, Former Secretary of Labor, Washington D.C.

"I am writing to thank you for making the 92nd Commencement at Coker College a successful and inspiring occasion. Very positive comments are stilling coming in from students, parents, and faculty about you address. Harris DeLoach, Chief Operating Officer of SONOCO, told me that all the commencement speeches he has heard, your speech is at the very top of the list!"
— Dr. Ronald Carter, Dean of Faculty, Coker College, Hartsville, SC

Partial Client List:
Alabama A&M University
American Bankers Association
American College of Sports Medicine
Art & Drama Therapy Institute
Boy Scouts of America, Inc.
Columbia University Community Anti-Drug Coalitions of America
ComPsych, Inc.
Davenport University
Executive Women International
Florida School Board Association
George Washington University
Harvard University
Hyatt Hotels
Morgan Stanley Dean Witter
Manpower
NAACP
National Association for College Admission Counseling
National Youth Crime Prevention Conference
State Farm Insurance Agencies
State of Carolina Department of Health & Human Services
Texas Commission on Volunteerism and Community Service
United Way
U.S. Olympic Committee
U.S. Department of Education
Wells Fargo
YMCA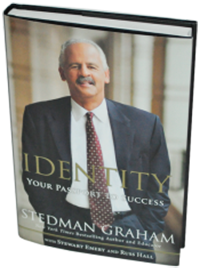 Identity: Your Passport To Success
Stedman Graham provides a working definition of a strong identity and shares powerful insights about why happiness and success flow directly from it. The book provides a process and structure for identity development by sharing others' process of discovery and creation, bringing them to life through the stories of individuals who've resolved their questions of identity. Released by Financial Times Press. A Wall Street Journal Bestseller for Hardcover Business books.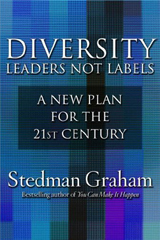 Diversity: Leaders Not Labels
A New Plan for a the 21st Century
Stedman Graham, bestselling author of You Can Make It Happen, teaches that in the 21st century your talent and skills above all else will define your value. In Diversity: Leaders Not Labels, Graham shows you how to break out of the box that keeps you from growing to your full potential, and reveals that success is truly based on results, performance, and excellence.
Diversity is literally changing the face of our nations. Workers of all backgrounds are merging into a global marketplace, while businesses are challenged by a shortage of talent and the need to integrate a wide range of cultures. In this global environment, diversity has become a permanent business characteristic; opportunities will be plentiful for both people and businesses. Graham indicates that we do not have to become a member of anyone else's culture to play a key role, but must maintain and assert our own identities while respecting others' uniqueness in our workforces and communities. He helps us to understand that developing leaders rather than accepting labels is ultimately the best way to preserve culture and create a legacy.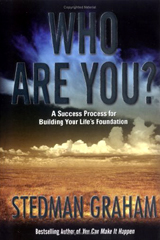 Who Are You?
A Success Process for Building Your Life's Foundation
Most of us take years trying to figure out just who we are, but too many of us will never find out. If we fail to define ourselves, we risk being defined by the world we live in. We allow others to define us—by our race, our gender, our background, our environment. We buy into the labels that keep us in a box, and as a result of these limitations, we may never realize our greatest potential. So how do we break free of these patterns and out of the routine of doing the same things over and over? The answer is that we need to change the way we think about ourselves and our possibilities.
Identity Development
Part of what makes us human is our ability to be aware of our own existence, to both live and to reflect on our own lives.
It is this capacity for self-awareness that allows us to see our authentic selves and build our own identity, rather than letting others dictate who we are and what we do with our lives.
Inevitably, however, the stresses and routine of daily life can get in the way of this self-reflection. We become caught up in the task of getting through the day—in surviving—to take time to cultivate that awareness.
But with the development of a strong sense of who we are and what we want to do in life, we naturally begin to take agency in our lives, and become successful no matter what challenges life presents.
Stedman Graham has made it his mission to bring Identity Development programs to people and organizations worldwide helping them strengthen who they are based on their interests, natural abilities, talents and passions. Through seminars, lectures, and workshops, Graham provides the tools for all people to determine their own identity and to open the door to a life of success.
Stedman Graham has taught Identity Development around the world and coached everyone from world leaders to small business owners to gain a better understanding of who they are, build a well-developed personal identity and become more focused as they work toward their goals. A strong identity gives you the freedom to realize your full potential and allows you to gain the personal wisdom to achieve success in life.
Identity Leadership
For more than 15 years, S. Graham and Associates has provided the ultimate in success training through the 9-Step Success Process developed by Stedman Graham. Now Graham introduces a process built on the 9 Steps to realize your leadership potential through Identity Development. The Identity Leadership Seminar challenges fundamental assumptions about leadership in the 21st century. Leadership is everything, and to lead others, you must first be able to lead your self: to reach your goals and realize your potential.
The Identity Leadership seminar uniquely focuses on helping participants develop their identity as a foundation for building a plan. Over the course of the seminar interactive exercises form the steps toward developing yourself as a leader. Designed to provide participants with an enhanced personal awareness and skills for leadership, the seminar will leave you with a strategy for success to develop as you navigate the future.
How Will Your Team Members Benefit?
Now more than any other time, leaders must be:
Self-aware
Self-starters
Independent learners
Ready for change
Internally motivated
Driven to perform
Gain these skills and more. The Identity Leadership seminar teaches methods to:
Accurately assess one's feelings, interests, values and strengths.
Maintain a well-grounded sense of self-confidence.
Regulate one's emotions to handle stress, control impulses and persevere in overcoming obstacles.
Set and monitor progress toward personal and professional goals.
You will come away with the tools to build a plan for achieving your leadership goals and your personal goals for success.
What Will You Cover?
Identity Development focuses on the need for self-awareness and the skills of self-management, with Stedman Graham's 9-Step Success Process as a basis.
Seminar topics include:
Choosing a vision
Goal setting
Step-by-step planning
Mastering adversity
Exploring risk
Managing challenges
Forming personal networks
Commitment to a personal mission
Attendees Will Receive
Identity: Passport to Freedom
All participants in SGA programs receive the pocket-sized synopsis of the 9-Step Success Process in a concise and easy-to-read format. This booklet works as a quick-reference guide for participants to have a portable reminder of their goals and be able to show peers what they are working on.
You Can Make It Happen: A 9 Step Plan For Success
Stedman Graham's professional development has been guided by the philosophy he outlines in this New York Times bestseller.
Identity: Your Passport to Success
Graham provides a working definition of a strong identity and shares powerful insights about why happiness and success flow directly from it. The book provides a process and structure for identity development by sharing others' process of discovery and creation, bringing them to life through the stories of individuals who've resolved their questions of identity.
Build Your Own Life Brand
From traditional corporations to the Internet, from top executives to people trying to make a difference in their communities, branding has become one of the most important concepts in professional and personal marketing. In this groundbreaking work, author Stedman Graham shows readers how to use branding—the technique employed by major advertisers to distinguish their products—for their own benefit.
Stedman Graham: Commencement Speech
"Leadership is everything, and for the self-employed businessman today self-leadership is more important," says Stedman Graham, explaining just why it is so necessary to develop a sense of personal identity that can transform one's leadership ambitions. As he says, "The financial collapse of our world tells us that our security today, ladies and gentlemen, is based on investing in ourselves."
This is Stedman Graham
Stedman Graham: CBS This Morning