* Please note that while this speaker's specific speaking fee falls within the range posted above (for Continental U.S. based events), fees are subject to change. For current fee information or international event fees (which are generally 50-75% more than U.S based event fees), please contact us.
Top25 Speaker Voting

Stan Hupfeld needs 6 vote(s) to make it into the Top 25 speakers on Speaking.com!
Speaker Booking Tip
"Tip: find a speaker in your local area to save on travel costs. Most speakers will also reduce their keynote fee for local events. "
For Event Planners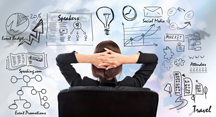 • Keynote Speaker Booking Toolkit.
• Booking a Celebrity Speaker.
• How to Find and Book the Right Speaker.
• Google+ Event Planning Forum.
• Tips for International Clients Booking U.S. Based Speakers.
Similar Speakers
Zonya Foco

As an author, TV host, and national speaker, Zonya Foco is leading America in the fight against obesity, diabetes, cancer, and heart disease through smart…

Josh Luke

A healthcare visionary, Dr. Josh Luke prepares providers and patients for policy, management and technology changes in the healthcare sector. Dr. Luke is a former…

Glenna Crooks

Glenna Crooks, PhD, is one of the most sough-out policy advisors in both public and private sectors when it comes to healthcare. Glenna uses her…

Our client rep was a pleasure to work with. He was well organized and kept me updated every step of the way. The level of professionalism and the quality of the materials received were excellent. I will be in touch for future speakers!
Mattel
About SPEAKING.com
Established in 1994, we are exclusive agents for some of the world's leading experts, celebrities and professional speakers.
We offer event planners a fully staffed speaker logistics planning team, plus a personal SPEAKING.com Account Executive – a knowledgeable and trustworthy partner. We guarantee your satisfaction with your speaker and a smooth booking process.
Contact us today to book your favorite speaker.

"You could never be a state or national elected official. Reason? You have too much good, logical sense."
- Jerry McPeak, OK State Rep - House District 13
"From the audience's reaction at the Governor's Conference on Aging, "You clearly hit it out of the park."
- Terry Cline, Ph.D., OK Commissioner of Health
"...was marvelous and well received. Bringing the issues facing seniors is important to Oklahoma."
- Gayle Semtner, MEd, Community Development Specialist, Oklahoma Healthy Aging Initiative, Donald W. Reynolds Department of Geriatric Medicine, University of Oklahoma Health Sciences Center
"I invited Mr. Hupfeld to speak at the annual meeting of the Illinois Hospital Association. He highlighted the key concepts in his book to senior leaders as well as board members. His insight and presentation resulted in significant discussions among our board. I highly encourage any group to hear Stan review what needs to be done in healthcare."
- David L. Schreiner, FACHE President/CEO - KSB Hospital
"Stan Hupfeld is a nationally recognized healthcare CEO, author, community leader and one fantastic speaker. Stan has a deep and rich understanding of healthcare and a unique ability to explain it in a simple way. I have hired Stan to speak to my organization, and have seen him speak on multiple occasions. Every time the audience loved him, and I highly recommend him."
- W. Hays Waldrop, President and CEO - The Institute of Healthcare Executives and Suppliers
"Stan Hupfeld peels away the political rhetoric that clouds the debate surrounding health care reform."
- Mary Stefl, PhD, Department of Health Care Administration - Trinity University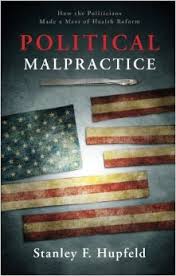 Political Malpractice
The Patient Protection and Affordable Care Act - or 'Obamacare' as its opponents derisively refer to it - is either the greatest piece of social legislation in the history of the United States or it is an abomination inflicted on the American public that will ultimately destroy our health system. Insider Stanley Hupfeld dissects that health system and exposes the fallacies and prejudices of both political parties. Mr. Hupfeld explains that, if we are willing to make hard choices, we can indeed cover the uninsured, control costs, and not bankrupt the country.

Healthcare Leadership in a Post Reform World
Historically, health care delivery has tended to be transactional and unidirectional - in other words one doctor, one hospital stay, one insurance bill. Now in a post reform world all bets are off, it requires a different kind of thinking when we begin to take a risk (read premium dollar) for the total care of a patient population - a different approach when we have to accept a single payment for an episode of care and then split that payment among several providers.
In that environment we must be much shrewder and have a different approach with the other stakeholders. We certainly need to understand why health care seems to defy our best thinking about how to change it and what policy alternatives give us the best hope of survival.
In this keynote, Stan Hupfeld invites leaders to hear his somewhat provocative thoughts that will stimulate discussion and encourage leaders to think outside the box as never before! His keynote will center around "everything is different" and examines the following:
Payment – population health versus fee for service

Narrow margins – waiting lines

The government (not the market) determines medical technology

Dying becomes acceptable

Extreme budget control

Massive consolidations – 10 to 15 national systems control health care

Women and medical professionals as leaders - 75% of health care workforces are female

Business skills less important than clinical skills - thin margins lead to labor issues What doesn't change?
Ability to empathize with patients and care givers
Sense of humor in tough times
Focus on care delivery process
A love of the work

Surviving In a Post Reform World
It Isn't Rocket Science But We May Need Spock!


Using the "Spock theme" with slides and video, Stan Hupfeld is able to emphasize the lack of logic in the post reform world. In today's health care world the only voices that seem to carry any weight are the ideologues of both political persuasions. Absent are the cold hard facts of medical care delivery and organizing as witnessed and experienced by medical providers. Stan takes the approach through our friend, Spock, who was always amused by our tendency to let our emotions and our vested interest govern our reaction to any intense personal experience.

While reforming health care is admittedly complex it does not measure up to the complexities experienced by social scientists in other areas. Stan calls on our friend Spock, and delivers how he would advise the reformation of our health system. Using only Vulcan logic how would he recommend mere mortals devise a system consistent with the resources available, and the limitations of human science to best meet the needs of the American public.

The necessary ingredients that seem to be missing from the reform debate are logic and facts. Perhaps a trip on the Starship Enterprise to recapture the spirit of the half human/half Vulcan Spock and to divorce ourselves from illogical partisan politics is the only way to make substantial progress on a complex problem filled with emotion.

This keynote begins with a discussion of what drives our current system, including:
Money
Prestige
Culture
Litigation

Stan continues with the dilemmas of our current situation:
Does money give us rights or advantages over others?
Healthcare – Is it a right or privilege? Is it a business or a social service?

Aging is Not for the Faint of Heart!


In preparing for this keynote, Stan Hupfeld talked with a number of people and most agreed they would like to live into their 90's in relatively good health with all their mental faculties, excited to get up every morning, able to contribute to some cause, relevant to someone or some thing, and then depart quietly in their sleep.

We all know people who have achieved these goals, but unfortunately there are many more whose life ended in a nursing home or a memory unit. Stan likes to quote the old saying, "The rest of the world views death as inevitable…Americans view it as optional." While a bit overdone, he remarks there is some truth in this comment. It is a well-known fact that, as Americans, we spend an extraordinary amount of money on healthcare in the final months of our lives. It has been estimated that one-half of our lifetime health expenditures will be spent in the last six months of our lives.

As a culture, our inability to deal with death logically exacerbates cost problems and limits our ability to have a serious discussion about end-of-life issues. He strongly believes we simply have to get the dying thing right. Medicare now spends 25 percent of its budget on care delivered in the last year of the beneficiary's life. Of that, 40 percent is spent during the last 30 days. Decisions are routinely made that have nothing to do with dying with dignity, to say nothing of the costs incurred by an already negative balance sheet.

Invite Stan to create an environment based in love and compassion for the elderly – and a discussion about end-of-life decisions directed by healthcare professionals, family and community, rather than being a wedge in the next election cycle. A customized program will be delivered focusing on questions such as:
What do we want our lives to look like as we age?
What would be the ultimate end game as we approach the last quarter of our lives?
What can be done to bridge the gap?
What are clever ways to keep seniors engaged, relevant, and productive members of society?
What about tax incentives for the elderly to encourage them to volunteer their expertise and professional services?
How do other countries handle aging and end-of-life?
Why the disconnect between other county's views of aging and what transpires in this country?


He invites additional questions that are of interest to the audience.

Stan Hupfeld, Healthcare Speaker: TEDx Talk
Stan Hupfeld tackles the hotly contested Affordable Care Act from the perspective of a healthcare services manager, explaining what's feasible, what's not, and alternative ways to resolve "the most complex domestic issue of our time." Putting political bias aside, he makes the case that ultimately, politicians – the majority of whom have absolutely no experience caring for patients or running a medical service – have lost their focus when it comes to reforming healthcare; the changes they have made do not help the "25% of Americans who need affordable care the most."
He describes "Lucy," a single mother of three who works at McDonald's, the best job she can get. She is uninsured, not by fault of her own, and earns a meager salary of $12,000 per year, putting her family below the poverty line but above the income limits needed to qualify for Medicaid.
"I believe we've got to get back to the "Lucys" in this world," Mr. Hupfeld proclaims. "We have to figure out a way that in this very rich society we don't ignore Lucy. Lucy is not a ne'er-do-well living in a box under a bridge. She is an American citizen, paying pay role taxes and paying property taxes through her rent."
Stan Hupfeld, Healthcare Speaker: Keynote