* Please note that while this speaker's specific speaking fee falls within the range posted above (for Continental U.S. based events), fees are subject to change. For current fee information or international event fees (which are generally 50-75% more than U.S based event fees), please contact us.
Top25 Speaker Voting

Srikumar Rao needs 7 vote(s) to make it into the Top 25 speakers on Speaking.com!
Speaker Booking Tip
"Tip: speakers bureaus can provide: speaker fee negotiation, insurance, smooth logistics and value add-ons such as extra sessions. "
For Event Planners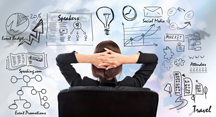 • Keynote Speaker Booking Toolkit.
• Booking a Celebrity Speaker.
• How to Find and Book the Right Speaker.
• Google+ Event Planning Forum.
• Tips for International Clients Booking U.S. Based Speakers.
Similar Speakers
Anthony Silard

Anthony Silard is the CEO of The Global Leadership Institute and the President of The Center for Social Leadership. Anthony was once named Visionary of…

Jacob Morgan

Jacob Morgan is moving companies forward by helping them adapt to the changing world of work. He guides companies in revamping their approach to talent…

Josh Linkner

A professional jazz guitarist at the start of his career, Josh Linkner has a passionate belief in creativity and innovation, and his career in the…

Your speakers bureau was a tremendous resource for the NHL as we planned and executed our NHL Club Business Meetings. Their assistance with securing our keynote was invaluable. They provided detailed information in a timely manner which was crucial to the success of the event. The execution was seamless!
National Hockey League
About SPEAKING.com
Established in 1994, we are exclusive agents for some of the world's leading experts, celebrities and professional speakers.
We offer event planners a fully staffed speaker logistics planning team, plus a personal SPEAKING.com Account Executive – a knowledgeable and trustworthy partner. We guarantee your satisfaction with your speaker and a smooth booking process.
Contact us today to book your favorite speaker.

"Professor Rao, words cannot express my gratitude for what you have given me…your course ABSOLUTELY changed my life… I have been with my company (Marsh) nearly 8 years now and I'm certain that the longevity has to do with you and the course helping me SEE my work and my existence in a totally different perspective!...Just learning that there are many perspectives and I get to choose!!! So I chose the good one, the most beneficial one…this is a journey that goes on and on…I send much love."
- Rose Puerto Vice President, Marsh USA Inc.
"Professor Rao's teachings are transformational. Intrigued by the promise of a happier way of life I started doing the exercises with a small group of peers. It changed the way I view the world. Am more content and fulfilled, much happier and have tools to handle adversity. I highly recommend Professor Rao."
- Matthew Weiss CEO of Weiss and Associates
"Thanks to CPM there are so many areas where I have experienced and am experiencing positive change. I have received tools that help me not sweat the small stuff and think more holistically about the big stuff. Thanks to the course and its amazing alumni network I have certainly become a more peaceful, patient, open and inclusive person. I know this sounds like a cliché but CPM has changed and moved me for the better."
- Manu Aannd MBA, Haas School of Business, 2008, Product Marketing, Adobe Systems Inc.
"There has been so much learning…the noise in my head on random topics has slowed down…days are more peaceful and productive…have powerful tools to use when I hit a stumbling block…the keys to my happiness rest with me…I am migrating from a life where patterns are predicated on past experiences and habits to a life where only possibilities exist. This is HUGE…the retreat experience was an incredible gift…CPM had a profound impact on me."
- Neeraj Garg Director, Epoch Investment Partners
"Creativity and Personal Mastery (CPM) is a course that is clearly focused on the values, needs and future of its students. Many MBA courses focus on creating great technicians. CPM is helping to create great leaders and (even more important) to create great people. Dr. Rao's course helps ensure that students have a clear view of who they are and what they want from life. CPM is a great step in helping graduates live a life that is both personally meaningful and makes a contribution to our world."
- Marshall Goldsmith Marshall Goldsmith Partners, LLC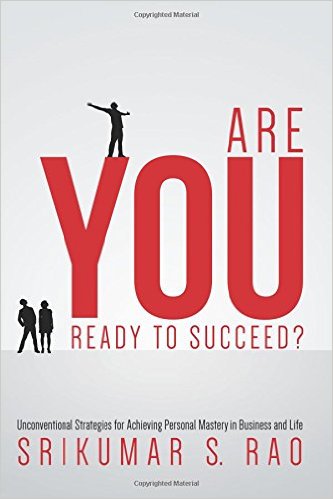 Are YOU Ready to Succeed?: Unconventional Strategies for Achieving Personal Mastery in Business and Life
This book draws from the teachings of the world's greatest Masters and can thus lead you to both material success and spiritual growth. The secrets revealed and exercises provided can propel you to levels of success that you perhaps only dreamed about.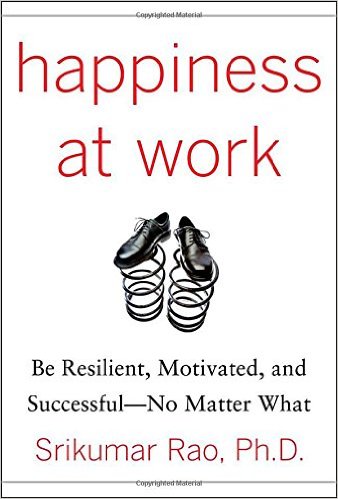 Happiness at Work: Be Resilient, Motivated, and Successful - No Matter What

Learn to create resilience and happiness no matter what's going on in your life.
In these tough times, there are few people who are completely happy with the current conditions. From business executives to the everyday Joe or Jane, everyone seems to be going through a rough economic and personal crunch. But acclaimed business school Professor Srikumar Rao says that we can learn to create joy no matter what else may be going on around us.
Rao shows you that it isn't the negative thing that happens to you that causes your unhappiness, it's how you see it. Happiness at Work is a thought-provoking new title that moves the mind away from negativity and forces you to resist labeling situations as "bad", but rather seeing them as neutral.

Creativity and Personal Mastery
Creativity and Personal Mastery is a booster rocket that will lift your career to a trajectory that you cannot even conceive. It will improve every aspect of your life – personal, professional, spiritual and civic. Your relationships will flourish and new ones will develop. There will be markedly less stress in your life. Serendipitous good fortune will stalk you.
Additional Programs:
Happiness in the Workplace
Unconventional Strategies for Achieving Personal Mastery in Business and Life
Your Job with a Capital J
Freedom and Happiness
The Nature of Work and Life

Dr. Srikumar Rao, Happiness and Creativity Speaker: Keynote
Pointing out that life is too short to be unhappy, Dr. Srikumar Rao makes the case that anyone can live a life that makes "their blood sing" at the thought of being who they are and doing what they do. He presents powerful exercises taken from the teachings of history's most influential leaders to combat obstacles that we constantly allow to get in the way of our happiness.
He begins by addressing mental chatter, that rambling inner monologue that starts off from the moment we wake up, drowns out other people's voices when we should be paying attention to them, and sometimes keeps us tossing and turning late into the night.
"We construct our life with our mental chatter," Dr. Rao states, explaining how it leads us to choice certain emotional states over others. "There are dozens of times everyday when you face such a decision point in your life, and in many of those, perhaps the majority of those, you choose to occupy a domain which leaves you angry, frustrated, rejected, and in a not very nice place, and you never recognize that you have chosen to occupy that domain."
Dr. Srikumar Rao, Happiness and Creativity Speaker: Keynote
Dr. Srikumar Rao, Happiness and Creativity Speaker: TED Talk