"A brand must be a mission with a company, not a company with a mission."
* Please note that while this speaker's specific speaking fee falls within the range posted above (for Continental U.S. based events), fees are subject to change. For current fee information or international event fees (which are generally 50-75% more than U.S based event fees), please contact us.
Top25 Speaker Voting

Simon Mainwaring has been currently voted into the Top25 speakers on Speaking.com, congratulations! To help keep Simon Mainwaring in the Top25, vote below:
Speaker Booking Tip
"Tip: speakers bureaus provide added value that you cannot get by booking speakers directly. "
For Event Planners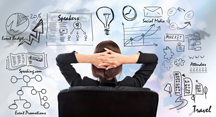 • Keynote Speaker Booking Toolkit.
• Booking a Celebrity Speaker.
• How to Find and Book the Right Speaker.
• Google+ Event Planning Forum.
• Tips for International Clients Booking U.S. Based Speakers.
Similar Speakers
Kevin Lane Keller

Dartmouth professor and researcher, Kevin Lane Keller is an international leader in the study of brands, branding, and strategic brand management. Actively involved with industry,…

Pete Blackshaw

Originator of the term "consumer generated media", Pete Blackshaw has worked in marketing, government and as an entrepreneur; he knows firsthand the importance of branding…

Scott Duffy

A successful serial entrepreneur, Scott Duffy has had the rare opportunity to learn from some of the most brilliant innovators and business professionals working today.…

Once again our agent did an outstanding job. Not only did he provide me with a number of options for potential speakers but he helped with seeing who was available, when they could speak, and getting everything done in a timely fashion. I look forward to working with him again.
Auburn University
About SPEAKING.com
Established in 1994, we are exclusive agents for some of the world's leading experts, celebrities and professional speakers.
We offer event planners a fully staffed speaker logistics planning team, plus a personal SPEAKING.com Account Executive – a knowledgeable and trustworthy partner. We guarantee your satisfaction with your speaker and a smooth booking process.
Contact us today to book your favorite speaker.

Simon's presentation was relevant and insightful into how brands think and work to get their message across to consumers. He had great real world examples which the audience was able to relate to. It was easy to see how these examples applied to our business and clients, and how we could use them to improve the value we offer. Attendees found it to be informative, clear, concise, and engaging, with many considering his presentation to be one of the highlights of the off-site.
Viacom, Inc.
Simon was a fantastic addition to our program! He presented valuable knowledge and catered to the credit union sector. He received great reviews from attendees from our diverse, global audience! Simon really engaged the crowd by using case studies from other financial institutions. Our attendees left with a clear message with actionable next steps.
World Council of Credit Unions
Simon did an amazing job as we knew he would, his presentation, demeanor and messaging was extremely well received across the board. His willingness to take the time to learn about our business and our objectives for the meeting were apparent by the quality of his content and customization to our corporate goals and vision. He is a true professional and an authentic business partner.
VSP
"Thank you again for taking the time to join our kick off meeting last week. The feedback we have been receiving on your presentation is phenomenal!"
SAP
"Simon was very charismatic and engaging. People really loved his speech & we received excellent feedback!
GDS Group
I can't express how thrilled we are about your work with our leadership team today. The buzz is still going... Community service IS about the bottom line... Support the mission, tell your story, empower the people: just a few buzz phrases I am hearing. I appreciate your time and thoughtful presentation and look forward to continuing this great work.
Toyota Financial Services
After a few false starts with opening keynoters at our event, we were ready to be impressed. Simon kicked off our show with his charismatic and sincere style, and his very important message of Profit with a Purpose for our Retail Marketing audience. Our surveys speak for themselves: Simon was the most well-received speaker of the entire show. An extra bonus is that his team is a dream to work with and leaves no stone unturned.
The CRMC
Simon was so willing to help in any way possible. I also appreciate the amount of communication I received from him prior to the event, and opportunity to brief him over Skype. Simon was a valuable addition to the inaugural Sustainable Brands Sydney Conference. He brought a wealth of knowledge from previous Sustainable Brands events around the world, which helped the audience to understand the ethos of the conference objectives. I would highly recommend Simon as both a Keynote presenter and Workshop facilitator. Sustainable Brands
We had a fantastic/productive two days of thought provoking ideas and discussion with our 30 member clubs and Simon's presentation played a big part and was incredibly well received. He was on point and did a wonderful job providing our teams a macro view of a changing media landscape/social mission based branding at the same time blending in our business to make it very tangible.
Exectuive Vice President / CMO
National Hockey League
It takes a strong message to catch the attention of our customers, who are some of the most dynamic innovators and practitioners of digital strategy, marketing and media. Simon succeeded admirably, bringing the passion of his vision of "We First" capitalism to engaging and capturing the loyalty and attention of new customer who have expectations about what the organizations and brands in his/her life can do for them - on their time and terms. Simon went right to the heart of the matter in his keynote at our first customer conference, Engage 2014, and left all of us looking for more of his wisdom and insights.
Acquia
Simon excited and engaged our audience by communicating essential information supported by thoughtful data and real world examples. His diligent preparation ensured that our audience learned something new that they could immediately incorporate into their own businesses. He was incredibly accessible and available and took time to get to know us and our needs. I would hire him again in a heartbeat!
Stephanie Carter, Marketing & Communications Partner, ABS Capital Partners
Simon did a great job, exactly what we needed. Everyone was really impressed and of course we referenced his presentation throughout the afternoon. Thanks so much for getting us off to a great start!
Toyota
Simon's thought-provoking and energizing opening keynote at our Annual Conference truly set the tone for the entire conference. Not only did he provide a plethora of useful information for our audience, but he delivered it in an engaging and relatable way. In fact, he was one of the highest rated speakers of the entire conference. Simon was a wonderful speaker as part of our internal sustainability speaker series on the role of sustainability and brand. His presentation hit the mark and inspired many great conversations and new approaches to 3M's sustainability communications.
Association of Corporate Contribution Professionals (ACCP)
I was so impressed not only because of Simon's power to engage the audience, but also in the way he connects our minds and souls. His vision and presentation have challenged, inspired and motivated everyone in the room. As a conference organizer I could not recommend Simon more highly as a keynote speaker.
Fernanda Bornhausen Sa, Founder, Social Good Brazil Founder
As the opening Keynote on Day One this is the most important session as it sets the tone for the rest of the event. I could not be happier! He was not only engaging and educational but entertaining. I would not only highly recommend Simon but intend on working with him again."
Adam Wilson, VO Conferences Asia Pacific, GDS International
Simon's passion, energy and wisdom came across strongly. He left this audience motivated and contemplative as noted here in a few of the many positive comments received—"Mind blowing session!" "A highly energetic presentation!" "Really enjoyed Simon!"
Tracy Rettie, CAE, Assistant Vice President, American Staffing Association
We recently invited Simon to speak to our marketing, communications and agency partners. His deep brand experience and social media insight made him an incredible speaker. He kept the group engaged in the conversation. Like all good storytellers, there are memorable lessons wrapped in interesting examples.

Mary Henige, Director, Social Media & Digital Communications, General Motors Company
Simon brings a true and authentic passion for his life's work to his speaking engagements. His depth of experience and knowledge translates into a meaningful story that can move an audience to action. He is committed to a better outcome for all who engage in the collective conversation and is dedicated to help others find greater success along the way. Simon knows how to engage a room to shift perspective and drive new thinking that can help us tell our brand stories in a way that has real impact on our customers and community.
Katherine Twells, AVP, Customer Marketing, The Coca-Cola Company
Simon shared a great message with our group but what we appreciated the most was that he incorporated our purpose, values, etc. into his presentation as well. This made his message very consistent with our message.
First United Bank
If your company is interested in keeping ahead of the new wave of customer engagement that is now powered by the new tools of social media – and who isn't? – you should also be interested in engaging Simon Mainwaring to show you how to do it.

Rick Ridgeway, VP Environmental Initiatives, Patagonia
Simon was a recent speaker at our Gucci Group Conference. He was extremely engaging, thought provoking and distilled complex ideas down into simple but powerful communications. The participants left inspired with clear insights into how to relate he shared to their business. I would highly recommend him as a transformative keynote speaker.

Karen Lombardi, Executive Vice President Global Human Resources, Gucci Group
Simon is fluent on subjects that most marketers and advertising people have only just started thinking about. He's got genuinely new things to say on the role of brands, the role of marketing and the role of citizens and consumers in shaping a progressive business agenda. He was brilliant at YouTube's "Good Work" seminar in Cannes this year. He's someone who can help you do a power of good.

Craig Davis, Co-Chairman & Chief Creative Officer, Publicis Mojo
Simon brings an unusual depth of knowledge about how we got ourselves in to the mess that we are currently trying to unravel in society, and a compelling vision for how we can get ourselves out. But more than that, he's a fabulous storyteller who can paint a picture that will spark the imagination of audience members and enroll them in finding their own path to contributing to a flourishing future. Highly recommend!

KoAnn Vikoren Skrzyniarz, Founder/CEO, Sustainable Life Media
Simon Mainwaring was a big hit at Brand Manage Camp 2011. He was a absolute pleasure to work with pre, during and post conference and really went the extra mile to ensure he understood our event, our attendees, and the entire agenda so that he could custom craft a topic and presentation that delivered the actionable insights our attendees crave. Simon is that rare package of sizzle AND steak and I would recommend him highly to anyone considering him for participation in their event.
Len Herstein, CEO & President, Brand Manage Camp
Simon gave a rousing keynote at our Social Enterprise Summit 2012. His Me-To-We message was very timely and well received among our members who are effecting a transformation away from the Greed Economy. And he's a genuinely committed, enjoyable and engaging fellow to boot.

Kevin Lynch, CEO & President, Social Enterprise Alliance
What can I say? Your presentation was engaging, thought-provoking and amazing. You ended the LMA-LA CME on high note, inspiring attendees as they headed into the weekend.

Jennifer Larivee, Director of Marketing, Legal Marketing Association
We host more than 100 speakers a year, and Simon is among the best. He's informative, stimulating, and engaging. Each person in the audience is exposed to new and big ideas, and is more importantly moved to act. His message is great for competitors, innovators, and do-gooders in the marketplace and the world.

Michael P. Davidson, CEO, Gen Next
Simon just doesn't come in content to talk and shake a few hands. Instead, he brings a full arsenal of smart concepts, compelling presentations, and a full-on, no-holds-barred generosity that is as authentic as it comes. He captured the hearts and minds of our students and faculty with insights on social media, creativity in a changing profession, and the new agency mindset that honors bravery and innovation. Wonderful to witness. Bravo, Simon!

Professor Debra Morrison, School of Journalism and Communication,
University of Oregon
Simon enthralled and inspired our Australian audience during his workshop on 'How non-profits think like for Profits,' at ConnectNow in Sydney. I have never seen an event with satisfaction scores so uniformly high. From government and corporate groups, to rowdy social mediarati, agencies, charities, bloggers and SMEs, Simon has the gift of making complex stories concise and memorable, and delivers with energy, humor and insight. Forget about the 'guru' tag, Simon is the consummate communicator embracing social media and innovation and putting it to best practice. I look forward to having Simon back as keynote speaker at our next event.

Siobahn Bulfin, Executive Producer, Connect Now Conference, Sydney
From the moment he began, Simon's energy, passion, and vision were evident to everyone. Comments came pouring in after the conference and included: "I was riveted by Simon's speech and I'm so excited to put social media marketing to work"; "…it was by far one of the best social media for social good talks I've heard." 

Professor Beverly Macy, Co-Producer, Cool Gravity Summit
"Simon's keynote was a highlight of the meetings and we are still receiving positive reviews a week later. Simon was a terrific addition to the NHL Club Business Meetings. His ability to weave NHL examples into his key messages was instrumental in keeping the audience engaged and excited. He did a great job weaving tactical applications into a broad strategic message re community building and brand integrity. In hockey vernacular, Simon 'stood on his head!'"
Susan Cohig, SVP of Integrated Marketing, National Hockey League
We had the pleasure of having Simon speak at our company retreat this year. He's gutsy, punchy and highly engaging. His passion for helping corporations determine and maximize their social purpose is infectious! Our whole team is very excited to work with Simon and help our clients build sustainable, meaningful communities that not only build brands but do good things for our world. Many thanks, Simon!

Maril MacDonald, CEO, Gagen MacDonald
Select Client List

Brands:
Coca-Cola CMO Summit

Google

Bill & Melinda Gates Foundation

General Motors

MUJI
Patagonia
Gucci
Conferences:
SOCAP International Annual Conference

WOMMA Annual Conference

Brand Manage Camp

National Business Experts
Mashable Social Good

Entrepreneurs Organization

Legal Marketing Association Conference

Social Media Week

GSMI Social Media Strategies Summit

Images and Voices of Hope World Summit

Kanter Retail Conference

National Speakers Association

Royal Society of Arts, London
Utenti Pubblicita Associati (UPA), Milan
Cannes International Advertising Festival

Media Entertainment Technology Alliance

SANG

Conscious Business Network

UCLA Social Media
USC Annenberg School of Communication and Journalism

Gen Next Forum

SXSW

Gravity Summit

#140 Conference
Young President's Organization
ConnectNow Conference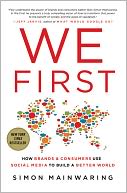 We First: How Brands and Consumers Use Social Media to Build a Better World
A social media expert with global experience with many of the world's biggest brands —including Nike, Toyota and Motorola—Simon Mainwaring offers a visionary new practice in which brands leverage social media to earn consumer goodwill, loyalty and profit, while creating a third pillar of sustainable social change through conscious contributions from customer purchases.
These innovative private sector partnerships answer perhaps the most pressing issue facing business and thought leaders today: how to practice capitalism in a way that satisfies the need for both profit and a healthy, sustainable planet. Mainwaring provides case studies from companies such as P&G, Walmart, Starbucks, Pepsi, Coca-Cola, Toyota, Nike, Whole Foods, Patagonia, and Nestle as well as a bold plan for how corporations need to rethink their strategies.
Reviews
We First is one of those rare marketing books that is truly visionary.
Strategy+Business (voted We First Best Marketing Book of 2011)
The author's enthusiasm and evidence make an excellent (and counter-intuitive) case for big business's ability to make major strides in creating a more equitable world.

Publisher's Weekly
A must-read for those who want to understand and engage the power and potential of social media to promote a healthier, more equitable world.

Kirkus Book Reviews
While economists try to patchwork a theory of how capitalism should work, Simon Mainwaring, a brand expert, has looked at our systemic problems squarely and created a remarkable vision for fully functioning capitalism.
San Francisco Book Review
Mainwaring is the new master of the 'three wins' – for your company, for you customers and for the planet. He shows us clearly that companies that mean more actually make more, turning customers into their most important evangelists. Today, values count as much as value, and Simon shows us how to find, foster and share the best of both.

Steve Hayden, Vice Chairman, Ogilvy & Mather Worldwide
Simon Mainwaring has a deep and powerful understanding of social media and presents great opportunities to use it for real change. In We First, his approach inspires and empowers both brands and consumers alike with innovative solutions to some of the biggest challenges facing our world.
 Scott Harrison, Founder of charity: water
Mainwaring is an inspiring leader in his field that truly understands the dynamics in play in the new world of business, online consumer behavior, and how they can collaborate to rethink and rework paths to true global renewal.

Brian Solis, Author of Engage and The End of Business as Usual
Few understand the power of brands and consumers better than Simon Mainwaring. In "We First," he presents a truly compelling vision of how to transform that power to the benefit of society and the good of capitalism.

Jeff Jarvis, Author, "What Would Google Do?"
Put meaning back into your business by buying this book. Actually, buy two and give one away to someone who is also yearning to take their business to the next level.

Charlene Li, Author of Open Leadership and Founder of Altimeter Group
LEADERSHIP
Leading the Future: How to outpace today's disruptive marketplace
The S&P 500 list is turning over faster than ever, inspiring fear in the hearts and minds of executives trying to build their company's future. To address this, brands must attract and retain top talent while maximizing their productivity. They must foster cultures of purpose, ingenuity and innovation. They must empower their organization to match the mobility of the marketplace and, better yet, outpace it. In short, to triumph over disruption brands can't merely participate in the future, they must create it. In this presentation, Simon reveals:
· How the world's smartest brands are leveraging their purpose, mission and culture to unlock innovative products, services and marketing.
· How companies are reinventing themselves from the inside out to build relevance for both today and tomorrow.
· How organizations are rethinking their role in society to inspire everyone that touches their brand to drive their success.
Tomorrow's CMO: Accelerating growth through future-facing marketing
Marketing leaders face more pressure than ever to drive company growth in a fractured, real time and competitive marketplace. So how do you balance strategy and flexibility to capture attention? How do you, as an incumbent brand, reinvent yourself to establish relevance, engagement and participation? As a start-up or high growth company, how do you reimagine your marketing to rapidly reach scale and build a competitive advantage? To achieve this, marketing leaders must leverage humanity and technology in new ways both inside and outside of their organizations to ensure everyone that touches your brand builds your business. In this presentation, Simon will reveal:
· How to rapidly disrupt your marketing before the marketplace disrupts your company.
· How to use strategic storytelling to put old mindsets and behaviors behind you.
· How to reinvent your culture and marketing through future-facing storytelling that rapidly accelerates growth.
Growth Leadership: Connecting the dots between personal and brand growth
Today marketplace is increasingly being shaped led by charismatic leaders that demonstrate both personal and corporate leadership. What they have mastered is the critical connection between work they do on themselves and its effect on their company, culture and community. By doing so they find personal fulfillment in their work and inspire their organizations to become more connected, productive and effective in driving growth. As such, this opportunity represents a critical but overlooked challenge to every leader – how to advance themselves to and move their company forward. In this presentation, Simon will reveal:
· The fundamental connection between personal development and company growth.
· The critical questions leaders must ask themselves to realize the full potential of their themselves and their companies.
· The essential strategies and tactics required to create a culture of personal and business growth.
EMPLOYEE ENGAGEMENT / CULTURE
From Engagement to Action: Mobilizing employees to drive culture, innovation and growth.
Every employer wants their people to see work as more than a job. To bring their best selves, skills and attitude to what they do. To actively contribute to an culture that constantly challenges the status quo and drives innovation from the inside out. So how do you attract such people to your company? How do you inspire them to play this role? How do you reward them to create a self-perpetuating culture that guarantees the long-term relevance, growth and leadership in the marketplace? In this presentation, Simon will reveal:
· How to use storytelling to capture the attention, interest and engagement of employees.
· How to engage, inspire and reward employees to motivate actions that drive innovation and growth.
· How to empower and equip employees to become powerful storytellers that effectively market your brand.
Return on Culture: Unlocking the full value, productivity and power of your employees.
The greatest investment a company makes is in its people and yet companies rarely get a high return. In fact, Gallup says only 30% of US employees are engaged at work. So how to you rapidly, effectively and measurably address this huge missed opportunity? How do you ensure all the effort you make to win the talent wars translates to your bottom line? How do you inspire and equip every employee within your company to effectively build your brand and business? Employee productivity organization is today's great untapped opportunity for those brands willing to take the critical steps to unlock the full value of their people and culture. In this presentation Simon will reveal:
· How to inspire your employees to engage, participate and advocate for your brand.
· How to integrate the new skills, mindsets and behaviors that drive growth.
· How to build and scale a positive and productive culture that delivers high returns on your investment in employees.
Employee Advocacy: Transforming employees into your brand's most powerful storytellers
Inside every organization are countless stories that could unlock untold value for your brand. Yet most organizations don't empower, equip or inspire employees to share those stories with each other, the company or their customers. This oversight not only robs employees of greater satisfaction and fulfillment, but it robs the company of the ability to use social technologies to share those stories to build the relevance, reach and resonance of its brand. In this presentation, Simon will show:
· How the smartest marketers identify and celebrate employee stories with both inside and outside of their companies.
· How to transform employees into passionate, reliable and effective brand storytellers using essential guidelines and guardrails.
· How to define, frame and create these stories in ways that inspire customers, consumers and partners to share them.
The Human Brand: How to become a company that employees, customers and the world wants to build.
It's more critical than ever to elevate the humanity inside your company to inspire employees and customers to build your business with you. Doing so not only empowers you to win the talent wars and foster a productive culture, but it ensures younger customers choose and promote your brand and products. In this presentation, Simon Mainwaring, CEO and founder of We First will reveal the best practices related to human storytelling, activation and leadership based on his experience working with leading brands like TOMS, Virgin and Patagonia. The presentation will be followed by a hot seat to answer questions specific to your brand.
THE FUTURE OF MARKETING
21ST Century Marketing: Leveraging humanity and technology to accelerate growth
The future of marketing is being driven by new consumer expectations, disruptive technology and younger demographics. It's constantly emerging, morphing and migrating in real time through digital, social and mobile technologies. It's being relentlessly repurposed by virtual reality, augmented reality and artificial intelligence. In short, tomorrow's marketing landscape would be unrecognizable today. So how does your brand stay relevant, reach its audiences and resonate deeply enough to drive growth? In this presentation, Simon will reveal:
· How the fastest growing brands are using leveraging social technologies to inspire employees, customers and consumers to build their business.
· How to leverage partnerships and movements to accelerate awareness and mindshare with consumers.
· How to shape culture in ways that drive earned media, business growth and social impact over the short and long term.
Marketing Triage: What your brand must do now to rapidly restore relevance and reach
The greatest obstacle to any brand is internal - old mindsets and behaviors that drove success in the past but that no longer serve its future growth. In fact, brands must back out of the future they want to own rather than build on the past if they want to position themselves for market leadership. So what are the key questions companies must ask themselves to overcome self-limiting thinking or behaviors? What new actions must they take to build a constantly evolving and innovative culture? What new ways of seeing leadership, culture and marketing are key to their future relevance and reach? In this presentation Simon will reveal:
· How to overcome outdated and unproductive thinking and behaviors by asking critical questions about your company mindset and behaviors.
· How to integrate and escalate new thinking and behaviors to position your brand for future growth and leadership.
· How to reimagine the role of leadership, employees, consumers and partners to keep pace with today's marketplace.
Brand Survival: How to thrive in a shrinking economy
A common response to challenging market conditions is to retreat to safer thinking and behaviors. Yet today's fast-changing and fractured marketplace demands that brands embrace risk to remain relevant to their audiences. So how does a brand balance security and risk? How does it identify what should remain constant and what can change? How does it plan for the future and remain flexible on a daily basis? Such skills will determine how well a brand survives in the face of economic headwinds and avoids becoming yet another casualty of greater competition, fickle audiences or disruptive technologies. In this presentation, Simon will reveal:
· How to balance essential long term, marketing strategies with flexible, tactical activations.
· How to activate employees, culture, marketing and consumers to drive company growth.
· How to establish cultural relevance that will keep a brand top of mind and drive earned media in a tough economy.
Consumer Engagement:
Reaching today's consumer is harder than ever. Their expectations, behaviors and technologies are constantly changing. This makes it difficult to capture their attention and earn their loyalty over the long term. But what if there was a way to make your target audiences feel like part of your organization instead of customers? To motivate them to want to build your business and reputation? To use their own social media channels to share your mission, services, and products? Using real world case studies from companies such as Starbucks, TOMS and Patagonia, Simon will reveal how the smartest organizations are engaging consumers, building self-sustaining communities and shaping culture in ways that inspire consumers to join their movement to build their reputation, business and sales.
What You Will Learn:
· Who are your new audiences and what do they want.
· How to ensure Millennial and Gen Z consumers build your business with you.
· How to engage consumers using the latest digital, social and mobile channels.
· How to inspire Millennials and Gen Z consumers to promote your organization using social media.
· How to build a self-sustaining consumer community.
· How to lead a consumer movement that will build your reputation and business.
Simon Mainwaring Speaking Demo Video
Simon is a master at distilling complex ideas down into simple, memorable communications, and at engaging an audience on a powerful, emotional level. His unique combination of spontaneity, disarming humor, and seriousness of purpose ensures that each engagement leaves his audiences enlightened, inspired and wanting more.
Nowhere is this more evident than during a Q & A session following his presentation at a recent WE First summit. In this video, Simon demonstrates his acute insight, acumen and ability to go beyond the keynote, challenging and engaging an audience of top marketing and branding executives in a truly interactive and thought-provoking conversation by not only fielding inquiries but catalyzing dialogue and solutions by asking them questions in return.
"He who tells the story best will win," is how he advises brands to distinguish themselves in the marketplace, by creating narratives that become amplified when they empower customers to repeat their stories.
Simon also addresses issues and pain points among his audience in relation to balancing purpose and profits, reframing narratives to empower consumers and create brand advocates, and shifting the focus of many branding initiatives from problem-focused to creating an aspirational end-state for consumers.
Ultimately, he says, the best branding today is "organic, authentic, and human."
Simon Mainwaring - WOBI Keynote Speech
Full Question and Answer Sessions From The We First Seminar
Simon Mainwaring Speech
Keynote Speech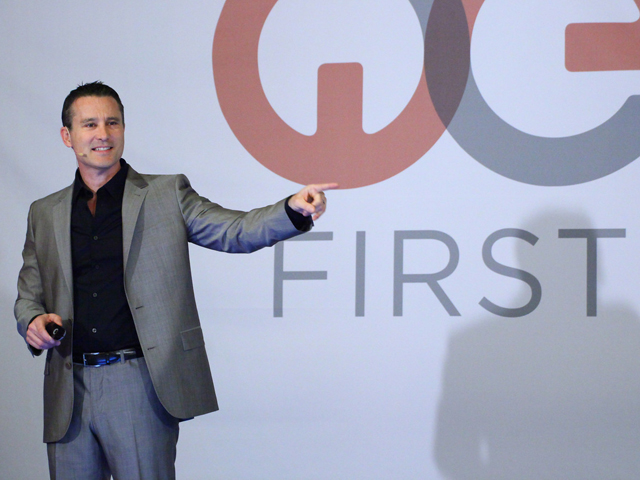 Simon Mainwaring is the founder of We First, a leading brand consultancy that provides purpose-driven strategy, content, and training that empowers companies to lead business, shape culture, and better our world. Simon shows companies how to define, frame and share the story of their good work in ways that build their brand reputation, customer community, ... more