* Please note that while this speaker's specific speaking fee falls within the range posted above (for Continental U.S. based events), fees are subject to change. For current fee information or international event fees (which are generally 50-75% more than U.S based event fees), please contact us.
Top25 Speaker Voting

Seth Siegel needs 6 vote(s) to make it into the Top 25 speakers on Speaking.com!
Speaker Booking Tip
"Tip: speakers bureaus can provide: speaker fee negotiation, insurance, smooth logistics and value add-ons such as extra sessions. "
For Event Planners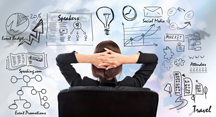 • Keynote Speaker Booking Toolkit.
• Booking a Celebrity Speaker.
• How to Find and Book the Right Speaker.
• Google+ Event Planning Forum.
• Tips for International Clients Booking U.S. Based Speakers.
Similar Speakers
Joshua Tetrick

Joshua Tetrick was named Rookie of the Year as a linebacker with West Virginia University. He went on to graduate from the University of Michigan…

Peter Zeihan

As a geopolitical strategist, Peter Zeihan shapes the statistical facts of geography and populations into a compelling narrative about global politics, markets, and economic trends,…

Marci Rossell

Dr. Marci Rossell makes sense of recessions and recoveries, giving you the information you need to know to make smart financial moves. Drawing from decades…

I'm extremely impressed with your speakers bureau's follow-through, responsiveness and willingness to understand our needs so that he could match the best speakers with what we are looking for. I will definitely work with you again in the future. Thank you for all that you did to help us create an exceptional learning experience for our attendees.
American Society of Association Executives
About SPEAKING.com
Established in 1994, we are exclusive agents for some of the world's leading experts, celebrities and professional speakers.
We offer event planners a fully staffed speaker logistics planning team, plus a personal SPEAKING.com Account Executive – a knowledgeable and trustworthy partner. We guarantee your satisfaction with your speaker and a smooth booking process.
Contact us today to book your favorite speaker.

"I was struck by his Seth's unique combination of brilliance, humor and inspiration. The standing ovation he received at the end of his speech reflected the audience's agreement with my reaction."
- TOM HARRISON Omnicom Nonprofit Group of agencies
"What struck me during Seth's speech, and remains with me today, was not only his smooth and heartfelt delivery, but the unifying way he tied aspects from his personal and professional life and made it relate to what was of quintessential interest to the audience of Cornell alumni."
- JENNIFER S. THURSTON Cornell University
"Seth M. Siegel not only brings a great wealth of knowledge and expertise, but a remarkable passion and enthusiasm for his topic. His warm, engaging and stimulating approach captivated our audience and left them yearning to hear more."
- RACHEL WOLF CEO, American Committee for Shaare Zedek Medical Center in Jerusalem
"We've used Seth M. Siegel to address audiences from parlor meetings to large assemblies of 800 and more. His speeches are always intelligent, moving and motivating. A real pro."
- JONATHAN MISSNER Former Managing Director for National Affairs, AIPAC 1 2 3 4 5
"Seth is one of those rare speakers who completely exceeds expectations. He went out of his way to engage with the specific interests of our audience and at the end of the evening had everyone of their feet queuing for signed copies of his latest book."
- CHRISTOPHER GASSON Global Water Intelligence
Let There Be Water
New York Times
and
Los Angeles Times
Bestseller!
As every day brings urgent reports of growing water shortages around the world, there is no time to lose in the search for solutions.
The U.S. government predicts that forty of our fifty states-and 60 percent of the earth's land surface-will soon face alarming gaps between available water and the growing demand for it. Without action, food prices will rise, economic growth will slow, and political instability is likely to follow.
Let There Be Water illustrates how Israel can serve as a model for the United States and countries everywhere by showing how to blunt the worst of the coming water calamities. Even with 60 percent of its country made of desert, Israel has not only solved its water problem; it also had an abundance of water. Israel even supplies water to its neighbors-the Palestinians and the Kingdom of Jordan-every day.
Based on meticulous research and hundreds of interviews, Let There Be Water reveals the methods and techniques of the often offbeat inventors who enabled Israel to lead the world in cutting-edge water technology.
Let There Be Water also tells unknown stories of how cooperation on water systems can forge diplomatic ties and promote unity. Remarkably, not long ago, now-hostile Iran relied on Israel to manage its water systems, and access to Israel's water know-how helped to warm China's frosty relations with Israel.
Beautifully written, Let There Be Water is and inspiring account of the vision and sacrifice by a nation and people that have long made water security a top priority. Despite scant natural water resources, a rapidly growing population and economy, and often hostile neighbors, Israel has consistently jumped ahead of the water innovation-curve to assure a dynamic, vital future for itself. Every town, every country, and every reader can benefit from learning what Israel did to overcome daunting challenges and transform itself from a parched land into a water superpower.

Let There Be Water: Israel's Solution for a Water-Starved World
Siegel looks at some of the policies and cutting-edge water technology that have been embraced specifically in Israel, and he examines how a land that is made of 60 percent desert has become a leading world power in water technology. As the imbalance between water supply and demand rapidly increases, the world could soon face a global crisis in energy shortages, surging food prices and economic instability. Siegel offers possible solutions for conservation development to overcome the problem of water scarcity.
Other keynotes and lectures include:

A Water Crisis is Coming. What Can the World Do to Avoid it?

The Joy of Fundraising

Trademark Licensing and Branding


Seth Siegel: Let There Be Water Keynote at Talks at Google
Businessman-turned-author, Seth Siegel relates how he learned of the impending water crisis that led him to research and write his best-selling book. Although water shortages are a growing problem, he claims that if we inform and mobilize the public, we can avoid a "Mad Max apocalyptic scenario."
Israel, he cites, is a prime example of how a society can convert this problem into a positive outcome. Although Israel is 60% desert and has one of the world's fastest populations, the country is managing its resources so well that they are actually exporting water to their neighbors. "What people want, what people focus on is what people will achieve," Mr. Siegel comments on the arid nation's accomplishment.
Seth Siegel: Israel as a Water Superpower, Discussion Panel