Top25 Speaker Voting

Scott Steinberg needs 4 vote(s) to make it into the Top 25 speakers on Speaking.com!
Speaker Booking Tip
"Tip: speakers bureaus provide added value that you cannot get by booking speakers directly. "
For Event Planners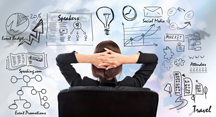 • Keynote Speaker Booking Toolkit.
• Booking a Celebrity Speaker.
• How to Find and Book the Right Speaker.
• Google+ Event Planning Forum.
• Tips for International Clients Booking U.S. Based Speakers.
Similar Speakers
O'Shea Report

Tim and Kris O'Shea are former corporate professionals in sales, training and human relations who left the corporate world to become writers and comedians. They…

Dr. Mark DeVolder

Known as "The Change Specialist," Dr. Mark DeVolder has guided some of the most high-stake transitions of recent history, preparing Colombian business leaders for the…

Dr. Bob Nelson

Dr. Bob Nelson is a leading authority on employee recognition, motivation, and engagement. Over the past 20 years he has worked with 80% of the…

It was an extreme pleasure to work with our account rep. She was friendly, flexible, and knowledgeable about all their speakers. She made the process simple. I cannot begin to put into words the impact that our speaker had on our audience. People are still taking about his presentation and his program set a standard on all diversity programs.
FDIC: Federal Deposit Insurance Corporation
About SPEAKING.com
Established in 1994, we are exclusive agents for some of the world's leading experts, celebrities and professional speakers.
We offer event planners a fully staffed speaker logistics planning team, plus a personal SPEAKING.com Account Executive – a knowledgeable and trustworthy partner. We guarantee your satisfaction with your speaker and a smooth booking process.
Contact us today to book your favorite speaker.

"Not only is Scott a knowledgeable, go-to tech guru, but he is also a PR pro's jack-of-all-trades! Thanks to his assistance, we were able to conduct a very productive and incredibly valuable consumer event for my client. I look forward to working with him again soon!"
Lisa M. Rigney, Ogilvy Public Relations
"Scott was a great chairman for our Cloud Conference and led the audience through a highly insightful and relevant discussion throughout the two-day agenda. He's professional, accurate and a real pleasure to work with."
Ravi Virpal, FC Business Intelligence
"A polished and professional speaker, Scott's ability to captivate investors and corporate leaders while making complex concepts simple has been of marked benefit to our programs."
Scott Phillips, Coleman Research Group
Get Rich Playing Games
GET PAID TO PLAY!
30 years in the making, the first book to offer everything you need to go from rags to riches in the fabulous videogame industry is here—are you ready to nail the ultimate high score? A must-have for anyone seeking a career in game art, design, audio, programming, marketing, journalism and sales! Learn how to break into the business and hit the jackpot from industry legends including Shigeru Miyamoto, Sid Meier, Trip Hawkins, Will Wright and more! Foreword by Atari founder Nolan Bushnell.
"Finally, a book that shows you how to make all your dreams come true—and make serious money doing it!"
Brian Fargo, Founder, Interplay/InXile Ent.
"Reveals the secrets of playing to win. and how to do it making great games!"
"Wild Bill" Stealey, Founder, MicroProse/Int. Magic
"A must-read. The first book on the videogame business that's both insightful and entertaining."
Ed Zobrist, President, Sierra Online
The Crowdfunding Bible: How To Raise Money For Any Startup, Video Game Or Project
Dream of launching a new product, project or startup? Wish granted! Thanks to crowdfunding, today's hottest form of investment, suddenly anyone can bring any idea or invention to life on the Internet. The world's leading guide to raising money online, The Crowdfunding Bible shows you how to launch, market and successfully run a high-tech fundraising campaign, regardless of industry or budget. It reveals the secrets to catching the media and public's eye, and attracting donors, in a language that everyone can understand. From books to films, albums, events and consumer products and video games, dive in to discover the new world of venture capital waiting at your fingertips.
FEATURES
Best Crowdfunding Sites and Services
Full Guides: How to Start and Promote Any Project
Expert Tips and Advice
PR and Social Media Strategies
Advice from Top Creators
"Every entrepreneur thinking about jumping into the wild world of crowdfunding needs to read this."
J. Jennings Moss, Editor, Portfolio.com
A popular speaker with corporate audiences, associations and organizations of every size, Scott's business speaking presentations are customized for every client. Frequently-requested topics include strategic innovation, online marketing and change management, or futurist forecaster insights into emerging markets and trends.
As a leading motivational and inspirational presenter for audiences of every level, Scott provides tailored keynotes, workshops, seminars and breakout sessions. Programs are available in 60-minute, 90-minute, half-day and full-day sessions, with optional market research and consulting services available as well.
Think Like a Startup: Tomorrow's Leadership and Management Survival Skills
Modern businesses operate in a world of infinite global competition and shrinking barriers to entry—and one where speed and savvy can trump size and scale. Discover how you can apply the principles and techniques today's most successful young startups, leaders and management teams employ to transform organizations, products and processes, grow brand awareness, and cultivate the strategic decision-making skills required to survive and thrive in the new economy. Let rivals struggle: Here, you'll learn how to better engage audiences, explore new markets and evolve your enterprise or brand to adapt to shifting trends, all while fostering the tools, talent and skills required to stay competitive in tomorrow's ever-changing environment.
Change Management: Creating a Culture of Innovation
Even the most successful modern corporations, associations and professional groups must continually reinvent their products, processes and operations to remain relevant, given the pace at which the modern marketplace evolves. You can empower both individuals and teams to more effectively embrace paradigm shifts, improve organizational learning, and boost productivity with these proven new approaches to leadership, technology and time management. Bestselling business author and consultant Scott Steinberg explains how the market's most innovative firms are embracing change management, and best practices and leadership pillars you can implement to breed a culture in which innovation thrives.
Redefining Value: How to Identify and Give Customers What They Want
With thousands of businesses and brands competing for shrinking audience awareness and limited purchasing power, the only guaranteed way to compete is to become an invaluable source for meeting customers' needs. Here, audiences learn the tools and methodologies needed to connect and communicate with increasingly savvy and more informed consumers, and reshape products, services and outreach strategies to not just satisfy, but also surprise and delight. In a world of faceless commodities, value growingly accrues to businesses and individuals that speak all customers' language, including clients, strategic partners and employees. Using the insights gained within, you'll learn to more effectively converse with all, influence perception, and enhance audience takeaway from every interaction.
Becoming Essential: Building and Maintaining Competitive Advantage
Change is the only constant modern professionals and organizations can rely on today. In this eye-opening presentation, bestselling business analyst and author Scott Steinberg explains how to avoid becoming a commodity—or worse, obsolete—by preparing you to identify and greet the challenges and opportunities which progress presents. From more powerful ways to capitalize on business intelligence and grow brand equity to developing cutting-edge products, services and customer experiences, he demonstrates how you can create and maintain a competitive edge—and effectively apply it in context.
The New Rules of Marketing and PR: Inbound Marketing, Content Strategy and More
The Internet has changed everything for modern marketing, advertising and public relations (PR) professionals. With connected audiences' attention fractured across blogs, websites, social networks, online video sites and more, suddenly, it's not just about reaching end-users—it's about creating compelling content and stories they'll actively seek out and share. Via the lens of practical, real-world examples and case studies, discover actionable promotional and content strategy solutions that businesses of every size can use to better connect and communicate—and transform the size, shape and volume of conversations overnight.
Transform Business Processes and Accelerate Growth
To remain competitive, today's leading businesses don't just need to stay paranoid: They must also remain nimble, and be able to effectively identify, research and react to emerging competitors and market trends. Want to avoid organizational paralysis or becoming trapped in a bubble? This dynamic and engaging presentation shows attendees how to more rapidly and reliably respond to potential opportunities and threats, and implement the processes, tools and procedures needed to address rising concerns. Learn from market insiders and veteran entrepreneurs how to achieve the awareness, strategic insight and flexibility needed to stay competitive, and catalyze enterprise growth.
Making Strategic Decisions: Spot and Seize Opportunity Before Competitors React
Technology, business and social change continues at a blistering clip, as entire industries and trends emerge and evolve in their wake. This powerful, informative presentation illustrates how to implement strategic planning, business intelligence and decision-making frameworks that allow organizations to identify emerging opportunities, and respond, before rivals can react. Using techniques pioneered by leading research and consulting firm TechSavvy Global, whose futurists have helped today's biggest brands anticipate and react to evolving market trends, attendees will learn how to anticipate and capitalize on new opportunities, and accelerate business growth, before rivals can even react.
Creating a Culture of Greatness: Engaging and Empowering Individuals and Teams
From executive management to marketing teams, sales representatives and customer service associates, literally every facet of your organization plays a vital role in its ongoing success. Give individuals and teams the training and skills needed to produce inspiring work, make the most of emerging opportunities and effect unprecedented change by implementing the tools, techniques and processes needed to grow and evolve in today's high-pressure environment. World-renowned analyst and bestselling business author Scott Steinberg, a strategic advisor to Fortune 500 businesses and brands, demonstrates how today's most successful organizations can foster a culture of greatness, and give their people the training and tools required to produce singular results.
Using Technology to Reinvent Education, Healthcare, Sales and Business
In a series of energetic and inspiring presentations, one of today's top technology futurists and business strategists shows modern education, healthcare, sales and business leaders how to enhance learning, improve organizational results, and boost productivity and performance by leveraging technology tools and strategies to effect positive change. Through market research, professional development techniques and practical, real-world insights, attendees (including teachers, healthcare or school administrators, and sales and marketing teams) will learn to recognize and act upon the benefits and opportunities that technology and emerging trends create. Built to empower modern professionals and educators, a range of dynamic discussions and workshops shows how to tap into the power of change and high-tech innovation to build a lasting foundation for professional advancement and growth.

Scott Steinberg: Change Management Speaker
Scott Steinberg reveals that one of the biggest mistakes people and organizations lies within how they react to fear. When confronted with hard times or dips in a brand's popularity, too often companies refuse to try new things, instead grounding themselves in the same old ways in which they've built their past successes.
Unfortunately "more of the same" is the equivalent of business suicide in a world where markets, technologies, and competitors are constantly evolving. "If you remain static while the roadmap has shifted, it's the equivalent of putting yourself in cruise control and going headlong into a tree," Steinberg relates. "Because if the path sits there in front of you and it changes suddenly, you've got to be able to react."
Scott Steinberg: Innovation Speaker
Drawing from his latest research, Scott Steinberg shares how some of the biggest companies have stayed on top of their game for various decades. He spotlights energy giant Shell. Instead of getting stuck in old ways leaders there focus on keeping alive that entrepreneurial spark that has gotten the company so far in the first place, viewing everyone in the company as an innovator.
Shell's empowerment training is built on a very simple analogy, he explains: "Teaching tomorrow's leaders that celebrating tradition is not about worshipping the ashes, but rather finding ways to constantly tend and kindle the flame."
Scott Steinberg: Game Theory - Episode 1: Reinventing the Video Game Industry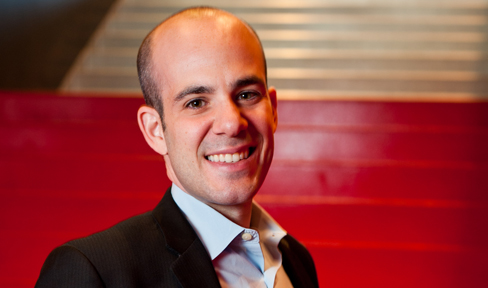 Recently named "Master of Innovation" by Chase Bank and Fortune magazine, bestselling leadership and innovation speaker Scott Steinberg is one of the world's most celebrated business speakers, futurists, and strategic innovation consultants, as seen in 600+ outlets from CNN to TIME and The Wall St. Journal. The author of recent bestseller Make Change Work for ... more