* Please note that while this speaker's specific speaking fee falls within the range posted above (for Continental U.S. based events), fees are subject to change. For current fee information or international event fees (which are generally 50-75% more than U.S based event fees), please contact us.
Top25 Speaker Voting

Scott Klososky needs 9 vote(s) to make it into the Top 25 speakers on Speaking.com!
Speaker Booking Tip
"Tip: some speakers might provide one of their popular book titles as a free gift to your audience. "
For Event Planners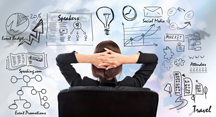 • Keynote Speaker Booking Toolkit.
• Booking a Celebrity Speaker.
• How to Find and Book the Right Speaker.
• Google+ Event Planning Forum.
• Tips for International Clients Booking U.S. Based Speakers.
Similar Speakers
Jonathan Harris

A computer scientist, storyteller, and "internet anthropologist," Jonathan Harris is known for his pioneering technique of documenting human emotions and behavior through the millions of…

Jackie Huba

Jackie Huba challenges people to express the best in themselves while teaching them effective ways to market their brand through social media, participatory culture, and…

Ann Handley

Ann Handley is a Wall Street Journal best-selling author, keynote speaker, and the world's first Chief Content Officer. A veteran of creating and managing digital…

Everyone at your speakers agency were professional and helpful throughout the process, making it easy to book, communicate, and prepare for our event.
Hewlett Packard
About SPEAKING.com
Established in 1994, we are exclusive agents for some of the world's leading experts, celebrities and professional speakers.
We offer event planners a fully staffed speaker logistics planning team, plus a personal SPEAKING.com Account Executive – a knowledgeable and trustworthy partner. We guarantee your satisfaction with your speaker and a smooth booking process.
Contact us today to book your favorite speaker.

Scott was great. I would highly recommend him. Great energy, well constructed talk, very interesting topic, extremely thought provoking."
—Jeff Burnstein, Automation Technologies Council

"Scott accomplished in very short order what many others could not ... a sense of urgency and wonder about what will a key driver for our industry - technology and the platforms to engage and connect our membership and attendees. To say that he was a tremendous hit at the MidAmerica Conference would miss the whole boat ... he gave us a massive push into doing for ourselves and our stakeholders what is needed to become better meeting professionals."
—Jim Rittenhouse, MPI MidAmerica

"Scott generated a huge amount of buzz at our conference. His "update" on the impact of internet technologies on business-as-usual had everyone stunned, stoked or scared to death! You could feel and see and hear the audience involvement due to the unique interactive presentation techniques he used. He had a crowd of people around him for 30 minutes after his speech was over. And I overheard dozens of people talking about what actions they were going to take because of having their eyes opened by Scott."
—Jack Mackey, Service Management Group

"Scott did a great job of speaking to entrepreneurs at our event! He spoke from a perspective of passion and determination about being a trailblazer in business and in life."
—Shelli Todd, Director, Oklahoma Department of Commerce

"Scott was the highest rated speaker for our Executive Leadership Conference -- with cutting-edge information that took our executives to a place they never imagined. He totally engaged the audience, was meticulously prepared and presented thought-provoking ideas that challenged what we thought we knew. I would highly recommend him for any audience looking for state-of-the-art information technology. He is an exceptional speaker."
—Debra Moss, International Franchise Association

"Your presentation was exceptionally received by our partners. Many personally told me how insightful and thought provoking your presentation was. Thank you for taking the time to not only present to our partner-group but also taking the time to prepare and personalize the presentation. On behalf of all our partners, we truly appreciate your presentation and insight on technology innovation."
—Raj Patel, Plante & Moran, PLLC

"Scott Klososky, a seasoned technology & communications strategist, presents a unique and interactive presentation that will be a catalyst for any audience to rethink their current business and personal use of technology and the internet. Klososky is a consummate professional that connects with the audience, shares relevant and practical information, and is guaranteed to deliver a home run."
—John Hurt, National Association of Dental Plans

"Scott′s willingness to tell it like he sees it has been a tremendous boost for our social technology efforts. His emphasis on process and integration with strategy has allowed us to build senior-level support within the organization and drive progress far faster than I ever expected."
—Tammy L. Nienaber, Great Clips

"Scott is a dynamic change-agent who evolves and adapts right alongside social technology. Always keeping a pulse on what's happening, he applies his savvy to sift through trends to identify what's relevant. Scott has been key in bringing our organization's social media strategy from conception to actualization."
—Erin Schmidt, BrightStar
Scott is a thought leader that specializes in helping leaders see the world in new ways. He has used innovation, velocity, and future vision to build his own companies, and to advise clients. He speaks to audiences across the market spectrum and never fails to send them home with at least three new ideas that can be applied right away. Scott is one of very few people that can translate where technology and trends are going with a high level of flair. It is also rare to find someone that has his combination of both "over the horizon" vision, and "in the trenches" experience. He is about TRANSFORMING, not informing.
Scott works with clients to provide the best possible use of stage time for impacting an audience in ways that they can take home to use in their operations. At times, that means just giving an intriguing keynote speech to send them home inspired and loaded with ideas for improvement. In other cases, it makes more sense to dive deep and provide a workshop where time can be spent discussing specific technology advancements that can be made in a specific industry.
Sales/Marketing/Advertising
Social Technologies (Social Media, Social Networking and Social Relevance)
SocialTech is the hottest trend in technology at the moment. Leaders are trying to figure out how to harness this powerful new suite of tools. In this presentation, Scott gives a top to bottom tutorial on the best practices for implementing a SocialTech strategy with impact. It is important to note that this is not a session that teaches best practices for using LinkedIn or Facebook. This is a robust keynote backed by strong graphical explanations of why SocialTech matters, and how it is changing the sales process, customer service and marketing. Areas specifically covered are subjects like online reputation management, crowdsourcing, building rivers of knowledge, and becoming industry experts.
Best Audience
This talk is perfect for executives that are struggling to learn how to use SocialTech. It also plays really well with marketing, advertising and sales professionals.
Position in the Event
This talk is best positioned when a meeting planner needs something that will have real take-home value for an audience. It can be anywhere from a one hour keynote to a four hour workshop.
Trends & Technology
Trends, Technology and Taking the Lead
Technology is simply a tool, but in the right hands, it can almost be magical in its ability to give us new capabilities. For this reason, it is critical to understand how technology can be fully leveraged in order to drive top-line revenues, or lower bottom-line costs. This is a talk that is both thought provoking and practical. Scott combines highlighting a few new trends that people might be aware of, and adds a few over the horizon trends that are completely new. To this Scott adds the delivery of practical technology tools, or concepts that can be used as soon the attendees get back to the office. In the end with a fast paced and entertaining style, Scott creates context for many of the words and concepts that they have heard about but cannot really apply just yet.
Best Audience
This is a general talk that works for any audience. Scott will customize this talk for the industry he is speaking to so that the trends discussed are specifically appropriate for the listeners.
Position in the Event
This talk can be constructed to be a good opening session, or tweaked to be inspirational and a great send off at the end of a conference. It can be one to three hours depending on how many concepts Scott covers and how deeply he goes into each thought.
Futurist/Strategy
The Technology Integration of Man
As human beings, we are in the middle of an era where technology is systematically integrating more and more into our lives. The role that technology is now playing has a huge impact on our quality of life, and our careers. The impact of technology over the next 50 years and how it will integrate into our lives and even into our bodies will be staggering. This presentation examines ten steps in which technology will integrate into our lives. Executives will be able to take the futuristic views and apply them to their current strategies.
Best Audience
This talk is best targeted at executives that think they have heard it all, or general audiences that hear lots of speakers every year.
Position in the Event
Because this talk is meant to be very thought provoking, it can be used as an opening speech to get people thinking, or as a change of pace in the middle of a conference. It is best delivered between ninety minutes to two hours.
Global Change/Thought Leadership
Did God Invent the Internet?
One of the most speculated questions people (especially parents) have about technology is how it will impact us as a human race. Will all these new digital tools be good or bad for us over time? What is it doing to us today? This is also a very thought leading speech meant to get people thinking big thoughts, such as, what will happen to the coming generations as they are augmented heavily with technologies their parents did not grow up with. How will organizations change as they become more virtualized and people communicate more and more through, and with, technology?
Best Audience
This is clearly a talk intended for an audience that has heard lots of speakers and is looking for something new. This plays well with any level of participant because it applies to both their work life and home life. This talk really benefits from the use of wifitti.com so that audience members can communicate with Scott by text message right to the screen.
Position in the Event
This presentation needs to be used as a change of pace in the middle of an event, or at the end of the event to send people home with some big thoughts about how technology is impacting them. It can be delivered in a one-hour to two-hour format.
Leadership
A Technology Infused Leader
There are thousands of leadership books out on the market, and what all of them seem to be missing is any discussion of what a leader now needs to know about technology in order to be effective going forward. We have a plethora of Baby Boomer and Traditional generation leaders that did not grow up with technology and really have no idea how to leverage it or manage the people that do. This talk is a very practical discussion of a handful of new concepts and ideas for what a leader now must be able to do well in order to lead effectively in the information age. This includes a better ability to see into the future, leverage technology holistically as if it were digital plumbing, and mature the institutional culture of the organization so that the younger technology savvy generations can prosper.
Best Audience
This session is specifically targeted at the C-Suite and executives. It is best delivered to high level people that are open to learning new ways of leading, and that understand that they must continue to grow in order to be effective leaders.
Position in the Event
This keynote can be presented anywhere in a conference because it can be easily adjusted to be more entertaining, or inspirational for an opening session or closing session. It can also just be one of the middle keynotes and be used as useful and practical content to create meaningful value to executives seeking enrichment. It is best delivered for at least one hour, and not more than ninety minutes.

Big Data Speech Excerpt
Scott Klososky talks about Big Data and the new Age of Information we live in today.
Quotes from the speech:
"I want you to understand what it means as a leader to be on kind of the "Big Data" journey. Because for all of us who are leaders, for the rest of our careers now, data—specifically the moving of data to information, to knowledge, to wisdom— is going to be a huge part of being a leader. And so it's important to understand what does that journey look like? The more data you have, the more concisely you are able to see the truth, as long as you don't slip over into data obesity."
"What do you think is happening with young people today, who can look up every fact in an instant on a device? What's happening is that they're getting stuck in an information chasm where they have massive access to information, but they're not translating it into knowledge. Because they don't have to, they can get any piece of information they want form a device in an instant if they want too. They're being trained in an entirely different way from previous generations."
Extended Speech Excerpt
TEDx Talk
Keynote Speech