Top25 Speaker Voting

Scott Duffy needs 10 vote(s) to make it into the Top 25 speakers on Speaking.com!
Speaker Booking Tip
"Tip: ask your speaker to do a book signing or attend a VIP meal with your guests. "
For Event Planners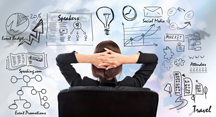 • Keynote Speaker Booking Toolkit.
• Booking a Celebrity Speaker.
• How to Find and Book the Right Speaker.
• Google+ Event Planning Forum.
• Tips for International Clients Booking U.S. Based Speakers.
Similar Speakers
Daniel Levine

One of the world's leading trends analysts, Daniel Levine heads an international team of over 9,000 trend spotters who research and chronicle the latest ideas,…

Kevin Lane Keller

Dartmouth professor and researcher, Kevin Lane Keller is an international leader in the study of brands, branding, and strategic brand management. Actively involved with industry,…

Pete Blackshaw

Originator of the term "consumer generated media", Pete Blackshaw has worked in marketing, government and as an entrepreneur; he knows firsthand the importance of branding…

My Account Executive was able to work within my quick turn around time and price limitations to find the perfect speaker for the job. Although I thought finding and booking a speaker for our sales meeting would be the most difficult part of the planning process, your agency made it the easiest.
Ales Group USA, Inc.
About SPEAKING.com
Established in 1994, we are exclusive agents for some of the world's leading experts, celebrities and professional speakers.
We offer event planners a fully staffed speaker logistics planning team, plus a personal SPEAKING.com Account Executive – a knowledgeable and trustworthy partner. We guarantee your satisfaction with your speaker and a smooth booking process.
Contact us today to book your favorite speaker.

"Scott inspires you to LAUNCH! And take your life to a whole new level!"
– Les Brown, Best-Selling Author & Speaker
"Scott's ability to connect with his audience is unparalled. His passion and genuine drive to help others grow is infectious."
– Nicole Hurd, Founder National College Advising Corps Brian-Tracy
"Modern day fundamentals for building a great business."
– Brian Tracy, Best-Selling Author, Speaker Gene-Landrum
"One of the most impactful speakers you will ever hear."
– Gene Landrum, President & Creative Force, Chuck E. Cheese Kalika-Yap
"There are few people in this world that are as passionate about Entrepreneurship as Scott Duffy. His authenticity and enthusiasm resonated through the entire room."
– Kalika Yap, CEO & Founder of Citrus Studios, Inc.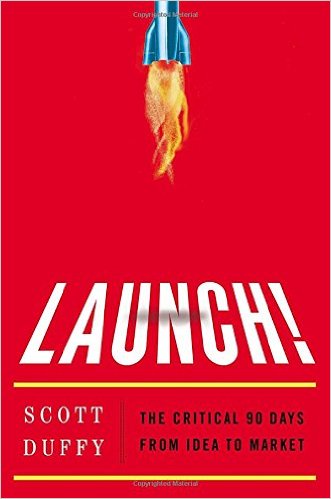 Launch!: The Critical 90 Days from Idea to Market
WANT TO GET YOUR BIG IDEA TO MARKET? In 90 days, you can successfully launch a new business, product, or service by following the steps in this playbook.
Ninety-seven percent of a rocket's fuel is used in the first three feet of its launch. The same is true when launching a new business. These first few steps are absolutely critical and help determine which ventures will take off and which will fail.
Scott Duffy has developed a practical approach for turning your big idea into a thriving venture by focusing on the crucial period of 90 days immediately before, during, and after starting your business. Based on his own experiences as a successful serial entrepreneur who has worked with Richard Branson and Tony Robbins—and true stories of other big names in business—Duffy has collected all of the lessons you need.
Duffy also emphasizes the personal side of entrepreneurship, including balancing finances, relationships, and your health. Successful business endeavors depend on preparation and execution of these two key sides—and Duffy provides real-life examples and practical guidance for both.

FROM TONY ROBBINS TO RICHARD BRANSON
"Keys To Building An AMAZING Business"
A behind the scenes look at how to think big, build amazing products, increase revenue and profits, and build a great business. Scott shares his personal experience launching businesses inside big brands and as a bootstrapping entrepreneur.
DAVID IS THE NEW GOLIATH
"What Big Businesses Must Do To Compete in an Entrepreneur Economy"
Big business used to have every advantage. Barriers to entering a market were often too high for many would-be entrepreneurs. But those days are over. Today's entrepreneur can move faster, get closer to customers, and build better products. In DAVID IS THE NEW GOLIATH, Scott will share what it takes for big business to succeed in the entrepreneur-based economy.
LUCK!
"How To Be More, Do More, Have More Than You Ever Thought Possible"
Is the secret to success being smarter than everyone else or just plain lucky? LUCK! Is the story of Scott's personal journey – from pawning his possessions to pursue his dream, to sleeping in his car, to selling his business to Richard Branson's Virgin Group. LUCK! Is an inspirational and straight from the heart conversation about what it takes to "get lucky" and create the life of your dreams.

Scott Duffy: Speech Excerpt
Entrepreneurship keynote speaker, Scott Duffy shares how he learned his most important business lesson from none other than 80's rapper, M.C. Hammer. While at conference on the big island of Hawaii, Duffy was placed on a team with former Twitter CEO, Dick Costolo; Silicon Valley icon and technology journalist, Sarah Lacy; and famous venture capitalist, Bill Tye. The group had to spend a day traversing the island and solving different written "clues" that they found along the way. "With all of this brain power there is absolutely no way that we can't win," Duffy recalls thinking to himself - before he discovered that the last person on their team was M.C. Hammer.
When Duffy and most of the team were racking their brains over the first clue, Hammer stayed mostly on the sidelines enjoying the beach and chatting on his phone. The team politely asked him for help, so Hammer casually read the paper one time and gave the group a set of instructions that turned out to be the solution. The scene repeated itself for every clue: the group members would agonize over details for 20 minutes and then Hammer would step in, solving everything after a single read through.
Later that night back at the hotel, Duffy asked Hammer how he'd manage to figure out every clue so easily. Hammer laughed, noting that "all entrepreneurs are the same." "'This is where you start and your goal is over here,'" the rapper illustrated. "'Somehow you figure out a way to make everything so complicated in the middle. I live my way by one very simple philosophy. I always find a way to the simplest path first.'"
Scott Duffy: Speech Excerpt 2
Scott Duffy: Speech Excerpt 3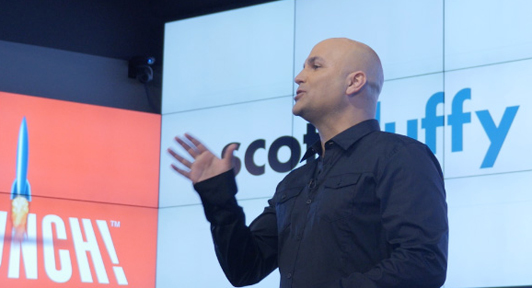 One of the most popular entrepreneurship and business keynote speakers in the world, Scott Duffy has had the rare opportunity to learn from some of the most brilliant innovators and business professionals working today. He started his career working with Tony Robbins, has partnered with Sir Richard Branson, and has helped launch CBSsports.com, NBC Internet, ... more