* Please note that while this speaker's specific speaking fee falls within the range posted above (for Continental U.S. based events), fees are subject to change. For current fee information or international event fees (which are generally 50-75% more than U.S based event fees), please contact us.
Top25 Speaker Voting

Scott Deming needs 8 vote(s) to make it into the Top 25 speakers on Speaking.com!
Speaker Booking Tip
"Tip: speakers bureaus provide added value that you cannot get by booking speakers directly. "
For Event Planners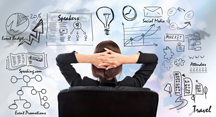 • Keynote Speaker Booking Toolkit.
• Booking a Celebrity Speaker.
• How to Find and Book the Right Speaker.
• Google+ Event Planning Forum.
• Tips for International Clients Booking U.S. Based Speakers.
Similar Speakers
Ted Rubin

Ted Rubin is a leading social marketing strategist, keynote speaker, brand evangelist and acting Chief Marketing Officer of Brand Innovators. Ted began his online career…

Catherine Kaputa

Always a woman with a plan, Catherine Kaputa has helped people from all walks of life to brand and market themselves effectively. She has proven…

Olivia Fox Cabane

Author of The Charisma Myth: How Anyone Can Master the Art and Science of Personal Magnetism, Olivia Fox Cabane is an executive coach to the…

I just wanted to send a quick follow-up note to say – THANK YOU! I appreciate your partnership, and perseverance in helping us to find the right speaker for our group. Our speaker was absolutely excellent! The group loved him; it was perfect.
DeVry Education Group
About SPEAKING.com
Established in 1994, we are exclusive agents for some of the world's leading experts, celebrities and professional speakers.
We offer event planners a fully staffed speaker logistics planning team, plus a personal SPEAKING.com Account Executive – a knowledgeable and trustworthy partner. We guarantee your satisfaction with your speaker and a smooth booking process.
Contact us today to book your favorite speaker.

"My staff and my client found your presentation to be uplifting and amazing. More importantly, we received rave reviews from the client on our excellent choice in presenters.
We thank you sincerely for your amazing performance, as we look forward to working with you in the very near future."
Kim M. Kramer, Founder and CEO, Schering-Plough Corporation
"Your repeat performance was a bigger hit than the first one! Fantastic! Thank you for involving so many of our customers and guests. They all had a ball on and off stage with you.
Thank you again for making our event the best ever. You'll be hearing from us again!"
Ellen Zorn, Senior Sales Representative, Okidata
"I want to thank you for the presentation you delivered at our annual national sales meeting. The way you mixed our new color launch business goals with your psychic effects was brilliant. I've been in this business for a very long time and I can say with all honesty, the entertainment factor coupled with the corporate messaging made this one of the most effective and memorable meetings we've ever had.
Again, thank you for the incredible presentation."
Joe DiMartino, Senior Marketing Manager, United Technologies Carrier
"Scott, you came highly recommended, but after witnessing your presentation and hearing the rave reviews from the dealers and Carrier's management, we had to have you at the rest of the corporate meetings across the country.
I know traveling coast to coast over a two-month period wasn't easy. But you have to know just how much it meant to Carrier to have you deliver our sales and marketing information in a way that no one will soon forget. Your branding and marketing expertise combined with the most amazing stuff I've ever seen was a home run! Thank you for your incredible presentation."
Jim D'Agostino, Vice President, McLane Corporation
"Superb! The show you did for our national sales meeting two years ago was a hit, and this one didn't fall short of our expectations either. With so many vendors from all over the country, all in one room at the same time, we needed to knock their socks off… and you did just that.
I want to thank you for being so great to work with and so incredible on stage. People haven't stopped talking about it yet."
Ron Lyman, Vice President, GlaxoSmithKline
"Thank you so much for understanding our audience and our mission. I really believe we sent our customers away that evening educated on our products, amazed by your presentation and happy with the entire event."
Wayne Irons, Senior Sales Executive, Northwestern Mutual Life
"Unbelievable, amazing, mind-boggling! Did I use enough superlatives? Best of all, what fun! I mean it. The entire group had an absolute blast. Everyone is still talking about it. It was really something the way you had everyone gasping one minute and laughing until it hurt the next."
John G. Kinney, Suburban Propane/Agway Energy Products
"I must tell you how effective and memorable your presentation to our field sales and management really was. The messaging was passionate, meaningful and full of great content. Unforgettable!"
Pete Arvan, Director of HVAC Operations, CXtec
"I want to thank you for the presentation you delivered at our annual sales awards banquet. The reviews have been great! Your timely injection of humor and mental miracles, with a solid business message was truly unique and memorable. We're glad we found such a powerful presentation and presenter for this all important event."
Peter E. Belyea, Vice President Business Development, Empire Vision Centers
"Your series of branding and customer experience presentations were better than anyone ever expected. The reviews from all of our associates, from doctors to lab technicians to customer service personnel have been extremely positive. You have successfully conveyed our company mission and message to all of our associates in a most unique, entertaining and memorable way. Mixing your psychic entertainment in with the business messaging really set you apart from other speakers and made this a truly successful program.
Thank you again from the entire team at Empire Vision Centers."
Alan Thrower, Sr. Vice President
Partial Client List:


3M
American Advertising Association
ACE Hardware
Blue Cross Blue Shield
Carrier Corporation
Cargill
Centurion Jewelry
GlaxoSmithKline
ITT Industries
John Deere
Kodak
Mosaic
National Association of Chain Drug Stores
New York Association of Convenience Stores
Panasonic
Prudential Financial
Royal Caribbean International
Time Warner
USAA
Verizon Wireless
Wachovia
Wells Fargo First Allied
Powered by Purpose: Identify Your Values, Discover Your Purpose, and Build Success for Life!
A rousing call to transform your business through the power of values and purpose
According to consultant, coach, and speaker Scott Deming, you and your company, your foundation, or any organization you belong to have the power to truly affect change, but too often you focus on policies and procedures instead of values and purpose. And without values and purpose, your power and your ability to influence go to waste or even become destructive.
Deming developed a philosophy from his earliest days as an advertising and marketing executive that was based on three core values his parents taught him: honesty, integrity, and respect for humanity. From that foundation, he realized his purpose: to help businesses—big and small, old and new—create lasting, meaningful brands by focusing on what matters most to them and to those they serve. His love of business—the fact that someone can have an idea and use passion, smarts, and hard work to make a go of it—propels his drive to return you and your organization to the right formula for success: viewing values and purpose as the essentials.
Powered by Purpose deftly integrates conceptual knowledge with case studies and Deming's firsthand experiences. The result is an engaging work that shows you how to identify your values, declare your purpose, surround yourself with others of like mind, and then communicate that purpose to the world in a manner laced with emotion, relevance, and intrigue.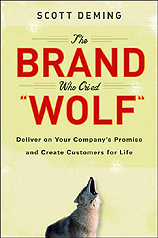 The Brand Who Cried Wolf
Deliver on Your Company's Promise and Create Customers for Life
If you're in the business of selling something—anything!—you need this book. The Brand Who Cried Wolf is the ultimate handbook for companies and individuals who want to establish and sustain their most powerful, successful brands. It presents a blueprint for turning typical customers into raving evangelists for life.
If you're looking for insider secrets or fancy tricks guaranteed to lure customers, you won't find them in here. Instead, The Brand Who Cried Wolf explains that great branding doesn't come from gimmicks or even from good advertising. Great branding begins and ends with exceptional, innovative customer service. Great companies are those that not only deliver on their promises to customers, but also transcend those promises to create one-of-a-kind emotional experiences.
Powerful branding doesn't come from creative advertising, or from a logo, color scheme, or theme song. It comes from doing for customers what you say you're going to do. Brands that don't deliver on their promises lose customers and generate catastrophic negative word-of-mouth. But brands that consistently exceed what they promise earn customers for life and generate waves of new customers from positive word-of-mouth. The art of branding really is that simple.
Using children's fairy tales to introduce each chapter and illustrate his point, Scott Deming offers a solid, simple, and highly effective plan for successful brand-building and customer interaction.
Emotional Brand Building Equals Sustainable Success!
Deliver the Ultimate Customer Experience and Create Customers for Life!
"What do people think of when they see or hear your name? Think about this question very seriously. In other words—How Powerful is Your Brand?" This is the question Scott Deming asks his audiences. Then, he shows them how to create the most loyal customers and the most powerful brand in their industry.
Scott Deming's "Emotional Brand Building and Ultimate Customer Experience" presentation breaks all boundaries of the typical customer service or brand building processes and dispels the popular yet incorrect thinking that Advertising and Marketing lead to powerful, emotional brands. He takes his audiences on a fast-paced, high energy journey through the six critical steps to creating the ultimate customer experience and building their powerful, emotional brand. Scott Deming inspires each and every attendee to turn a typical customer into an Evangelist! And as he says—"It is these evangelists who will take you to the Promised Land."
Mr. Deming's six step "Ultimate Customer Experience and Emotional Brand Building Process" includes:
Who Are You? What do you do, what do you sell? Critical and not so simple questions to get the audience thinking about their business. A five to ten minute exercise to see how every participant describes their business and their brand.
What's Your Brand? What do people think of when they see or hear your name? How does your customer currently perceive you and your brand power?
Your Products and Services Merely Get You in the Game. A killer discussion and exercise that proves your stuff does not make the sale. Your service makes the sale and the ultimate customer experience is what keeps them coming back.
What is an Experience? Here Scott helps his audiences to really understand the difference between a typical service and an uncommon, innovative and emotional experience.
Create the Ultimate Customer Experience. By focusing more on relationships and less on features and benefits. Here Scott presents what he calls—"The Secret to Life" as he shows the attendees how to look at their lives from a completely different perspective. This segment also shows companies and individuals how focusing on relationships and creating loyalty takes "Price" out of the equation. Customers are buying on value and trust, not price.
The Ripple Effect! A powerful and humorous lesson on "You never know who you're dealing with and what the outcome of that interaction is going to be."
One magazine called Scott Deming's brand building process "Moral Principles for Effective Customer Service." Learn how you can create the Ultimate Customer Experience and turn every customer into a loyal evangelist for life!
Understanding and Managing Change
Techniques for dealing with generational perceptions and other employee attitudes
Due to the ever growing accessibility to instant messaging, text messaging and emailing from computers and Blackberry's, most of today's workforce is losing their verbal and personal communications skills. They rely so heavily on the one-sided, static form of electronic communications that they forget there's a person on the other side of the message that may be misinterpreting their thoughts, questions, instructions, etc. With one simple stroke of a key and push of the send button, entire communications may become misunderstood, unclear and ultimately acted upon incorrectly. Assumptions and mistakes are made, resentment builds, the trust factor deteriorates and any chance of a relationship and a brand building process is destroyed.
A person is hired by an organization and thereby given a title, salary and job description. When asked to help out in another area, or when told their position has been eliminated and they are now being moved to another position, they are crippled with confusion and uncertainty. "I thought THIS was my job?" "What now?" "Why?" "This isn't what I was hired for."
These and many other "changes" in the workforce must be addressed. A clear, simple and effective communications process must be implemented in order to deal with generational change, technology change, customer expectation change, job change and more. Scott Deming's twenty-plus years of national advertising agency ownership and business consulting with multi-national, publicly traded companies, as well as small, independently owned entities has given him the experience and expertise to effectively deal with these issues. As part of the "Brand Building" process, it is imperative that management understands the techniques for creating an environment that welcomes and correctly manages change.
One Team—One Brand
Leadership essentials for creating the ultimate employee environment
This is where it all comes together! Great branding comes from turning typical customers into loyal, lifelong evangelists. Customers are transformed into evangelists by delivering unique, emotional, one of a kind, unexpected customer service. But make no mistake—great customer service starts from the inside, and ultimately starts at the top.
In this powerful, interactive program, leaders will better understand how to effectively communicate, motivate and empower their people to work together toward one common goal—a goal that they not only understand, but whole heartedly believe in.
Everything from water cooler conversations to staff meetings to email communications to phone tree hell to customer relations begins and ends with effective management and team building skills. Some managers have it, most do not. It's not a matter of intellect or education. It's a matter of understanding and implementing.
Learn how to attract and keep the "best" employees. Learn how to motivate "everyone" to have the passion to serve. Learn how to create the "One Team—One Brand" environment that will make you more than just another choice to your customers. With this process, you'll become "The Only Solution."
The Art of Communication
Communicate with Clarity and Create Relationships that Last!
Did you know that the number one reason ALL relationships fail is because of a lack of or breakdown in communication? Marriages, lovers, father and son, mother and daughter, best friends, business partners, managers and their employees, businesses and their customers—every relationship that fails does so because of poor communication skills.
Poor communication or miscommunication destroys any chance for a meaningful relationship. No relationship—no chance for loyalty and evangelism from your colleagues and customers. No loyalty and evangelism—no chance for a powerful, sustainable brand. No brand—NO CHANCE FOR SUCCESS!
Why do we communicate so poorly? How can we communicate better and greatly improve our chances of creating the types of relationships that lead to lasting success?
Take part in Scott Deming's "The Art of Communication" program and learn the simple, fool-proof methods and processes for developing effective and life changing communication skills.
You'll learn how to:
Eliminate Assumptions
Set clear expectations
Encourage questions
Ask the RIGHT questions
Communicate with clarity
Build stronger relationships
Manage people
Manage situations
Achieve sustainable Success!
Scott Deming: Promotional Video of Various Keynote Presentations
"The formula for personal and professional sustainable success lies within our ability to create the most powerful, emotional, relevant - but this is the most important part - one-of-a-kind unexpected brand." Scott Deming debunks the idea that marketing and awareness of a company are the key factors to sustainable success, proclaiming that the most important thing is your product line's originality along with the psychological response it elicits.
Keynote Speech
Scott Deming illustrates his concept of "a brand who cries wolf," a company that loses credibility because it lures customers with promises of experiences or services that it later fails to fulfill. He details what organizations can do to create the opposite effect. "If you create a unique enough experience for your customer, they're not only going to want to come back; they're going to want to go out and be an evangelist on your behalf."
Scott Deming: Keynote Speech
Scott Deming: Motivational Keynote Speaker and Customer Service/Branding Expert
Keynote Speech Clip