Top25 Speaker Voting

Scott Amyx needs 7 vote(s) to make it into the Top 25 speakers on Speaking.com!
Speaker Booking Tip
"Tip: speakers bureaus can provide: speaker fee negotiation, insurance, smooth logistics and value add-ons such as extra sessions. "
For Event Planners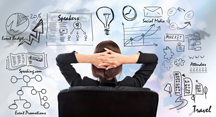 • Keynote Speaker Booking Toolkit.
• Booking a Celebrity Speaker.
• How to Find and Book the Right Speaker.
• Google+ Event Planning Forum.
• Tips for International Clients Booking U.S. Based Speakers.
Similar Speakers
Terry Jones

Founder of Travelocity.com, Terry Jones has a proven track record of leading companies that have revolutionized their industry. The former travel agent practically put travel…

David Meerman Scott

With extraordinary career experiences ranging from working as a male model in Japan to advising the archive of the Grateful Dead, David Meerman Scott brings…

Dom Sagolla

Dom Sagolla is co-creator of Twitter and author of the groundbreaking 140 Characters: a Style Guide for the Short Form, the first writing style guide…

Your speakers bureau was a tremendous resource for the NHL as we planned and executed our NHL Club Business Meetings. Their assistance with securing our keynote was invaluable. They provided detailed information in a timely manner which was crucial to the success of the event. The execution was seamless!
National Hockey League
About SPEAKING.com
Established in 1994, we are exclusive agents for some of the world's leading experts, celebrities and professional speakers.
We offer event planners a fully staffed speaker logistics planning team, plus a personal SPEAKING.com Account Executive – a knowledgeable and trustworthy partner. We guarantee your satisfaction with your speaker and a smooth booking process.
Contact us today to book your favorite speaker.

"Scott spoke at our conference on localization that had a theme of Internet of Things. He brought a lot of information, enlightening stories and eye-opening facts to our audience. He showed an incredible in-depth topic knowledge, yet the way he presented the information made all that data easy to understand and digest. Scott's friendly style both on and off the stage made us all comfortable and ready to learn more. I highly recommend him as a speaker."
- Donna Parrish, Publisher, MultiLingual
"It was great working with Scott Amyx at this years' IoT World and IoT Security shows where he provided some great insight into IoT technologies, the wearables markets; and securing IoT networks through managed PKI certificates! His presentations were engaging and comprehensive and we look forward to continuing to work with Scott moving forward."
- Dominie Roberts, Conference Manager at Informa
"As a conference organizer, we look for people who are on the forefront of industry. When we started out on a journey to put together the Wearables + Things conference, we immediately found Scott Amyx through his writings at Wired Magazine.
Scott is not only willing to dig in and do his homework on an industry, he's excellent at articulating the opportunities and challenges that lie ahead. And he's equally effective in writing and in person.
We also asked Scott for recommendations about others who should be involved and he was more than willing to provide input and introductions. Scott is not only smart on the Mobile, Wearables and IoT industries, he's enjoyable to be around. I highly recommend getting Scott involved in your events or projects as a reliable resource to improve outcomes."
Pete Erickson, CEO / Founder of Modev and Disruptathon Conferences
"Scott Amyx was a delight to work with leading up to, during and after Wearables TechCon. He went above and beyond just speaking at his session "Affective Computing and Sentiment Analysis in Wearables," which drew over 35 attendees early in the morning. He graciously volunteered to be a panelist on "Visions: The Future of Augmented Reality Devices" and even offered to help promote the show on Examiner. With all the little extras, combined with fantastic comments on his presentation from feedback collected at the show, I would be thrilled to work with him again on future shows."
Katie Serignese, Director of Conference Programs at BZ Media Conferences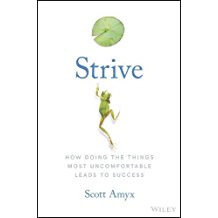 Strive
Scott's feature Wiley book Strive is scheduled to come out in late 2017/ early 2018. Find out how doing the things most uncomfortable leads to success. Pioneering thought leader Scott Amyx shows anyone striving to succeed, regardless of who or where we are, what we do or have done for a living, or how young or old we are, that the secret to outstanding achievement is not talent but doing the things uncomfortable he calls "strive".
Drawing on his own powerful story of an impoverished immigrant frequently told that he would mount to nothing, Amyx, now a celebrated venture capitalist and futurist, describes his meteoric rise from obscurity to prominence, which led to the hypothesis that what really drives success is not intellect, opportunities or even network but pursuing personal change that's uncomfortable. In this book, Scott takes readers into his defining life moments and stories from some of the most unlikely individuals who persevered through change to become outrageously successful. He also mines fascinating insights from history and shows what can be gleaned from modern experiments in high performance.
Finally, he shares what he's learned from interviewing dozens of high achievers—from corporate CEOs, unicorn startup entrepreneurs to global policy leaders. Strive shows how you can shape your life and your career, a life of fulfillment and joy, constantly creative and productive, one that always holds the possibility of delightful surprise.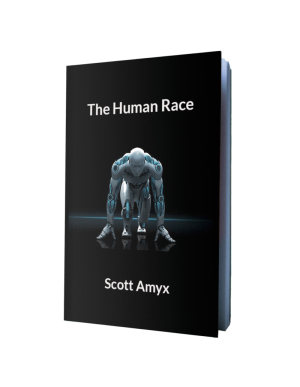 The Human Race: How Humans Can Survive in the Robotic Age
Scott's second feature book The Human Race: How Humans Can Survive in the Robotic Age is scheduled to come out in 2018. Scott explores the imminent net job loss from artificial intelligence, robotics, and the Fourth Industrial Revolution and its impact on income inequality and rise in populism and nationalism that are sweeping across the globe. He explores the advantages and disadvantages of basic universal income.
Scott emphasizes the need to pursue job training and labor force development in human to human services that leverage our ability to empathize with the human condition. The empathy business models and services will become the bedrock of post Fourth Industrial Revolution.

How to Gauge the Business Impact of New Technologies and Market Trends
Products and companies don't become obsolete overnight; they simply bleed to death, unable to reverse their downward spiral. Scott Amyx offers a framework for analyzing the implication of emerging technologies to your product strategy helps you to apply critical thinking to a nascent yet potential game changer. Prepare your company in the best way possible now.
How Wearables & IoT Are Reshaping Customer Engagement.
The rich, multi-modality data collected across wearables and IoT (smart watches, jewelry, clothing, clip-ons, connected cars, smart homes, industrial things, etc.) enable an intelligent ambient computing assistant, working symbiotically with your body area network and the broader Internet of Things environmental sensors.
From knowing when you are stressed and fatigued to what you're interested in the moment, using multiple facets of Artificial Intelligence, we can start to automatically determine your context, reaction, interest and cognitive load. After all, understanding how we perceive is often the driver to our decisions, behaviors, habits, and attitudes. Implications are significant from sales, marketing, advertising, customer service, healthcare, entertainment to even preserving one's most important moments in the form of physiological signatures associated with your emotional highs.
The 10x Potential of Wearables & IoT to Transform Advertising & Marketing
We as marketers are working with soft metrics for brand affinity, favorability, brand recall and engagement. How can we achieve brand metrics without hardening our numbers?
Real-time hard metrics on emotional and cognitive brand engagement frankly have not been readily available for marketers up to this point, until now. Thanks to new advancements in wearables and IoT, there is an opportunity to quantify and harden metrics on brand engagement, thus enabling 10x campaign optimization. Accurately target products and services in the right context, right time, right place, right frame of mind and right state of emotion
How to Create the Next Billion Dollar Opportunity in Wearables & the Internet of Things
This presentation provides a practical framework to systematically develop the next billion dollar wearable and IoT opportunity that leverages your company's core competencies.
Wearables to Transform the Office
3D virtual reality glasses with its 3D stereoscopic display, LCD field of view, RGB camera, infrared depth camera, three-axis accelerometer, gyroscope, compass, and spatial controls, these have the potential to handle business productivity applications in thin air. This eliminates the need for a laptop and desk, even an office. Your environment can become virtual. Work can take place anywhere.
Can Wearables Help You Reach Immortality?
The ramification of wearables and the Internet of Things are far greater just enabling sensor data and communication between people, objects, and machine-to-machine. It has the potential to extend life itself. At some point in the future, with all this exhaustive data set of your every moment, encounter, and physical responses, science may be able to stitch the video stream with physiological data to transfer to a new body, perhaps a human clone of yourself developed from your DNA or a robotic substrate.
The Humanization of Residential and Commercial Buildings
Wearables and the Internet of Things are not simply changing the landscape of smart cities but awakening the buildings themselves.
The advent of wearables and IoT coupled with application of AI/ machine learning are fundamentally changing the way we interact with physical objects around us, including buildings. Digital signage, AR/VR and intelligent content will cross over to smart residential and commercial buildings with integration of 3D avatars + natural language process (NLP) + gesture control & recognition + human emotion recognition to bring buildings to life. The personification of physical buildings opens up entire new opportunities and business models.
Wearables & Artificial Intelligence To Extend Enterprise Capabilities
Cloud ERP systems are about to become smarter, enabling higher worker productivity, organizational efficiency and revenue generation. AI-based ERP systems, working symbiotically with smart wearables, will help identify business opportunities, profile meeting participants, take notes, document decision criteria, update opportunities, and create action items on behalf of users to accelerate sales velocity. Employees will use intuitive gestural, eye-tracking, and mind-based means to generate content and access and manipulate information while computer vision, voice analysis, and physiological sensor data relayed to the ERP machine learning system can evaluate participants' facial gestures, body movements, voice, and biometrics for non-verbal signals and congruency between what was said and how they really felt.
Integrating mHealth into the U.S. Healthcare System
mHealth-capable devices will penetrate user/patient data demand and make hospital operations a more efficient hub for the consumer, providing a better method and level of communication between providers and patients. Rather than relying solely on office visits, physicians who apply mHealth to their practice will easily monitor patients and engage with them wherever and whenever needed.
mHealth companies will transform the world of fitness apps and calorie trackers into customized, quantified, and health-oriented solutions for patients, providers, and physicians. As physicians acclimate to the mHealth movement and use mHealth tools to guide their patients, we will witness a healthcare revolution. Investors and businesses that can keep ahead of this trend are sure to capitalize on the opportunity.
Best Practices for Designing Mobile Apps Series
With any good problem solving the first and the most important question that we should ask in developing a mobile app is what is the problem that the user is trying to solve? Perhaps the user is trying to view their balance in their checking account before making a big purchase to avoid an overdraft protection fee or a sales executive needs to know the latest sales pipeline status with a prospect before an onsite meeting.
Framing up the problem properly is a critical component to an app's success. Conversely, getting the problem wrong could mean the death of the app even before being launched. Understanding the who and why are fundamental to correctly framing up the context that will drive the mobile app design and development.
How to Design Mobile App Experience for Success: Mobile Flow Mapping
When it comes to creating a mobile app, many organizations jump right into wireframes, thinking that wireframes will solve all their design decisions. Though wireframes are not costly as outright iOS or Android development, if created in the absence of user personas, user journey, and mobile flow map, it's potentially a time-consuming endeavor that could yield the wrong conclusion.
An important prerequisite before embarking on wireframes is a mobile flow map. Mobile flow mapping is an efficient and cost-effective means of vetting out the interaction data flow of your mobile app. In this article, I will walk you through the logical progression of developing a mobile flow map, starting with examination of uses cases to zeroing in on the most compelling, bite-size use case to solve with your mobile app and then visualizing the organization of a mobile app through flow mapping.

Scott Amyx, Keynote Speaker at Wearables and Things Conference
Scott Amyx, expert on wearables and the Internet of Things, reveals the exciting, sometimes surprising and liberating effects of wearable technology. He explains to his audience, "With the expected projection of IoT (Internet of Things) sensors and wearables we can anticipate that people like yourselves and other executives and entrepreneurs will question the current paradigm; they have to."
Looking into a future that has radically different implications for commerce, personal communication and security, Scott tells us, "Researchers are going to continue to explore approaches that either run in parallel or bypass the Internet altogether by facilitating this peer-to-peer communication between a wireless sensor or clusters."
Scott Amyx Speaking at Wearables TechCon: Affective Computing
Scott Amyx Speaking at Global IoT Conference on Open Source Technologies
Scott Amyx Speaking on a Panel at IBM Amplify on Internet of Things
Keynote Speech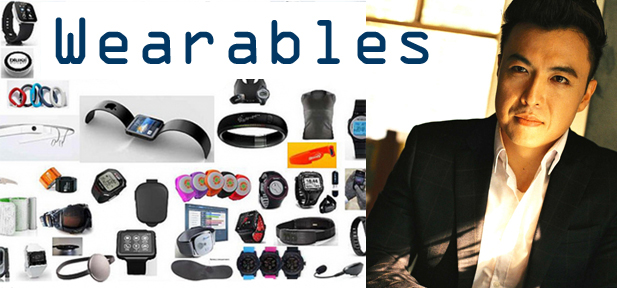 Amyx+McKinsey is a company specializing in strategy and development of wearable technology, of which Scott Amyx is founder and CEO. The recognized thought leader in the direction of smart wearable computing, Scott has an unrivaled insight into the development of e-commerce around this particular area of computers and the Internet. Scott's views have appeared in ... more