* Please note that while this speaker's specific speaking fee falls within the range posted above (for Continental U.S. based events), fees are subject to change. For current fee information or international event fees (which are generally 50-75% more than U.S based event fees), please contact us.
Top25 Speaker Voting

Sasha Strauss needs 6 vote(s) to make it into the Top 25 speakers on Speaking.com!
Speaker Booking Tip
"Tip: find a speaker in your local area to save on travel costs. Most speakers will also reduce their keynote fee for local events. "
For Event Planners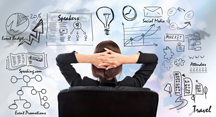 • Keynote Speaker Booking Toolkit.
• Booking a Celebrity Speaker.
• How to Find and Book the Right Speaker.
• Google+ Event Planning Forum.
• Tips for International Clients Booking U.S. Based Speakers.
Similar Speakers
Duncan MacPherson

Professional branding and client acquisition expert, Duncan MacPherson has been coaching financial professionals for over 20 years. His company Pareto Systems is at the forefront…

Karen Post

The Branding Diva®: A branding enthusiast, entrepreneur, and resilient businesswoman For more than 29 years, Karen Post has been developing solutions and implementing methods that…

Stephen Denny

Stephen Denny is a competitive strategy + marketing consultant, helping emerging brands define their competitive positioning, communication strategies and go-to-market strategies. He is the author…

Our agent was great to work with. Very easy to reach when needed and promptly returned messages. Thank you for making our event such a big success, we are looking forward to working with you again soon!
American Lung Association
About SPEAKING.com
Established in 1994, we are exclusive agents for some of the world's leading experts, celebrities and professional speakers.
We offer event planners a fully staffed speaker logistics planning team, plus a personal SPEAKING.com Account Executive – a knowledgeable and trustworthy partner. We guarantee your satisfaction with your speaker and a smooth booking process.
Contact us today to book your favorite speaker.

"Not only was Sasha our highest-rated speaker that year, but he is the highest rated speaker in the history of the Secret Service Summit. He has an incredible style that keeps you entertained while feverishly writing down incredible takeaways."
- John Dijulius, President, international marketing
"Sasha's speeches are some of the most popular that we offer to our MBA students and are always some of the best attended events that we have. Sasha is a natural and gifted presenter and public speaker with an extraordinary ability to engage with an audience and hold their attention. He has a great sense of humor, terrific timing, and delivery, very solid and thought-provoking content."
– Susan Dearing, Executive Director, leading MBA program
"A combination of subject matter mastery and a honed speaking style, make Sasha Strauss one of the most effective and powerful speakers you will ever see. His presentations are exciting, thought provoking, and engaging. He is often the highlight of events I have planned and attended, which he has spoken at with the likes of Magic Johnson, Biz Stone, and John Paul Dejoria."
- Amir Tehrani, CEO National Apparel Company
"He exudes positive energy that seems to just reverberate throughout the room. In fact, I think it is the first time we have had a speaker receive a standing ovation."
- Leslee Gaul, Director, National Travel Conference
"We hosted 400 CEOs and CMOs from top companies, (Coca-Cola, Samsung, Loreal, P&G, Unilever, GM, Ford, etc.) Attendees were inspired with innovative thoughts on the new digital global tendencies and the future of online advertising and communications. 100% of attendees considered Sasha's conference great."
- Victoria Santos, Product Executive, Fortune 100 Technology company
Branding in the New Normal
Global pundits agree, this is an unprecedented era in the history of communication. When the Guttenberg press enabled the distribution of the printed bible in the 15th century, it was heralded as the most impactful communication event in history—permanently altering the structure of society. Today, a printed book doesn't even scratch the surface. This is the New Normal, a new time in history where organizations have a choice to make: be heard and remembered, or be silent and forgotten.
This seminar will stitch together all the factors, from global consumer psychology to technology's place in the communication revolution. Everything will be on the table, from why "Social Media" is now discussed at the boardroom to how B2B organizations use brand strategy to get the most out of their employees.
Branding Principles Deep Dive With the New Normal in mind, we will explore time-tested methods of strategic brand management. Using coursework from the Professor's MBA courses at UCLA and USC business schools, this deep dive session will touch on the integral pieces of an integrated brand strategy.
Branding 101
A rich introduction to all things branding—from naming and brand architecture to visual design and brand extension. We'll look at why brands matter, who they matter to, how you can build them into your marketing, advertising and public relations strategies. A great start for professional communicators or those simply interested in brand strategy.
Personal Brands
Products are brands. Services are brands. And yes, people are brands. You are your own brand steward—you decide who you matter to and why. You control how you're perceived by those you know and those you've yet to meet. We'll discuss how branding applies to individuals and how you can build your own, personal, influential identity.
Nation Branding
As the internet brought the world closer together, governments supported by tourism revenue took a bold stance—they defined how they were to be known and spent money telling travelers worldwide why their land should be a destination.
Well, it worked for a little while, but now almost all tourism economies advertise their story. Destination branding isn't nation branding though. It's marketing on behalf of a single industry—tourism. Nations deserve an identity that's unique and inclusive, both for those beyond their borders and for those living within them. National identity brings people together, sets the stage for international discourse, and encourages trade with like-minded nations worldwide. In this session we will discuss how and why to nation brand.
B2B Engagement
Branding isn't just confined to the consumer goods and services industry. Now, more than ever, branding is vital to B2B companies. In fact, some of the strongest brands are in the B2B sector—firms such as Cisco Systems, Intel, Halliburton, SAP, GE, and Texas Instruments have consistently been ranked among the top brands in the world. Such companies are seizing the opportunity to change the perception that B2B companies must be dry in nature.
We'll show you how to use branding to make your firm the easy choice for manager navigating through an infinitely long list of suppliers. This session is for those who are looking to differentiate themselves on more than just price and build long term customer relationships.
Social Media
Your grandmother's on Facebook. You got a job offer from a friend of your ex-ex-boss through LinkedIn. You stayed up on small town politics through Twitter. There's no way around it—social media is here to stay. It's not only the social medium of choice; it's the connector of global consumers. Product enthusiasts in Japan are sharing how-tos with pen-pals in Italy. Gamers build global clans of fellow players, unified via their digital identities alone. Teachers assign homework via Twitter tweets and big brands have successfully managed a crisis through social media exclusively.
This seminar will discuss where brands fit in the wide world of social media culture. We'll talk about each of the channels, success stories within each one as well as some must-do practices for marketers looking to leverage social media as promotional venue. Facebookers and skeptics alike will enjoy this timely session.
Start Ups
Startups can be sexy, but they can also be extremely stressful. While they tend to be the topic everyone wants to discuss and an entrepreneur's dream to lead, startups require a very calculated and timely brand strategy—too much too soon screams superficial, too little too late is just bad business.
The seminar will discuss the development process of all startups, successful strategies for each stage of growth as well as successful case studies where branding helped to build startups into iconic brands. This session is right for any startup leader, entrepreneur, venture capital investor, and anyone else intrigued by the fascinating world of startups.
Non-Profits
While nonprofit branding tends to be the most challenging, it is also the most rewarding. Typically, nonprofits have limited marketing budgets, limited staff and limited resources. While faced with challenges, nonprofits require successful branding in order to be sustainable. The Susan G. Komen Foundation, Share our Strength, Product (RED)—these organizations found their way to fame and funding through strong, creative and consumer-centric branding.
This seminar will share proven techniques for defining, articulating and promoting a nonprofit brand. We'll explore case studies exemplifying how to successfully engage and retain staff, volunteers and donors to ensure long term success. From volunteers to board members, this session is perfect for all those involved in the nonprofit sector.

Sasha Strauss, Brand Strategist: Keynote, Branding in the New Normal
Sasha Strauss brings fresh insight to the challenge of winning Millennial consumers' hearts and loyalty as he explains why today's disparity between Baby Boomers and younger cohorts is unlike any other generational disconnect we've ever seen.
What used to bridge the gap between people of different ages? Common institutions, Strauss explains, such as religious institutions, governments, corporations, and academic institutions. However, the Internet and Social Media have brought unprecedented transparency and scrutiny to nearly every organization on the planet, that Baby boomers and Millennials are left with little to unite them.
"It's our job as brand stewards to bring them together according to some common philosophy," Strauss defines the marketing industry's chief challenge in "the New Normal" and examines how they can accomplish this monumental task.
Sasha Strauss, Brand Strategist: Speaking Sizzle Reel
Sasha Strauss, Brand Strategist: TEDx Talk
Sasha Strauss, Brand Strategist: Keynote, Google Retail Leadership Summit