* Please note that while this speaker's specific speaking fee falls within the range posted above (for Continental U.S. based events), fees are subject to change. For current fee information or international event fees (which are generally 50-75% more than U.S based event fees), please contact us.
Top25 Speaker Voting

Sarita Maybin needs 6 vote(s) to make it into the Top 25 speakers on Speaking.com!
Speaker Booking Tip
"Tip: speakers bureaus provide added value that you cannot get by booking speakers directly. "
For Event Planners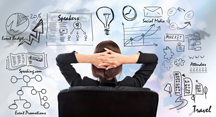 • Keynote Speaker Booking Toolkit.
• Booking a Celebrity Speaker.
• How to Find and Book the Right Speaker.
• Google+ Event Planning Forum.
• Tips for International Clients Booking U.S. Based Speakers.
Similar Speakers
Kare Anderson

It doesn't get much higher-level than a presidential campaign, and Kare Anderson created over 208 issues-formation teams for President Obama's first run for office. She…

Marjorie Brody

Marjorie Brody has gained a reputation as one of the best speakers for professional development in the USA. Her clients from the Fortune 100 and…

Rick Segel

Rick Segel has a passion for retail! He is the ultimate business development specialist. He turns meetings into events, events into life-time memorable experiences. He…

Our agent was great to work with. Very easy to reach when needed and promptly returned messages. Thank you for making our event such a big success, we are looking forward to working with you again soon!
American Lung Association
About SPEAKING.com
Established in 1994, we are exclusive agents for some of the world's leading experts, celebrities and professional speakers.
We offer event planners a fully staffed speaker logistics planning team, plus a personal SPEAKING.com Account Executive – a knowledgeable and trustworthy partner. We guarantee your satisfaction with your speaker and a smooth booking process.
Contact us today to book your favorite speaker.

"Sarita, your high energy presentation to over 2300 counselors was EXCELLENT! We appreciated your stories about real-life situations. You actively engaged the audience with humor while making a point and gave us strategies to better ourselves! You are a fabulous speaker who makes learning fun!"
Debra Bettis Britton, Texas Counseling Association
"You were very pleasant and easy to work with—a meeting planner's dream. Your high energy level and your ability to get the audience involved were key to the success of our conference."
Toni Pugmire, Idaho Hospital Association
"According to the feedback, 100% of those attending rated Sarita's presentation in the EXCELLENT category! You can't get much better than that!"
Pattie Vargas, American Business Women's Association (ABWA)
"I have received rave reviews about your presentation. You accomplished all that we had hoped for, and more!"
Mae Brown, University of California
"The audience thoroughly enjoyed your speech! You are an excellent communicator who is entertaining, motivating, invigorating and humorous! The advice on practical solutions for dealing with difficult situations was a great "takeaway."
Judie Vullo, Boeing
"Sarita, you exceeded my high expectations! Thank you for energetically and professionally engaging our audience today in a most memorable and positively impactful presentation. You are amazing!"
Pam Lovett, Comerica Bank
"The evaluations showed that you were far and away the most favored educational forum presenter of the three days! You were personally very 'real', you got to know the audience ahead of time, and then once you owned the room (after about 5 seconds!) you spent 90 minutes talking WITH your audience, not AT them. That is the mark of a true professional."
Steve Bailey, National Management Association
"Thank you for sharing your special gift with our membership. It was a great morning, relevant and inspiring!"
Melissa Livingston, Ventura County
"I watched in awe as Sarita engaged over 200 attendees as if she were speaking one-on-one. She was articulate, interesting and—perhaps the most appreciated by our audience—she was well prepared about the industry issues facing our attendees. She did her homework! And we all learned tools to better cope with the formidable challenges we face daily. I strongly recommend Sarita in any future keynote role!"
Joe Diehl, Affordable Housing Management Association (AHMA)
"The participants ranged from seasoned COO's to new line staff and everyone left with an affirmation on what they do well and most importantly a challenge to improve some aspects of their communication style."
Craig Cutler, Club Managers Association (CMAA)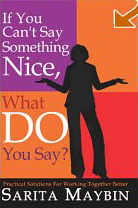 We've all been told "If you can't say something nice, don′t say anything at all." This easy-to-read book provides practical approaches and actual phrases for those times when you need to tactfully clue someone in, deflect the negative comment of a well-meaning friend, or let a co-worker know what he or she is doing drives you crazy - without destroying the relationship.
Praise for If You Can't Say Something Nice...
"Sarita's advice helps you navigate the waters of office relationships."
Ann Mah, Past National President, American Business Women's Association
"Sarita Maybin's skillful combination of positive examples and practical phrases will transform your communication experience"
Les Brown, Author, It's Not Over Until You Win!
"Stop wondering what to say and start improving your communication today. Read this book!"
Jim Cathcart, Past President, National Speakers Association
How to Maintain High-Touch Relationships in High-Tech Times
From Facebook to email and texting, technology has taken over as the primary means of communication. Yet conversations are still a crucial part of relationship-building, both professionally and personally. This upbeat presentation will provide real-life strategies for maintaining "high-touch" relationships while taking advantage of the innovations of "high-tech" times.
Presentation highlights include:
How to compose reader-friendly emails that cause people to respond
Strategies for creating "community" among your eNewsletter readers -High-Tech Checklist: Find out whether your cell phone behavior is respectful or rude
3 clues that you should choose to call rather than email or text
How to make the most of networking at the "virtual water cooler"
Text Talk: Cracking the code of cross-generational communication
Sarita′s Survey: What the tech savvy suggest for staying connected
How to Stay Positive and Focused in Uncertain Times
Adapting, Succeeding & Thriving in the Workplace
The ability to stay positive and productive in the face of change, challenges and uncertainty is essential for career success. In this interactive presentation you will learn how to stay motivated, respond to workplace challenges and rekindle passion for your career.
Presentation highlights include:
Seven steps for thriving on change
How to cope with workplace situations that are beyond your control
Twelve motivators that can keep you motivated you at work
Five ways to rekindle passion for your career
How to communicate concerns in a way that will get the results you desire
How to effectively protect yourself from the negativity of others
How to use your "resiliency resources" to bounce back from adversity
Communicating for Success
In this interactive presentation you will learn how to communicate in a way that gets your ideas heard and encourages the cooperation of others. Sarita will also share her Top Ten Positive Communication Phrases and her two "green jello" principles of conflict resolution.
Presentation highlights include:
Find out what your body language is saying
How to overcome barriers to listening
Why we don't like to confront and what to do about it
Pros and cons of confronting conflict
Key ingredients necessary for resolving conflict
How to receive feedback without getting defensive
Do's and Don'ts of Giving Constructive Criticism
Sarita's Top Ten Positive Communication Phrases
Three Step Communication Model
Sarita's "green jello" principles of conflict resolution
If You Can't Say Something Nice, What DO You Say?
A Constructive Confrontation Presentation on Dealing with Difficult People
We've all been told "If you can't say something nice, don't say anything at all." This high energy presentation based on Sarita's book provides practical approaches and positive phrases for those times when you need to say something NOT so nice. Learn how to constructively clue someone in, deflect the negative comment of a well-meaning friend, or let a business colleague know what he or she is doing drives you crazy — without destroying the relationship.
This presentation will provide answers to such questions as:
How do I know if I should confront a situation or just let it go?
How can I soften the sting when giving negative feedback or bad news?
What should I do if someone asks my opinion and I have nothing good to say?
How do I tell my boss a thing or two without appearing ugly or insubordinate?
What's the best way to respond to nasty comments like "that's a dumb idea," "I knew you couldn't do it" or "what were you thinking?"
How to Get More Done with Less Stress
Stress/Time Management
Is your reality "do more with less?" In this high energy presentation you will discover how to get done the things that matter most and set limits with people who make unreasonable demands, including three ways to say "no" nicely. Strategies for conquering habits that add to your stress will also be shared.
Presentation highlights include:
How to determine which tasks are urgent, important…or neither
Three strategies for identifying priorities
How to spend more time on the tasks that relate to your goals
How to identify and eliminate your most common time wasters
Find out how and when you procrastinate
Top five techniques for overcoming procrastination
Discover how guilt, perfectionism and other personal traits stress you out and waste your time
Fifty clues that you are on stress overload…and what to do about it
Learn real life stress strategies
Total Teamwork: Working Together for Better Results
Teamwork/Employee Engagement
This workshop features a fun, interactive team simulation activity that reveals the roles that team members play and provides insights into handling team challenges. You'll also complete a ten-item assessment to find out how well your real life team is doing and learn tools for improved employee engagement.
Presentation highlights include:
A ten-item assessment to find out how well your real life team is doing
Tools for improved employee engagement
Strategies for using the strengths and weaknesses of team members
How to's for handling team challenges
How to develop team trust
Five key elements of teamwork
Four stages of team development
Characteristics of ideal team members
Roles people play – an interactive team simulation activity
How to respond to "anti-group" behavior
"Rules of the Road" – developing shared team expectations
CUSTOMIZED CASE STUDY/Small group discussion
How to Turn Negativity into Possibility
Whiners, naysayers and defensive people…What causes their negative attitudes? In this entertaining and informative presentation you will learn what causes negativity and how to keep the contagious effect from rubbing off on you.
Presentation highlights include:
Sarita's Three P's for staying positive
"Is the glass half empty or half full": Challenge your assumptions
Learn to identify the symptoms of negativity – in yourself and others
What causes negativity at work? Find out informal survey results
Learn ways to expose subtle negativity such as rolled eyes, sighing and silent resistance
Find out how to respond to whiners, naysayers and other disruptive personalities
Find out how to the keep contagious effect of other people's bad moods from rubbing off on you
Sarita Maybin: TEDx Talk
Growing up at some point, you probably heard from a family member or teacher the phrase "If you can't say anything nice, don't say anything at all." While this was a favorite of Sarita Maybin's mother, Sarita quickly found out that life presents many situations where you do need to something. How then can you turn a necessary but maybe uncomfortable discussion into a productive conversation?
Sarita relays her own experience learning to choose her words well in order to get others to collaborate with her, without causing further conflict or making her look bossy. "This will make a big difference in our lives if we can learn to ask more effectively for what we want," she states, noting that most of us "are just a small adjustment away from getting what we want."
Sarita Maybin: Demo Video
Sarita Maybin: Keynote Speaker, American InterContinental University