* Please note that while this speaker's specific speaking fee falls within the range posted above (for Continental U.S. based events), fees are subject to change. For current fee information or international event fees (which are generally 50-75% more than U.S based event fees), please contact us.
Top25 Speaker Voting

Sam Richter has been currently voted into the Top25 speakers on Speaking.com, congratulations! To help keep Sam Richter in the Top25, vote below:
Speaker Booking Tip
"Tip: some speakers might provide one of their popular book titles as a free gift to your audience. "
For Event Planners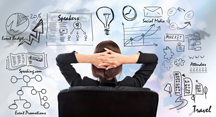 • Keynote Speaker Booking Toolkit.
• Booking a Celebrity Speaker.
• How to Find and Book the Right Speaker.
• Google+ Event Planning Forum.
• Tips for International Clients Booking U.S. Based Speakers.
Similar Speakers
Shawn Dubravac

As Chief Economist for the Consumer Electronics Association (CEA®), Dr. Shawn DuBravac is at the forefront of the latest consumer technology trends. An internationally sought-after…

Jay Baer

Jay Baer was in on the ground floor when it comes to social media marketing; he has been providing Internet marketing and strategy consultancy services…

Ford Saeks

Ford Saeks is an entrepreneur with over 25 years of "street smart" experience, and one of America's "Top Marketing Mentors." Ford got his start in…

Our agent was great to work with. Very easy to reach when needed and promptly returned messages. Thank you for making our event such a big success, we are looking forward to working with you again soon!
American Lung Association
About SPEAKING.com
Established in 1994, we are exclusive agents for some of the world's leading experts, celebrities and professional speakers.
We offer event planners a fully staffed speaker logistics planning team, plus a personal SPEAKING.com Account Executive – a knowledgeable and trustworthy partner. We guarantee your satisfaction with your speaker and a smooth booking process.
Contact us today to book your favorite speaker.

"Your Know More! Selling program scored the highest of all of our seminar topics in terms of overall value to the customers and their businesses, and 100% of your attendees said they walked away with ideas that they could apply. Attendees repeatedly described your program with words such as 'awesome,' 'WOW!' and 'fantastic!' I heard nothing but raves and accolades about you and your program content, including 'best presentation ever' and 'by far the best presentation in the program's history!!' You had an amazing impact on our customers. Thank you for being part of our conference."
Sandra C. Williams, Director of Dealer Training and Development, S.P. Richards Company
"After attending Sam's Know More! training, we immediately used his methods to find information on a prospect and in our first meeting, when the prospect asked, 'what did we know about him and his business?' we rattled off an incredible amount of information, both professional and personal. It gave us a HUGE edge and lots of confidence. The result: we landed a $4 million dollar account, with more to come. I'm incredibly excited because we just scratched the surface of utilizing what we learned from Sam and Know More! This intelligence gathering is one of the biggest revelations I've had in my 24 years in the business."
Anthony J. Parr CFP®, Managing Director-Investments
"Sam is one of those rare speakers who provides attendees with actionable intelligence. Out of all the respondents, the average score given for the Sam Richter presentation was a 9.74! Wow!!!! The Open Bar only received an 8.2. I have never seen a more consistent theme of responses ... all of them made references and commitments based on actionable intelligence they gleaned from your session. We are in the business of meetings. We have all heard many outstanding speakers, but rarely (if ever) have I seen a speaker have a more comprehensive and consistent message impact a group of attendees."
Andy Smith, Senior Vice President-ESN, Experient
"In my 12 years in the industry, I do not recall a more positively received, more positively commented on, more potentially revenue changing presentation. You far exceeded expectations."
Rick Effer, Vice President, Morgan Stanley
"We have hired Sam to speak at MHEDA conferences on several occasions and every time, Sam has hit a home run. We have referred Sam to a number of other association colleagues and we always hear rave reviews and 'thanks for the recommendation.' If you are looking for a speaker/presenter who is easy to work with, will provide outstanding value and has a wealth of experience and understanding about online search secrets, sales, and social media, Sam is your guy!"
Liz Richards, Executive Vice President, Material Handling Equipment Distributors Association (MHEDA)
"Sam was an outstanding speaker! He kept our audience on the edge of their seats waiting to hear what was next. By the time Sam was finished we had laughed, been surprised, and were well educated! The reviews and ratings we recieved from our members were some of the highest we have seen. I would highly recommend Sam and hope to have the opportunity to hear him speak again!"
Ellen Westin, Event Planner, North Central Business Travel Association
"Sam's 'Know More!' keynote address to our conference was one of the best presentations I've heard in a decade! It was the most interesting and valuable 45 minutes I've ever spent at an industry conference. Sam kept me entertained while I learned valuable concepts which I've put into practice upon returning to work. This was truly time well spent!!"
Bob Williams, President, Harkness Industries, Inc.
"Sam is an incredibly energetic speaker that held the attention of our audience until the very end. His message and intellect on the importance of understanding and protecting our personal and business brands was both timely and compelling. There was true take home value in his presentation and we will welcome him back in the future."
Jack Lewis, CEO, Mission Restaurant Supply
"Sam's Know More! program really stands apart…his methods bring benefit far beyond the sales team and everyone in our company has received great value from his teachings. Everyone on our team gave Sam exceptionally high reviews. We will have him back for more sessions, as the performance results we have seen have been remarkable."
Darren Ostendorf, Sales Manager, Digineer, Inc.
"Following are just a few attendee comments from our recent national conference where Sam presented both his 'Know More! Reputations' and 'Know More! Relations' keynote programs...
I have seen Sam Richter several times and would love to see him again!
Sam Richter was the highlight of the event.
Sam Richter was right on the money.
Sam Richter was excellent, very relevant to our electronic business going forward.
Bring us more Sam Richter!!
These comments were echoed many times over in the written feedback from our delegates. As the organiser of these events, it is always pleasing and an enormous relief when speakers hit the mark. Sam made me look good! A wonderful person to work with, humble and accommodating and generous with his time."
Verna Wing, Manager Conferences & Promotions, AMP Financial Services, Australia
Partial Client List
Following are a sampling of organizations that have experienced sales trainer Sam Richter′s top rated seminars, keynote presentations, and business improvement workshops.
Adams Publishing
Adfusion
Administaff
American Brush Manufacturers Association
American Marketing Association
Anchor Bank
ARANet, Inc.
Arizona Republic
Association of Small Business Development Centers
Associated Bank
Athetic Business
Best Buy
Blue Cross and Blue Shield
Charles Schwab & Co
Clear Channel Communications
Coldwell Banker
Gannett Media Companies
High Technology Distributors Association
Hubbard-Hall
InterlinkBT, LLC
Kauffman Foundation
Keith Ferrazzi′s Relationship Masters Academy
Lee Hecht Harrison
LinkedMinnesota
Mackay/Mitchell Envelope Company
3M
McGraw-Hill
Measurement, Control & Automation Association
Meritex Commercial Real Estate
Minneapolis Jewish Federation
Mitsubishi Caterpillar Forklift America Inc.
Morgan Keegan
National Auctioneers Association
National Association of Chemical Distributors
National Speakers Association
Points of Light Foundation
Republic Media
Sales and Marketing Executives International
School Health Corporation
Sexton Printing
Small Business Administration
Small Business Advocate
Society for Marketing Professional Services
Star Tribune Newspaper
TD Ameritrade
Travelers Insurance
United States Postal Service
University of Minnesota
University of St. Thomas
Vistage International
Wells Real Estate Funds
Western Bank
Young Presidents′ Organizaation (YPO)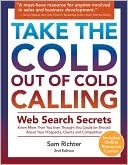 Take the Cold Out of Cold Calling: Web Search Secrets for the Inside Info on Companies, Industries and People
Unlike any Book You've Read
There are thousands of sales training books that teach you how to sell. There are hundreds of training courses that teach you how to find information. This is the only best-selling sales training book that teaches how to quickly locate information online and how to apply it to strengthen relationships and win new business.
In Take the Cold Out of Cold Calling you'll discover practical online search secrets, tips, tricks, and tools you can use to find information and make a big-time impression with any prospect, and improve your relationships (and margins) with existing clients.
Sam Richter's sales training, keynote presentations, sales improvement workshops, and online reputation programs will amaze you, shock you, entertain you, and provide you the highest amount of take-home value of any presentation you've ever attended.
Following are sample Sam Richter program descriptions. Each program can range in length from one-hour keynote to a full day professional sales training program. Note that every one of Sam's Know More! presentations is customized for each audience.
Know More! Selling
Know more than you ever thought you could (or should) about your prospects, clients, and competition.
Business and sales is all about personal relationships. When you know more about your prospects and clients, you're better able to relate on a personal level, build more meaningful connections, identify triggering events, tailor offerings, and ensure relevancy. Most important, studies show that when you practice Sales Intelligence, you'll win two times more business! In this dynamic presentation, you will discover:
Web search secrets that you never thought possible for finding qualified leads, creating lists, uncovering opportunities, and understanding decision makers.
Tips and tricks for using social networks and "hidden" websites as sales and competitive "intelligence agents." Learn what is important to your prospects and clients on a personal level to help you close MORE business MORE quickly.
How to use information to make a big-time impression with any prospect, build deeper relationships with any client, and completely differentiate from your competition.
This interactive presentation has a huge "WOW" factor-you will be shocked at what you don't know (but soon will). All attendees also receive complimentary access to the Know More! Reference Guide and Downloadable Toolbar, making it easy and fun to practice what is learned.
Sam's Know More! Selling programs teaching the inside secrets of finding information online and using it for business success have been customized for the following topics:
Know More! Prospecting
For sales professionals but with a greater focus on creating prospect lead lists that meet specific criteria, and then a process for quickly finding information on the identified prospects to ensure relevancy during sales calls.
Know More! Relationships
For account management professionals and executives who want to learn how to find information to help build deeper, more meaningful prospect and client relationships.
Know More! Referrals
For persons who generate a majority of their business via referrals (e.g., financial advisors) with a focus on using web resources to identify best prospects and converting them to clients.
Know More! Marketing
For marketing and creative professionals who want to learn how to find information for more personalized and relevant communications.
Know More! Fundraising
For non-profit development executives who want to learn the inside secrets on finding and securing potential donors and grant opportunities.
Know More! Business Planning
For executives who want to learn how to effectively find information including competitive data for better business and strategic planning.
Know More! Job Interviews
For those in career transition who want to learn how to ensure relevancy during a job interview, and how to make an incredible impression.
Know More! Reputations
Your Personal Brand can Make or Break Your Business Brand
In today's instant communication and social networking world, it's easy to share opinions and others can share the same about you. Unfortunately, what you and others post online, text, and even email is not limited to private networks and friend groups. Rather, there's a good chance that what you say online and what is said about you and your company is searchable, and archived, FOREVER! In "Know More! Reputations" you will learn:
What is a "personal brand," why you already have one, how to enhance it, and how personal brands dramatically impact your company brand and reputation.
The dangers of sharing too much information, what can happen if you're not careful, and how to respond if you don't like what someone shares about you or your company.
Inside secrets on how to manage your online presence and Google rankings (for non-technical people) so when people search for information on you, that you control what they find.
This thought provoking and entertaining program will provide you very practical ideas you can immediately implement to improve your brand, and your personal and business reputation.
Think/Thank
And Other Rules for a Purpose Driven Life
Does it ever seem like work is all-consuming and that your priorities are out of whack? Are you sometimes on edge with how you deal with others, or feel disappointed when family, colleagues, and friends don't meet your expectations? In these challenging times, it's easy to get frustrated and worry over things where you have no control. It doesn't have to be that way.
In "Think/Thank" you'll learn some easy-to-implement ideas that will help you put purpose and meaning back into your work, and your life. Unlike other motivational programs that ask you to make major changes, "Think/Thank" will show how simply re-framing your thoughts and implementing some practical tips can make a dramatic difference in how you view your world, and how you treat others. In addition, the concepts you learn can be shared with colleagues and even clients, helping them put into perspective what's important.
These thought-provoking ideas told through humorous and poignant stories of success and failure will inspire you, and make an immediate impact in your professional and personal performance.
Sam Richter: Demo Video
Sam discusses his "Know More!" philosophy for changing the world of sales. He shares strategies for better sales presentations. "What they're really buying from you in that initial meeting is you," he says. "Do I trust this person? Does this person look like he or she knows what he's talking about? Can this person solve my problems? Do they understand my industry?"
He discusses how the modern age of media has changed the way reputations are built. "15 years ago, let's say you really screwed up, you did something wrong in business, maybe even embarrassed your family or did something wrong in the community." he says. "How many people really knew about it? Not very many." He goes on to share tools for using search engines to access "very high end databases" and "very high end information."
Sam Richter: The Best Way to Sell
Sam Richter Know More! Keynote Presentation and Program Highlights