* Please note that while this speaker's specific speaking fee falls within the range posted above (for Continental U.S. based events), fees are subject to change. For current fee information or international event fees (which are generally 50-75% more than U.S based event fees), please contact us.
Top25 Speaker Voting

Sam Horn needs 8 vote(s) to make it into the Top 25 speakers on Speaking.com!
Speaker Booking Tip
"Tip: speakers bureaus can provide: speaker fee negotiation, insurance, smooth logistics and value add-ons such as extra sessions. "
For Event Planners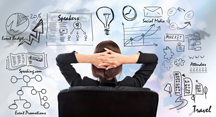 • Keynote Speaker Booking Toolkit.
• Booking a Celebrity Speaker.
• How to Find and Book the Right Speaker.
• Google+ Event Planning Forum.
• Tips for International Clients Booking U.S. Based Speakers.
Similar Speakers
Lenora Billings-Harris

Noted for her ability to take complex diversity concepts and distill them into practical applicable strategies, Lenora Billings-Harris weaves inclusion, leadership, management and African-American history…

David Maxfield

Social scientist David Maxfield's cutting edge research on interpersonal skills and organizational change has taken him to a wide spectrum of settings from corporate boardrooms…

John Rives

Rives's way with words has been called a "demonstration of what the English language is capable of." The poet, performing artist, and event host touches…

SPEAKING.com does a wonderful job! Our AE always responds promptly and is very professional, thank you!
AlphaNet
About SPEAKING.com
Established in 1994, we are exclusive agents for some of the world's leading experts, celebrities and professional speakers.
We offer event planners a fully staffed speaker logistics planning team, plus a personal SPEAKING.com Account Executive – a knowledgeable and trustworthy partner. We guarantee your satisfaction with your speaker and a smooth booking process.
Contact us today to book your favorite speaker.

"It was so great having Sam here! We've had glowing reviews with many members commenting that it was one of the best learning events they've attended."
- David Katz, Integration Chair, Entrepreneurs' Organization, Vancouver
"Congratulations. The overall consensus was your two programs were a smashing success! Attendees used such words as 'thought-provoking,' 'informative and insightful,' 'creative approaches,' and 'very profitable ideas which will pay off immediately.' I share their satisfaction and enthusiasm."
- Joan Dickson, Manager of Meetings & Conventions, National Pest Control
"Your evaluation results – a 9.64 out of 10 – reflect the care and time you took to plan and deliver your sessions. You inspired, motivated and encouraged our participants while teaching them new skills and new ways of thinking."
- Murray Coulter, United States Tennis Association
"Sam Horn is a catalyzer. With grace and compassion, she has pushed me to be bigger and better than I ever could have imagined."
- Bristol Baugham, TED Fellow, award-winning film producer of Which Way Home
"In my 40 year career, I've never heard a more effective speaker than Sam Horn."
Judy Gray, CEO, Florida Society of Association Executives
"We got raves about you. Having you as our closing keynoter was like smooth chocolate sauce on fine ice cream."
- Marianne DeCosta, Builders, Owners and Managers Association
"My staff thoroughly enjoyed your excellent presentation. Compliments included, 'By far the most informative communications class I've ever attended. Ms. Horn is a dynamic speaker who captures the audience and emphasizes practical subject matter.'"
- T.J. Concannon, Commanding Officer, MEPS, U.S. Navy
"I can't tell you how much we appreciated your program. Three of us traveled together to the meeting and talked of nothing else on the way back home."
- Tina Huneycutt, Lockheed Martin
"Sam is one of the best in the business. She always receives top ratings. She is known for her ability to introduce ideas smart professionals haven't heard before they can immediately apply to their situations."
- Ruth Stergiou, (Founder/CEO, Invent Your Future Conference in Silicon Valley, CA)
"Sam Horn offers a wealth of ideas on how anyone can have 'a way with words.' Her techniques are popping fresh, easy to apply and jolly good fun."
- Richard Lederer, National Public Radio's A Way With Words
"What can I say; you are wonderful; you change lives. It is not often one is fortunate enough to attend a presentation of such inspiration and depth. The legislators raved about the insights they gained from you."
- Robin Read, National Federation for Women Legislators (Sam's been asked back 5 times to help these female legislators with their platforms and messaging)
"Never have I witnessed such positive comments regarding a presenter."
- Steve Yager, Indiana Association of Public School Superintendents
"Thank you for your wisdom, dedication and emcee talents in helping us pull off this amazing event. Your SerenDestiny talk was inspiring and you are BRILLIANT."
- Eileen Spillane, TEDx-NASA
"Sam Horn captures and holds an audience's attention by delivering immediately actionable advise on how to intrigue people, gain their interest and get their buy-in… People sat on the edge of their chairs listening and absorbing Sam's suggestions."
- Jack K. Gelman, Group Chairman of Vistage International, Inc
"Thank you for changing the way I think about my business and my story. My pitch has immediately become more relatable, funny, and interesting. Your thought-provoking session was a fabulous kick in the pants. I look forward to our paths crossing again!"
- Kasey Benedict, Owner of Kitchen Witch LLC
"Sam, congratulations! You accomplished something that has not been successfully done in the seven years of CAM. Normally our audience wants…no demands…that we be in conversation most of the time. You were so captivating that listening to you with the exercises woven in trumped that desire. Well done!"
- Scott Wintrip, Wintrip Consulting Group and StaffingU
"Sam brought a ton of energy to an after-lunch session – her techniques for engaging and involving everyone were not only effective in their own right, they served as a wonderful model for all of us who want to make as much of an impact as she does."
- Dr. James Ware, Program Director, NSA
"You did a fantastic job! Your presentation was exactly what I was hoping for!!! I have been getting great comments. Several people also expressed great comments about the fact that you helped so many people with 1-2-1's."
- Ivan Misner, Ph.D. Founder and Chairman, BNI
"Sam Horn's event for our chapter was among one of the highest rated. It is obvious Sam has a deep sincere desire to use her "Super Powers" of being able to really listen intently to help people solve creative problems. She is able to under stand a members unique situation and communicate a clear strategy to help them stand out from the crowd. Overall, Sam is a brilliant presenter who really engages the audience to be part of the solution."
- Trevor Graves EO Portland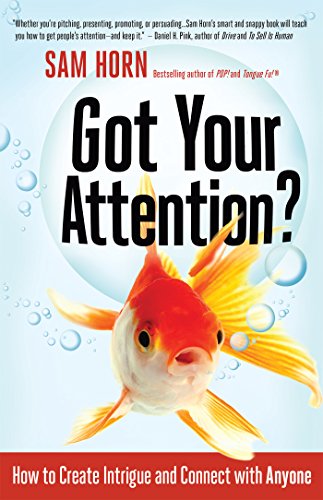 Got Your Attention?: How to Create Intrigue and Connect with Anyone
Did you know:
Goldfish, yes, goldfish, have longer attention spans than we humans do?
One in four people abandons a website if it takes longer than four seconds to load?
Imagine if there were ways, in a world of impatience and INFObesity, to quickly intrigue busy, distracted people and earn their interest, trust and buy-in?
Imagine if there was a process for pleasantly surprising decision-makers and convincing them you're the right person for the job, position, project or contract?
You don't have to imagine it, Sam Horn has created it. Sam's innovative techniques have helped her clients close deals and raise millions of dollars and will be your "secret sauce" to getting funded, hired, elected, promoted or referred.
IDEApreneur: Monetize Your Mind
Ideas themselves don't have the power to change the world and become a profitable reality until we turn them into a tangible product, service or business.
That's why this book provides you with a step-by-step SYSTEM on how to become an IDEApreneur who consciously and strategically:
increases your flow of ideas
assesses your ideas for uniqueness and money-making potential
positions, packages and communicates your ideas so they get noticed, respected and bought
markets, merchandises, monetizes your ideas through a variety of strategic business activities
You're about to learn proven techniques and tools you can use immediately to generate marketable, memorable, merchandisable ideas that get noticed and get bought.

Got Your Attention? Increase Your Influence – for Good
Did you know goldfish have longer attention spans than humans do? How then can we give/get attention in a rush-rush world of INFObesity where everyone's busy? How? With Sam Horn's INTRIGUE process which shows how to win respect and buy-in for your ideas, projects, company, cause and initiatives. Includes why NEVER to give an elevator speech and what to do instead. Based on Sam's Washington Post bestseller Got Your Attention?, presented at SXSW and TEDx, and to National Geographic, Accenture, Ernst Young, Cisco, and ASAE. Featured in New York Times, INC, Forbes and on MSNBC. Endorsed by Dan Pink, Keith Ferrazzi and Marshall Goldsmith who says it is a "must for every leader."
Work with Difficult People – Without Becoming One Yourself
Like to know what to say – when you don't know what to say? Would you like to be able to think on your feet, keep your cool when people are blaming you for something that's not your fault, create a culture of cooperation, prevent bullies from targeting you, and act with integrity – even when others aren't? Based on Sam's bestsellers Tongue Fu! and Take the Bully by the Horns, presented to Boeing, Asian Leadership Conference, Honolulu Police, U.S. Embassy in London. Featured in Readers Digest, Investors Business Daily and in Executive Book Summaries which says it's a "gold-mine for anyone who deals with the public."
Concentration
Actors have it. World-class athletes have it. The ability to stay focused - no matter what. Want good news? Concentration is a skill you can develop at any age. Discover why NASA hired Sam to present this for their Leadership Series and why her book ConZentrate was featured on NPR, endorsed by Billie Jean King, and Dr. Stephen R. Covey who called it "masterful." Learn how to s-t-r-e-t-c-h your attention span, regain focus when interrupted, listen even when you don't want to, remember names, overcome procrastination, set up the peak performance state of flow, and create a mindfulness practice that counteracts stress. Sam's tips work in busy offices, when studying, playing sports, taking tests and in high-pressure situations.
Water
If you liked Cheryl Strayed's WILD, you'll love Sam Horn's WATER. An inspirational keynote that shares experiences and epiphanies from Sam's Year by the Water. Her put-you-in-the-scene stories inspire audience members to reflect on the true meaning of success and take responsibility for creating a well-led life where the light is on in their eyes. Presented to Transformational Leadership Council, Conversations Amongst Masters (the world's top coaches), INFOcomm and Women in Consumer Technology.

Sam Horn, Intrigue Expert: TEDxBethsedaWomen
Did you know that most people decide if they're interested in your project within the first 60 seconds of your pitch? Sam Horn models steps you can take to instantly hook an audience so that they will be begging to hear more about your product, cause, or whatever it is you might be passionate about.
As the 17-time Emcee of the Maui Writers Conference, Sam saw writers come out of face-to-face meetings with some of publishing's most prominent editors and agents feeling devastated because they had failed to capture their attention. "Author E.M. Forester was asked the secret to life and he said two words: 'only connect,'" she relays, explaining that while we want to do this, we're never taught how. Nevertheless, Sam demonstrates that even as adults, we can learn to be more intriguing, as she presents a condensed version of her easily applicable methodology and gives audience members a chance to put it into practice immediately.
Sam Horn, Intrigue Expert: Interview
Sam Horn, Intrigue Expert: Keynote